My Sweet Seoul: Episode 7
Hmm. I didn't really love the first half of Episode 7, although that wasn't because it was bad. I think we're just in that phase where plot setups start to bear results, and some of those can lead to uncomfortable moments. The developments are necessary, of course, and we get some nice acting amidst a more somber tone. And this scene (with Eun-soo and Young-soo in the rain) was a definite highlight.
Also, last week only aired one episode, so tomorrow we'll be back with Episodes 8 and 9.
SONG OF THE DAY
VEIL – "Special" [ Download ]
Audio clip: Adobe Flash Player (version 9 or above) is required to play this audio clip. Download the latest version here. You also need to have JavaScript enabled in your browser.
EPISODE 7 RECAP
With (animated) Tae-oh by her side in this island metaphor, animated Eun-soo sets sail for a neighboring island, where her two best friends await, on Jane's wedding day.
Only, Jane's REAL "island" isn't built on a heart so much as it is on impending misery. While I can see someone like Jane agreeing to marry someone who may not be right for her because he's the right guy on paper, I AM surprised that she's going ahead when she's aware that she's setting herself up for unhappiness. (It's one thing to be deluding yourself that you'll be happy; it's another to actually be aware of the situation and still proceed.)
I do feel for Jane, although I don't know why she's going ahead with the wedding. I also don't know why Eun-soo pushed Jane into going ahead — it seems out of character given her reaction to Yoo-hee later in this episode. But I'll talk about that when we get there.
For now, Eun-soo plays the role of silent support, accompanying Jane when she sneaks away for a cigarette before the ceremony.
Eun-soo receives a text message from Tae-oh saying he's running late. She starts typing a message back to urge him cheerily, "Come soon!" But then she sees Yoo-joon, who's arrived with Yoo-hee and her boyfriend Chan-seok, and considers the awkwardness when Yoo-joon meets Tae-oh. So she erases her "Come soon" message and sends, instead, a disingenuous "Of course work is more important! Take your time!"
There's palpable tension between Yoo-joon and Yoo-hee, as Yoo-joon thoroughly disapproves of Yoo-hee's boyfriend. He's angry at her for taking Chan-seok back, and angry at Chan-seok for being a crappy boyfriend who broke Yoo-hee's heart. Eun-soo doesn't like the guy either, and is equally curt when he tries to be polite to her.
Interestingly, Jane's only moment of animation (or any emotion, actually, since she's spent all morning in a sort of gloomy daze) is when Tae-oh arrives. He quietly takes a place at the fringe of the crowd while the wedding party poses for a photo, but Jane enthusiastically waves him over and insists he join the photo by Eun-soo.
The girlfriends wish her a happy honeymoon. Unfortunately, that's not very likely. This is a pretty telling indicator of Jane's married life, isn't it?
The five others go to a barbecue restaurant afterward, where the awkward mood grows heavier, stemming from Yoo-joon's frustration with Yoo-hee and his rudeness to Chan-seok. What results is a lot of passive-aggressive arguing between the two cousins: when the two boyfriends step aside for a moment, the fight between Yoo-joon and Yoo-hee escalates. Yoo-hee asks Eun-soo if she feels the same way as Yoo-joon, and because Eun-soo can't think of a way to answer the question, she blatantly ignores it three times.
Feeling betrayed by both friends, Yoo-hee mentions how Tae-oh's living with Eun-soo to purposely hurt Yoo-joon. Yoo-joon wasn't aware, and the barb hits home; he looks hurt (and Eun-soo looks guilty). Eun-soo retaliates by pointedly asking Yoo-hee about her plans to sell her car. Yoo-hee changes the subject, but there's clearly something there.
As a result, everyone drinks angrily, with Eun-soo winding up the most drunk. She insists on a second round, which takes everyone to a bar.
Yoo-joon has wisely removed himself from the toxic atmosphere, but Eun-soo's tongue has been loosened by all the liquor and she starts speaking (or shouting, rather) her mind to the boyfriend. She tells him that Yoo-hee's selling her car because she needs the money to find a new apartment (she lives at home), and she needs to find an apartment to date him (to avoid parental censure, I'm sure): "You know why I call you Nicotine? You do more harm than good!"
Yoo-hee tells her to stop, and Tae-oh tries to politely take Eun-soo home, but she barrels on: "She even took pills because of you!"
That's crossing the line, and Yoo-hee angrily yells that that's enough. She asks the men to step aside (Eun-soo continues to shout at Chan-seok, "I hate you! I really hate you!") so that Yoo-hee can insist to Eun-soo that it's not her place to be angry at Chan-seok — that's for her. Yoo-hee's the one who'll have to love him and be angry at him, and she has more right to hate him than Eun-soo.
Eun-soo puts an end to the awkward, ugly affair by stumbling to the ground. Tae-oh takes her home. The next morning, she awakens late, tired and hungover. She'd ignored Tae-oh's attempts to wake her when she got a phone call, and jumps up in panic to see that it's past 10 a.m., and she's late for work. Tae-oh's in a playful mood and tells her to calm down and eat the rice porridge he'd cooked, because he answered the call from her co-worker (the one she wouldn't wake up for) and told the colleague that Eun-soo's sick.
Hearing that he spoke to her nosy co-worker, compounded with her panic at being late for work, Eun-soo lashes out at Tae-oh for answering her phone. He'd thought he was helping, but Eun-soo is more worried about appearances and asks him what he said. Did he tell the co-worker who he was? Tae-oh assures her, smilingly, that everything's fine. Of course he didn't say he was a boyfriend; he told her he was a friend.
But that only angers Eun-soo more, and she shouts out that he made everything worse — what would anyone think when hearing a man pick up a woman's phone in the morning who describes himself as "friend"? He should've said he was her brother! She says some pretty harsh things ("What do you know?! You're really pathetic!"), demonstrating what I've suspected for a while, which is that she doesn't really consider him her equal. Whether it's the age thing or just a personality thing, Eun-soo tends to treat him like a little kid, and has the tendency to dominate. Most of the time he lets her lead, but in times like this he asserts himself — and she steamrolls over him anyway. She frantically dresses for work, and when Tae-oh tries to calm her down and tell her to eat breakfast first, after which he'll drop her off, she shakes off his grasp and rushes out. Tae-oh looks after her with tears in his eyes.
When she arrives at work, however, she hears the full story from the co-worker, who comments on how nice her younger cousin is to take care of her when she's sick. (Tae-oh had called a female friend to pretend to be Eun-soo's cousin and call in sick for her.) It's only then that Eun-soo realizes she jumped to conclusions and accused Tae-oh before finding out the full story.
The day only grows worse when upper management finds out about the printing error in their booklets from a prior episode and comes to vent his displeasure. Who's responsible? Although everyone had lauded Eun-soo's clever solution (only reprinting the booklets to be sent to company employees), now they all throw her under the bus and let her take the blame.
And then, when she goes home that day, Tae-oh is gone. He doesn't come back.
Meanwhile, Yoo-hee's still upset with Eun-soo, but it's pretty clear that she'll forgive her in time — she just wants distance right now. (Side note: I think Moon Jung Hee is doing a wonderful job with her role. I really underestimated her given her bland, lackluster character in Air City, but she's so much better here. She manages to convey anger and hurt (as in the bar scene) or good humor as needed.)
Chan-seok hadn't known about Yoo-hee's plans to sell the car, which she assures him is something she's doing for herself and not just for him. But now that he knows the full story, he understands how much she's going through for him, and he tells her not to sell the car. Or move out. In fact, he'll remove himself from her life — he feels that she's tried as much as can be expected. He tells her he'll take over now.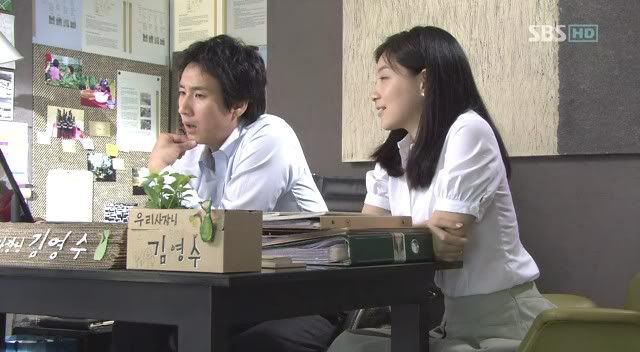 Meanwhile, Young-soo takes a suggestion posted on Green Cat's message boards and uses it for a new feature. The message had been posted under the name Oh Eun-soo, and stems from an issue Eun-soo had mentioned previously, how singles often have a hard time buying food (or end up wasting it) because they can only buy in quantities larger than they can consume at once. The posting mentions that a bundle of green onions often goes to waste no matter how hard one tries to finish it off — could Green Cat consider selling half-bundles?
Young-soo goes one further and opens the "half of a half" feature (even musing, adorably, "Is half of a half of a half going too far?").
Young-soo calls Eun-soo to mention the new feature and the posted message, and when she checks online, she realizes Tae-oh had posted it. (He used her name because their food order was also made in her name.) Her sense of guilt grows, but her calls to him go unanswered. Tae-oh, meanwhile, is just as depressed as she is, but I respect him for having some respect for himself. He's not doing this to spite her; rather, he seems to have realized that this is as far as they go.
Eun-soo meets with Young-soo for another "working date" — which I say because often they'll meet for business-related reasons, but the atmosphere is at least partially date-like. She's withdrawn and downcast for most of the tea-tasting, but her mood improves toward the end. When they step outside, it's raining, and she pulls out her umbrella. Seeing that he doesn't have one, Eun-soo accompanies Young-soo to his car, and hesitates just before he gets in.
She starts to ask him to continue the date, but cuts herself short and turns down his offer of a ride (she wants to walk). Young-soo senses what she was about to ask, and makes the first offer he thinks of — how about a drink? But she reminds him that he doesn't drink, and says goodbye.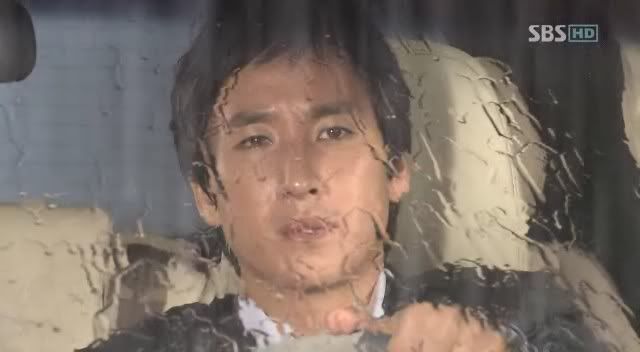 Young-soo sits in his car for a moment, and then makes up his mind. He rushes back outside and runs through the rain to Eun-soo, and tells her, "I'll walk with you."
Slowly, wordlessly, they walk together in the rain, and it's really very sweet. First, Young-soo takes the umbrella from Eun-soo's grasp and holds it. After a few moments, Eun-soo notices that he's gradually tilting the umbrella toward her more than himself, and pushes it back toward him. They walk some more. The umbrella slowly gravitates over to Eun-soo's side again, and once again she lightly pushes it back toward him.
This scene is an example of what makes My Sweet Seoul so good, I think — there's so much you can do without dialogue, without even much plot. The drama does so much with silence, pacing, and atmosphere.
Young-soo walks Eun-soo home. At her apartment, he gives her umbrella back, but she tells him to keep it and use it on his way back. He can give it back the next time they meet. Young-soo agrees, and walks off grinning, twirling the red umbrella in good cheer. It is so endearing.
And then!
Young-soo arrives home, where he lives with his "hyung" (a brother? merely a co-worker friend?), and we see him set aside her red umbrella — and then pull out his own black one from his bag. He lied! He wasn't umbrella-less! Even he is proud of the way he managed to parlay one little white lie into an extended walk and promise of another date.
Bravo, Young-soo. I didn't know you had it in ya.
He asks his brother to describe how he seems right now, and his brother answers, "Hm. You seem like a person… Like a man."
Back at (an empty) home, Eun-soo thinks back to her rainy walk — which is interrupted by the sound of her door bell. She looks up, as though expecting Tae-oh back, but finds it was just her imagination.

Additionally…
I still dislike Eun-soo, and unfortunately the feeling is growing, not diminishing. I tried to figure out the source of my discontent after the past few episodes, and I had nearly come to the conclusion that it wasn't the character so much as it was the actor. Choi Kang Hee isn't bad — it's just that she isn't as natural as I think the role requires (given that the drama is unfolding at such a loose, thoughtful pace). I wondered if I'd like the character better with a different actress, and decided that if someone as natural and unmannered as, say, Jung Yumi were in this role (Eun-soo in Que Sera Sera) — albeit perhaps in a few years because she's too young at the mo' — I'd be much more delighted with the character.
But then, Episode 7 disabused me of that notion and I'm back to feeling off-put by both actor and character. It's hard to feel sympathy for Eun-soo when I'm siding with the other party in all of her arguments. I'm also curious as to her vehemence with Yoo-hee's relationship but relative detachment from Jane's. If she's so concerned about Yoo-hee making a mistake, why isn't she just as passionate about helping Jane prevent one too? Is it character inconsistency, or is Jane really right when she feels that her two best friends like her less than they like each other?
I don't have a problem with a drama being realistic, and that's largely one of My Sweet Seoul's charms anyway. Realism is great — which is why I'm still with Yoo-hee even though I don't like that she went back to her ex — but I'm starting to feel like I wouldn't like Eun-soo much in real life, either. It's not enough to turn me off the drama — the drama is too good for that — but enough to make me feel wistful that I'm not enjoying the series as much as I ought to be.

RELATED POSTS
Tags: Choi Kang-hee, Lee Seon-kyun, My Sweet Seoul