Summer Days "crosses over" into more branded entertainment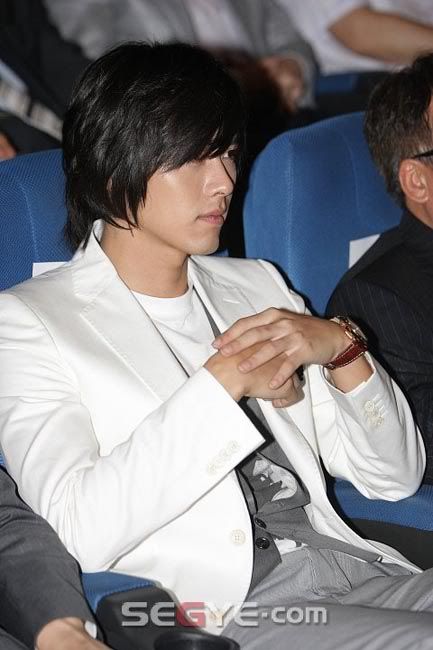 Yeah, I knew that would get your attention. (The photo, I mean.)
Cast and crew gathered on July 15 for the press conference and screening of Summer Days. They're calling this one a "crossover" film, but it's not so much a film as it is yet more branded entertainment. They're starting the branding with the description itself, calling it an "XNOTE crossover film," XNOTE being a laptop put out by LG Electronics.
As I've mentioned before (regarding Anycall's music videos, Anyband's project group, Jang Geun-seok's hair-product music video, and So Ji-sub's cable-TV commercial), Korea's got a way with branded entertainment. Western entertainment may produce engaging commercials, but they're still always commercials first and foremost. Product placement is rampant and increasing everywhere (a friend who works on a U.S. television show tells me the writers routinely get notes from the studio about writing storylines around whichever cell phone they've got contracts with), but this kind of elaborate branding is something Korea's integrated much more thoroughly (dare I say insidiously?).
Summer Days, for instance, is touted as ad campaign, short film, drama and music video all rolled into one, to unfold in seven episodes (each approx 4 minutes long; total running time is 30 minutes). They've brought on CF director Jo Won-seok and hired music director Yoo Hee-yeol, aka the singer-songwriter also recording under the name Toy. On top of that, we have three name actors, Hyun Bin, Shin Mina, and Ryu Seung-beom, acting out this adver-story about "love, friendship and conflict."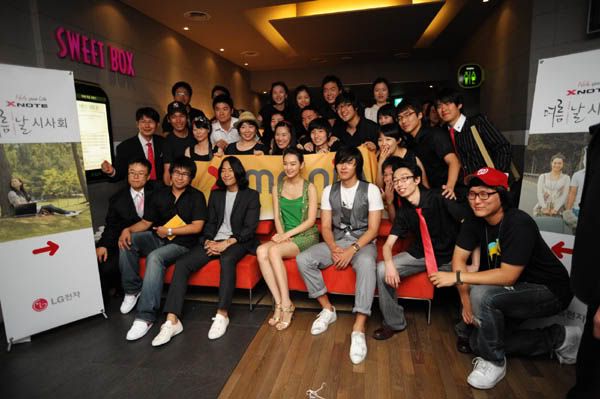 In the "plot," Ryu Seung-beom plays a "cheerful programmer," Hyun Bin is an elegant architect, and Shin Mina takes on the role of a stylish film columnist. The first episode is titled "Morning After the Rain" and the second "The First Day of Summer" (wherein the three characters meet, unfolding like a short film). The third is called "A Day with Loud Cicadas" (featuring the notebook in a commercial-like format), and the fourth titled "A Day the Summer Breeze Blows" (a travel-themed music-video-like segment featuring a Yoo Hee-yeol song, "My Happy Day," sung by Shin Mina). The fifth episode, "Tropical Night," features the split between the three characters; the sixth is "Summer Night, Summer Day," leading into the last segment, "The Day Before Autumn Starts."
I've got mixed feelings about branded entertainment, but I guess everything's selling something these days. So long as the product is entertaining (and honest about being quasi-advertisement), I suppose there's no harm done. At least some of it produces (unintended) hilarity, like seeing Jang Geun-seok grooving along to pimp hair gel.
The LG XNOTE campaign launches mid-August via the Internet, broadcast television, cable TV, in theaters and in stores.
Via Consumer News, Arts News
Yoo Hee-yoel / Toy – "프랑지파니" (Frangipani, aka plumeria) [ Download ]
Audio clip: Adobe Flash Player (version 9 or above) is required to play this audio clip. Download the latest version here. You also need to have JavaScript enabled in your browser.
RELATED POSTS
Tags: branded entertainment, CFs, Hyun Bin, Ryu Seung-beom, Shin Mina