Drama trends for 2009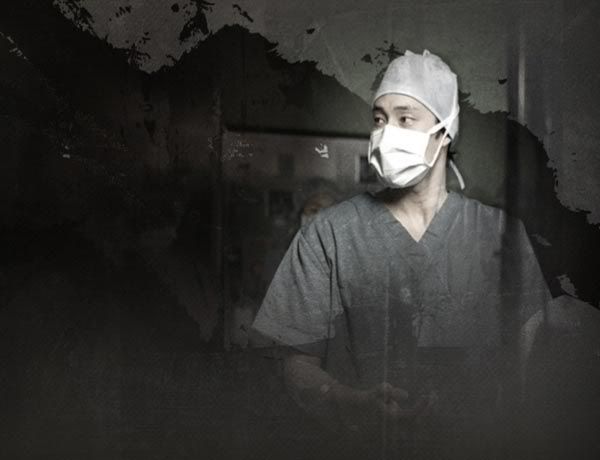 Note: The following is taken from a Korean article, so the opinions therein aren't necessarily my own. Still, it's a look into the trends we can expect in the coming year of dramas. (For instance: Not one, but TWO figure-skating dramas?)
2009 looks like a bright new year. This year, there are many dramas to be produced and aired that may capture viewer hearts. Last year, the economic slump and the shrinking of the drama market caused many difficulties for drama production, a number of dramas still drew viewer notice.

Last year, the sageuk, which used to be a sure thing, fell back, and professional-themed series like medical- or broadcast-centered dramas came into the spotlight. Also, daily and weekend dramas that were strongly criticized had high ratings with trite characters, sharp contrasts between good and evil, conventional conflicts, extreme plot setups, and so forth. On top of that, there were many dramas looking to score success featuring top stars that failed.
Furthermore, because of production cost issues, the one-act drama disappeared. Also because of budget difficulties, stars' fees shrank and kept the drama production system in order.

In the midst of these production difficulties, 2009 has a diverse range of dramas in production. This year, strong women fronting sageuks promise to revive the sageuk genre, and attention is turning to the sports drama, which hasn't been produced much in recent years due its higher risk of failure.

The profession-centered drama, which started its rise last year, looks to be emphasized this year. Blockbuster dramas featuring top stars draw attention; daily dramas get much criticism but attract middle-aged female viewers; and weekend dramas also look strong in the new year.

Given this landscape, which dramas will draw audiences in the new year?

Chae Shi-ra heads "Empress Cheon-chu"
SAGEUK BOOM FEATURING STRONG WOMEN

KBS's Cheon-chu Taehu (Empress Cheon-chu), which aired its first episode on January 3, is representative of the female hero sageuk. The drama illuminates the heroine Empress Cheon-chu, the granddaughter of Emperor Taejo, who with General Kang Gam-chan fights Kitan invaders and dreams of a Goryeo nation. Sageuks have not shown women in action scenes in the past, but with Chae Shi-ra in the title role, this drama sets the stage with its strong female hero and emphasis on action. Lee Deok-hwa, Kim Seok-hoon, Kim Ho-jin, and Shin-ae also appear.

MBC's large-scale sageuk Queen Seon-deok, to air in May, is another historical drama based on a strong woman. Dealing with Queen Seon-deok, who ruled in the Shilla era, the drama shows a girl named Deok-man overcoming all sorts of tribulations to become queen, becoming a model for a female hero in the process. The role of Deok-man has been cast with Lee Yo-won, while Go Hyun-jung has been cast as Mi-shil, a woman of outstanding beauty and ambition.

SBS premieres its Princess Ja Myung Go on February 16, a decidedly female sageuk. Although the story is about Princess Nak-rang and Prince Ho-dong, this sageuk's "Ja Myung Go" isn't the drum of lore, but established as Princess Nak-rang's older sister. Park Min-young, Jung Kyung-ho, Jung Ryeo-won star, and Lee Mi-sook, Moon Sung-geun, Sung Hyun-ah, Jo Mi-ryung, and Lee Won-jong also appear.

In addition to these, MBC premieres its Return of Iljimae on January 21, under PD Hwang In-roi's delicate direction, which looks like it will showcase an appeal as a different kind of sageuk. This drama is based on the manhwa created by Go Woo-young and stars Jung Il-woo and Yoon Jin-seo.
This may be a promising new subset in the sageuk genre, but I wonder if it's going to just be another throwaway fad. I have a vague feeling that the "female hero sageuk" may end up a lot like the fusion sageuk — one or two interesting takes on the genre, followed by a bunch of lame imitators.

The ladies of "Empress Cheon-chu"

Yoon Kye-sang, cast in "Triple"
FLOOD OF SPORTS DRAMAS

2009 presents a new landscape for television dramas with its flood of sports dramas. In the past, the sports drama Last Match (1994), which centered around college basketball players, met with much success, but following it, KBS's soccer-related Shooting, MBC's ice-hockey-centered Icing, SBS's boxing-themed Punch, and SBS's swimming story of friendship and love in Blue all failed. With its large budgets and production difficulties, it looked as though the sports drama was on its way out.

But this year, viewers will be presented with dramas about figure skating, baseball, golf, and other various sports.
Personally, this category intrigues me the most, and not just because I saw (and tottttallly enjoyed) the '90s cheesiness of the early Jang Dong-gun hit Last Match (I also saw a few of the failures that followed, like Icing, which was a bad imitation of Last Match on ice.) But perhaps because this genre has lain dormant — not just in kdramas but in U.S. fare to boot — it seems like a refreshing change of pace.
First, while interest is still high in the sport through athlete Kim Yuna's activities, a figure-skating drama is in production. With PD Lee Yoon-jung of Taereung National Village directing, Triple depicts a love story between an ad agency executive and a figure skater with the rink as the drama's stage, and singer Min Hyo-rin as the female lead.

Olive Nine is producing a figure-skating drama, Can't Lose, which deals with young figure-skaters on their path to success.
Not much to say other than: wheeee!
A baseball drama is also in production. Lee Hyun-sae's manhwa Alien Baseball Team is as popular with young men as ever; the manhwa portrays outsiders who work to succeed in baseball, and a movie was successfully made in 1980, which will now meet audiences as a television drama. Yoon Tae-young takes the role of Oh Hye-sung, and Park Sung-min also stars.

For the first time, a drama is being produced about golf. KBS is preparing a golf drama adapted from Lee Hyun-sae's manhwa Buddy, which gained popularity through serialization in a newspaper. A golfer risks everything on golf as his only way out of poverty, and a rivalry unfolds between two players as they both head for the international stage.
Not a baseball fan OR a golf fan (but my dad just may find himself in heaven). The first sounds like Mighty Ducks but may be fun depending on the tone it adopts. The second reminds me of Get Karl, although I'll hold off on making judgments until I see it. With the Korean love of golf (and the success of Koreans on the pro golf circuit), it's high time someone took the sport into drama territory.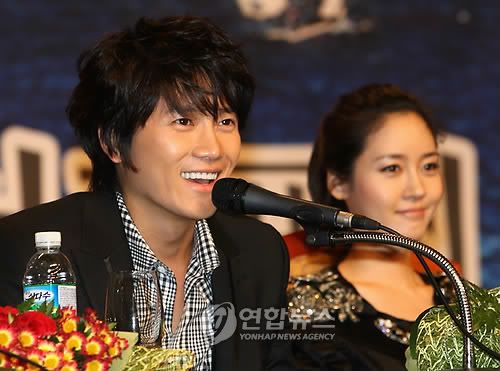 Ji Sung, Sung Yuri of "Swallow the Sun"
"OCCUPATION" DRAMAS CONTINUE THEIR RISE

Last year, On Air, New Heart, Beethoven Virus, and other profession-based dramas met with favorable response. This year will continue to see more of these types of dramas.

First, there is the fashion-based and Kwon Sang-woo-led Cinderella Man on MBC, which is set to air in May and centers around clothing-obsessed Dongdaemun proprietors and their lives, loves, and successes.

Last year, the novel Style was a bestseller, and now is set for an SBS broadcast, portraying the fashion world through its main character, a female reporter at a fashion magazine.

Recently, medical dramas have received much love from audiences, and more will come this year. So Ji-sub, Shin Hyun-joon, Han Ji-min and other famous stars will be featured in SBS's Cain & Abel, which premieres on Feburary 18.

Iris, starring Lee Byung-heon, Kim Tae-hee, and Kim Seung-woo is set in the world of intelligence agents. This type of drama isn't commonly seen, and takes place in foreign locations, such as the U.S. and Russia, and deals with the agents' daily lives and loves.

Then there's Swallow the Sun, called an "All In 2," which stars Sung Yuri and Ji Sung and depicts young people in Jeju Island who take on a project to turn the location into an international city.
I'm not exactly drawn to the occupation dramas, but some of these sound like potentially awesome campy goodness. For instance: Cinderella Man?? The article doesn't mention the dual-role that Kwon takes involving two men who look alike, who both happen to work in fashion (one is a CEO, another a struggling designer), who then decide to SWITCH PLACES. Omg, it's like the '90s died and went to heaven on my TV.

So Ji-sub of "Cain & Abel"
STAR-DRIVEN BLOCKBUSTER DRAMAS

Lee Byung-heon and Kim Tae-hee in Iris; So Ji-sub and Shin Hyun-joon in Cain & Abel: Many dramas are being produced with top stars. Last year, stars weren't able to live up to their big names, but this year one wonders if star power will be able to recover.

Golf drama Buddy, with a 20 to 30 billion won investment, secret-agent drama Iris, and other blockbuster-scale dramas also sport huge production budgets.

Indeed, anticipation is mounting as to which of these series will win favor and popularity from audiences this year, revitalize the domestic drama market, and reignite the Hallyu fervor.
Via My Daily
RELATED POSTS
Tags: Cain and Abel, Chae Shi-ra, Cinderella Man, drama production, Go Hyun-jung, Han Ji-min, IRIS, Iron Empress, Ja Myung Go, Ji Sung, Kim Tae-hee, Lee Byung-heon, Lee Yo-won, Min Hyo-rin, Park Min-young, Queen Seon-deok, Return of Iljimae, Shin Hyun-joon, So Ji-sub, Sung Yuri, Swallow the Sun, Triple, Yoon Kye-sang