45th Baeksang Arts Awards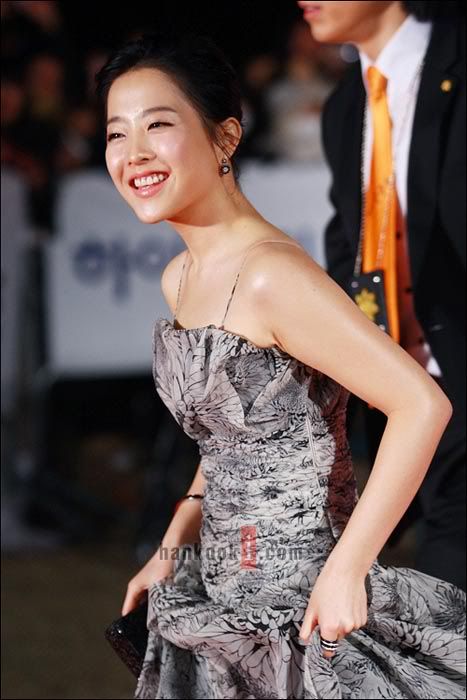 New Actress winner Park Bo-young
Awards!
The 45th Baeksang Arts Awards were held on the evening of February 27, which means: lots of awards for film and television stars, and lots of clothes to gawk at.
There were no real surprises in the winners list; they're mostly a variation of the same lists we've been seeing from the other ceremonies in the winter awards season. Some film winners include A Movie is a Movie and My Dear Enemy, while acting honors went to many of the Daesang winners from earlier awards, like Kim Myung-min, Moon Geun-young, and Sohn Ye-jin. Oh, and a little actor going by the name of Lee Min-ho took home one of the newcomer awards — but a stumble on the red carpet keeps him humble.
Check out all the winners (and the clothes!) beyond the jump:

Winners Kim Myung-min, Moon Geun-young, Sohn Ye-jin, Joo Jin-mo
Winners List
FILM PORTION
Daesang: Kang Woo-seok (Public Enemy Returns, 강철중:공공의 적 1-1)
Best Picture: Celebrate Our Love (경축! 우리사랑)
Best Director: Lee Yoon-ki (My Dear Enemy, 멋진 하루)
Best New Director: Lee Choong-ryul (Old Partner, 워낭소리)
Top Excellence, Actor: Joo Jin-mo (Frozen Flower, 쌍화점)
Top Excellence, Actress: Sohn Ye-jin (My Wife Got Married, 아내가 결혼했다)
Best New Actor: So Ji-sub, Kang Ji-hwan (A Movie Is A Movie, 영화는영화다)
Best New Actress: Park Bo-young (Speed Scandal, 과속스캔들)
Best Screenplay: Kang Hyung-chul (Speed Scandal, 과속스캔들)
Popularity Award: Joo Ji-hoon (Antique Bakery, 서양골동양과자점 앤티크) and Park Bo-young (Speed Scandal, 과속스캔들)
TELEVISION PORTION
Daesang: Kim Hye-ja (Mom's Dead Upset,엄마가 뿔났다, KBS)
Best Drama: Mom's Dead Upset (엄마가 뿔났다, KBS)
Best Culture Program: Choosing Dokdo (그것이 알고싶다 '독도의 선택,' SBS)
Best Variety Program: Kim Seok-hyun (Gag Concert, 개그콘서트)
Best Director: Shin Woo-chul (On Air, 온에어, SBS)
Best New Director: Bu Sung-chul (A Star's Lover, 스타의연인, SBS)
Top Excellence, Actor: Kim Myung-min (Beethoven Virus, 베토벤 바이러스, MBC)
Top Excellence, Actress: Moon Geun-young (Painter of the Wind, 바람의 화원, SBS)
Best New Actor: Lee Min-ho (Boys Before Flowers, 꽃보다남자, KBS)
Best New Actress: Yoon-ah (You're My Destiny, 너는내운명, KBS)
Television Entertainer, Male: Kim Byung-man (Gag Concert, 개그콘서트, KBS)
Television Entertainer, Female: Park Mi-sun (Sunday Sunday Night, 일요일일요일밤에, MBC)
Scriptwriting Award: Yoo Hyun-mi (Scale of Providence, 신의저울, SBS)
Popularity Award: Kim Hyun-joong (Boys Before Flowers, 꽃보다남자, KBS) and Yoon-ah (You're My Destiny, 너는내운명, KBS)
Outstanding Achievement: Lee Soon-jae (Mom's Dead Upset, 엄마가 뿔났다, KBS)
Sohn Ye-jin (My Wife Got Married), winner in the film category for Top Excellence, always looks chic and lovely on the red carpet. I don't think the gown is particularly noteworthy, but the fit is awesome and she looks beautiful and polished, as usual.
Good lord. Moon Geun-young (Painter of the Wind) is a fantastic actress who only keeps getting better, but I am disturbed to see this obviously emaciated (and ever-shrinking) young star being lauded in the media for her "beautiful clavicle line" and overall appeal in this look when she frankly looks very, very sick. Shouldn't someone… be helping her?
Kim Myung-min (Beethoven Virus) took Top Excellence for his Kang Maestro, as well he should. Though he's going a little casual without a tie, I dig the double-collar look on him. He looks comfortable and relaxed.

Now, on the other hand, as for his Beethoven Virus co-star….
Really, the question here shouldn't be, "What in the freaking hell is Jang Geun-seok (Beethoven Virus) wearing?" but rather, "This is Jang Geun-seok. At an awards ceremony. Surely you are not surprised by now?" This is just par for the wacky course for Jang. (If he's going for Odagiri Joe-ish or Kim Jae-wook-ian eccentricity, um, it didn't work. He doesn't have the requisite "I don't give a damn so bugger off" vibe to pull that off.)
It seems a little ridiculous that So Ji-sub (A Movie is A Movie) gets a "new" actor award, but eh. Logic is not a constant force in these awards shows anyway. Welcome back to television, dude. He looks dapper in this monochromatic, sleek black look.
Was it intentional, then, that his co-star and co-winner Kang Ji-hwan (A Movie Is a Movie) came in all white? Not my favorite look on Kang, but I think he manages decently. It's not anyone who can do all-white and come off looking respectable on the red carpet.
Case in point:
That's Korea's resident alien and bastardizer of fashion shows, Andre Kim, in case you didn't recognize him. (Although, who could forget once they've got that image burned in their brains?)
Congrats to Newcomer Award winner Park Bo-young, who is having a fantastic year with Speed Scandal! She's one of the new crop of young actors who gives hope to her generation; she's lovely and refreshing and has a bright, bright future ahead of her.
Her good friend and two-time co-star, Lee Min-ho (Boys Before Flowers) (like he needs an introduction), also took home a Newcomer award, for the television portion. Part of me thinks it would have been awesome to see him come in character as Jun-pyo (and not just because I think he rocks the curls like nobody's business), but I do kind of love how simple and un-Jun-pyo-esque he looks here, with his slightly doofy smile. It does seem like he's not quite used to the instant fame yet.
And I also kinda love how he actually ate it on the red carpet — then just brushed it off, laughed embarrassedly, and went to join his F4 buddies.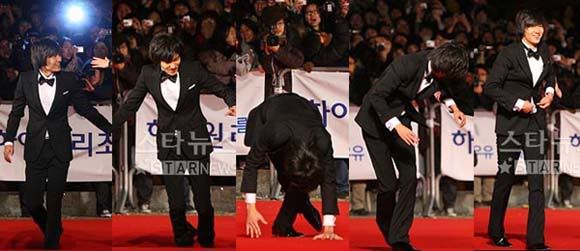 Speaking of F4: Kim Hyun-joong (Boys Before Flowers) looks pretty sharp in a tux — although, as with Lee Min-ho, it's kind of weird that these boys look dressed down from their drama characters, here at a black-tie formal event.
Kim Bum (Boys Before Flowers) lost out the Newcomer award to his castmate Lee Min-ho, but he's looking adorably happy here. No signs of his foot injury, either, so it looks like he's recovered (or nearly recovered).
But I think that of all the F4 boys, Kim Joon (Boys Before Flowers) looks the smoothest in this setting. (He will tire of hearing this, I'm sure, but his resemblance to Jang Dong-gun is particularly strong on the red carpet.) He's a little casual, but I like the little stylish touches — the skinny tie and the extended shirt cuffs.
On anyone else (except perhaps Kim Min-hee?), this could be a disaster, but Gong Hyo-jin (Crush and Blush) is a fashion goddess and she wears the heck out of this. I'm even digging the gladiator heels, which as a rule I HATE.
I get it! Han Ye-seul (Tazza) got tired of gown-shopping and opted instead to wear a giant jellyfish. Also, I am pretty sure that over-the-shoulder coy smile is her patented trademark. All other actresses, beware.
Er, not a fan of this dress on Yoon Eun-hye (Coffee Prince), although I like her hair and makeup styling. It's just that the bodice looks so tight and stiff, like the material expended all its energy holding in her chestal region that the rest of the dress gave up and said, "Eh, good enough. Let me just hang out in the back here."
Lee Junki (Iljimae) has found the look that works for him, and it is the three-piece tux. As an aside: is he growing out his hair? (Yay?)
Joo Ji-hoon (Antique Bakery), you won a popularity award! Would it kill ya to smile, Mr. Smirky Grouchypants?
Joo Jin-mo (Frozen Flower) goes formal with tails, and looks gooood.
Park Shi-yeon (La Dolce Vita) is really coming into a strong style of her own, isn't she? Love the color and the bright belt — which looks classy instead of gaudily clashing — and this fits her absolutely perfectly.
Her Marine Boy co-star Kim Kang-woo ain't looking too bad himself.
Bubble skirts can be iffy for an event like this, but this dress is so flirty, cute, and whimsical on Moon Chae-won (Painter of the Wind). Age- and event-appropriate. Love!
Once again, I must ask: This baby-faced Song Chang-eui (Scale of Providence) is supposed to be playing Kwon Sang-woo's older brother in their new drama? Psh.
The gorgeous Kim Ji-soo (Women in the Sun) is stunning in red.
Han Ji-hye (East of Eden) is kinda working that Clueless-ian "Monet effect" — pretty from a distance, but up close all the individual parts are a bit off. The dress's super shininess and color in combination are a little gaudy, her makeup is bland, and there's nothing I LIKE about her look… but she still looks pretty. Just not her best.
Um… I kind of get what Choi Yeo-jin (My Woman) is going for. At the top, it's severe Cleopatra-like structure, in the middle it's generic cocktail fashion, and the bottom is shredded Pocahontas fringe. Put them all together and the reaction you get is mostly: head-tilt accompanied by a "Huh?"
Can't you construct an entire inner monologue just based on the expression on Jung Kyeo-woon's (Women in the Sun) face in that last picture? "Hem… how much longer do I hold this smile? Sucking in… gut… killing me… Next time, wear a vest, not a cummerbund!"
Meanwhile, Jo Min-ki (East of Eden) is like, "Psh, all you young things, step aside. Let me show you kiddos how to WEAR a TUX." And, well, he sure wears it like a pro. He's kind of a sexy bastard, isn't he?
I love modernized hanbok styles in general, and this is no expection. It's also particularly appropriate on Kim Min-sun, given her role in the lush period film Portrait of a Beauty. (But… I wish it was in a color…!)
Not much to say about Park Hae-jin (East of Eden). Brush your hair?
Lee Tae-ran (My Precious You) doesn't usually wear the most attention-getting gowns, but she does know how to style herself with class. She's looking lovely.
Shin-ae (Empress Cheon-chu) always looks awkward to me at these types of events, even when she's wearing a pretty dress and made up well. I wish she'd worn a color (notice a recurring theme here?) instead of more nude tones, which were so prevalent at this event.
Lee Soon-jae (Mom's Dead Upset) and Park Mi-sun (Sunday Sunday Night) both won for their TV shows.
Love the yellow of Go Eun-ah's (Love at Sarang) dress, though I keep thinking the dress should be longer. Or shorter. And where did her foot go?
For a second, I thought Park Sol-mi (Cell Phone) was wearing the same dress as Sohn Ye-jin. Wouldn't that have been embarrassing.
Hong Ah-reum (My Precious You) and Lee Young-eun (Oh My God 2) both do short dresses, but I think with vastly different results. Hong looks kind of forgettable, but I think Lee's long-sleeved drapey number is adorable and fresh. Her dress = WANT.
Yet more beige for Boys Before Flowers' bitch trifecta, the "Jin-Sun-Mi" trio aka actresses Min Young-won, Kook Ji-yeon, and Jang Ja-yeon. They would have looked so much better in color! Instead, they look kind of like Charlie's Angels, only, not in the cool-and-fun-kickass-heroines way, but in the whoa-the-70s-are-back? way. Individually, they're not too bad, but together they all wash each other out.
Han Ye-won (On Air) is wearing a similar look to Moon Chae-won, but while I think Moon rocks her funky dress, Han's is a little too normal to be interesting in comparison
And oh my goodness, Wang Seok-hyun (Speed Scandal) is like a living bobblehead of cuteness.
Via IS Plus
RELATED POSTS
Tags: Andre Kim, awards, Gong Hyo-jin, Han Ji-hye, Han Ye-seul, Jang Geun-seok, Joo Ji-hoon, Joo Jin-mo, Kang Ji-hwan, Kim Bum, Kim Hyun-joong, Kim Ji-soo, Kim Joon, Kim Kang-woo, Kim Myung-min, Lee Min-ho, Lee Tae-ran, Moon Chae-won, Moon Geun-young, Park Bo-young, Park Hae-jin, Park Shi-yeon, So Ji-sub, Sohn Ye-jin, Song Chang-eui, Yoon Eun-hye