Showing some brotherly love for Cain & Abel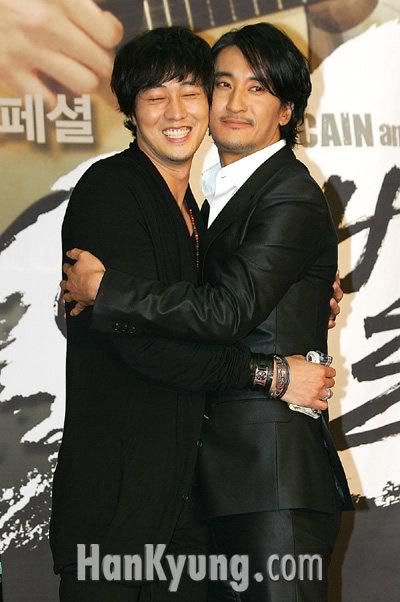 So Ji-sub and Shin Hyun-joon may be cast as competitive brothers embroiled in strife, but they look anything but antagonistic in front of reporters, no?
SBS is about to premiere its new drama, the (long, long-)awaited Cain & Abel, which follows the just-ended Star's Lover on Wednesdays and Thursdays. (With the big names of A Star's Lover failing to attract ratings — the Choi Ji-woo and Yoo Ji-tae-led series went out with a disappointing 6.2% — SBS is hoping that this star-studded series will have better luck.)
The high-profile cast was on hand for the drama's production press conference, which was held in North Chungcheong on the afternoon of February 13. The drama airs its first episode next week, on February 18.
As for the press conference, some came looking absolutely gorgeous; for instance, a radiant-looking Han Ji-min, alongside co-star Chae Jung-ahn:

While others… erm…
(So Ji-sub is a talented actor. He also has really eccentric fashion sense, which I have often found puzzling. It doesn't make him any less sexy when he's acting, but outside of that context… meh. Is it a biker's jacket? Tie-dyed leather? Member's only? With — horrors — a mesh-like see-through shirt underneath?)
But I admit I do like seeing actors looking comfortable and chummy around each other:
Some of the additional cast includes newer faces like Yoo Joo-hee (dressed in red) and Han Da-min (in white).
RELATED POSTS
Tags: Cain and Abel, Chae Jung-ahn, Han Ji-min, Shin Hyun-joon, So Ji-sub