Point-counterpoint: Pursuing beauty in 200 Pound Beauty
In last week's Open Thread, a back-and-forth developed between two commenters that caught my eye, because it dealt with a point that had been at the back of my mind for a while. Ever since I first saw the smash 2006 romantic comedy 200 Pound Beauty [미녀는 괴로워], in fact.
The comments dealt with 200 Pound Beauty's plastic-surgery themes, and echoed some of my own reservations with the movie. Don't get me wrong; I totally enjoyed watching it — it was light, funny, nicely acted — but something just didn't sit right with me at the end. And the conversation that emerged last week captured that debate very well, I thought.
So, I asked both Sere and Samsooki if they would be okay with furthering the discussion in a sort of point-counterpoint conversation (similar to how Dahee and I discussed a particular drama character previously). They've both graciously agreed to go with it, and here's the result.
Hope you enjoy!
SONG OF THE DAY
200 Pound Beauty OST – "Beautiful Girl" by Kim Ah-joong. [ Download ]
Audio clip: Adobe Flash Player (version 9 or above) is required to play this audio clip. Download the latest version here. You also need to have JavaScript enabled in your browser.
For those who are unfamiliar with the film, the gist is:
A good-hearted, overweight backup/ghost singer, Hanna (Kim Ah-joong), has a beautiful singing voice that goes underappreciated given her looks. She's a sweet optimist despite the demeaning treatment she is subject to and dreams of being a singer (on her own) and has a crush on the producer for whom she works (Joo Jin-mo). When the cruelty goes overboard, however, Hanna decides to get full-body plastic surgery, and for the next year she goes "missing" — cutting off all ties to her former life — as she receives multiple surgeries. When she's finally "ready" to be revealed in her new body, she's a beautiful, slim, completely different-looking woman. With her new looks, she gets signed by her former producer and promoted as a "natural beauty," and takes on the new identity as pop singer "Jenny." Jenny becomes a smash success, but Hanna (as sweet-hearted as ever) finds it difficult to keep up the lie about her identity.


SAMSOOKI: I watched 200 Pound Beauty with my wife, and I have to say that I really enjoyed the movie… Kim Ah Joong… I didn't really think the fat suit worked (didn't look real at all), but who cares. Kim Ah Joong just blisters the screen. Just…. awesome. The songs, the movie, the scenes, the characters… really good.


SERE: I need to know: what's so great about it?


SAMSOOKI: Well, I thought it was charming: it's a fairy tale that every person wants to believe in — that we can all turn from ugly ducklings to beautiful swans. And in this case, the transformation was from an obese woman to an unbelievably beautiful girl. But in this case, rather than a magic wand, it was the hand of a plastic surgeon. And in addition to the fairy tale, the acting, the comedy factor and catchy songs sung by the main character, Kim Ah Joong….. hard to ask for more from a movie.


SERE: Personally, I *hated* it. I can't even begin to list the reasons I feel that way because the sheer number of them frightens me. This is coming from a girl who's (1) never been slim in her life and therefore can relate to what the main character felt and (2) been through plastic surgery several times (true, I hadn't them done for the heck of it or to appear more beautiful, but cos it was necessary. I'm talking about reconstructive plastic surgery in my case… but whatever, SO not the point). I do not *get* it.
The premise of the movie feels wrong and the end message of the movie is nothing if not poisonous to girls and young women, imho. Plus, major plastic surgery not only sucks, but it hurts like you wouldn't believe so anyone willing to put herself through a year of that kind of torture, again and again, is nuts. Of all the patients I met at the plastic surgery ward — and I met many — not one of them underwent an operation with a light heart and no one of them did it *just* to get someone's heart. I know it's only fiction, and that there's some nice music and all, but I truly cannot see the appeal of this movie. So if you can let me know what you see in this, I'd be forever and ever grateful. I'm genuinely curious.


SAMSOOKI: Well, if the audience were to take the movie literally, then we might have problems because the promotion of radical surgery to make your dreams come true is… at the height of irresponsibility. Yet, even without this movie, those ideas are there anyway. And, I don't think 200 Pound Beauty is trying to say that plastic surgery is the way to go to make your dreams come true. It is merely on a side item. Like, take the movie Terminator 2 with its violence and gun shot victims every minute, etc. Does this movie promote gun violence to achieve one's goals, because the main characters utilize extreme violence to achieve theirs? The gun violence is not really the point and we accept it to advance the plot.


SERE: But see, that's exactly the point. Even if you — and it's a general you, not you Samsooki — don't take the movie seriously or literally, there'll always be a number of girls who might shake their head about the message and yet, on some level they'll be exposed to it. The cat would be out of the bag, so to speak, and I do think that cat, even if it was intended to be mindless entertainment, may be more dangerous than the average one. You know?
You brought up movies such as Terminator…well, of course nobody thinks that it promotes violence, but it's a sci-fi movie…people do realize it's not to be taken seriously. With movies like 200 Pound Beauty, the lines are much, *much* more blurred cos it does tackle issues that are contemporary and… real. You said it yourself, beauty is important…we are exposed to it and to its clichés everyday: people get even discriminated because of their looks. That's why I can only see a potentially dangerous message to this movie.


SAMSOOKI: Or for another example, take almost any romantic movie… Usually, it goes like this: boy meets girl, then take your pick — (fish out of water, mistaken / unknown identity, contract / fake relationship, forbidden love, competing love interests etc.), then boy and girl get together at the end. Does this accurately depict what happens in a relationship? Does anyone know ANY couple whose lives actually resemble Breakfast At Tiffany's?


SERE: Of course not. But romantic movies usually do not have ulterior motives, so to speak, they just try to fulfill one of the most common fantasies of young women: find their Prince Charming and live happily after. Which is an element that is in 200 Pound Beauty as well: throw Prince Charming in the mix, and you've got an explosive plot that kids will find irresistible. Add a stellar cast, nice music and a little humor in and there's no contest. I'm not saying I never cracked a smile during the whole movie or that I didn't enjoy the songs — I did! — but the message it gives totally ruins it for me.


SAMSOOKI: And yet: we live in a world where beauty does matter. People discriminate based on looks almost as often as they breathe. And beauty as an "end" in and of itself is also a goal of almost every culture as well. And I'd be lying if I said it didn't matter to me either. 200 Pound Beauty is about how a woman, trapped in a world where she could not express herself because of her obese condition, ultimately finds happiness. The "moral" of the story is that her ability to obtain that happiness was predicated on her being able to live with herself, and so she had to be honest in the end. That's the message. That, and Kim Ah Joong is pretty hot.


SERE: See, if Hanna (Kim Ah Joong) had done surgery, extreme and unrealistic may it have been, for herself or because she felt discriminated against and humiliated or cos she wanted to sing, then I may have frowned, but I would have understood. But no, mostly she did it for someone else, to appeal to her crush. Remember when she said — in the same sequence you mention — that when she was being sliced open on the operating table, she could go on because she only thought of him? So no, she didn't do it to feel better and comfortable with her body or to "fight" for her rights against an unfair society. And besides, even if she went through a great deal of pain, physical and not, and even if she did realize that being true to yourself is important, the message that comes through, in the end, is, "Look, boys and girls, you may suffer, but in end, it might be worthy. You'll be beautiful, rich and successful in love, too." How's that for a fair message? It is hopeful? Maybe I'm too cynical, but I've seen too many 16-year-olds *begging* their parents to get breast implants and I've heard *horror* stories about teenagers from my plastic surgeon…and honestly, I'm not making this up. It's a reality… that's why the premise bothers me so much.


SAMSOOKI: I appreciate your thoughtfulness, but I think you point at 200 Pound Beauty because the movie deals literally with the issue of cosmetic surgery as a viable means to achieve one's goals, but you might be pointing your finger at too narrow a target.


JAVABEANS: I'm popping up there to say that I don't think that's exactly the problem that people have with the film. Or I'll speak merely for myself and say that that my problem with the film is not merely that the movie deals with cosmetic surgery as a lifestyle choice. I have no problem with plastic surgery. It's the flippancy with which the movie delivers its message that "You're valuable even if you're ugly or pretty! Hanna's pretty on the inside, and that's what counts!… so at the end of the day, you might as well be pretty!"

SERE: Exactly!
Do you remember what's the last scene? It's about the surgeon who's bragging about his skills and a young woman who wants to get a complete makeover. It's like even TPTB are saying, "It's going to happen again anyway so why are you even trying to resist? A little surgery, what can it do? Do it, do it, and you'll be just like Hanna and get everything." It's like the whole point of the movie was moot, IF it was really trying to say: stay true to yourself and accept yourself as you are. It failed in that, imho. Had it ended with, say, Hanna tearfully realizing what's important in her life, I would've still frowned, but it would've been a lot better. So in conclusion, I have problems with the premise of 200 Pound Beauty *and* also the ending.
You know, there's a movie — Shallow Hal — with Jack Black and Gwyneth Paltrow that tackles the same issues, minus the surgery: beauty, love, how society discriminates, etc., and compared to 200 Pound Beauty, it is 100% better imho (still not my kind of movie, but that's beside the point). Even if both movies wanted to give the same message, one managed to do it nicely even though it was slapstick for the most part and the other, the way I see it, did not and it may be potentially dangerous, that's all I'm saying.



JAVABEANS: I have to say that the last scene was the part that ruined the movie for me. I was enjoying it, although I did feel a little uneasy at the message, until that last scene just undid all the goodwill the rest of the movie had built up. What's worse is that the woman who asks for surgery at the end is Hanna's friend — the backup singer friend who had been the "prettier" of the two, back when Hanna was "ugly," and who was then relegated to being the uglier friend after Hanna's transformation. She'd always seemed to be the example of a woman who was secure in herself and who would look down on cosmetic surgery as a way of conforming to societal pressure to be beautiful. In having her opt for surgery — full-body, head to toe, just like Hanna! — it sends the message (perhaps unintentional, but distasteful all the same) that after seeing the way Hanna's life has transformed, she wants the same, and this surgery will achieve that for her. This brings out my STABBY HANDS.

SAMSOOKI: Let me see if I can't distill the argument against the movie. 200 Pound Beauty promotes the message that "girls, if you want to be successful and happy, you must be 99 lbs and look like a supermodel — so do WHATEVER it takes to look like that." And this message is wrong and extremely dangerous. Here's my response to that.
Take a look at any Korean actress under 30 y/o that you find on dramabeans, and here's what I found when I looked at six who had been recently featured – Kim So Eun (97 lbs, 5′4), Jung Ryeo Won (99 lbs, 5′6), Lee Yo Won (106 lbs, 5′7) Gu Hye Sun (92 lbs, 5′4), Im Yoon Ah (97 lbs, 5′5), and Kim Ha Neul (99 lbs, 5′6). What's the hidden message that the k-dramas are sending out, when every actress hovers around 100 lbs and is between 5′4 and 5'6? But its all fantasy, isn't it? These movies and dramas deal with impossibly beautiful people, with impossibly easy jobs, with impossibly unrealistic speed-check-ins at Incheon Airport, and have impossibly loyal friends who have no life other than to hang out with you. I think the audience understands they are dealing with fantasy. If they do not, then they have bigger issues to deal with.
And if you want to argue that 200 Pound Beauty sends the wrong message, it is not the movie that created the message — its the culture.. Every commercial, every music video, every movie, every TV show, the women are all the same — rail thin, elf round eyes, and paler than a surprised ghost that never goes outdoors. 200 Pound Beauty brings this issue up to the surface, but the message has always been there. Can we point our fingers at 200 Pound Beauty, and not also hit every single k-drama and every movie?

JAVABEANS: I don't think a movie has to be entirely fantasy or entirely literal. That's a little too black and white for me. There are motifs and themes in fantasy (Lord of the Rings? Harry Potter?) that apply in the real world, just as there are fantasy elements in much more "realistic" films and dramas.
The fact is, messages are important and people take away certain ideas from uber-popular movies like 200 Pound Beauty whether intentionally or not. It's a bit like the Britney Spears argument, "But I never asked to be a role model!" Whether or not a poptart with tweenage fans wants to be a role model, whether or not a movie intends to convey a pernicious message, it has to deal with the responsibility of being a bearer of that message. And it's up to the movie to treat it with thoughtfulness, or not.
I agree that 200 Pound Beauty is certainly not the only offender — as you point out, there are dramas and pop culture at large to point fingers at, too — but the debate isn't whether those are also culpable, just whether this one is. And to me, it is.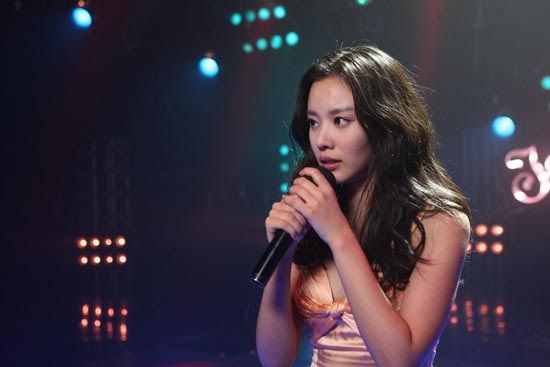 SERE: I think you're missing the point, Samsooki. True, most of the actresses out there — Korean and non-Korean — are skinny, more often than not even skeletal, but it's not like the point of the drama/movie, the key storyline, is to say, "Look, they're skinny and beautiful and therefore they're good and successful and even got a boyfriend or a husband." Is there a storyline like that? The only one I could think of when the weight of the main character is mentioned *at all* was My Name is Kim Sam Soon, but it was done in such a way that it wasn't recklessly dealt with: it was very realistically and sensibly done.
Anyway, yes, many actresses are skinny, and they're most likely chosen because of their looks (after all that's how the system works, and we all know that), but whatever the reason, the message of the movie itself isn't strictly linked to the weight of the actress. What I mean is, you're one step ahead of me. There are 2 ultimate messages to movies/dramas, imho: (1) the one of the movie/drama itself which (a) revolves around the plot and the characters, (b) is the most direct and (c) is supposed to grab the attention of the viewer, not only entertain him/her; and (2) the one which you speak of, which is about the casting and society in general. But in my opinion, this message is quite obscure and most likely it wasn't even meant to go through. Hm, I don't know if I expressed myself clearly here.
Anyway, 200 Pound Beauty takes what are extremely serious issues — plastic surgery, weight problems, discriminations, perception of Self — and treats them *extremely* lightly. And *that* makes me uneasy. If you want to argue that it's just fantasy, that a simple movie cannot be blamed for the cultural mishaps of an entire society, well, of course I can't blame it for that… nobody can. But, even though I firmly believe that movies should be entertaining and fun, there's also the tiny little problem that treating sensitive topics in such ways is always quite dangerous.

SAMSOOKI: Yes, the movie did treat plastic surgery lightly. But, it is merely a movie device used to move the plot along. Some stories use magic wands, others use a time machine, or a genie in a bottle, whatever. Now, again, I agree that the movie's use of this device ("magic" plastic surgery) was problematic, but if so, then I really think that we are just treading on the edge of a much larger issue, which is the way that Korean culture overwhelming supports a singular notion of physical beauty.


SERE: But it's not the plot device itself I have a problem with. It's how and why that plot device is used. It's used in an otherwise realistic — or as much as a rom com can be — "chick flick" aimed at, I assume, young women. And that might be confusing. BTW, that notion of physical beauty? So not only Korean!


SAMSOOKI: You have issues with how the plot device is used? So if the main character hadn't used magic plastic surgery, but had gone through 8 months of severe diet and physical training (still not realistic, but again, we are dealing with fantasy), then would your problems with the movie disappear because plastic surgery was not used? To me, the issue would STILL be there, because the larger issue is how Korea (and other countries) champion the ideal of physical beauty.

SERE: My problems with the movie wouldn't disappear entirely, but most of them? Yeah. Look, I could have even accepted the plastic surgery plot device, but IF and only if the character had gone through such a change for herself and herself alone (for her health, whether mental or physical, etc.) rather than to be pretty in order to be noticed by the guy she loved. You could argue that if that *ultimately* finding love is for her own benefit and yeah, I suppose, but do you have to completely forget who you are in the process? All I'm saying is that all the topics mentioned in this movie are rather complex, and using or abusing them in such a movie — and do we agree it was meant to be a "light and fun" rom com? Cos if we don't, then this whole discussion is sort of pointless — can trigger all sorts of tricky problems and reactions. My main issue with 200 Pounds is that The Powers That Be treated serious problems in a light way, totally disregarding what the message they were sending was. Serious issues + light rom com = not a great combo, imho.
I do agree that there's a much larger issue at hand (the ideal of physical beauty), but you can't change society in a day, right? You can, however, start making small steps in that direction with, say, movies. But this is an entirely different problem, I think.


SAMSOOKI: By contrast, we can look at an American movie which also deals with issues of obesity, fat suits, beauty inside vs beauty outside, etc. — Shallow Hal. The message of Shallow Hal seems to be a good one: "Hey, everyone, beauty is more than skin deep." If you haven't seen the movie, the main character has a spell put on him where he sees women only through their "inner" beauty. So, if he sees a supermodel who is a bad person, then he'll see that person as ugly, whereas this obese woman who has a heart of gold (played by fat-suited Paltrow), he sees her as the beautiful Gwenyth Paltrow without the fat suit.
I know that people will argue that it is only when you ARE good that you look beautiful, but the reality is that nobody can tell if you are good or bad from just your appearance. So the perverse result is that Shallow Hal's the subliminal message is to associate beauty with "good" and ugly means "bad." And that message is actually worse than the one in 200 Pound Beauty.


SERE: Premise: I'm not saying Shallow Hal is a work of art (on the contrary, I actually think it has lots and lots of flaws), but I also believe it dealt with the same issues 200 Pound Beauty tackled, but in a less horrifying way. What you said it is true: the clichés and stereotypes you mentioned are there, no doubt, but if you think about it, Hal's prejudices, however shameful and wrong they are, are exactly the same of Society. So in the end, the movie actually mirrors what is, canonically, considered beautiful and what is not (FYI, I'm in no way saying that I agree with THAT message). I mean, Hal always thought beautiful people were only hot supermodels, he never even **considered** inner beauty, but then he changes his mind (I'll never forget the scene with the girl whose face was burnt). And yeah, the clichés are awful, but the ultimate message of the movie is: everyone is beautiful no matter how they look. Period.
The ultimate message of 200 Pound Beauty is, on the other hand, slightly different: it's more like, yeah, yeah, everyone is beautiful, but it doesn't really matter because if you aren't, you can fix that and yes, you might suffer, but you'll get your happy ending in the end. Honestly, that last scene in 200 Pounds left me really, really bitter and quite speechless.


SAMSOOKI: Bottom line: I really enjoyed watching 200 Pound Beauty because it brought together everything I enjoy in a movie — compelling character brought out by great acting, comedy, romance, songs, etc. The story line may have problems from a "message" standpoint, if you take what is otherwise a minor plot device (really, no different than a magic wand, but nobody criticizes the use of magic to make limousines out of pumpkins) as the message, but if we point at this movie for pushing beauty as an end-all-be-all goal for women, then we can blame all of Korean pop culture for the same thing. And I don't see anyone doing that.


SERE: I liked the songs and her singing, but I cannot help but thinking that maybe TPTB could have achieved the same success, still have filmed a nice rom com, but without the potentially nasty message thrown into the mix. I would've enjoyed it a lot more!


JAVABEANS: I have to thank you both for taking such time and effort into this discussion! This whole plastic surgery issue is so relevant in pop culture in particular and society at large, and you both have been wonderfully eloquent about expressing your thoughts on both sides. Already I'm eager to see what kind of comments and discussion this sparks below.

RELATED POSTS
Tags: 200 Pound Beauty, Kim Ah-joong