Retired actress Shim Eun-ha unveils artwork
Shim Eun-ha is one of those curious cases, where her mystique keeps growing, even years after stepping out of the spotlight.
I remember hearing that she took to studying art seriously, and now, four years into her retirement, she's revealing some of her works at the Seoul Open Arts Fair (SOAF). The fair opens April 15, with an opening ceremony kicking things off on the night of the 14th. To my untrained eye, the paintings are surprisingly good; it doesn't look like mere dilettantism and the pieces are done in the classical Korean style. (Check out a few below.)

One of Shim Eun-ha's paintings
SOAF 2009 runs from April 15 through 19, and Shim's pieces run as part of the "Star Art Project," a special section that will exhibit several works by celebrity artists. Among the others featured is actress Kim Hye-soo, singer Jo Young-nam, and broadcaster Lee Sang-byuk.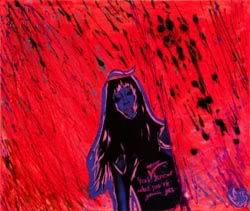 When you make a special celebrity section, I think it tends to dilute the effect of exhibiting the work, since you're basically admitting to special treatment, but I do think Shim Eun-ha's pieces are good.
I'm not so impressed with Kim Hye-soo's (at right is her "Raining Again"), but I like the composition of Shim's paintings, and they show some technique. Maybe I just don't get Kim's brand of pop art.
This is Shim Eun-ha's second exhibition; she first showed in April 2003. After a long career in which she gained widespread popularity and recognition as a top actress, Shim married at age 33 and retired at the height of her fame. She is now raising a family with her professor husband, and has maintained both a low profile and a firm stance that she would not make an acting return.
Still, every year or so, you'll find rumors and articles that pop up speculating on whether a Shim Eun-ha comeback is likely. (It's not, in my opinion.) I suppose it's somewhat similar to when Go Hyun-jung married and retired, or if Lee Young-ae suddenly decided to quit her career.
Shim recently returned to school to get her university degree, having expressed regret that she hadn't pursued further education while she'd been acting. She is a student in the college of liberal arts at Korean National Open University.
Here are two more of Shim's paintings: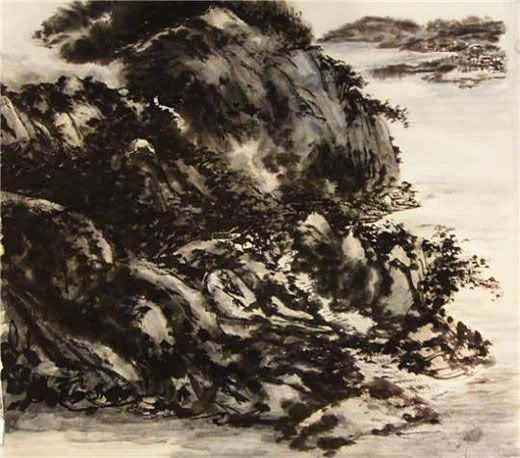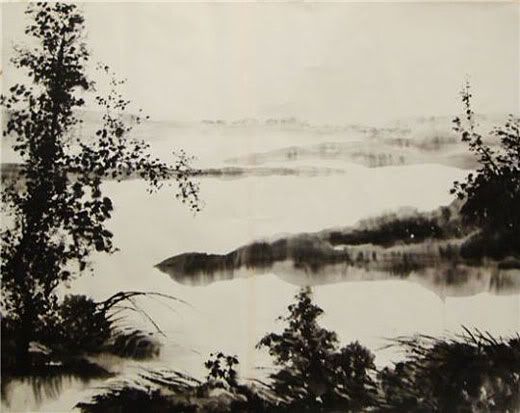 Tags: Kim Hye-soo, Shim Eun-ha, star extracurricular activities