One more (yes, more) Boys Before Flowers special video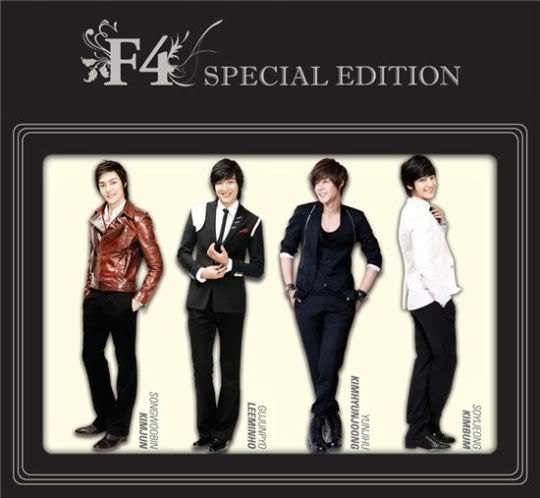 First off, in case you were still wondering what's up with the last half of the "F4 Special Edition After Story" music drama, for no explained reason the release was pushed back. (Parts 1 and 2 with Kim Bum and Kim Joon indicated we could expect Parts 3 and 4 to air on May 5, but they are now being released tomorrow instead, May 19.)
I'm all for milking that cash cow for all it's worth, but really, is there anyone left who's excited for news of yet another special to be released after Kim Hyun-joong and Lee Min-ho's parts are shown tomorrow? Because another video is being revealed, with a "special package" album released on May 25.
Seeing as how the public has been so eager to welcome the F4 boys in photo shoots and CFs and new projects, they are putting out a 50-minute "making of" video of the special edition project, which will air on cable channel Mnet on May 19, 6pm.
CORRECTION! Sorry, I got more info from another news source. Making-of clip will be shown on May 19, along with the full version of the music drama. Special package album of Special Edition songs to be released May 25.
SONG OF THE DAY
Kim Bum – F4 Special Edition – "지금 만나러 갑니다" (I'm going to meet you now), originally a Park Geun-chul song.. As I said when his part aired, Kim Bum's singing voice is surprisingly good. Not "good for an actor" good, but "wow, actually could be one of those actors who has a real singing career" good. [ Download ]
Audio clip: Adobe Flash Player (version 9 or above) is required to play this audio clip. Download the latest version here. You also need to have JavaScript enabled in your browser.
Via OSEN
RELATED POSTS
Tags: Boys Before Flowers, Kim Bum, Kim Hyun-joong, Kim Joon, Lee Min-ho, music videos