Dream: Episode 2
Argh, Dream did it again. After Episode 1 had aired, I was on the fence about continuing the drama, but pretty close to jumping off that fence. Most of Episode 2 did little to convince me otherwise, and I was content to let this drama go on without me. But again, the last ten minutes managed to be more interesting than the first fifty combined, so I find myself dragged along a little bit longer. (Note: I don't think I'm going to continue recapping — not unless Episode 3 is whiz-bam-bow! fantastic, and really, those odds aren't high — just to let you know.)
The reason for my (and the public's) lukewarm reaction, I think, is simple: When you put Kim Bum and Sohn Dam-bi together, meh. He's adorable, she's bland. Together, they're boring. Then you try the combination of Sohn Dam-bi and Joo Jin-mo, but again, yawn. He's great and she's, again, bland, and together they are predictable.
But then you put Kim Bum and Joo Jin-mo together, as they do in this episode, and things finally wake up.
SONG OF THE DAY
MC Mong – "나비효과" (Butterfly Effect) [ Download ]
Audio clip: Adobe Flash Player (version 9 or above) is required to play this audio clip. Download the latest version here. You also need to have JavaScript enabled in your browser.

EPISODE 2 RECAP
Poor Nam Jae-il: not only is he ousted from his high-powered agency gig but he's also kicked out of his (agency-funded) home, and all his possessions taken back by his former employer. He's poor, homeless, and friendless; at the first sign of trouble, his polished reporter girlfriend (Su-jin) drops him like a hot potato.
Again the Jerry Maguire influence is a little distracting because it's so blatant; just like in the movie, Jae-il goes around to his former athletes, trying to poach them from Super Star Corp. Too bad they've all seen his fall from grace, which is widely publicized with Jae-il made into the scapegoat for drugging the former client with steroids. They all turn him away.
Dejected and facing a dead end, it's fortuitous timing that Jae-il receives a call from Park Jung-chul, a top amateur fighter who is a highly prized "get." Jae-il had been trying to lure Park Jung-chul to Super Star before his firing, and now Jung-chul returns his call, annoyed that he never got a follow-up from the agency. Jae-il is incredulous — but relieved — that Jung-chul hasn't heard any of the rumors, as he is firmly out of the Seoul loop and doesn't own a television.
Jae-il rushes to Busan to meet Jung-chul, but has trouble finding the exact address. He gets a tip to ask at the boxing gym, and heads over — but when So-yeon sees him lurking outside, she remembers the peeping Tom from before and accuses him of coming back. She realizes belatedly that Jae-il isn't Jang-seok and grudgingly apologizes, but Jae-il remembers her as the bad-tempered girl from the photo shoot before, and they part on annoyed terms.
Jae-il then meets with Jung-chul, who is looking to cross over into mixed martial arts. He's famous in the local (perhaps even national) boxing circles, but he's poised to achieve greater success in the international scene with the right management. He's amenable to Jae-il's ideas until he hears that Jae-il is no longer with Super Star. Plus, he was under the misconception that he'd get a signing bonus. Jae-il explains that sports agents don't work that way, but Jung-chul walks away — how can he sign without endorsement deals or any promising offers lined up?
Jae-il's reason for rushing is because he knows Super Star is also hot to claim Jung-chul, as they do the next morning. A slick agent meets with Jung-chul and outlines the terms of the contract. Thing is, the contract is incredibly strict — no drinking, no partying, no womanizing — and the coldly professional business atmosphere rubs Jung-chul the wrong way. He's a simple guy who likes to enjoy life, and wants more of a traditional wooing process (like Jae-il did, over liquor and flattery). He doesn't sign with Super Star either, confident in his talent.
Jae-il keeps an eye on Jung-chul, observing and planning, biding his time.
Now we introduce these hard-bodied "Flower Fighters" ("flower" taken from the term for pretty boy, "kkot-minam"), which is the name of a team/agency specializing in good-looking fighters. The guys are all tall, muscular, and bear nicknames like Achilles, Narcissus, and Poseidon. Basically, it's a pretty-boy league.
Park Jung-chul calls the manager, expecting to be welcomed, but is offended when she turns him down for not fitting the "requirements." In other words, he's not good-looking enough.
Now we meet the other person of interest: Maeng Do-pil (Kim Woong). So-yeon's father, Park Byung-sam, runs the Dream boxing gym and trains a few fighters who also live with the family. One is the older Kwang-pil, on the right, who is married to So-yeon's aunt and is frustrated with his lack of progress.
The other is the younger Maeng Do-pil, on the left, who is a rising talent and the Korean K-1 champion. However, Byung-sam may be a good coach but is lousy at marketing, which partially accounts for his fighters' lack of large-scale success. Do-pil is the other fighter that Super Star has its eye on and plans to sign.
Determined to win over Jung-chul, Jae-il sets a plan in motion using the only tools he knows how to wield: trickery and lies. First, he sets a trap employing a pretty young woman, who catches Jung-chul's eye on a morning jog. She flatters his ego by recognizing him and saying she's a huge fan, and flirts enough to get him to ask her out for drinks. She calls out a few more pretty girls to keep him happily occupied at a bar, and slips a drug into his drink.
In the morning, Jung-chul wakes up groggy with no recollection of what happened. So when he gets a phone call from the woman's "oppa," he has no defense against the claims that he took her home and beat her. The man sends Jung-chul cell phone photos of the woman with a bloody face and threatens to go public unless he hands over 100 million won.
Jae-il to the rescue! He "happens to" run into Jung-chul and offers to help him, seeing how upset he is. He swiftly takes charge, looking at all the "evidence" and calling a cop friend for some backup. Jung-chul, who is convinced he's doomed and his career over, can only watch in bewilderment as Jae-il handles the troublesome blackmailer, accusing him of plotting the whole thing to entrap Jung-chul in a scandal.
To Jung-chul's shock, the man is arrested and carted away by a cop, and Jung-chul blubbers his gratitude, promising to sign with Jae-il and stay with him forever. Naturally, he can't know that everyone was hired to act their parts by Jae-il — and we might recognize the cop in particular as Jang-seok's not-father, the man who raised Jang-seok to be a petty thief.
Jae-il uses this to his advantage to begin his climb back to success. By now he has figured out that Su-jin was more interested in him when he was a hotshot agent, but he comes to see her with a business proposal.
He knows that her TV program is planning a tournament of mixed martial arts fighters. If he manages to officially sign Park Jung-chul, he wants her to promise to give Jung-chul one of the slots. This would be good for both of them, since Jae-il would get exposure for his client and Su-jin would get ratings. She knows that Super Star wants Jung-chul and doubts that Jae-il can succeed, but promises that she'll bump a rookie and give the spot to Jung-chul — IF he signs him.
Su-jin had known that while she was dating Jae-il, President Kang Kyung-tak was also interested in her. Now that she's ditched Jae-il, she goes out with Kyung-tak, and subtly fishes for information about Jung-chul and Jae-il.
Kyung-tak is confident that he can sign Jung-chul, and admits that perhaps his swift punishment of Jae-il was prompted in tiny part by jealousy of his protégé. It's apparent that he's not going to let Jae-il best him, even though he already knows about Jae-il and Su-jin's arrangement.
Meanwhile. Jang-seok needs a job, so he finds a buddy working at a nightclub, who hooks him up with a position as a server.
Unsurprisingly, the coincidence fairies bring So-yeon to that very same bar for a fun night out with some girlfriends.
And yes, another coincidence brings Jae-il and Jung-chul to a private room at the very same bar, where they sign the contract and celebrate their partnership.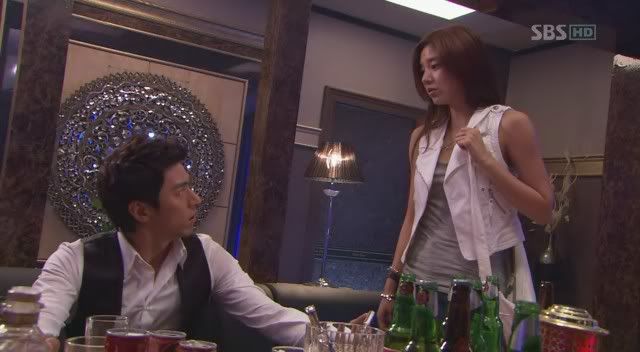 Jung-chul wants to party, and the waiter is instructed to bring them some pretty girls for company. (This is known as "booking" and is different from bar hostessing, because the women are customers who are persuaded — sometimes dragged — to the tables of men patrons who buy them a drink. Think of it as aggressive matchmaking. A bit barbaric, perhaps, but the women are free to get up and leave after a drink. Sometimes booking is initiated by enthusiastic waiters seeking nice tips from the men.)
Anyway. Soo-yeon is not willing to go along, but the overzealous waiter forces her to follow him by grabbing her purse. In the room, she recognizes Jae-il and accuses him of stalking her, then storms out in a huff.
Some time later, both Jung-chul and Jae-il are totally drunk as Jang-seok comes by to refresh their table. He recognizes Jung-chul — and his knowledge of boxing probably explains his fascination with the boxing gym — and exclaims in excitement. He introduces himself as a huge fan, and asks for a photo.
However, the words "huge fan" and "photo" trigger very bad memories for Jung-chul, who's just recovering from his recent scare. He refuses, but Jang-seok doesn't take him seriously and snaps a photo happily.
Drunk and belligerent, Jung-chul grabs Jang-seok's phone and stomps on it. Not understanding his reaction, this pisses off Jang-seok, who talks back and threatens to tell the whole internet what a jackass he is.
In frustration, Jung-chul takes a swing at Jang-seok — who swiftly evades the punch and strikes back. Both guys land a fist on each other's face, and Jung-chul passes out on the couch.
Jae-il looks up in shock at Jang-seok, who's pissed off and injured, but still standing.

COMMENTS
What works: Joo Jin-mo, hands down, is the best thing about Dream. He's the only person who inspires actual emotion, though I think Kim Bum has the potential to do so in the future. They've shared about two minutes together so far, but already I look forward to their interactions as the highlight of this drama.
What doesn't work: Sohn Dam-bi. She's not actually bad, and her acting is better than some other singer-turned-actor debuts. But she's just really boring. Kind of forgettable, really. I don't see much chemistry between her and anyone else — Kim Bum, Joo Jin-mo, Do-pil, or even her father. I really wish they'd cast a stronger actress, particularly since Choi Yeo-jin is not doing it for me, either. Don't get me wrong, she's a better actress, but the character is a cold bitch who isn't very likable, which means that this drama has no appealing women characters.
I'm not sure yet how the story is going to turn out, because Episodes 1 and 2 were extreeeeemely predictable (thanks to a combination of clichés, plain writing, and Jerry Maguire), but we're finally starting to move away from that. How will Jae-il turn Jang-seok into a top fighter? Will he also sign Do-pil, rounding out his stable of talented but rough-around-the-edges athletes? Is this going to be an ultimate underdog story that pits his Mighty Ducks against the Flower Fighters and Super Star?
All this could be interesting, but this drama tends to feel slick and cool without much heart. I'm not saying that the situations are heartless, because there are some emotional beats, like the flashes of Jae-il's vulnerability when his sick mother is mentioned. But generally speaking, I don't really feel this drama. A story doesn't have to be emotional and melodramatic to have heart or inspire feeling — Story of a Man, for example, was sophisticated and polished but had a lot of emotion behind it — so I'm left a little cold with Dream. It's not quite fun enough to be mindless entertainment, but it's not serious enough to be an intense action piece (unlike, say, Mazzang), either. It's sorta riding that middle ground, and that's why I'm hesitant to stick it through.

RELATED POSTS
Tags: Dream, Joo Jin-mo, Kim Bum, Sohn Dam-bi