Park Ki-woong scores a timely hit
Another interview with a Story of a Man cast member! Like his castmate Kim Kang-woo, I've previously featured an interview with Park Ki-woong, but these 10 Asia features are such great reading. (I don't get why there aren't similarly in-depth interviews with the drama's actual star, Park Yong-ha! I've seen some really basic pieces floating around, but nothing really meaty.)
(Note: This interview was published back in April, as Story of a Man was just hitting its early stride.)
SONG OF THE DAY
Story of a Man OST – "Dear" [ Download ]
Audio clip: Adobe Flash Player (version 9 or above) is required to play this audio clip. Download the latest version here. You also need to have JavaScript enabled in your browser.

A timely hit in the bottom of the 7th inning with two outs

There was a baseball player. He'd been up at bat the required number of times, and all his statistics — batting average, long hits, on-base percentages — had been calculated, but the anticipation he engendered was completely different in real-life games than from his data. In other words, he has a comparatively low batting average, but gives the feeling that he'll make a timely hit when up to bat, a player who gives a person a strange type of faith.

"The 2006 film The Art of Fighting was a mild success, but the rest were flops" — that's the feeling Park Ki-woong gives off. When looking only at the numbers, he's got more than 10 films in his filmography in his seven-year acting career, but it will be difficult to find a particularly successful film or project that shows special talent as an actor. Still, for whatever reason a sense of anticipation builds whenever he appears onscreen with a slightly sly expression on his face. It's the same feeling with his Ahn Kyung-tae character in KBS's Story of a Man, which is starting to head toward a showdown.

"Ah, this time I'd really better not disappoint the director"

Wearing a toy headset that not even grade schoolers normally wear, his Ahn Kyung-tae jerks his head quickly, moment by moment, as he mutters dialogue like, "In the year 1997, Peter Lynch took the $22 million Fidelity Magellan and multiplied the investment capital 25 times over for his million shareholders within ten years. Looking only at the earning rate, that's a 2700% increase." Following work on his MBC Dramanet series Seoul Warrior Story, during which he spent 62 of the 77 filming days doing overnight shoots, Park Ki-woong was completely drained and had wanted to rest for a while, but this is a role unique enough to bring him rushing back into another drama. However, more interesting than his impressive acting in a small part as a person troubled with nervous tics is the fact that director Yoon Sung-shik had felt that sense of anticipation from him and had offered him the role of Ahn Kyung-tae.

"I'm not sure of the reason myself, but I think I'm receiving more affection than I've earned. Also, if my own skill amounts to this much, then the skill of the director is thaaaaaaat much." He is full of doubt over the reason he can keep working despite his previous projects, which have been far from drawing in movie tickets or television ratings. However, that could be because he alone doesn't know how commendable are the words he mutters to himself, "Ah, this time the director has really put his faith in me, so I'd really better not disappoint him…" It's not likely that a reporter would not like him after spending four hours stuck in the car following filming because the rain caused the roads to crowd, and he apologizes, "I'm sorry we weren't able to do the interview in the best condition." It's also unlikely that you'd find a director who wouldn't like him as he says, "I have to work diligently not to cause disappointment after my talents have been rated so highly."

The anticipation of scoring a successful hit by any means

He says, "Rather than having an interview aimed at a particular purpose, I prefer conversing comfortably." When I praise him saying I was fortunate to be able to see his play, his eyes light up and he seems like a bright, free youth; he's also an upright, honest guy who doesn't hesitate to answer the question of what he would never do, which is "To cause pain for others."

One could get the feeling at first glance that this young man who lives unbound by rules is fairly typical, but in actuality that's not the case. Perhaps it's because his honest and at-times peculiar youthful charm, such as when he feels that the viewers and his director may be counting on more from him than he has proven, has also been given to his character. The appeal one feels from his kind, upright Dong-hae from Seoul Warrior Story, his "good-for-nothing" ex-boyfriend character Kyung-hwan in Love & Marriage, or his Ahn Kyung-tae who has difficulty telling good from bad in Story of a Man, isn't a clearly measurable talent. But it can be felt. That's why one can't help but cheer him on with anticipation as he goes up to bat.
My Name Is…

My name is Park Ki-woong. (朴基雄)

I was born on February 13, 1985, the day before Valentine's Day.

I grew up without many restrictions, raised by free-spirited parents. My high school let us do what we wanted with our hair, and it was my mother who wanted to dye my hair from brown to bright red-orange. When I got into university, she thought I'd look good with a perm, but seeing the results, she teased me, "That really doesn't look good on you."

This is my third time working with Story of a Man director Yoon Sung-shik. He directed me in the KBS Drama City production Love Hunt, 30 Minus 3, and he was a producer and B team director for the KBS drama Love & Marriage. Maybe that's why I can understand what the director asks pretty quickly, and he okays my scenes fairly easily.

Director Yoon Sung-shik recommended me to writer Song Ji-nah, who said, "Let's meet him once," so I went to meet her. She didn't explain what role she would give me, but just said that it wouldn't be an easy part and asked, "What's your normal preference? In the movie Rain Man, are you more drawn to Tom Cruise or Dustin Hoffman's character?" She must have been thinking of Ahn Kyung-tae.

After MBC Every1's Seoul Warrior Story ended, I was in a lot of pain and I wanted to rest. The wire action work meant that we were connected to the waist, and it puts a lot of stress on the backbone. On top of that, the shooting schedule was packed and I hadn't even laid down in seven nights and eight days, staying up all night shooting. In order to rest my back, I have to lie down, but because I couldn't do that, my disk slipped out.

I heard from Park Yong-ha sunbae that internet users were creating a love line between Kim Shin and Ahn Kyung-tae. He said, "You and I make the best couple." When I did MBC's When Night Comes, I wasn't linked with any of the three women, but with Lee Dong-gun sunbae. It's strange, I only get put together with men. Haha.
I'm pretty impervious to pain. If I fall and hit something, I don't really feel hurt, and even when I break the skin I might say, "Oh? My skin tore." Haha. When I'm not feeling good, I can prick myself with a needle on my own [in a traditional method of relieving indigestion pains].

I moved to Ilsan not long ago. I didn't like living in Kangnam. Actually, it's a bit far so it's a bit troublesome for my manager to come pick me up. But I was willing to put up with that because I wanted to living in a quiet, secluded neighborhood.

Sometimes when my parents come over, I tell them to turn on more lights. It's not because I want to enjoy depression like a hermit, but my eyes are on the weak side so I dislike fluorescent lamps. I use halogen lamps instead.

If a synopsis for a "makjang drama" came in, I would think really seriously about it. I don't think you can disregard a makjang drama because there are a lot of people who really like them, and there's a reason for that.

I've liked Manchester United since David Beckham and Roy Keane played for them. I bought a lot of T-shirts online, too. I gave them all away as presents, so all I have now is the model of what Beckham was wearing last with Man U. When it was said Park Ji-sung was going to join Man U, I thought it was just a rumor. When I heard it was true, I felt really proud.

The upper-class district of Andong surprisingly has a thriving band culture. Looking back to my high school friends who were in a band, they performed extremely well. The songs were good enough to be copied like Dream Theater's "Pull Me Under." I'm not necessarily a good singer, but because I could hit the high notes, I could sing things like Skid Row songs. I smoke a lot now so I probably can't sing like I used to.

I got to know Jin Gab-yong of the Samsung Lions through a principal at a Daegu design academy back when I was preparing for the university entrance exam. Maybe it's because I was part of the Samsung Lions kids' fan club from back when I was younger, but I was introduced to him and drank with him and became friends. These days, I meet often with Heroes player Lee Taek-geun. On Mondays when he doesn't have games, he'll call me to ask what I'm doing.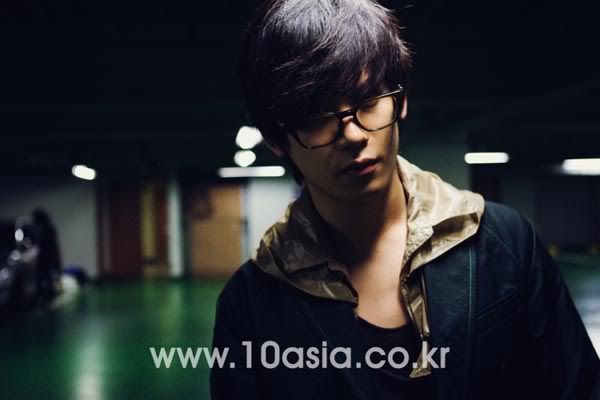 Drawing is a hobby I really enjoy. I can't actually draw as detailed and fine as I used to because my hand has stiffened up, but I still draw diligently. There's an artist hyung who lives in the next neighborhood, and sometimes I'll draw with him in his studio and learn oil painting from him, too.

There's a saying that if you don't know Park Ki-woong in Andong, you must be living under a rock. Being in a band, I was onstage a lot and rather popular. However, the neighborhood was so small to begin with that it was essentially like saying that anyone who didn't know someone else had to be living under a rock.

I'm watching the U.S. drama Lost. At home, I have Mega TV, and one day I looked and Lost was showing for free. So I watch an episode before I go to sleep. It's interesting, but I keep thinking that they only give out information in tiny dribs and drabs.

I was once offered the role of Danny in the musical Grease. I couldn't take it because of other work, but I'm always really curious about theater. If I have the opportunity, I think I might seek it out and try it for myself.

Published April 22, 2009
Written by Wie Geun-woo
Via 10 Asia (Part 1), Part 2
RELATED POSTS
Tags: interviews, Park Ki-woong, Story of a Man