Western actors becoming more visible on Korean TV
Here's an article that takes a look at the growing trend of non-Korean actors being featured on television, which caught my eye because it talks about one of the leads in the new weekend comic drama Tamra the Island, which I'm enjoying.
"Foreigners on television are no longer unfamiliar"

On the 8th, viewers watching MBC's new weekend drama Tamra the Island [탐나는도다] may have cocked their heads. That was because of the appearance of the lead French actor with the golden hair and blue eyes in the role of William. Hwang Chan-bin, birth name Pierre Deporte, is a Frenchman who attended high school in Korea. He couldn't forget his home country and after graduating from university he returned to Korea and first met the public on the program Global Talk Show [aka Misuda, 미녀들의 수다], and now has even appeared in a television drama.
A few facts: 23-year-old Hwang Chan-bin (I'll use his stage name since that's what he's going by these days) was born in France and first worked in Korea as a model. He is fluent in Korean, judging from the posts he's made on his mini-homepage.
In the drama (Episode 1 recap here), Hwang plays a 17th-century Englishman named William who washes onto Jeju Island, and even shares a kiss with the drama's lead, Seo Woo. If you're wondering why he's English and not French, it's because the original manhwa character is English — which also explains why he is unfortunately styled so glaringly blond. One of the things I like about Tamra's handling of William is that he's a sweet, nice guy, and while it's an important element that he is a foreigner (particularly on the closed-off island of Tamra), they don't make such a big deal of it. At least, main character Beo-jin doesn't; I'm sure there will be troubles ahead when the more narrow-minded villagers find out about his presence.

Assorted Gems
Next month, another Western actor will appear in the drama Assorted Gems [보석비빔밥], the new project by writer Im Sung-han of Love in Heaven [하늘이시여]: American Michael Blunck. He's a wakeboarder who has lived in Korea for nearly fifteen years. He doesn't have much acting experience, but he has an attractive appearance and excellent Korean language skills.

There are more than 1 million foreigners visiting and living in Korea, and the appearance of a multicultural Korean society is increasing on television.

Although dramas like Golden Bride and Namchon Beyond the Mountain dealt with foreign women immigrating to Korea, most of the roles have been acted by Korean actresses. As the number of foreigners living in Korea grows, more non-Korean actors are stepping into acting roles themselves, and Korean viewers have begun to accept them as members of Korean society.
For instance, Golden Bride starred actress Lee Young-ah as a Vietnamese (and half-Korean) woman who marries a Korean man. I'd venture to guess that casting a Korean actress is mostly out of concern for language and acting talent, although there was a Vietnamese actress, Haiyen (another Misuda graduate), who played a supporting character in the KBS drama Flowers For My Life.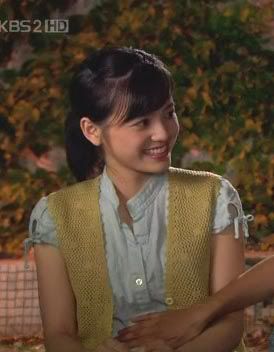 Golden Bride, Flowers For My Life
Last week, KBS's variety program 1 Night, 2 Days had a special "Traveling With Foreign Friends" segment. There were students who had come to Korea from India, the Ivory Coast, America, and Japan, and six participants including Kang Ho-dong took off on a trip to Jeonnam and Cheongsan-do. Their skin color and outer appearances may be different, but they formed friendships with their companions as they traveled to the beach and enjoyed Korea's nature.

The original program to start this trend is KBS's Global Talk Show [aka Misuda, aka Chatting with Beauties]. The program is cruising in is fourth year of popularity, and features a panel of women foreigners and their discussion about Korea from their point of view. PD Lee Ki-won said, "Our society is quickly changing into a multicultural one. We were educated as children to have pride in our homogeneous nation, but these times, with our 1 million foreign residents, are demanding that we change our awareness. I hope that through Misuda, we can reflect the changing consciousness of Korean society."

The problem is, the television roles for foreigners still don't mix in freely, and the perspective on directing foreign actors is still as the "other." We're still at the level where the casting of a foreign actor stimulates curiosity with viewers. Goryeo University sociology professor Hyun Taek-soo says, "In order to become a truly multicultural society, we have to move past curiosity to understanding and natural harmony. In the States and elsewhere, they don't have programs like Misuda, whose perspective on racial prejudice is so severe. In multicultural societies, they aren't 'others' but members of society."
Via Mk.co.kr
RELATED POSTS
Tags: Hwang Chan-bin, Misuda, Tamra the Island, variety shows