Yun-ho braces for criticism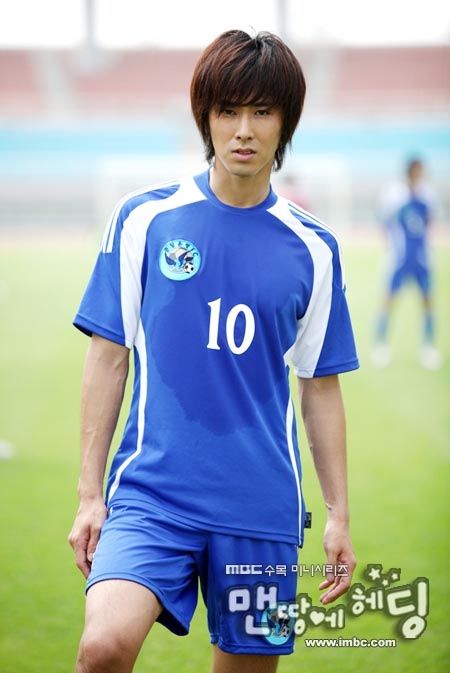 The first reviews are starting to come in for the first episode of Heading to the Ground, which aired today (I haven't watched it yet, but I plan to), and the reaction is tentative and mixed. Most acknowledge that headliner and newbie actor Jung Yun-ho's acting is still raw and awkward, although many give him credit for the effort.
You know, as I've followed the lead-up to today's premiere, I have to say that Yun-ho has handled himself pretty well, given his situation — he's sort of stuck between a rock and a hard place in choosing to take a principal role for his very first acting gig. As the leader of a highly popular idol band that is famous throughout Asia, it's not likely he would have been able to shrink into the backdrop as a supporting character, but being Headliner #1 does make him a prime target for criticism.
And with each report that comes out, I've been impressed with Yun-ho's comportment, and even surprised at how humble he's being. (There's modesty, and then there's insulting yourself, and sometimes he veers closer to doing the latter.) For instance, after the Wednesday night premiere, he released his thoughts via his management agency: "I was excited but watched the episode with a calm mind, and checked [my acting] meticulously. I could see a lot of my own inadequacies, and deliberated carefully about how to improve."
Prior to the premiere, he had spoken of his role as a growing experience for himself as an actor as well as his character. He said, "As my first time acting it's very difficult and tiring, but I'm filming to the best of my ability." He explained that he thought it was arrogant of him to evaluate his own acting at such an early stage, but said, "I rate myself at 0 points, and I'll mature along with my Bong-kun character."
The day before the premiere, Yun-ho left a message on the Heading to the Ground message board, greeting fans and asking for them to "watch with affection despite my weaknesses."
Is the modesty exaggerated or genuine? I don't think it matters; perhaps you've figured this out before, but the way to earn a Korean's respect is to prostrate yourself and admit to your flaws — exaggerate them if you must — rather than to assert your pride. Confidence is good and all, but one step too far and the "hold your head up high and bear it" approach begins to look like arrogance. Much safer to take the humble route and let the highly critical public be the ones to assure you sympathetically, "Oh you're not so bad." (After all, who wants to slam the guy who's only too willing to slam himself?) It doesn't hurt that the guy has thousands upon thousands of fans rooting for him; he explained that he has been cheered up by text messages from fans, who somehow found out his cell number and have been sending him approximately 50 messages daily. (Apparently, fans weren't positive that it was the right "Yun-ho" so they avoid calling outright, and instead send texts like "Heading to the Ground fighting!")
As for the actual acting… "awkward" and "unnatural" are the most common descriptors, although others say cautiously that it's "better than expected." Since this is just the beginning, many comments are willing to cut the guy some slack and see how he improves.
Scenes from Episode 1:

Via Asia Economy, Newsen, Consumer News, Max Movie, OSEN, Star News
RELATED POSTS