You're Beautiful: Episode 7
Great episode! I was a little uneasy about whether the drama would start to flag once the initial excitement had worn off, but I think it's still going strong. There are some nice moments in this episode, although (thankfully) they manage to be sweet without being saccharine.
(Sorry for the election ticker running across the bottom. I don't think there are any versions without it.)
SONG OF THE DAY
Taru – "쥐色 귀, 녹色 눈" (Gray ears, green eyes) [ Download ]
Audio clip: Adobe Flash Player (version 9 or above) is required to play this audio clip. Download the latest version here. You also need to have JavaScript enabled in your browser.

EPISODE 7 RECAP
Mi-nyeo stands stricken, watching Tae-kyung and Heyi kissing in front of the reporters, thinking, "I don't want to see this, I should turn around, but my body won't obey. What do I do?"
Shin-woo comes up to her and casts an angry look Tae-kyung's way, knowing how this makes her feel.
Only… turns out it wasn't even a real kiss!
Tae-kyung moves in for the kiss but ends up holding Heyi's head still, keeping their faces inches apart. From this angle, we can see that instead of being a grandiose, romantic moment, both pop stars are grumbling at each other through clenched teeth. Heyi struggles, but he tells her to stay still for the photo op, adding, "Don't worry, I won't ever do it for real."
Afterward, Heyi complains peevishly. He reminds her that she was the one to suggest they date for real; he has agreed to "act like it's real." She fumes at his proposition. He asks sarcastically, "You can't have wanted it for real?"
She laughs that off (a little too loudly), then warns, "You may have started it, but I'll end it by dumping you. So until I say it's over, you can't end it. And you'd better not tell anyone that we're faking. If you do, my pride will be so hurt that I'll tell everyone the truth about Go Mi-nam."
Therefore, she demands that he see her home. "On such a crazy day, a boyfriend should take his girlfriend home. Act like a gentlemanly boyfriend." He returns, "On such a tiring day, a girlfriend should tell her boyfriend to go on home. Act like a thoughtful girlfriend." Touché.
After Tae-kyung leaves, Heyi pouts to herself: "I wasn't suggesting we pretend. I meant it."
Shin-woo tries to make Mi-nyeo (and himself) feel better by saying that it's natural that she was surprised. All their fans are probably heartbroken. That's because Tae-kyung is a star, so feeling sad isn't surprising or even unusual. He assures her that what she's feeling is "nothing special."
True enough, the fans camped outside the A.N.JELL office are all in tears. Sayuri sobs, "Don't cry, guys. We're oppa's true fans, we should congratulate him!" She starts a tearful chant, "Congratulations!"
Therefore, Mi-nyeo decides that in order to make her disappointment "nothing special," she should congratulate Tae-kyung too, like a fan. When he comes home that night, his housemates surprise him with a congratulatory party. Their chant dies, however, when he glares them into silence and leaves the room.
Aunt Mi-ja speculates that Tae-kyung's attitude must be from embarrassment, while Jeremy figures it must be because he's sorry to have hidden it from them.
On the contrary, Tae-kyung grumbles (regarding Mi-nyeo): "How can you jump in to congratulate me? Who was I doing that for in the first place?" He concedes, "You're congratulating me because you don't know that."
The rest of the house continues their celebration, with Aunt Mi-ja pressing another drink on Mi-nyeo ("The Go men are strong drinkers!"). Mi-nyeo turns it down because she's already drunk. Immediately, Jeremy feels concerned and steps in to take the drink instead, and Mi-nyeo stumbles away tipsily.
Jeremy has noticed that Mi-nam is acting odd, and finds her outside. He wonders, "Is the reason you're looking upset because of Yoo Heyi?" Oh, Jeremy, you are SO CLOSE to being clever, and yet so far! He asks (recall that in Korean, pronouns are dropped), "Are you feeling disappointed because of your feelings? Do you like [that person]?"
He means Heyi, but she thinks he means Tae-kyung and makes the excuse, "I'm just a fan. It's nothing special." Sympathetically, he says, "It's not a crime to like someone." He gives Mi-nam a book written by his favorite drama writer: "That writer wrote, 'Everyone who doesn't love is guilty.' That means that anyone who loves, no matter who they love, is guiltless."
Mi-nyeo: "Does that really mean I'm guiltless?" Jeremy: "Yeah. What's so bad about liking someone?"
She thanks him for his comforting words. As she leaves, Jeremy says with a pained expression, "Go Mi-nam, I see you really liked Yoo Heyi. I also… you…" But he can't finish that thought.
Tae-kyung comes out looking for Mi-nam, but the party is over and everyone has scattered. Looking around the house, he finally finds her curled under the piano, clutching Jeremy's book. When he calls to her, she shushes him: "I am searching for my answer."
Huh? He doesn't know what she's talking about, but she continues, "Am I guilty, or not guilty?" That's enough for him to guess, "You caused another accident, didn't you?" She says yes. When he tries to draw her out, she refuses to budge. He deduces, "You must have caused a really big accident."
He grabs her leg. She grabs the piano leg and resists. To force her to move, he goes to the piano and starts banging on it loudly, but she remains stubborn.
Tae-kyung reminds Mi-nyeo of the song she is to sing and asks if she's even listened to it. She retorts sarcastically, "As it is a song you wrote, of course it must be good." (Ooh, the nun (apprentice) gets snippy!) Then she remembers, "Hyungnim! I am your fan!"
He scoffs at that, because he doesn't need a fan like her. That takes the wind out of her sails: "But I have to be a fan. If I'm a fan, it's okay for my heart to hurt, and I can congratulate you. Hyungnim! Please let me be your fan!"
Tae-kyung replies, "You're not a fan. You're a special person who will sing the song I wrote. So get it together and listen to it."
Tae-kyung sits to play an instrumental version of his song ("Without Words"), and Mi-nyeo listens from under the piano. She thinks, "This is the song that brought me this far."
When he finishes, he finds that Mi-nyeo has fallen asleep. He notes that his life is constantly being mixed up and tangled up by her: "I shouldn't have found out she was a girl from the start."
Mi-nyeo gets to work recording the song, but is stopped almost as soon as she begins. The producer thinks she's not grasping the feel of the song — her notes are fine, but she lacks emotion. Sung-chan explains that she has to let her feelings just pour right out of her, and asks if she's never dated before.
Hoon-yi understands why she wouldn't be familiar with the necessary emotions — the song is about the love between a man and a woman, and how the singer misses the other person so badly that the emotions have to burst out of her. Thinking of ways to help her, Hoon-yi mentions her upcoming visit to her father's grave to observe his memorial, and suggests that she try to think about her longing for her father instead. Perhaps that will work.
The A.N.JELL guys arrive at the VIP screening for Heyi's movie, where reporters hound her and Tae-kyung about their romance. When asked if he feels jealous about Heyi's kiss scene, he looks straight at Heyi and answers flatly, "No."
In private, Heyi complains that he should have said he was jealous. It's hilarious how he says in his monotone, "I was acting the part of an open-minded boyfriend."
Heyi also wants him to attend the afterparty. He doesn't want to; he has done everything she asked so far, even participating in interviews. He came to the screening, and that should be enough. Of course, she wants to call the shots and insists he oblige her.
He isn't happy to hear that not only does he have to stay behind with his "girlfriend," but his bandmates are leaving early. Mi-nam is heading down to her father's hometown for his memorial, and says her goodbye to Shin-woo, who asks her to take him with her the next time.
The next thing we know, Tae-kyung is driving Mi-nam instead. Ha! Hoon-yi has switched places with Tae-kyung, so when Heyi gets into Tae-kyung's sports car, she's startled — and peeved — to find that the manager is driving.
As they drive, Tae-kyung ignores the constant calls from Heyi, and informs Mi-nyeo, "Today and tomorrow, you and I are going to be very busy." He clarifies, "The reason I'm following you is solely to train you with the song." (Keep telling yourself that, buddy.) He even feigns annoyance at the need to spend so much time with her, since he's so busy.
They make a brief stop near their destination, and Mi-nyeo buys a soda for Tae-kyung. Knowing how busy he is, she runs to the car, which causes the soda to burst open. It sprays all over Tae-kyung.
He can't abide wearing sticky clothing, so Mi-nyeo provides a change of clothing for him to change into. Tae-kyung puts them on, assured that they're brand-new, although they are too short to fit his taller frame. And also sweats — SO not his style!
In what will be a recurring joke this episode, Aunt Mi-ja has been bragging to the entire neighborhood that her famous singer nephew is coming. She gets everyone excited, and they are therefore unimpressed when Mi-nyeo arrives in a small compact car (Hoon-yi's) — definitely not the luxury vehicle they were expecting. Furthermore, these are older country folk, and they don't recognize Mi-nam as a famous face.
Aunt Mi-ja is relieved to hear that Tae-kyung has accompanied her, since he's more famous — but he steps out of the car wearing Mi-nam's sweats and looks thoroughly normal. The neighborhood folks don't recognize him either, and hearing that he never appeared on a particular program (probably because it's a dinky provincial show), they decide that he must not be very popular. I'm thinking they wouldn't recognize anyone who was famous in the past decade — which means they probably would have recognized Mo Hwa-ran, if only they knew she was also in the neighborhood.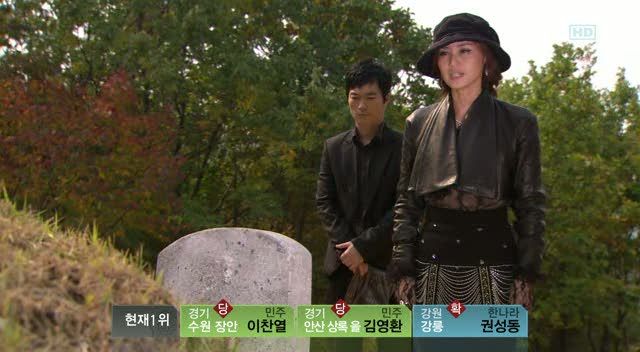 Hwa-ran is here to pay her respects to Songwriter Go, and speeds past Tae-kyung and Mi-nyeo's car on her way to the gravesite. She doesn't stop by the village on her way, which means that she arrives first. Placing flowers by the grave, she conveys some good news — she's going to re-release the song he wrote for her — and tells him to be happy.
When Mi-nyeo and Tae-kyung arrive at the mountainside, the other car is parked, albeit empty. Tae-kyung stays in their car while Aunt Mi-ja and Mi-nyeo head up.
Mi-nyeo passes by Hwa-ran on her way, but doesn't recognize her as the singer. She pauses for a moment, but doesn't make a big deal of the encounter until she reaches the grave and finds, surprisingly, that it has just been visited.
Aunt Mi-ja had explained that Mi-nyeo's father left his hometown at a young age to pursue music, which is why she doesn't know anything about his friends or the twins' mother. Mi-ja supposes there are people out there who knew him better, but she doesn't know who they are. Therefore, Mi-nyeo connects the graveside visit with the stranger they just passed, and immediately races back down the mountain to catch up to her. This woman knew her father, and she's desperate to talk to her.
She tries to call Tae-kyung to ask him to prevent the woman from leaving, but gets no answer. The car pulls away, and Mi-nyeo loses her chance.
And what is Tae-kyung doing?
He is off frolicking in the fields, enjoying some music, of course! He thinks to himself loftily, "It's been a long while since I've felt so peaceful. Was this how comfortable it felt to not have to be conscious of other people's looks?"
Looking off into the distance, he glimpses a man waving at him. As he moves gracefully to his music, he thinks ever-so-generously, "Is it because this is the country? Even strangers make greetings." He raises his hand to wave back, like a beauty queen to an admirer.
Tae-kyung's attitude is so pretentiously grandiose that OMFG IT IS HYSTERICAL.
Of course, the grandpa is actually yelling at him, "It's a pig! Run away!"
Back in the village, Mi-nyeo and Aunt Mi-ja have heard the story of the pig. But while the pig has been returned to its home, they find no trace of Tae-kyung. Aunt Mi-ja takes advantage of the opportunity to call Heyi, saying she'd better check on her boyfriend, who's in trouble. (Really, she just wants another star to come so she can make good on the bragging she'd done.)
Mi-nyeo worries, recalling Tae-kyung's bad sense of direction. Plus, when it gets dark, he'll have a hard time seeing. Her overactive imagination spins a scenario of what might happen if he doesn't come back by sundown — Heyi would be bedridden in grief. The A.N.JELL boys would be stricken. Fans would be heartbroken. Sung-chan would swear off eating pork.
No — she can't let that happen. She must find him! She heads back to the mountain, trying to guess which direction he would have chosen. Remembering his dislike of the dark, she picks the brighter path. He hates trash, so he would have avoided the littered road. A footprint in dung is definitely his, but he would have sought out water to wash in. To the stream it is.
It's a cute way of showing how well she knows him, and it works, because she finds him by the water.
Tae-kyung had come here to wash up, sweaty from the chase, and is now waiting for his shoes to dry. Declaring himself ready, he suggests they return, since he's thirsty. Lucky for him, Mi-nyeo has anticipated that and brought along drinking water.
He's surprised at her foresight, particularly as she explains the things she had packed for him: Clean clothes since he might be cold. A towel. First aid kit in case he was hurt. Food in case he was hungry.
He asked how she found him. She answers, "I just thought of you, and found you." He's a little impressed at her thoughtfulness, although he expresses it in his usual understated way.
As they walk back in the dark, Tae-kyung tells her to go slowly since he can't see very well. To preserve his dignity, he insists he hadn't run from the pig out of fear — he was just avoiding it! — but he freaks out when something rustles in the woods. He asks, "Are there rabbits in these mountains? I really hate rabbits." (LOL!)
She thinks rabbits are cute, but he'd approached one thinking it was cute and got bitten hard: "Rabbits are dangerous." That makes him think that she's like a rabbit — she looks innocent, but she's dangerous too.
Hilariously, Mi-nyeo starts singing the child's song "Santoki," or "Mountain Rabbit." Tae-kyung tells her nervously to quit it, but she continues, "Mountain rabbit, where are you going? Hopping, hopping, running off. Where are you going?" I love that she's developing a sense of humor.
The flashlight goes out and they stop to rest. Looking up at the sky, Mi-nyeo marvels at the stars. Tae-kyung gripes, "I can barely see you. Do you think I can see the stars?" But he can see the moon.
Mi-nyeo muses, "The only star you can see is the moon." He corrects her: the moon isn't a star. It only reflects light, but it doesn't have its own light like the sun. She answers, "Even so, the moon has its uses. Rather than pointlessly brightening up an already bright day, it gives light on a dark night. Isn't that useful?"
He corrects her again: "Go Mi-nam. The reason the day is bright is because of that pointlessly bright sun." She thinks some more, maybe a teeny bit downcast now: "Then I'm like the moon that's just clinging to you, who's like the sun."
In his unsentimental way, Tae-kyung says, "But the moon isn't useless. No matter how many other stars there are at night, all I can see is the moon."
(SQUEAAAAAAAL.)
I need a moment.
Okay, calm now.
Looking at him, Mi-nyeo says, "Hyungnim, right now I only see one special star." But he doesn't pick up on her real meaning; he just answers that there are a lot of stars in the sky. As tears pool in her eyes, Mi-nyeo continues, "There are a great many of them, but this one star sparkles so brightly that I keep only seeing that star."
Now he's the dense one: "There's a star like that?" Mi-nyeo: "Yes. It's a star that many people like. If I join the great number of people who like that star, it wouldn't be a crime, would it?" (Okay, now she's mixing her metaphors, but it's sweet.)
Tae-kyung is still looking up at the sky, unaware that she's growing more emotional: "Do you need permission to like those things? Ask the star. It should be able to see you right now." As a tear falls, Mi-nyeo looks at him to say, "Yes. I'm looking at that star right now. Is it okay to like it?"
A car horn sounds, interrupting the moment. It causes Tae-kyung to look over, and he spots the tears on Mi-nyeo's face. By the look on his face, it seems like he's just becoming aware that something else is going on here…
But this is when Heyi arrives, jealous and in a bad mood. How dare he ignore her phone calls and make the excuse that he's busy?
And then she trips and falls onto some dung.
To resume the recurring joke, none of the neighborhood grandmas recognizes Heyi, either. (When she answers that she hasn't been on that show, they tsk-tsk that she must not be popular.)
Heyi takes a moment with Mi-nyeo to ask about the conversation she'd been having with Tae-kyung. She's relieved that the answer is "only about the stars," because she worried that Mi-nyeo may have upset Tae-kyung. Heyi says in her fake-sweet way, "Please don't think badly of me saying this. Oppa and I are both busy that we have to find time to see each other. But if you take all his time, it makes me feel bad. Please let us have time just for the two of us."
Mi-nyeo promises to do that, so when Tae-kyung comes out to suggest that the three of them get going, Heyi gives her the eye. Mi-nyeo understands, and feigns tiredness, making the excuse to stay behind with her aunt. Tae-kyung tells her to come up the next day, then.
After they leave, Mi-nyeo looks up at the stars sadly: "There are too many stars." (But don't worry, you're a moon, Mi-nyeo!)
At home, the guys can tells something is off and the atmosphere in rehearsal is strained. It's been three days and Mi-nam is still not back. Jeremy worries that Tae-kyung got into a fight with Mi-nam, while Shin-woo tells him to give her a call.
Tae-kyung says tersely, "He'll come when it's time."
Mi-nyeo is still back in her father's hometown, thinking despondently, "I miss him." But she shakes her head and vows, "No, I can't see him until my feelings go away."
That conviction isn't strong enough to stop her from perking up when Aunt Mi-ja announces that she has a visitor from Seoul who is here to take her back. Mi-nyeo decides, "I want to see him!" and runs off, excitedly anticipating the reunion.
Only, she stops short when she realizes it's Shin-woo.
He's no dummy, and he picks up on her response: "Did you think it was Tae-kyung?" Still, "Even if you weren't waiting for me, it's okay. I came to take you back."
At her hesitant reaction, Shin-woo asks gently, "Do you want to stay here? You can leave behind those troubles and stay, and I can stop being your nice hyung. Want to do that?"
Mi-nyeo apologizes: "I only thought of myself. It must have put you, Jeremy, and President Ahn in a difficult spot, but I didn't think of that." Shin-woo guesses, "Is that how difficult things are for you?"
Despite that, Mi-nyeo decides to go back with him, saying, "I can endure. I have to endure it." Shin-woo would like to help her through it, and asks what he can do. She answers, "Please just be a good hyung to me."
Understanding that he'll have to back off, he answers, "Since what you want from me is to be a good hyung, I won't add to your difficulties. Just rest comfortably by my side."
(Aw. So sweet!)
So it's with excitement that Jeremy announces to Tae-kyung that Mi-nam has returned, and is currently in the studio recording the song.
Tae-kyung tells himself, "In one more day, I would have gone to get her myself." (It sounds romantic, but his implication is that he would've given her hell for staying so long.)
Mi-nyeo takes the microphone and sings, but her first attempt is too weak. She's stopped by the producer and preps for a second take, just as Jeremy and Tae-kyung enter the studio. Looking straight at Tae-kyung, she recalls Hoon-yi's advice on what the song means — longing between a man and a woman — and sings.
Park Shin-hye – "말도 없이" (Without words) [ Download ]
Audio clip: Adobe Flash Player (version 9 or above) is required to play this audio clip. Download the latest version here. You also need to have JavaScript enabled in your browser.
I shouldn't have done that,
I should have pretended not to know
like I didn't see it, like I couldn't see it
I shouldn't have looked at you in the first place

I should have run away,
I should have pretended I wasn't listening
like I didn't hear it, like I couldn't hear it
I shouldn't have heard your love in the first place

Without a word you made me know love
Without a word you gave me love
Because you took just a breath and ran away like this
Without a word love leaves me
Without a word love abandons me
Wondering what to say next, my lips were surprised
Because it came without a word.

Everyone is thrilled — this is it! This is what they were looking for.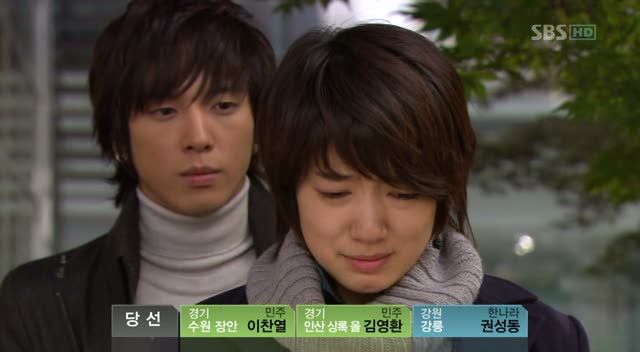 But after the first verse, she's overcome with emotion and runs out crying.
Shin-woo follows her out to check on her, but Mi-nyeo keeps her back turned and bursts out, "Don't look at me! Nobody should see me. It's too hard to endure. I think I will be found out."
Tae-kyung arrives behind them, and Shin-woo sees him standing there. He tells Mi-nyeo, "I'll cover you, so you're not found out."

With that, he turns her around so she can cry into his shoulder, as Tae-kyung watches, conflicted.

COMMENTS
Great, fun, romantic, angsty episode!
First off, I love (1) How dense Mi-nyeo is about Tae-kyung's motivations — not that he's being obvious about it, he's actually hiding it pretty well, (2) and how Tae-kyung keeps making excuses for his behavior with illogical explanations, and (3) How, since Mi-nyeo is dense, she doesn't question him even when his explanations don't quite make sense to her.
To wit: On their way down to the rural town, they stop for a rest, and Tae-kyung comments with a relaxed sigh that the air is nice out here in the country. He'd been feeling tired, but he likes the quiet and will enjoy his rest. She answers, puzzled, "But you said you were busy, which is why I ran." (She means running to the car with the soda.) Thus contradicted, he replies, his voice getting stern, "Go Mi-nam, I make the schedule. Don't butt in." Hehe.
I do think it's a little odd that Tae-kyung — so perceptive otherwise — didn't key into Mi-nyeo's feelings for him during the whole star/moon speech. I mean, he knows she's a girl, and he should know he's a hottie, so it shouldn't be so surprising to suspect that she could be talking about him. Then again, it WAS a pretty coded exchange, so I figure he was just taking the words at face value.
Speaking of which, the Hong sisters don't necessarily write dramas laden with "myeongpum daesa" — that is, "premium dialogue" — but I love how they slip in little gems in the midst of something normal. It makes that line less cheesy than it might sound in a drama that churns out out winning line after winning line. (Sometimes great dialogue is a wonder, and sometimes it's tiring to listen to.) The star/moon conversation is one example, but there are several others. Jeremy's bit about being in love and being "guilty versus guiltless" is one. If you take that line in a straightforward way, it could be one of those overly precious bits of dialogue. But given how literally Mi-nyeo interprets it, combined with that hilariously random exchange under the piano, we get the best of both worlds — the words provide a springboard for humor AND can be enjoyed for the original meaning.

RELATED POSTS
Tags: Jang Geun-seok, Jung Yong-hwa, Lee Hong-ki, Park Shin-hye, You're Beautiful