How was 2009 for you?
With the year coming to an end, that means it's time to take stock of the past twelve months (well, eleven really) in kdramas. The broadcast stations will be holding their awards ceremonies at the end of the month, and I'm working on my wrap-up of 2009's offerings — as are some very talented (and prolific!) drama-watching fans — which I'll post up closer to the end of the year.
But this is your turn to weigh in on what you liked or didn't. I didn't do a year-end poll last year (after putting one up in 2007) and people seemed to really want one, so it's back.
coup

Note that for most cases, I used the word "favorite" as opposed to "best," so vote on your favorite in each category, whatever that word means to you. It could be the one you thought was the best quality, or simply the one you enjoyed the most. Polls will be open for voting till the end of the month.

FAVORITE DRAMA OF 2009
I tried to be inclusive but naturally couldn't list every drama that aired in 2009 (there were more than 50). I included dramas that aired the majority of their episodes this year, but left off those that aired more than half their episodes in 2008 (like East of Eden) or haven't yet aired half their runs (Will It Snow For Christmas).
Did I leave out your favorite? Let me know in the comments!

Update! Added:

FAVORITE THRILLER OR BLOCKBUSTER DRAMA
Dramas in this category often boast big budgets and feature big names in front of and/or behind the cameras, whether that means lead actors like Lee Byung-heon or A-list screenwriters like Choi Wan-kyu (Swallow the Sun) or Song Ji-nah (Story of a Man). These dramas may also feature stories with broad scopes, lots of suspense and/or heated power struggles — mobsters, assassination attempts, espionage, and money games, they've got it all.

FAVORITE HISTORICAL DRAMA
Some of these are more conventional historicals, while others are in the fusion bent, but all are period pieces and feature some great costuming, acting, and fusion-inflected music and score.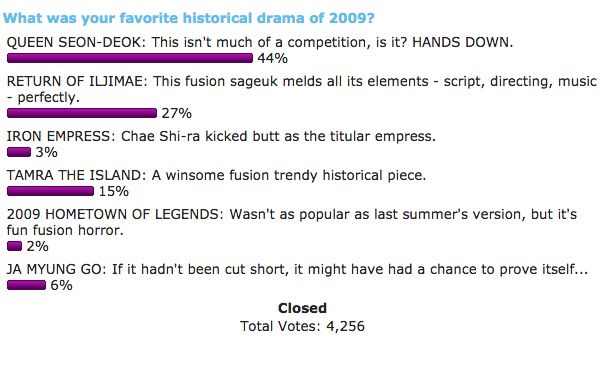 FAVORITE TRENDY DRAMA
Trendy kdramas, which are mostly set in contemporary times and tend to focus on relationships and modern urban life, aren't the exact same thing as romantic comedies, but the two terms have become almost synonymous when talking about Korean dramas nowadays. (This is particularly true because trendy no longer means exclusively contemporary. The growing fusion trend is giving rise to the "trendy sageuk" such as Hong Gil Dong and Tamra the Island, both of which are, of course, not set in modern times.)

FAVORITE MELODRAMA OR SOAP
A couple of the dramas below seem like they belong more in 2008 (A Star's Lover, Wife's Temptation) but they did indeed broadcast more than half their episodes in 2009. The oft-derided (but highly watched) "makjang" genre fits in here, where fast developments employ outrageous plot twists and do anything under the sun to keep ratings high, whether it's the use of devices like switched identities, secret babies, revenge vendettas, adultery, violence, and/or tragedy. But not all soaps are makjang, and while an entry like A Star's Lover may also be considered a trendy, but I think its tone is pure melodrama.

FAVORITE FAMILY DRAMA
Family dramas are difficult to summarize in 100 characters (my word limit here), because they're often populated with lots of members of a sprawling, multigenerational family. Tonally, there's no restriction; they can range from straight/dramatic to light-hearted and comic. The themes most often explored are love and marriage, generational conflicts, and interfamily relationships. It's stuff that sounds generic on paper, but the execution and tone of the drama sets the series apart from each other.

FAVORITE CHARACTER
If someone were to say a character's name, would you immediately have a sense of not only which drama they were in, but what kind of qualities the character embodies? Has his or her name become shorthand for an entire set of traits? ("Sageuk F4," for instance, probably elicits an immediate mental picture. As does "middle-aged Gu Jun-pyo.") If you have to puzzle over a character's name, wondering where he/she was from, they probably aren't in this list.


FAVORITE COUPLE
For better or for worse, modern kdramas focus heavily on love relationships between its main characters. Often we'll get the obvious love triangle or rectangle, although sometimes the lines will get even more messily entangled and create other romantic polygons. This kdrama emphasis on love could spark an entire discussion of its own, so I'll just say that this means that a drama's appeal is often linked inextricably to the effectiveness of its main pairing. It's even true when the drama is (ostensibly) about something other than romance, such as medicine, law, business, war, or espionage. When a main couple fails to spark and create chemistry, no matter how well their parts are written, a drama loses some of its energy. But when they do come together, boy does the end result end up much more than the sum of its parts. So, who sizzled this year?


FAVE ALTERNATE PAIRING
Sometimes an alternate pairing is just as fun as the OTP ("one true pairing," aka the main couple) — or even more so. When an OTP becomes too drawn out, often a second pairing will lighten things up and allow you to enjoy romantic chemistry without as much angst. Or perhaps you suffer from Second Lead Crush Syndrome (as I often do), and find the supporting male lead more compelling, or deserving, than the hero. You know it's a losing proposition but you'll root for Mr. Second Lead to get the girl instead.
NOTE: To clarify (sorry for the confusion), Boys Before Flowers' true "soulmates" are Jan-di and Ji-hoo (Gu Hye-sun, Kim Hyun-joong). "Soeulmates" is the nickname for Kim Bum and Kim So-eun's characters.

BREAKOUT PERFORMANCE
I'm talking about people who were relatively unknown before a 2009 drama made their star rise. Therefore, even though Go Hyun-jung acted the heck out of a memorable character, she doesn't count because she's already an A-lister. Even some actors who aren't at her level — like Kim Bum (Dream), Kim Kang-woo (Story of a Man), or Jang Geun-seok and Park Shin-hye (You're Beautiful) — weren't counted because they were all known prior to their roles this year. On the other hand, the following actors went from unknown names to familiar faces overnight:


BIGGEST DISAPPOINTMENT
I learn this lesson time and time again: You can never judge a drama until it's actually aired, no matter what it seems like from the pre-show promos and teasers. It cuts both ways: Sometimes a drama will be surprisingly good. But conversely, when pre-show buzz seems strong and/or certain well-loved stars are making television comebacks, it's natural to get one's hopes up. Unfortunately, that often leads to disappointments when the drama falls short of our expectations.

MOST OVERRATED DRAMA
I know the word "overrated" carries some baggage, but here I want to use it as the direct opposite of "underrated" — as in, you feel it got more attention than it merited (even if the drama was generally good). This is a small category, given that to be here, these dramas had to be popular enough in the first place to be considered overrated.

MOST UNDERRATED DRAMA
Now for the other end of the spectrum: These dramas had smaller fanbases and lower ratings numbers, but were, sadly, not given their due. Thank goodness for mania fans, eh?
(And because I know someone will ask: No, I didn't include You're Beautiful in either the overrated or underrated categories. It didn't get high enough ratings to be put in the above list, but its media and fan buzz was so strong that I don't think you could call it underrated, either.)

RELATED POSTS
Tags: 1 show to rule them all, A Star's Lover, Accidental Couple, Angel's Temptation, Beanie Awards, Boys Before Flowers, Brilliant Legacy, Cain and Abel, Cinderella Man, City Hall, Dream, Friend, Heading to the Ground, Hero, Hon, IRIS, Ja Myung Go, Job Well Done, Loving You a Thousand Times, My Fair Lady, Partner, Queen of Housewives, Queen Seon-deok, Return of Iljimae, Smile, Sons of Sol Pharmacy House, Story of a Man, Strike Love, Style, Tamra the Island, Triple, year in review, year in review 2009