Fine Windy Day off to successful start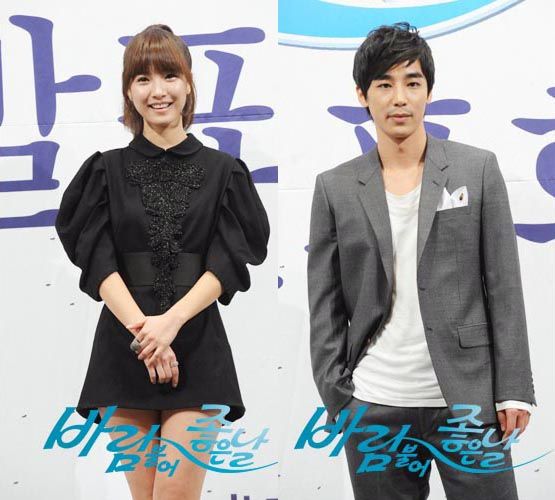 Today saw the premiere of a new KBS daily drama, Fine Windy Day, which started right off the bat with an impressive 22% rating (AGB Nielsen). Granted, daily dramas tend to get solid ratings because they have pretty loyal audiences, but that's still quite a feat for a first broadcast. By comparison, its predecessor, Everybody Cha Cha Cha, may have ended in the 30% range but its first episode drew a 14.8%.
The drama centers around a 19-year-old young woman (Kim So-eun) who dreams of being a top illustrator. She falls into a love triangle between a prickly corporate design team leader (Jin Yi-han) and her caring, supportive oppa figure (Kang Eun-tak). The first episode had Kim's character meeting Jin's offbeat younger brother Min-guk. Btw, how funny is it that the brothers are named Dae-han and Min-guk? (Put together, the names mean Republic of Korea.)
The drama reportedly has an upbeat tone, although it's hampered by its trite setup featuring a "Candy-esque" lead character (the poor, plucky manhwa heroine) who meets her rich, handsome Prince Charming. Still, familiar characters and plots are the purview of daily dramas, which continue to perform strongly in the absence of creative new storylines.
The drama also stars Seo Hyo-rim, Kang Ji-sub, Kim Mi-sook, and everybody's favorite grandma Na Mun-hee.
Via Yonhap News, TV Report
RELATED POSTS
Tags: drama ratings, Fine Windy Day, Jin Yi-han, Kim So-eun, Seo Hyo-rim