A day on the set with Choi Jung-won
| | |
| --- | --- |
| | Caption 1: Script rehearsal with Kim Ji-hoon, who plays the lead role of Won Kang-ha. Why are we lying on the bed next to each other? Well, should I call it sleep instinct? There's no time to sleep except for the brief times when we're on standby to film, so it's become a habit to lie down right away whenever we see a comfortable spot. In the drama Ji-hoon-sshi and I have fired up a love connection, so will bed scenes become unnatural now? Here, let's try our dialogue warmly, one more time. |

The following is a pretty cute collection of photos and captions as IS Plus followed around actress Choi Jung-won for a day of filming on her currently running drama, Wish Upon a Star. The captions are written by Choi, who comments on little scenes caught over the course of the day.
Choi Jung-won: "You can't think strange thoughts about us being on a bed"
Hello, Ilgan Sports readers, I'm Choi Jung-won. These days I'm busy looking after my siblings so I'm pretty overworked. I'm earning a living as the head of the household and assailed by the romantic attentions of handsome men, so things are hectic. (Laughs) More than anything, I feel a lot of attachment for Wish Upon a Star for allowing me to show a lot of sides to myself that I couldn't show before. I'm so busy laughing, crying, and running around that I don't have time to sleep. I'll show you what my daily schedule is like on the set. Please enjoy.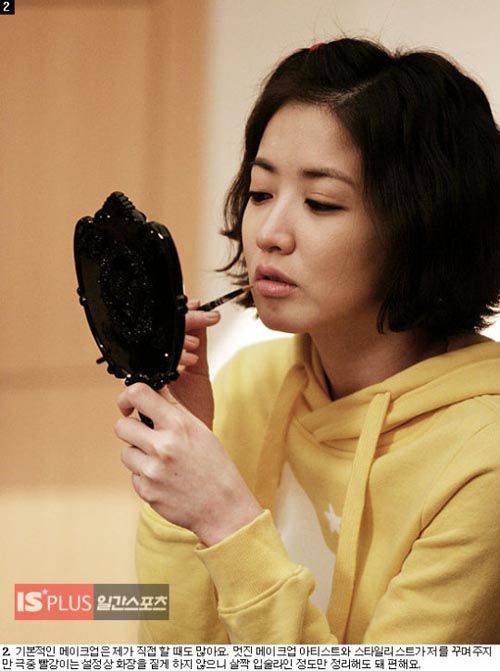 Caption 2: I do my own basic makeup a lot of the time. There is a great makeup artist and a stylist who make me look good, but in the drama Pal-gang doesn't wear a lot of makeup and I can get by with slight lip color, which is easy.
Caption 3: Here's a shot with Wish Upon a Star's cutie, youngest child Jin Nam played by Jae-hoon. Since I carry this kiddo around with me every episode, I've grown attached to him like he's my own child. When the drama ends and I don't see him anymore, I'll be so sad. What'll I do?
Caption 4: Confrontation is Pal-gang's specialty. She's developed this personality through trying to survive in this heartless world. This is the charm that the cold prince Won Kang-ha has also fallen for. When I'm acting and showing this outspoken side of Pal-gang, I get all worked up. Even though she's scatterbrained, isn't this cute woman likable?
Caption 5: Why am I having such trouble memorizing today? I'm practicing alone in the green room, into the mirror. I couldn't sleep yesterday, and it feels like I've got short-term memory loss. Ah, I can't film an NG, I'd feel so sorry… I'm in about 80% to 90% of every episode, so if I don't want to cause trouble for the other actors, I have to work that much harder.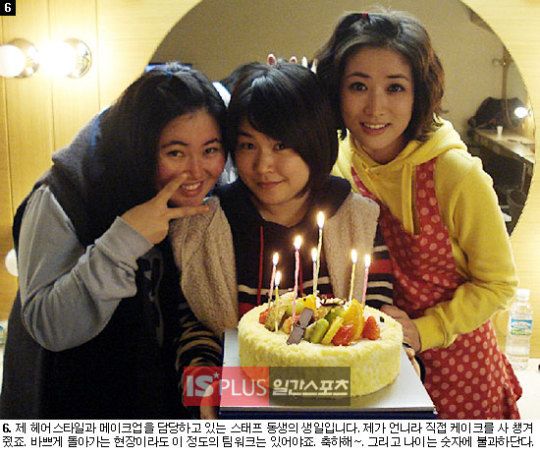 Caption 6: It's the birthday for the hair and makeup stylist. I'm the unni, so I bought the cake myself. Even if the set is busy, at least we have to have this level of teamwork~. And they say age is just a number.
Caption 7: In the drama, another person who likes Pal-gang is the charming Shin Dong-wook, playing Won Jun-ha. He's calm and has a soft presence, and is an appealing actor. I told him I was taking these self-shot pictures, and he put his arm around my shoulders without hesitation and gave his characteristic smile. Hey, if you do that it'll make my heart thump~.
Caption 8: While the staff is setting up the lights for an outdoor shoot, I tried livening up the atmosphere. I'm the lead actress, so I should take the initiative and liven up the set a little, right? The lighting director in particular is my best friend on the set.
Caption 9: Thinking of the song "Les Parapluies de Cherbourg" (The Umbrellas of Cherbourg), I dance lightly! Well, aside from just moving my body around, it isn't a proper dance. It may be because I'm wearing overalls for the first time in a long while, but I feel oddly lighthearted.
Caption 10: During a brief filming break, I sneak in with the lighting crew and chat with them. You have to get along with the staff for the set to be comfortable. In times like this, I should ask, "Is there anything that's troubling you?"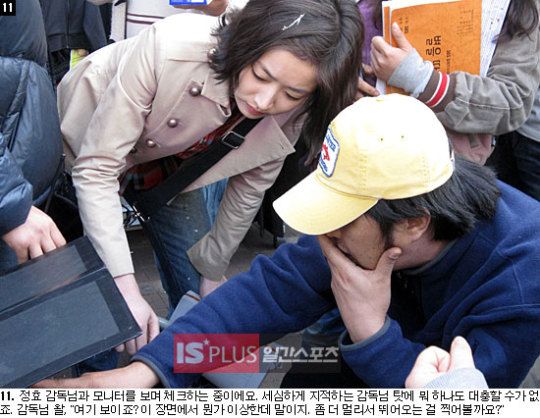 Caption 11: I'm checking the monitor with Director Jung Hyo. Because the director points things out scrupulously, I can't get away with doing anything half-heartedly. The director says, "See this? Something's strange in this scene. Shall we try shooting from a greater distance?"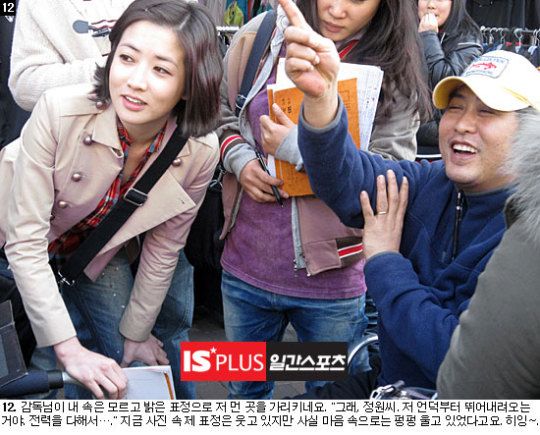 Caption 12: The director doesn't know what I'm feeling on the inside and points with a bright expression at a location way in the distance. "Yes, Jung-won-sshi. You'll run in from that hill over there. Come in at full speed…" I may be smiling in this picture, but I'm crying on the inside. Sigh~

Via IS Plus
RELATED POSTS
Tags: Choi Jung-won, Kim Ji-hoon, Shin Dong-wook, Wish Upon a Star