Shim Eun-kyung off to study abroad in the States
One of Korea's brightest up-and-coming actors, 15-year-old Shim Eun-kyung, has announced her plans to move to the U.S. to study in Pittsburgh come the new school year in September.
She says that the decision was made last year. She had intended on going earlier, but after receiving the script for the upcoming drama Bad Guy, she decided to act in that first. Shim explained, "I chose a place where there aren't a lot of Korean people and decided on a high school in Pittsburgh. Studying is a goal, but I also chose this because I've also grown tired mentally and physically after having acted since a young age."
She added that she would decide after graduating from high school whether to continue on to college or whether to return to the industry and make an acting comeback.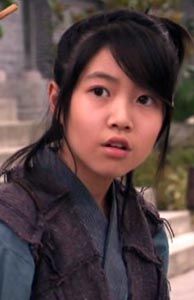 Shim in Hwang Jini, Legend, Merchant Kim Man-deok
Shim Eun-kyung made her debut at age 9 in MBC's 2004 drama The Woman Who Wants To Marry (playing the childhood version of Myung Se-bin's character), and has since gone on to make a splash in numerous dramas like historical series Hwang Jini (as young Ha Ji-won), Legend (as young Lee Jia), and most recently Merchant Kim Man-deok (as young Lee Mi-yeon). She has also had roles in a number of modern projects, like MBC's sitcom Tae-hee, Hye-gyo, Ji-hyun and horror movies Possessed and Hansel and Gretel.
I'm a little sad at the news because Shim is one of the most promising young actors around, and her departure is the industry's loss. Were she to stay in Korea she could probably have a career like Moon Geun-young (and she was the most likely to take on Moon's mantle of Korea's next Little Sister). But it sounds like she's got a sound head on her shoulders and I respect her decision to get away from the industry, which no doubt puts a tremendous amount of pressure and attention on its young stars (hence her desire to pick a spot with few Koreans, where she can be relatively anonymous).
Shim has a few more upcoming projects that will release before she leaves Korea: the movie Quiz King starring Kim Su-ro and Han Jae-seok; movie Happy Killers with Kim Dong-wook; and SBS's Bad Guy.
RELATED POSTS
Tags: Shim Eun-kyung