Bad Guy: Episode 8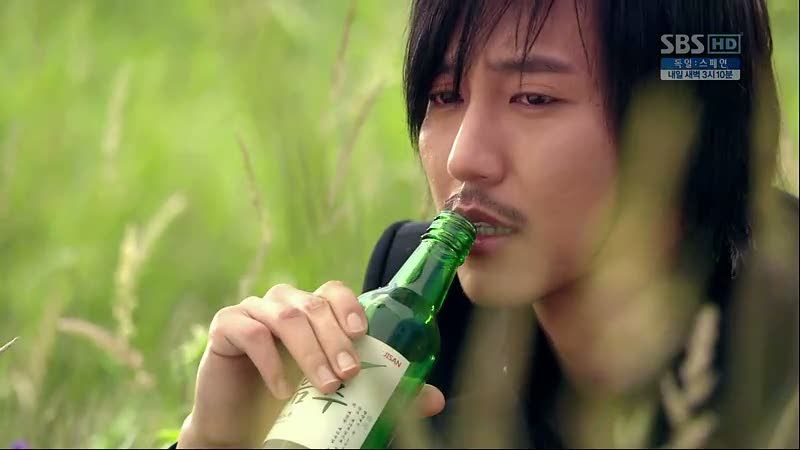 Finally. This is the episode where I felt my first emotional connection with Gun-wook, who used to be an impenetrable wall of cool, but will heretofore be known as Big-Bad-Wall-of-Defenses-Guy. We all know that guy. And it doesn't makes us love him any less. Tae-sung continues to be equally adorable and horrendous; Jae-in continues to be ambiguous and useless; Mo-nae continues to pout; and Tae-ra continues to be in heat. But the real star of this episode? Soju.

EPISODE 8 RECAP
We backtrack a little before the kiss. In the street, tears streaming down her face, Jae-in muses bitterly if those rich people are really so different. She now feels the sting of receiving those throwaway clothes—the ones which might pay for rent next month—at the expense of her dignity. Her anger, her shame, her bitterness at falling for the trappings of wealth, are all intensely palpable, and it's the first time I'm digging her performance.
It's here that Gun-wook tells her that he'll pretend to be Hong Tae-sung, so that she can get all this off her chest, since she'll never be able to say any of it to the real Hong Tae-sung. Then he kisses her, with Tae-sung watching incredulously from across the street.
When Gun-wook pulls back, Jae-in does not get reduced to a puddle of goo, as most women might in this scenario. Instead she says, "What are you doing?" Ouch. She asks, teeth clenched, if he thinks she's a pushover too, like they do. Gun-wook: "It's not like that." Jae-in: "Then what…do you like me?"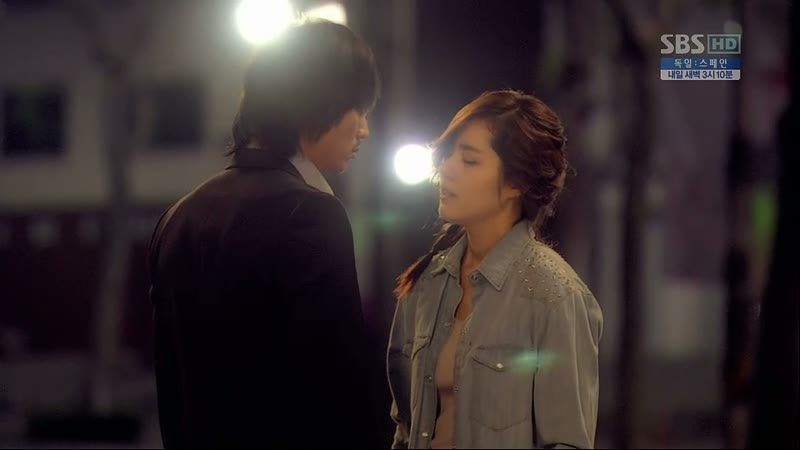 There's an awkward pause, with Gun-wook unable to answer. Jae-in says she's grateful that he followed her to make her feel better, but she tells him, much like a noona, to get it together. She warns him that Madam Shin loves Mo-nae most of all, and that he'll run into the same opposition, in due time. I think most of us, including Gun-wook, forgot he was even dating Mo-nae, so you're not really scaring him away.
Tae-sung drives off, angry. I would call your mother about the angry driving, if she wasn't so damn scary.
Jae-in drowns her sorrows in soju, pouring drinks like she's sitting across from herself, offering up a sympathetic ear. I get why Gun-wook and Tae-sung might be friendless, but how come you have no friends? Gun-wook, who has followed her all this time, watches her from his own table.
Tae-sung tries calling Gun-wook and gets ignored, only adding to his fury.
Gun-wook continues to shadow Jae-in, even intervening when she throws an empty beer can at some couple in the middle of a makeout session. Drunkenly oblivious, Jae-in just continues to stumble towards home. Gun-wook catches up with her on the steps in their neighborhood, where Jae-in is nodding off to sleep.
He sits next to her and leans her head on his shoulder. He lets her sleep like that until dawn, when he sets her cell phone alarm and hides behind a pillar. Jae-in gets up, none the wiser, and runs home. Gah, that silent hero thing always gets me!
Gun-wook finally calls up Mo-nae for a date, maybe because Jae-in reminded him he was supposed to be her boyfriend. Mo-nae is, of course, ecstatic to see her Gun-wook oppa, and continues to be both adorably naïve, and spoiled and pouty all at the same time.
Tae-ra tells her husband that she'll be taking over the department stores for Haeshin, and he nary takes an eye off his newspaper to tell her to do as she likes. She asks him about his meeting with her father, which shakes him up. He insists that everything's fine, and that his father just wanted to grow his business, so he just needed a small loan. Paid back in no time. Tae-ra notes offhandedly that her husband has not paid back one cent he's ever borrowed from her father. Oh, snap.
She tells him to stop his father before things get out of hand financially. He's like, what's gotten into you, all of a sudden? Methinks that steamy fondling session in the elevator gave someone a boost of much-needed confidence, eh?
Across town, Tae-sung comes out to greet Gun-wook first thing in the morning with his trademark volatile disposition. Pushing Gun-wook against the car and grabbing him by the collar, Tae-sung shouts in his face, "What is Moon Jae-in to you?! What's going on between you two? If you lie, you're dead!" The contrast here between their demeanors says everything you need to know about them: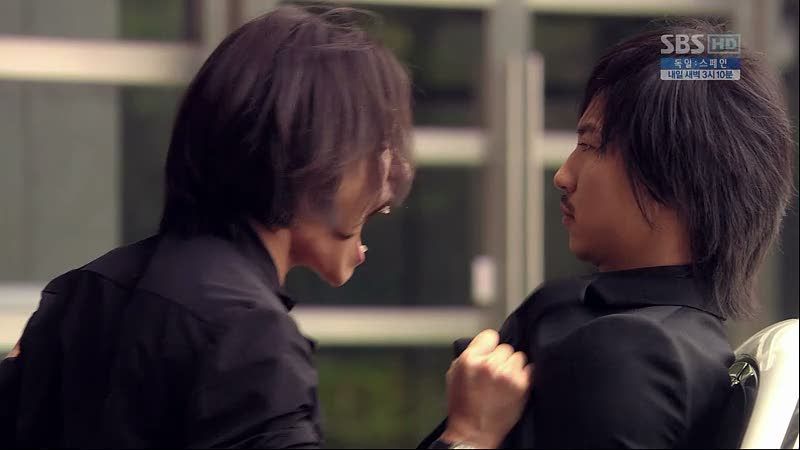 Alas, as it turns out, Tae-sung's imagined it all. Heh. Do you Hongs have a mental handicap that runs in your family or something? The only thing Tae-sung manages to do is chastise Gun-wook for not answering his phone. In the car, he asks if Gun-wook's made any progress on Tae-sung Number 1. Gun-wook gives away the child's hometown, lying that he learned it from President Hong's secretary. He plans to check it out today.
Jae-in gets back to work and takes Madam Shin's venom in relative stride. She apologizes for her rash behavior, while Madam Shin lays down her "Rules for Working Under a Haughty Chaebol Wife": 1) Know who you are (read: know your place); 2) Know why you're here (read: to serve my every whim); 3) Know for whom you EXIST (read: for ME ME ME). Awesome. I'm totally going to print those out and put them up on my wall. Right next to my platitude-a-day wall calendar.
The gallery has an emergency, so Jae-in runs out to get Madam Shin a car, but the drivers are all out to lunch. Gun-wook is conveniently outside with his car, so Jae-in asks him for a favor.
At the same time, Old Cop enters the gallery asking for Madam Shin (only he calls her by her first and last name, which irks her to no end, heh). He takes out a sketch of Tae-sung Number 1, and asks her if she recognizes the child. She tries to deny any knowledge, but he catches her in the lie, only to be brushed off when he asks further questions.
She gets into Gun-wook's car, not knowing that he's driving her, and murmurs out loud to herself why they were asking questions about Hong Tae-sung. She sputters about when she realizes that Gun-wook is her driver, and he purposely goads her by smacking his chewing gum, a habit I'm certain he picked up precisely because it irks her so much. Madam Shin asks him if he studied abroad why he's back here doing this sort of work. Gun-wook answers that he's here to find his parents, to ask them why they threw him away, like a dog in the street…in the rain. That last bit about the rain piques her interest, but she lets it go.
She tells him to let go of any pipedream of luring Mo-nae and gaining something financially. Gun-wook scoffs audibly at that, then covers it up by laying on the charm, saying how Mo-nae takes after her mother for being so beautiful…which just pisses her off more. Ha. She demands to get out of the car, but Gun-wook insists they're close, so he just speeds up…
They arrive, and Tae-ra is shocked to see him there, and doubly shocked to see her mother getting out of his car. Madam Shin dismisses him, and Gun-wook manages to use the opportunity to flash Tae-ra a tiny grin, which she coyly returns.
But just as he's about to leave, Gun-wook sees two deaf children using sign language to say something to Madam Shin and Tae-ra. He translates for them, surprising Tae-ra. Intrigued and pleasantly surprised, she asks where he learned to sign, and he tells her he learned long ago…from his father. She watches him go, her face a mix of emotions.
Tae-sung tries to get some work done, but not surprisingly, work bores him to tears. He's also plagued by the image of Gun-wook and Jae-in's kiss seared into his brain. Old Cop comes by for a visit, and Tae-sung shares his latest nugget about the child's hometown.
Old Cop heads out, while Tae-sung gets called to his father's office. President Hong rips him a new one for not dealing with the latest company crisis (or rather, for not even knowing one existed). He tries desperately to give Tae-sung more responsibility, but this face should tell you how he feels about that: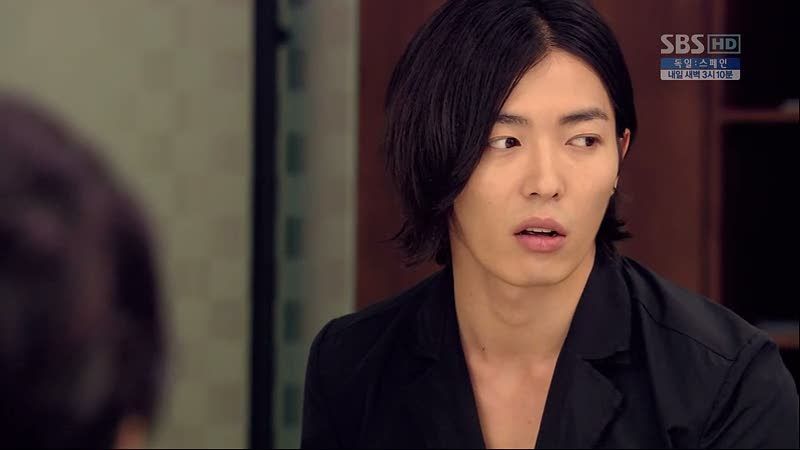 On his way out, he stops to ask the secretary if he told Gun-wook about Tae-sung Number 1. He starts to ask about the child, musing that he's quite unlucky, but Madam Shin arrives and interrupts him, wondering why he's curious. Tae-sung asks if she remembers the kid, to which she answers no. He tells her flippantly to worry about alzheimer's—at this rate, she'll soon forget him too.
Gun-wook arrives in his hometown and follows his memories, chasing ghosts all the way to his old house. He sees visions of his parents, his happy childhood days, and as his father calls to him in the space between memory and imagination, he answers back in sign language: "Dad, I miss you." It's heartbreaking, and the first time I feel a real connection to this character.
Back at the office, Madam Shin asks the secretary if Tae-sung Number 1 didn't die. The secretary replies that they couldn't confirm his death, so he's probably still alive. What? You people were planning on killing him? Well that's a new low. And I thought the dog thing was bad.
Jae-in comes by Tae-sung's office to drop off a gallery invitation. (Which just seems like a waste of time and resources to invite your own family members by formal invitation, but what do rich people care about that?) Tae-sung tries to apologize or say something, but Jae-in walks off, smugly shutting him down.
At his parents' house, Gun-wook runs into a neighbor. Gun-wook expresses interest in buying the house, and the man surmises that it's probably okay to do, since the couple passed away and their only son doesn't even visit their graves. Gun-wook is shocked to tears at the mention of a grave; I suppose it never occurred to him that someone would take pains to give his poor parents a proper burial. The man also adds that the graves are well-kept, by an older man who visits once in a while.
In a fantastic sequence, Gun-wook visits his parents' grave, pouring a bottle of soju as an offering. While his voiceover lays out the sins of the Hong family against his own, we are given a montage of each member of the family, indulging in the excess of money that imbues every part of their lives. It's brilliant visually, thematically, and the words are poetic, spoken for the first time not only out of vengeance, but the heartache that fuels it.
Gun-wook: Here lie those whom no one remembers. They who were wiped from memory remain here, in wretched death…while those who pushed them towards death, are ever at peace. They've already forgotten—one moment, a despicably heartless decision. They don't know…to what end it will bring them. I will make them know it, at any cost. If I can take everything from them, I will choose the devil's path.
Of particular impact are Mo-nae, who shops with no interest but to spend, and Tae-sung, who spits out his food, dissatisfied with his steak. Maybe it's just me, but there's something extra gross about the excess of food in relation to pomp. Think: John Noble in Lord of the Rings, who ate his excessive feast while his son went off to war. Here it's not nearly as gross, or as epic a moment, but there's a similarity in the kind of disgust associated with wealth, cruelty, food, and excess.
As Gun-wook leaves the small town, the detectives pull up. Old Cop recognizes Gun-wook, raising his suspicion.
Tae-sung follows Jae-in, but she's not interested in what he has to say. Instead of apologizing, like he should, he goes the indignant route: "What am I supposed to do, glue the mask back together?" No, but maybe if you dropped the attitude she'd listen to you, assface. She says it must be nice to be Hong Tae-sung, to do whatever you please all the time. She basically equates his antics to a tantrum, and says things are different for her. She's got to be careful, and watch her mouth, and despite it nagging at her pride, she has to hold onto that job. So no, not going to do whatever you please, thank you very much. Heh. I like her whenever she gets a diatribe like this.
Tae-sung totally sucks at this, and it's actually kind of endearing to see him fail so miserably. He knows it too, and finds himself always watching her walk away, with a hangdog expression on his face.
She gets on the bus, and a few minutes later, Tae-sung shows up, driving alongside the bus to follow her. The bus makes a stop, so he gets on it, trying to pay with a giant banknote. (It's like paying for a dollar bus fare with a hundred dollar bill.) The bus driver looks at him like he's a madman, and Tae-sung literally doesn't get why he can't pay this way, which is just hilarious. Jae-in finally swipes her card to pay for his ride. They sit down together and he tells her he's hungry. She doesn't give a response, so he just shouts out his date invitation to the entire bus, making her smile. He's overjoyed to finally make a breakthrough. These two are adorable together. Or is that just my second lead love talking?
Of all the bad luck (or coincidence), they happen to choose the same restaurant as Madam Shin. Luckily Jae-in has gone to the bathroom, so she narrowly escapes another bitch slap. When Tae-sung tells her that he's here on a lunch date with his girlfriend, Madam Shin makes it clear that she disapproves of all his various women, and tells him not to bring them around to the house.
With a pained look on his face, he asks why she can't ask if he's eaten, or if he's taking care of himself and eating right (the go-to phrases that all Korean moms greet their children with). She shuts him down with a, "have your girlfriend ask you," and walks away.
Jae-in, who has overheard the entire conversation, returns to the table and acts sweet and good-natured with Tae-sung. He goes with it for a minute, then asks why she's being like this. She deflects to say maybe it's just 'cause she's hungry. He takes her word for it, and uses the opportunity to broach the subject of Gun-wook. I love his awkward expression of dear god, let it not be true, and this is totally embarrassing but I have to do it.
She answers that they're friends, to which Tae-sung wonders if that means they're not anything special (to each other). Jae-in says that Gun-wook annoys her, which totally makes Tae-sung do everything short of a fist pump.
Gun-wook receives a message detailing Tae-ra's increased role in the company, and it looks like he's setting his sights on her. Wonder what body part he's going for next. Some naughty footsy perhaps?
Tae-sung deploys Gun-wook to handle the construction theft crisis. I sort of love that Tae-sung is consistent in his cavalier attitude towards everything, including his nepotistic job. That along with his sad puppy side keeps him complex and interesting, because he's sympathetic and a little hateful at the same time. Gun-wook finds out the people behind the scheme in less than a day, which I know is supposed to make me think Gun-wook is really smart, but it mostly makes me think that these are the dumbest thieves on earth.
Mo-nae orchestrates an awkward lunch with Gun-wook, herself, and Tae-ra, which just makes everyone uncomfortable but her. As if it isn't bad enough to have your dirty little secret sitting next to your kid sister, Gun-wook is making eyes at her the whole time like this:
Mo-nae tries her darnedest to make her sister feel left out too, for no reason other than she's young and in love. She asks Tae-ra to talk to Dad and get Gun-wook a position in the company; she doesn't like that he's relegated to being Tae-sung's assistant. She doesn't see it as a big deal, since she plans to marry Gun-wook anyway. Tae-ra reminds Mo-nae that Father hasn't given permission for any such thing, and asks Gun-wook if he plans to marry Mo-nae. He says no, then deliberately puts his hand over Mo-nae's, saying that she's still too young. The gesture does not go unnoticed.
When Mo-nae steps away, Tae-ra wonders that Gun-wook got close to Mo-nae, then used Mo-nae to get close to Tae-sung…who's next? Her? Gun-wook just smiles slyly. She asks if it's about money. Gun-wook responds that he's not rolling in it, but has plenty of money. He asks what will happen if he gets close to her. Tae-ra: "I won't leave you alone." (Which of course has a double meaning.) Gun-wook: "I look forward to it."
Tae-ra leaves the restaurant in a huff and Gun-wook goes after her. She walks out in the pouring rain, and Gun-wook follows with an umbrella, saying he'll wait with her until the car comes. She tries to get away from him, almost walking into oncoming traffic, when Gun-wook grabs her aside in an embrace. Their tension is sizzling, even when they're drenched in cold water. SO different from his chemistry with Jae-in, or lack thereof.
Cutting down to banmal, she tells him not to come any closer. Um, you're already standing on top of each other. There isn't that much closer he could get, unless we're getting lips involved. Gun-wook: "Are you scared?" Tae-ra: "Are you saying you'll take it all the way?" Ooh, it's like a challenge and an invitation all at the same time. I love how conflicted she is. All her double meanings are plain to us, and to Gun-wook, but she's unconscious of just how obvious her desire is.
Gun-wook stops short, telling her not to stand out in the rain, as her driver pulls up. She gets into the car, and Gun-wook watches her leave, the air thick with unresolved tension and foreboding. Niiiiiice.
THEORIES & SPECULATION
I'm thinking the grave visitor is going to end up being President Hong. It may likely be his secretary, but I have a feeling that dear ol' Dad actually misses Tae-sung Number 1, especially after he got Tae-sung Number 2 and realized he has no connection with his actual son. Gun-wook's also shown a soft side in his memories of President Hong as opposed to those with scary Madam Shin, for instance. It's possible that through that short but lasting father-son bond, President Hong feels some guilt or responsibility in the matter. Or he's a heartless bastard who could care less. It's 50/50.
Madam Shin may be even scarier than we thought, because it looks like she may have orchestrated some failed attempt to get rid of Tae-sung Number 1 altogether. Damn. Lady Macbeth's got nothing on you, babe.
It still feels a little forced to me, that Gun-wook feels so deeply for Jae-in, especially when she's so cold to him. Maybe he's a glutton for punishment too. That wouldn't be out of character. I just don't feel a natural chemistry or pull, like I do between Jae-in and Tae-sung, although I totally feel for Gun-wook when he does the silent hero thing.
Now his chemistry with Tae-ra, on the other hand, raises my temperature to just above scalding. Their rain-soaked almost-kiss had me riveted, and again, I'm so much more enthralled by their slow-burning foreplay, as opposed to an out-of-nowhere coupling. I loved the ending of this episode, because it left me wanting more, in the best way possible.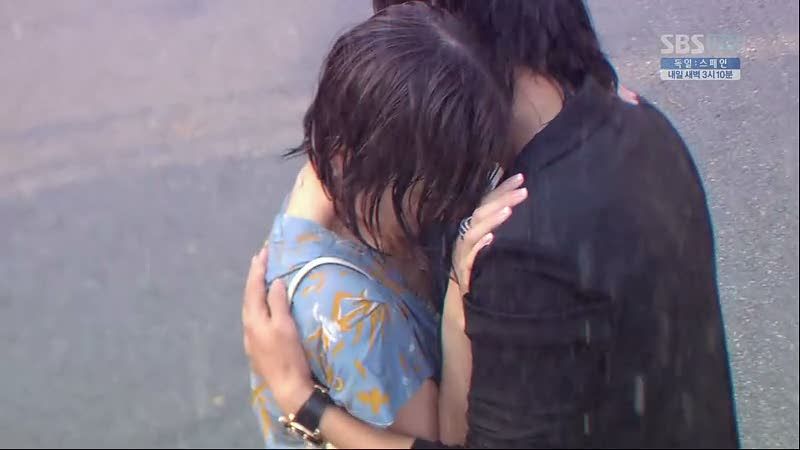 RELATED POSTS
Tags: Bad Guy, Han Ga-in, Kim Jae-wook, Kim Nam-gil, Oh Yeon-soo