Lee Wan reports for duty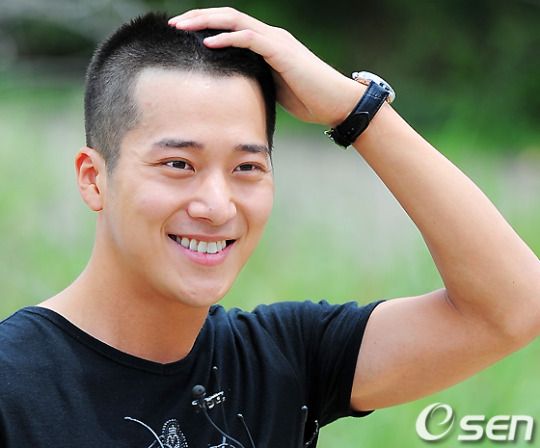 Actor Lee Wan headed off for his initial five weeks of army training on the afternoon of July 12, reporting at the Nonsan, Chungnam, training facility.
Born in 1984, Lee Wan is heading off to fulfill his mandatory obligation after one extension, which he'd been granted in order to be able to film his last drama, Swallow the Sun. At 26, he's going a little earlier than many male celebrities who push back their service until the last possible moment at age 28, but note that this is still considered late for the average citizen. (Most men go off to do their service either after high school or university, so 28-year-old enlistees are actually the exception to the general rule.)
According to Lee's management, he had been making preparations for his next project when he received his sudden draft notice. As the project in consideration was in pre-casting stages, it won't have any negative repercussions, and it's probably wise to go now when he's in between commitments rather than risk complications later, as fellow actors Kim Nam-gil and Lee Jun-ki encountered. (The latter had to quit a movie mid-shoot, and a new actor had to be hired to step in. The former, as you know, is currently struggling to finish filming on his drama Bad Guy before he leaves.)
Lee, who took a stage name purposely to deflect attention away from his famous older sister (Kim Tae-hee), debuted in 2004's Stairway to Heaven, then took a bigger role in its sorta-spinoff Tree of Heaven. He followed that with dramas Insoon is Pretty and Swallow the Sun.
According to his rep, sister Kim Tae-hee is currently in Jeju Island to shoot her movie Grand Prix, and is extremely disappointed that she won't be able to see her brother off; the suddenness of his draft did not give her the time to work around her work schedule.
See you in two years, Lee Wan!
Via Asia Economy
RELATED POSTS