The rocker ladies of I Am Legend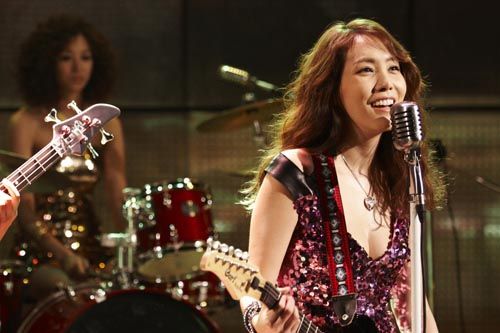 These are much more fun than the first set of stills from I Am Legend, which showed series lead Kim Jung-eun as a posh city wife. She starts out as a "Cheongdam-dong daughter-in-law," which is a description in Korean that immediately evokes the image of a well-maintained wife; Cheongdam-dong is an upscale neighborhood of Seoul, so the term is similar to saying "Park Avenue stay-at-home-wife."
But her character soon leaves that world behind, and here's a look at the women who comprise the rock band she fronts. The drama makes it a point to note that all four actresses — Kim Jung-eun, Hong ji-min, Jang Shin-young, and Juni — decided to act without doubles and therefore perform everything themselves.
To that end, each actress has been immersed in individual music rehearsals since signing on to the drama. The four form the "Comeback Madonna Band" (erm, huh?) and use music to help overcome personal struggles. The drama's musical director is Lee Jae-hak of Take Off and the pop-music-world-set 200 Pound Beauty.
I Am Legend premieres Monday, August 2, on SBS.

More stills:
At least the practice of playing live won't be entirely foreign to Kim Jung-eun (Le Grand Chef 2), who has performed occasionally on her music talk program Chocolate: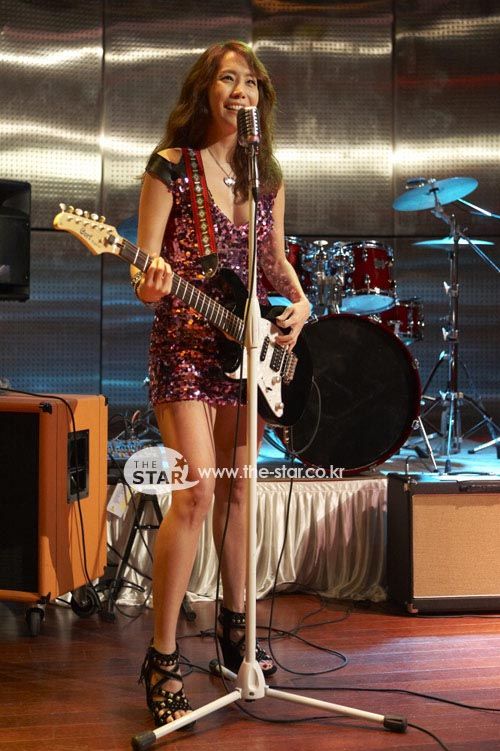 Of the four, Juni (IRIS) probably has the most (and most relevant) musical experience, having fronted indie female rock band Bella Mafia. She also acted in the music-themed Sky and Ocean.

Hong Ji-min (Style) has acted in several stage musicals, including a 2009 production of Dreamgirls:

Jang Shin-young (Winter Bird) plays band manager and drummer:
Via Mk.co.kr
RELATED POSTS
Tags: Hong Ji-min, I Am Legend, Jang Shin-young, Juni, Kim Jung-eun