Lee Seon-kyun and Choi Kang-hee's Petty Romance begins
Choi Kang-hee (Aeja) and Lee Seon-kyun (Pasta) are re-teaming in a new romantic comedy, called Petty Romance [쩨쩨한 로맨스], two years after acting together in the drama My Sweet Seoul. Filming has begun on the film, which is described as a unique romance between an artist-writer of adult manhwa books and a fake sex columnist.
In Petty Romance, Lee Seon-kyun plays a by-the-book (no pun intended) manhwa-ka whose storytelling skills are notably worse than his drawing ability. Choi Kang-hee's character graduated from a prestigious university and is trying to find employment, and acts as a fake sex columnist on the side. That wording confuses me, but I'm guessing it means that she's a sham as a columnist. In any case, she ends up becoming an adult manhwa story-writer, presumably through association with Lee's character.
I enjoyed their rapport in My Sweet Seoul (even if I hated Choi's character, which is the sole reason I couldn't finish the drama), but this movie looks like it'll take their dynamic in the other direction entirely. Where they were sweet and thoughtful in Seoul, the story and relationships in Petty Romance appear more risque, which I'd really enjoy seeing. (But for the mustache…! You're killing me, Mr. Voice.)
Petty Romance is planning for a late-2010 release.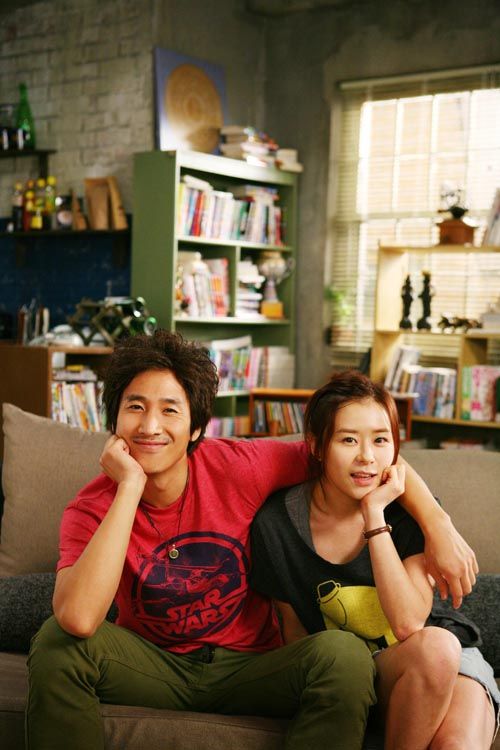 Via E Daily
RELATED POSTS
Tags: Choi Kang-hee, Lee Seon-kyun