My Girlfriend Is a Gumiho: Episode 4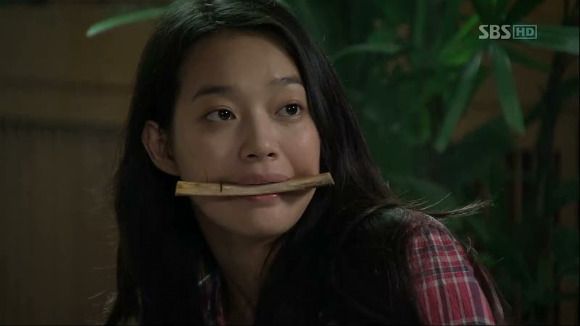 When a show is fast, clever, AND heartfelt, I'm owned, heart and soul. What can I say? I'm a sucker for the wimpy hero, and the super-powered girl who turns his life upside-down. There are so many great reversals—the powerful girl looking up at him like a wide-eyed child, her transformation into a monster frightening herself more than anyone. The best part is, the mythology serves the story, and not the other way around, which is how it should be. It's great to know right from the start that our couple is perfectly matched, and their journeys toward becoming human in various ways are parallel too; it's just a matter of watching them clash their way towards each other, which means I can just sit back and enjoy the ride.

EPISODE 4 RECAP
Mi-ho realizes she's been left behind on the boat, and cries out to Dae-woong. He runs without looking back, the guilt weighing heavily on every step. Mi-ho crouches down and starts to cry, and as her tears fall, the skies darken and it starts to rain. Dae-woong looks up, remembering what Mi-ho said about her tears causing fox rain. It makes him stop, but then he starts to reason, "That's ridiculous. Then if she blows her nose, it snows, and when she sneezes, there's a typhoon?"
He walks ahead, but then he starts remembering her declaration that they're friends now, and his promise to protect her fox bead. He whines to the heavens why she's using rain to hold onto him. And then he turns back, and runs to her in the rain.
It's nice to bookend the two returns—Mi-ho's return to save Dae-woong when he was dying, and his return to her on the boat—as caused by their own memories of the other's adorableness. They are equally strange creatures to the other, but they've developed a fondness for one another, what in Korean we would call [우정], the love between friends.
On the boat, Mi-ho starts to lose control of her outward appearance, when a few factors are compounded: her fox bead is far away, she's scared because of the water, and then a dog (ie, a tasty treat?) comes close. Her eyes change to a bright blue, and she hides in the bathroom, as her other fox-features start to come out.
Dae-woong reaches the boat when it docks, and overhears the family with the dog talking about the strange woman who looked like a monster, so he braces himself. He mistakes the dog with a fluffy tail for Mi-ho (HA), and then finds her in the bathroom. She's happy that he's returned, but she doesn't want to open the door because she's changing. He insists he's seen her tails enough times to be okay, so she opens the door…
And Dae-woong can't hide his freakout. He can barely look at her, but he drapes a tablecloth over her, and they get off the boat. Outside, she asks why he left her there. He feels a pang of guilt, but lies that he didn't leave her; the boat left him. The one thing she picks up on is the fact that he came back because it started to rain. Her fox-blue eyes light up in glee. Aw.
The boat attendant follows them out to get his tablecloth back, and as he pulls it off of Mi-ho, Dae-woong swoops her close, and holds her tight. They spend a moment in a time-suspended mystical hug (I love how this is a metaphor for the way time passes when you're madly in love), and then he says they'll be fine if he holds her close the whole way home. Show, I may just die from the cuteness.
Mi-ho pops her head up and beams—she's returned! They smile at each other (Dimples, Ahoy!) and she says that it's because he came back for her. He thinks they're good to go, but Mi-ho grabs his jacket and pulls him in for another hug, wanting to be close to her fox bead for a little longer.
Dae-woong is taken aback, but finds himself tentatively happy, as he gives in holds her for a little longer. He awkwardly asks if that's long enough, but she's not done (heh), so he holds on, petting her hair as she sighs blissfully. Seriously, I know they're supposed to be uber-cute, but they are inhumanly cute. Like a pair of kittens. Wearing bunny outfits. Sitting in a teacup.
Dong-joo the Gumiho Hunter visits the temple, and tells the monk that the fox will be put back in her rightful place. No, Highlander Boy. You stay away!
Grandpa packs up Dae-woong's things and sends Aunt Min-sook to deliver them, happy to support the new and improved, living-for-others Dae-woong. Min-sook waits outside the action school, falling asleep on the bench. Chow Yun-fat Lite discovers her napping, and the sun about to beat down on her, so he rushes over, and opens up his trenchcoat to shield her from the sun. He stands like that until he's sweating from head to toe, and she's none the wiser. I love his off-brand chivalry.
He waits later that night for another glimpse of the mysterious girl who can jump without wires, to no avail.
Mi-ho complains about dinner, "Chicken, again?" But Dae-woong says that in these circumstances, it's shameless for her to ask for cow. She points out that he's the one who told her that since she's not human, she can be as shameless as she wants. Touché.
He laments that he can't afford cow since his dreams were shattered. Mi-ho asks what an action star is, and he says it's what he's really good at. Mi-ho: "Running away?" Hahaha. Dae-woong insists with his misplaced bravado that although she might see him as a weak human, to other normal girls, he's totally awesome, no really. Mi-ho adds with a thumbs-up that even she thinks he's pretty cool.
With that, he gives her a demonstration of his action skills, in an imaginary swordfight. Mi-ho delights in the demonstration, while Dae-woong gets to show off. Imaginary manliner-action-hero Dae-woong is admittedly pretty awesome.
Mi-ho starts copying all of his sayings and gestures, which Dae-woong finds pretty amusing. At one point he kicks a brick wall, and so she follows suit…only she kicks it with so much force that it almost crumbles. The superhero-girl-who-doesn't-know-her-own-strength trope never gets old for me.
Chow Yun-fat Lite happens to head that way to relieve himself, so they run and hide, and watch in horror (with Dae-woong covering Mi-ho's eyes) as he starts to urinate on that very spot. Lo and behold, the force is just enough to send the wall crashing down, and on the other side is a very surprised lady. Maybe THIS is why you shouldn't be wearing trenchcoats, eh?
He gets hauled away to the police station, where the cop (a cameo by Lee Seung-gi's hyung from 1 Night, 2 Days, Lee Su-geun) accuses him of being a trenchcoat-pervert. Chow Yun-fat Lite insists he's nothing of the sort, and says he was just urinating: "And it wasn't even pee that I was holding. It was of the normal variety." Hahaha.
Dae-woong comes to his defense, showing up at the police station and vouching as an eye-witness that all he did was pee. That gives him an in to introduce himself as Sun-nyeo's friend, and the director is happy to give him another chance at his audition, as long as the night's events are kept a secret.
Dae-woong comes out to find Mi-ho digging in the trash, with a rib bone in her mouth. He realizes that she's looking a bit worse for wear, so he takes her shopping for toiletries and clothes. It's adorable how he's buying skincare products and dresses, and she's picking out meat.
At home, he teaches her how to brush her teeth and wash up, although she mostly eats all of the cleaning products, to his dismay. I sort of love the meta of Lee Seung-gi teaching Shin Mina how to be pretty. Ha. She bathes and changes, leading to a classic "Oooh, purrrty" moment. He muses that she looks like a normal girl this way.
She shouts, "Woong-ah, I'm so happy because of you today!" He breaks her happy reverie by asking when she's going to take back her fox bead. She immediately starts hemming and hawing, and gives the excuse that she's too tired to eat and goes to bed. Aw, Mi-ho doesn't want to leave him and give up being human. He's too clueless to see that he's hurt her feelings.
Dong-joo sits in his lair, stroking his magical sword (pffft), saying aloud that he doesn't want to have to send Mi-ho back. He'd rather she went quietly, but he knows she's not about to give in so easily.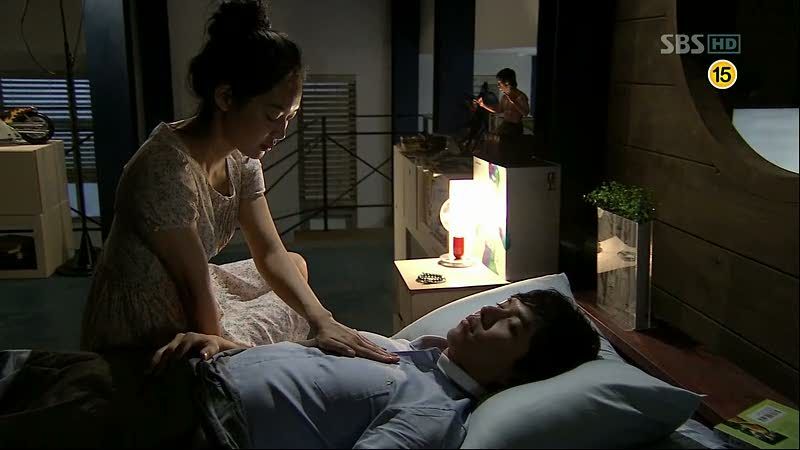 While Dae-woong sleeps, Mi-ho checks on her fox bead, and realizes that he's almost healed. She sighs that if she told him the truth, he'd send her away in a heartbeat. She wonders why she can't just stay by his side, killing the mosquitoes for him while he sleeps, and realizes that it's because she's not human.
Grandpa finds Min-sook watching A Better Tomorrow, (tee hee) and catches on that she must be interested in a new guy, so he asks Dae-woong to come by to discuss it. I love that Grandpa is just excited that she's interested in a new guy.
Today Mi-ho says she's not going to follow Dae-woong around, so that he can do well on his audition without any trouble. He's stunned, and she asks if she waits here, then he'll always return to her, right? He doesn't quite believe her at first, then keeps coming back to give her money for food, then to tell her not to dig in the trash, and to call him if anything happens. Aw, he's worried.
Dae-woong finally leaves, but he feels uneasy about her staying behind, and realizes it feels a little strange without her following right behind him. She comes out and waves at him from the rooftop, and he waves back, but stops himself, saying that he has to stop growing attached to her.
From the rooftop, Mi-ho says to herself, "Dae-woong-ah, you're all healed now. I have to take my bead back. But can I stay here?"
She spends the day digging through trash cans to find chicken coupons (hilariously believing that if you collect ten they turn into a chicken) and even fights with the neighborhood ajumma for the last one. Dong-joo finds her, and takes her for a drive.
Mi-ho is amazed to find that he's got an ID, a social security number, and a cell phone—all very human, even though he's not.
Dae-woong does well on his audition, and gets cast right away. He says to himself, "Tonight it's cow and soda, Gu Mi-ho. No every week….but wait, then will your tails come out?" Heh.
Hye-in runs into him, and asks to have a congratulatory dinner together. He promised Mi-ho he'd return and treat her to cow, so he uses Grandpa as an excuse. She concedes that family is a good enough excuse (oh, okay, Princess) and lets him go.
Dong-joo takes Mi-ho to his apartment, where she marvels at his living like a human. He tells her that he moves from place to place every few years, changing his name and never getting too close to anyone, and that he's been living this way far longer than she's been trapped in that painting. She wants him to teach her how to pass for human too.
But Dong-joo tells her that by living his way, she can't actually be close to humans in the way she wants—she'll never have friends, or family, or love. She thinks that in the very least she'd get to be near somebody, but he shuts her down. "An immortal being like you can't be with a human. Ever."
He continues, "The way I'm living…it's not that different from being trapped in that painting. You should return." She hangs her head in disappointment, saying that she really, really doesn't want to go back. Dong-joo throws down the gauntlet: "Then are you willing to die?"
Dae-woong, on the other hand, tells his friend Byung-soo that his days with Mi-ho are numbered. He goes on about E.T. having to return home, and says that they're essentially from different worlds. Byung-soo hilariously misinterprets this as Mi-ho being a chaebol (rich heiress).
Dong-joo tells Mi-ho that there's a way for her to become human, but in order to do so, her gumiho self must die. She needs two things: someone (or something) that can kill her, and someone who will share their humanness—ki, or life force–with her. Hm…last time, Mi-ho told Dae-woong that sharing ki was equal to mating…heh (pitter-patter).
With that, Dong-joo takes out his magical knife, and cuts his hand. His blood drips into a glass, and he tells her that this knife can kill her, and so can his blood. If she drinks it, and has her fox bead which has collected the ki of a human being for one hundred days, she'll become human. She asks why he's telling her all this. He says that it's because of another girl who looked like her, and wanted the same thing. He'll help her die, but wonders if Cha Dae-woong can be trusted to protect her fox bead for a hundred days.
He tells her again that humans can't be trusted, and insists she forget it all and go back. What? You just told her all of the mystical ingredients for her to make Human Soup, and now you're expecting her to forget it all? Are you taunting her, or just naïve?
Mi-ho leaves, the question hanging over her. She holds a vial of Dong-joo's blood in her hand, as she watches people on the street below her. "Does dying mean disappearing? I just want to live down there."
She walks home, and gets recognized by Chow Yun-fat Lite, who chases her down but can't catch up. Hye-in sees this from afar, and puts the pieces together, pouting. Not only does Mi-ho have Dae-woong's affections, but now she's got the Director's too, for that coveted lead role.
Hye-in decides to call Dae-woong to discuss it, and catches him in a lie (that he was eating with Grandpa) as he nears home with a bundle of meat in his hands. They sit down to talk, and Hye-in asks if he likes her, and says in a roundabout way that she's been waiting for him to declare his feelings, and preparing her answer. Prepare? It's not the LSATs—it's a yes or no question, lady. She tells him that she's losing her faith in him, and wavering in her feelings, and not to make her wait too long.
Dae-woong drowns his angst in soju, while Mi-ho eagerly awaits his return. She leaves him a voicemail, telling him that she has something important to ask him, and she asks if she can stay by his side longer. She smells his scent as he approaches (funny and gross), and runs to find him in the gym.
She comes upon him slumped over in the dark. He announces that he's drunk, and slurs out, "The moon is out. Do you want to spread your tails and do a round of 'hoi-hoi'?" Hahaha.
Dae-woong: "Mi-ho-ya, we're friends, right? Then will you do me favor?" She looks up at him sweetly. "Will you…disappear?" Oof. Just carve out my heart, why don't you. He drunkenly pleads with her to go away and stop making his life so difficult, as he slumps to the ground and passes out.
Her reaction is heartbreaking. She looks down at him, saying, "Dae-woong-ah, the truth is, you're all better now. I'll go, so you stop hurting." She lets go of his hand.
The next morning Dae-woong wakes up in his bed, not knowing how he got there. He calls out to Mi-ho, but she's nowhere to be found. He looks and looks, and then it dawns on him: she's gone!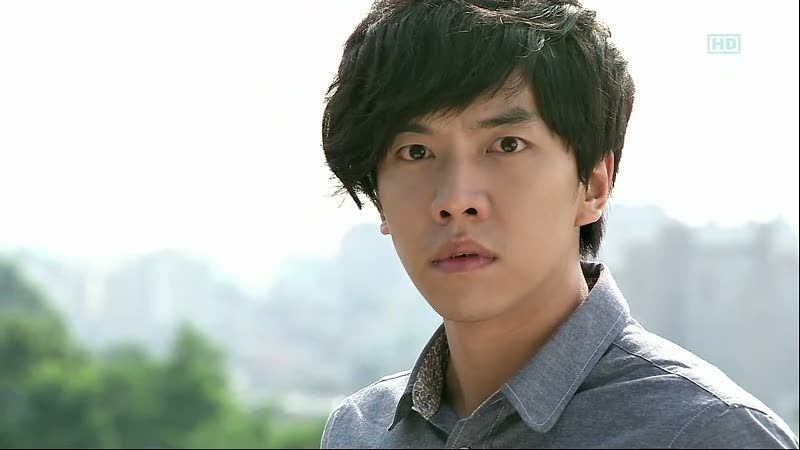 COMMENTS
I like how the main relationship is progressing, which is to say, fast in terms of adorable moments, and mutual attraction, but slow in their understanding of each other and how to be together. The gumiho-human hiccups are not only hilariously comical, but also insightful little beats that shed light on human desires and the things we take for granted.
As for the mythology, I don't like that the mystical way out is given so early in the story; I'd rather they have to work a little harder to find a way for her to become human. But I do like that so far, we have no reason to trust Dong-joo, so this could all be an elaborate web of lies in order to trap her. If it's not, and he's just giving up the information for nostalgia's sake, that's a little lame, plot-wise.
So far Dong-joo's pretty ineffectual at being scary or a real threat, so I hope there's more to come from his character than emo hair and looking pretty, because if he's just going to be her fairy godmother, then there's no point in having a gumiho hunter with an elaborate backstory. Crossing my fingers for more on that score.
I can't get enough of adorable-pants Seung-gi, who is showing great range so far. But Shin Mina is the real scene-stealer of this show, as she alternately makes me die of laughter, squeal from cuteness, and well up with sympathy. She is A-maz-ing.
Can't wait to see Dae-woong missing Mi-ho while she's gone. You deserve a little penance, my friend.
Until next time, hoi-hoi!
RELATED POSTS
Tags: featured, Lee Seung-gi, My Girlfriend Is a Gumiho, Shin Mina