Playful Kiss: Episode 6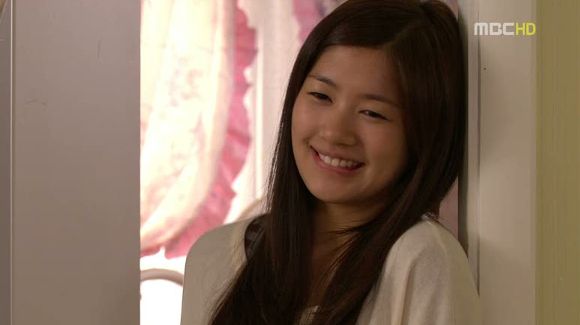 We don't exactly pick up the same momentum started in the last episode, despite my fervent cheers of, "Come on, Show! You can do iiiiiiiiit!" I just adore Ha-ni's embarrassingly realistic girl-with-a-bleeding-heart-crush so much that I want more for her. More story, more conflict, more…everything.
In this episode Seung-jo ups his game and starts to show some interesting colors, and everyone goes to the hair salon in preparation for college. Some come out better, while others…do not.

EPISODE 6 RECAP
Ha-ni wakes up in the hospital, with a cast on her leg and a shadow over her mood. Her overwhelming guilt makes her keep everyone at bay, most of all Seung-jo, who doesn't know why she's so upset. Duckie and Min-ah come to visit, but she kicks them out, wanting to be alone. Seung-jo stands by her bedside as she cries.
After leaving the hospital, Ha-ni continues to feel so guilty that she can't face anyone in Seung-jo's family. She asks Dad if maybe they should move, and he says that they're more worried about her. She keeps skipping dinner and never coming out of her room, and Mom worries that she isn't eating.
Seung-jo says he talked to her, making Mom perk up. He says that he thanked her for making it so he couldn't go to his interview. Mom frowns and takes away his dinner, saying that he can't eat either. Ha.
Ha-ni decides in a fit of angst to run away from home (where's she planning to go, the restaurant?) and packs a suitcase with a heavy heart. She sneaks out past the front door, only to find Seung-jo lurking in the yard.
He asks nonchalantly if she's running away, and when she insists he not stop her, he doesn't even pretend to try. He offers to carry her bag, in fact, since it looks heavy. He then hands her an envelope from her university, and it's a full-ride scholarship letter. She reads it, realizing that it's not for her, but for him.
They're basically offering him the moon to go to school there, and Ha-ni notes that while it's such vastly different treatment than what they gave her, he must be getting such offers from every university ever.
He muses that this past year was the most disruptive, crazy year he's ever experienced, never knowing what to expect and always encountering something new. She starts to say that she's sorry, but he adds, "…it was fun." Ha-ni: "So…you're going because of me?" Seung-jo: "Not because of you. Because of me." He borrows her own words, saying that until he finds what he wants to do with his life, he plans on having some fun. Aw.
She asks to come back inside, and he carries her bag back upstairs. She asks if he's known all this time while she was feeling guilty that he was going to the same school as her, and he nods like it's no big deal. Ha-ni: "Why?" Seung-jo: "Because it's fun. Why? You don't like it?" Ha-ni: "No! I do!" Seung-jo: "I know." Gah. Cheeky!
She does a silent dance of joy by herself to celebrate. How cute are you? She conveys her youthful crush with such embarrassingly true girlish antics—I love her.
Duckie begs for Ha-ni's dad to teach him his noodle ways, and ends up helping out at the restaurant. Ha-ni picks up a part-time job at a convenience store because she lacks the money to buy Seung-jo a proper present. Shouldn't you be working at your dad's?
She tires herself out working late every night, until one day Seung-jo walks into the store. She gasps and hides, not knowing what to do, and by the time he comes up to the register, she greets him looking like this:
Hahaha. He's startled, especially when she asks him to take his own change, since she can't see anything with her hood zipped all the way up. Her boss happens to walk in right at that time, so she gets fired immediately.
Luckily, she comes upon a chicken shop with a Help Wanted sign. She starts going on deliveries right away, earning more money than she was before. She heads on one last delivery for the night, and ends up at her own house, delivering chicken to Seung-jo. She doesn't know what to do, so she greets him one more time, hood zipped up, scaring the beejezus out of him. Hahaha. This gag is hilarious because it's all visual.
On her way home that night, Ha-ni gets a call from Min-ah, saying that she hasn't been able to get a hold of their friend Ju-ri for days now. She hasn't been around much, ever since they both got into the same university, and now she's MIA. Ha-ni runs all over town searching for her.
She and Min-ah finally find her at school, angsting over what to do with her life. They encourage her to do what she's really good at and loves, so she decides joyfully to ditch her books and go to beauty school.
Ha-ni finally gives Seung-jo the gift she worked so hard for: a head massager? He rebuffs her as usual, but overhears her telling Mom that she worked part-time jobs to earn the money. He cracks a smile at that, putting the pieces together from that weird night.
It's graduation day. Already? We sure are moving quickly, Show. The principal announces that both Ha-ni and Seung-jo will be going to Parang University, and Seung-jo takes the stage for his valedictorian address. He gives a nice little speech, ending with Ha-ni's grandmother's words, to live a life that's fun and makes others happy.
Ha-ni then gets called up to join him, to receive their diplomas as representatives for their classes. What kind of a graduation is this? Well, it's an excuse for them to stand on stage together, and of course Ha-ni fantasizes about it being their wedding ceremony instead. She shouts out, "I swear!" (The Korean version of "I do.") Duckie objects, Mom objects to Duckie's objection, and everyone has a good laugh.
To top it off, Seung-jo wants to get off the stage as fast as possible, but on her way down, Ha-ni slips and lands on his back. You should've just piggybacked her the first time. Now you owe her double from dodging the first. The universe will always collect on piggybacks owed.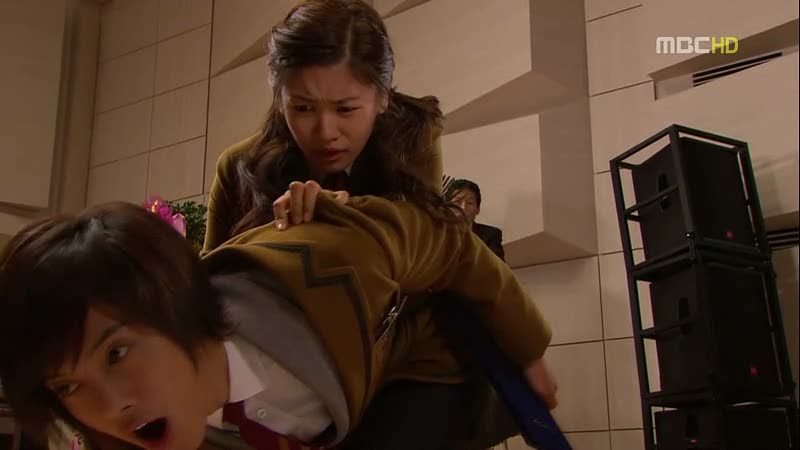 Everyone wants to take pictures with Seung-jo post-graduation, but he pretty much ignores all of them, even leaving Mean Girl's side mid-shot. Mom wants Ha-ni to go ask him, so she stands near him and looks up expectantly. Aw, I so distinctly remember being nervous to take a picture with a boy I liked. Such a huge deal, for such a little thing.
He scoffs that she has the gall to ask him for a picture after today, so she slumps down and starts to walk away. But he pulls her back and puts his arm around her for a picture. Everyone around them gasps, and while Mom takes the picture, Seung-jo repeats Ha-ni's words in the convenience store, to take his own change. She looks up at him, horrified, as he smiles devilishly like the bastard that he is. Haha.
The first class and seventh class end up partying at the same restaurant, where Duckie is about to start a serenade for Ha-ni. She stays slumped down in embarrassment, Duckie sings and dances his heart out, and Seung-jo looks on. He laughs at first, looking down on Duckie the way he does, but then when he gets close to Ha-ni during the song, Seung-jo starts to get jealous. Love it.
Ha-ni's dad gets swamped at the restaurant, so he calls Duckie to come and help. He's torn because he wants to stay with Ha-ni, but he decides to make the classic second-lead mistake: he decides to help her silently, in the shadows. He goes to the restaurant to play the dutiful son-in-law. Tsk, tsk. You'll never get the girl that way!
Seung-jo starts to publicly humiliate Ha-ni for disrupting his life and having a crush on him. Okay, that's just mean. Knowing she likes you is one thing, even if it's public knowledge, but teasing her for it publicly is awful. He relentlessly points out that she's written his name all over her books and everyone laughs, at which Ha-ni finally has enough and takes out her secret weapon:
She passes the picture around and Seung-jo freaks out. He snatches it and grabs Ha-ni by the wrist (gah) and drags her outside.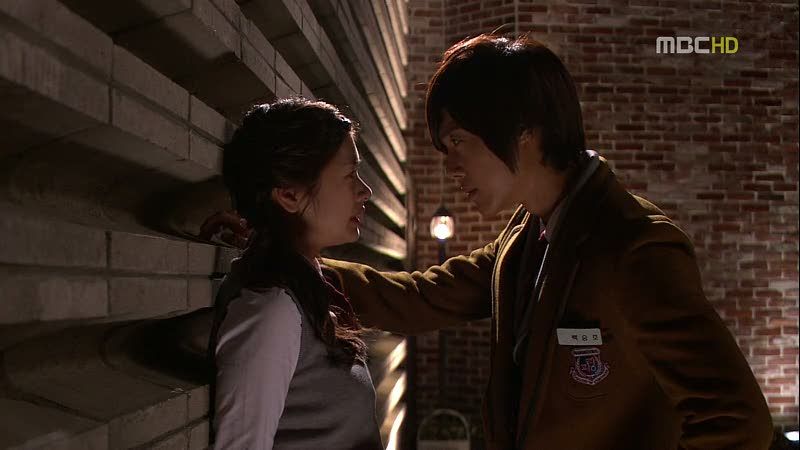 He leans in close, and Ha-ni starts to get scared, so she announces that all she did was get revenge because he took the fact that she likes him and used it to make fun of her in front of everyone. I approve. That deserves bigger retribution than an embarrassing photograph, I say.
She tells him that she's done harboring her crush, and that with the end of high school comes the end of her feelings for him. She vows to forget him.
Seung-jo: "Forget? You're going to forget me?"
And with that, he leans in for a kiss. Ha-ni's eyes widen in surprise, and Seung-jo leaves, turning back to challenge her, "Try to forget me now." Ack! He adds the equivalent of "neener" at the end, just to make it extra adorable. Gah, how can you be such an ass and so cute at the same time? It hurts my brain.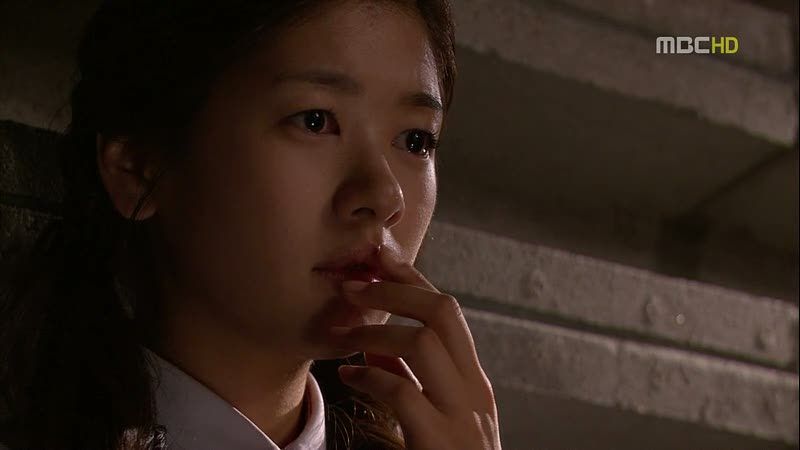 Ha-ni slides down the wall in utter shock. In disbelief, she thinks to herself, "I. Kissed. Baek Seung-jo." Her reaction is so great because it's such a shock wave to her. He may have just kissed her to pull her strings, but it shakes her to her core.
The next morning, she wakes up with a girlish squeal. God, I love that feeling of waking up the morning after something amazing happens. It's the best feeling in the world.
She wonders what to say, and how to act, thinking about how awkward it's going to be to see him. He comes out of the bathroom so she's forced to confront it head-on, but he's as mean to her as before, like nothing happened. She frowns, confused and hurt that she's the only one who's turned upside-down and he's the same as before.
He dashes off to school without her, and she meets up with Min-ah and Ju-ri on campus for lunch. Everyone's sporting a new look for college, and they aw at each other's grown-up changes. Ha-ni blushes at the sight of another couple kissing, and her friends get it out of her that she kissed Seung-jo.
On their way out, Ha-ni almost gets hit by a car. The driver gets out, and it's our introduction to Yoon He-ra (Lee Shi-young). So far all we know is that she's an upperclassman, and she's lookin' good.
Ha-ni goes to find Seung-jo in his lecture hall, and is forced to do the awkward, "I was just dropping by…" when He-ra appears in the doorway. She asks if Ha-ni is his girlfriend, to which he replies the equivalent of: "As if."
Ha-ni can't believe his answer. But…what about…the kiss?
He-ra invites him out for tea, but he declines and leaves. Ha-ni can't help but smile, and when He-ra sees her reaction, the claws come out. Ruh-roh. It's the birth of Mean Girl 2.0.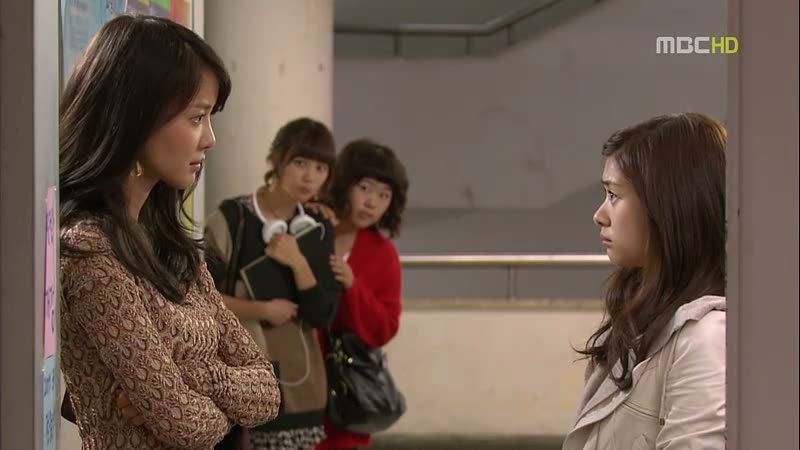 COMMENTS
My hopes were raised by the cohesive story of Episode 5, but they dipped again when we started to race through choosing college, graduation, and the start of university. I feel like the college-application episode was such a welcome neat little narrative box. Now we're back to the loose vignettes. Sigh.
It looks like Meaner Girl is going to be an interesting character, not least because she's played by Lee Shi-young, so I'm looking forward to some meaty conflicts there.
We finally got our first kiss, and it was delightfully playful, as promised. Kudos, Seung-jo. You have successfully made our heroine's heart flutter and die a thousand deaths in one fell swoop. You walk a dangerously fine line between rat bastard and swoon-worthy dreamboat, but I suppose we wouldn't have it any other way.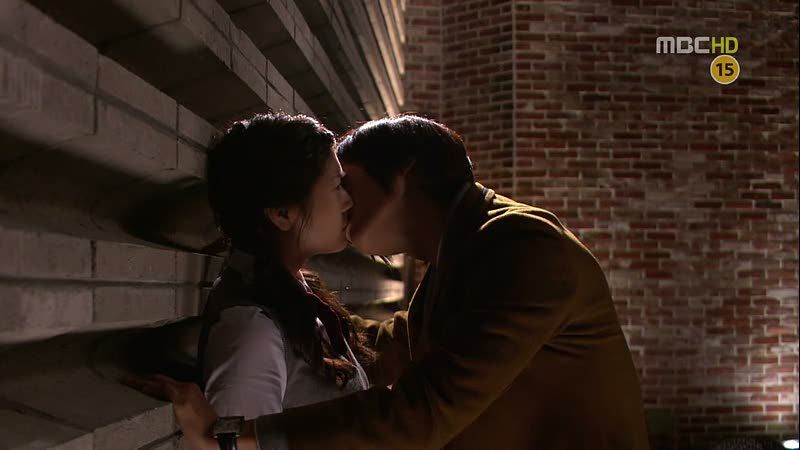 RELATED POSTS
Tags: featured, Jung So-min, Kim Hyun-joong, Playful Kiss