Dangerous Meeting between Lee Shi-young and Song Sae-byuk
Despite the title, Lee Shi-young's new movie isn't some dark thriller; instead, it's a romantic comedy, and pairs her with "2010's Super Rookie" Song Sae-byuk (the nickname refers to Song's string of hits this year — The Fixer, Cyrano Dating Agency, Bad Deal, and Bang-ja Chronicle — the latter for which he's already scored a Korea Film Award).
The movie is a lighter take on the classic Romeo & Juliet conflict, with the hero hailing from Jeolla Province and the heroine from Gyeongsang Province. While I don't presume these regional differences to be as pronounced a source of angst as, say, the Montague-Capulet feud, their differences are part of the opposition they face from both families. Some earlier reports pointed to particular conflicts between the fathers, and with the film's comedic bent, it sounds like it could be a lot of fun.
If anything, it'll be great to see Lee Shi-young taking on a leading role for once, rather than playing the second-fiddle bitch/villain/interloper. It's to Lee's credit that she has made every one of said second-lead roles memorable and lovable in their own right, giving her characters a human, lovable side despite the narrative necessities that make them antagonists. Case(s) in point: The backstabbing frenemy in Boys Before Flowers, the spoiled heiress in Birth of the Rich, the paragon of perfection in Playful Kiss.
Above is the first still to be released from the movie, while below are several photos taken by a fan who happened to be present at one of the film's early shoots.
The movie began filming in October and is currently still shooting; it is looking at a 2011 release.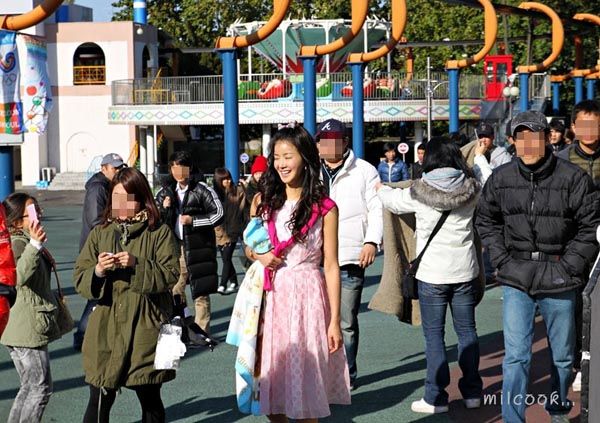 Via E Daily
RELATED POSTS
Tags: Lee Shi-young, Song Sae-byuk