2010 MBC Drama Awards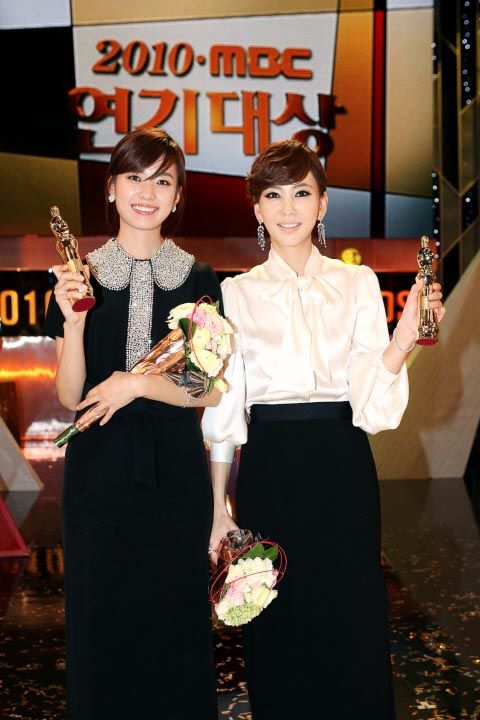 It's time for each broadcast station to put on their end-of-year awards. The MBC Drama Awards are first of the bunch, and man, Kim Nam-joo must be peeved. She finally gets her Daesang — and it goes shared, with Han Hyo-joo. Yeesh. This is almost as bad as when MBC split the Daesang between Kim Myung-min and Mr. Hand Towel.
First off, let me say that I did watch several episodes of Dong Yi and found Han Hyo-joo better than expected — not bad at all. Thing is, she wasn't what I'd call great, either. Powerful enough to win the Grand Prize of the year? Not so much — certainly not over Shin Eun-kyung, who had to settle for a Top Excellence award.
Plus, MBC split all its main awards, which just drives home the message that these things are just given out by the truckload to appease their actors. I mean, we already know that, but didja have to make it so blatant? Also, they created a goofball series of "Character Daesangs" this year, which I suppose is meant to be funny. I suppose given their gloomy year in dramas, they wanted to award their shows for something, even if that something is how much of a loser the main character is. (Seriously, there's a Loser Award.)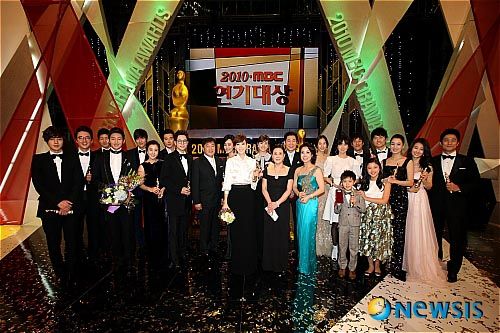 WINNERS LIST
Daesang (Grand Prize): Kim Nam-joo (Queen of Reversals), Han Hyo-joo (Dong Yi)
Top Excellence, Actor: Jung Jun-ho (Queen of Reversals), Ji Jin-hee (Dong Yi)
Top Excellence, Actress: Gong Hyo-jin (Pasta), Shin Eun-kyung (Flames of Desire)
Excellence Award, Actor: Park Shi-hoo (Queen of Reversals),
Lee Min-ho (Personal Taste)
Excellence Award, Actress: Park Eun-hye (Pink Lipstick), Lee So-yeon (Dong Yi)
New Actor: Lee Sang-yoon (Home Sweet Home), Lee Tae-sung (Playful Kiss, Enjoy Life)
New Actress: Park Ha-sun (Dong Yi), Jo Yoon-hee (Goldfish)
Golden Acting Award, Serial Drama: Kim Bo-yeon (Goldfish), Park Sang-won (Goldfish)
Golden Acting Award, Supporting Role: Kim Yoo-seok (Dong Yi),
Ha Yu-mi (Queen of Reversals)
Golden Acting Award, Veteran Actor: Park Jung-soo (Enjoy Life, Queen of Reversals),
Im Chae-moo (Enjoy Life)
Popularity Award: Kim Hyun-joong (Playful Kiss), Han Hyo-joo (Dong Yi)
Best Couple Award (Viewers' Pick): Lee Seon-kyun & Gong Hyo-jin (Pasta)
Drama of the Year (Viewers' Pick): Dong Yi
Child Actor Award: Kim Yoo-jung (Dong Yi, Flames of Desire), Lee Hyung-seok (Dong Yi)
Family Award: Gloria
Character Daesangs (WTF, MBC?)
Hot Temper Award: Lee Seon-kyun (Pasta)
Loser Award: Jung Jun-ho (Queen of Reversals)
Multiple Personality Award: Shin Eun-kyung (Flames of Desire)
Crude Language Award: Im Chae-moo (Enjoy Life)
Inappropriately Silly Award: Ji Jin-hee (Dong Yi)
Special Awards
PDs' Award, Drama: Oh Kyung-hoon (Home Sweet Home)
PDs' Award, Acting: Lee Tae-gon (Goldfish, Chae Jung-ahn (Queen of Reversals)
TV Category
Writer of the Year: Go Hye-rim (Tears of the Amazon, Park Hyun-joo (Enjoy Life),
Jo Eun-jung (Goldfish)
Lifetime Achievement: Na Mun-hee, Jung Hye-sun
Special Award, Voice Dubbing: Song Joon-seok (CSI)
Special Award, Announcer: Moo Ji-ae (Zero)
Special Award, Reporter: Park Jin-woo (Live Morning)
Radio Category
Top Excellence Award: Jo Young-nam (Radio Age)
Excellence Award: Hyun Young (Jung-oh's Request Line),
Bae Chil (Bae Han-sung, Bae Chil-soo's Fight)
Newcomer: Noh Hong-chul (Noh Hong-chul's Friends)
Lifetime Achievement: Sung Kyung-seob (News Touch)
Writer of the Year: Park Chang-seob (Sohn Seok-hee's Focus)
Announcer: Lee Joo-yeon (Lee Joo-yeon's Movie Music)
Reporter: Kim Yu-ri (2pm Date)
On the red carpet front, things were rather lackluster, both in terms of fashions (kinda frumpy) and the lack of attendees. Perhaps we can attribute the latter to MBC's serious dearth of good dramas lately — hence the need to dole out awards to the few shows they had that did bring in the ratings. You know it's a thin year when Alex and Im Seul-ong get acting nominations for new actor — hey, I enjoyed both guys in their respective dramas (Pasta, Personal Taste), but let's be honest, neither of them were doing much acting.
I notice a few absences, like Sohn Ye-jin (Personal Taste), Kim Hye-soo (Home Sweet Home), and Seo Woo (Flames of Desire), none of whom were nominated for acting awards. (Really, MBC?) Bae Doo-na (Gloria) was nominated, but also didn't show.
Daesang ladies Kim Nam-joo and Han Hyo-joo. Did they coordinate their outfits? Yeah, there was no way they weren't gonna give Kim Nam-joo the Daesang this year after she lost to Go Hyun-jung last year — it was positively preordained. I even read a report that quoted a rep from MBC saying they'd purposely scheduled Queen of Reversals later in the year to give her a better shot, since Queen of Housewives was so early in the year and had faded in collective memories by the time awards came around.

Han Hyo-joo's beautiful, but that dress…! It's like she was afraid you'd overlook that hideous bow at her waist — as if! — and made sure to bedazzle the one at her neck to within an inch of its life, just in case. She arrived at the event with her Dong Yi co-star Ji Jin-hee.

Ooh, I love the fiery color on Shin Eun-kyung (Flames of Desire). At first I thought it was red, in a nod to her drama, but I do love the fierce hot pink. Congrats, although I think it's a shame she didn't win Daesang, even a split one.

On paper, it sounds like Park Shi-hoo's (Queen of Reversals) curiously mixed ensemble would be bizarre — Harry Potter glasses, shaggy fur coat worn as cape, Victorian cut jacket — but he's just so cute.

Chae Jung-ahn (Queen of Reversals) also frumps it up. I sorta like the casual elegance of her look… worn to a charity bazaar for ladies who lunch, maybe. But a blousy top and wrinkly, pleated long skirt to an awards show? Meh.

I LOVE THIS. And do mine eyes deceive me, or does Gong Hyo-jin's (Pasta) quirky white number have pockets? Want want want. Even if it's one step away from being cute Army nurse on her way to the ball. Key word being: cute.

But as for her Pasta partner Lee Seon-kyun… I dunno, I love you Mr. Ajusshi, but I think your dishevelment has to be a very particular kind for me to swoon. Please shave that non-stache.

Lee Min-ho wasn't as dynamic in Personal Taste as he was in Boys Before Flowers, but he was very solid, and it netted him an acting prize here. Mmm, Lee Min-ho. (IS PERFECTLY LEGAL.) Even if velvet lapels always make me think bartender/waitstaff, not hottie on his way to the party.

I should clarify: My attraction to a permed Kim Hyun-joong (Playful Kiss) does not extend to ALL perms ever. Especially this one. I can't put my finger on why he looks so awkward here. Is it because the Bae-Yong-joon-ification is not yet complete and we caught him at an in-between moment?

Love this girl. Jung So-min (Playful Kiss) didn't win an award for her role, but she was nominated in the new actress category. I don't doubt that her day is coming, though — she positively carried the show on her shoulders. Which now seem to be burdened with a weighty plate of glittery stones.

Lee Tae-sung's New Actor win can be credited to two performances (Playful Kiss, Enjoy Life), the latter of which I didn't see but the former of which I thought he put a lot of heart into. His suit seems to be trying to pull off too many gimmicks at once, though, with the shiny, textured lapel trim, that lapel pin, the checkered square in his pocket, and the mandarin collar with a black border. Tim Gunn woulda told that designer to edit, edit, edit that hot mess down. Which is why we all need a Tim Gunn in our lives.

Lee So-yeon (Dong Yi) and Kim Yong-man acted as hosts for the event. I dig that the swoopy back hides a bit of flash in the back, like a surprise. I always fear picking up an unexpected something in my hoodies, though, like I'll come home and find a little family of birds has nested in the back while I was out grabbing coffee. Or in Lee So-yeon's case, an Excellence Award for playing a scheming, villainous concubine.

Yoo Seung-ho (Flames of Desire), you are budding hot stuff and I love you for your presence and acting talents… but are you growing a mullet?

Jo Yoon-hee (Goldfish) always reminds me of a young Hyori. She's bright, fresh, and pretty…which is why I wish her dress didn't look so plain. She's gorgeous, don't get me wrong, but it must be the color that washes her out.

Which also goes for radio host and MC Hyun Young, who also looks fantastic and yet washed out by the beige.

Park Ha-sun played a young queen in Dong Yi, though she looks more princessy here in the light pink gown. She seems to favor pink, but it suits her.

Lee Sang-yoon wears his tux nicely as he picks up a win for Home Sweet Home. Well, the tux looks nice as long as you don't zoom in close and recognize your gramma's old couch material — the nice one, for when the gentleman callers come by — repurposed into his jacket.

New groom- and father-to-be Lee Chun-hee (Gloria) arrives with Chun Bo-geun, who will forever in my mind be curious little Pa-rang (Wish Upon a Star). I do love that the boys are sporting similar expressions in that last photo. A cute big thing + a cute littler version of that thing = always cute. What? It's practically a law.

All in all, a ho-hum end to a ho-hum year. Let's hope the other station awards are more entertaining.
Via Newsen
RELATED POSTS
Tags: awards, Chae Jung-ahn, Gong Hyo-jin, Han Hyo-joo, Ji Jin-hee, Jung So-min, Kim Hyun-joong, Kim Nam-joo, Lee Chun-hee, Lee Min-ho, Lee Seon-kyun, Lee Tae-sung, Park Ha-sun, Park Shi-hoo, Shin Eun-kyung, Yoo Seung-ho