My Princess: Episode 2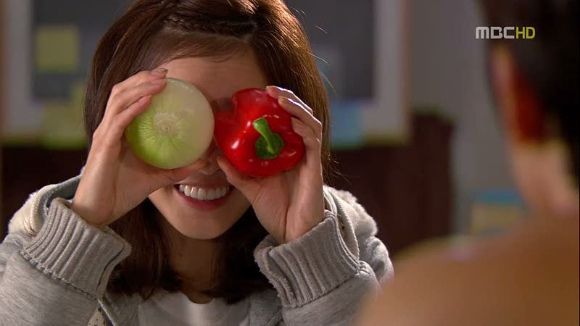 Don't count your chickens before they've hatched, but I will concede that My Princess is definitely faster out of the gate. It's breezy, it's charming, and…it's So Purty. But also, I'm surprised by how cute they are. I mean, who knew—stick a Hand Towel in a comedy, and voila…personality!

EPISODE 2 RECAP
Seol is elated to have Hae-young as a guest at the pension, and happily shows him the rooms. She calls one of the humble rooms the Royal Executive Grand Presidential Suite, which just makes him scoff because he actually IS someone who would stay at a suite with such an unwieldy name.
He wanders about the place, looking at photos of Seol with her mother, deciding that she really isn't Grandpa's type. Over the phone with Grandpa's secretary, he says that he'll be staying a few days to make up his mind whether or not to bring her, and that she approached him first knowing who he was. He adds with a note of bitterness that he didn't know that Grandpa was so devoted to his children. Ew, so you're going into this thinking she's your aunt? That's going to make the naked run-ins a little less sexy. Just sayin'.
The next morning, Seol wakes him up by wafting the smell of bacon throughout the house. (Can I just say, best way to wake up, ever? Add coffee and I'm yours.) He comes down hungry, asking where the nearest restaurant is. She tells him that it's an hour an a half away, right next to the nearest grocery store too. She then offers him a place at the table, for a small fee of course. She up-charges for the bacon. I love how shameless she is about earning every little penny.
Yoon-ju gives another interview at the museum, and the reporter asks how she got started on this lost monarchy project in the first place. She answers wistfully that it was her first love. She means that literally of course, as we see in flashback Yoon-ju and Jung-woo researching the project, and her pouting that this is his idea of a date. He swears that he'll uncover the truth (the lost desdendant), and she goes along with him as he does all the legwork and research, growing invested in it. She adds that in the end, it was only after she became the museum's curator that she found the missing link.
Jung-woo walks up as she finishes her interview, and over coffee he basically gives her a chance to apologize…which she doesn't do. When he asks her why, she says that it's because the President (of Daehan) wanted it, and she and her father can't deny the President's wishes. Jung-woo, hurt but trying to reason that she had a hard time with the decision, wants her to say something to appease his wounded heart. But she decides she can't handle the guilt, and walks out, asking him to call her when he's feeling better about it. What, now? Wouldn't step one be you apologizing? Gah.
In case the magnitude of her betrayal is lost in translation (I mean life-to-drama, not Korean-to-English), an academic can spend an entire career on one line of inquiry, looking for one artifact/discovery/missing link, and though he may have done 99% of the work, she swooped in and did that last 1% that gave HER all the credit. She stole his baby, his life's work, right out from under him. And that's not even factoring in the love angle.
Grandpa goes to see the President (of Korea) and they discuss how the plan to restore the monarchy is going. It seems weird to me that the President would be in on a plan to restore a monarchy and thereby decrease the weight of his position as top dog, but maybe I'm just thinking of it too one-dimensionally. Or too logically? Sigh.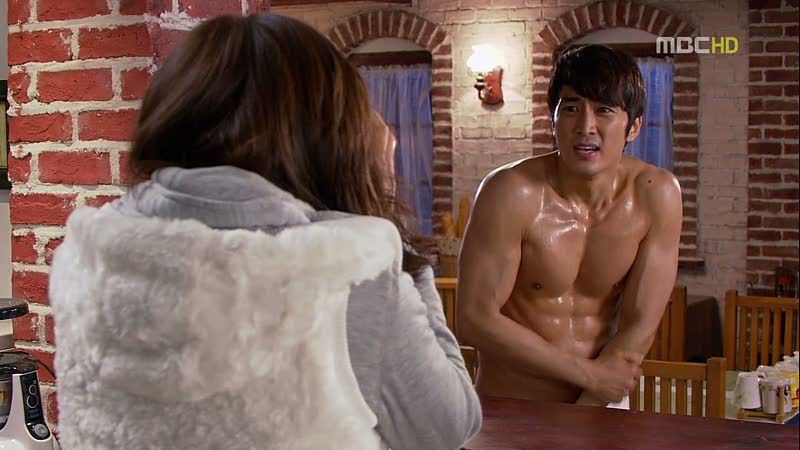 Later that night, Hae-young comes running into the kitchen in nothing but a towel (sadly, not a Hand Towel), screaming that the water is freezing cold. Seol whirls around to avert her eyes (lest she take in too much of The Pretty) and tells him that hot water is also an up-charge. Ha.
She turns around with veggies as blinders and adds that she's going to the store to pick up some stuff, and that he really shouldn't be so stingy about the hot water. Hehe. Hae-young stands there shocked, although it's hard to say what shocks him more: her veggie-eyes, or her unparalleled cheapness.
He can't sleep, so he tosses and turns, and then heads outside when he hears some noise. He comes out to find Seol sitting outside with the dogs, watching Roman Holiday projected on the side of the house. Aw, I love watching movies outside.
He smiles and joins her, saying that he never gets tired of this movie. As they watch, one of the shutters swings open, and Seol runs up to put it back, so that she stands there for a second, with Audrey Hepburn's face superimposed on her own. Oh, symbolism. You are not subtle, Show, but this was just one reference that was not going to go untouched, if I know k-dramas.
Hae-young takes the opportunity to ask if this is the house she grew up in, and she says that it pretty much is, since she's lived here since she was six. He asks tentatively where she lived before then, and she says here and there…and the orphanage.
He wonders if she remembers anything about her birth parents, and she teases if he's going to find them if she does. He says that he can, but she just laughs it off. She doesn't know if it's memory, or fantasy, or just what she imagined, but there's only bits and pieces that she remembers.
The one thing she does remember: that Daddy dropped her off at the orphanage, saying, "I'll be right back." She smiles wistfully, as she adds that "right back" has taken a a really long time. Hae-young sighs that she must've harbored a lot of resentment. She counters cheerily that everyone does at some point with their parents—didn't he, even once when he was little? He can't help but smile at her sunny disposition.
Hae-young asks what she'd do if she found her birth parents tomorrow. Why, found out how much she'd inherit, of course. And after that? Find out if she has any siblings…to see how much her share would be. Ha. Even Hae-young laughs to himself, wondering how such a little thing (he calls her "pea-sized") could be so single-mindedly obsessed with money.
She gets a call from her research supervisor, frantic that she was supposed to book a room for Professor Nam to stay, and so she asks for Seol to put him up at the pension and pretend that it was all a coincidence. Seol jumps at the chance to have a fateful run-in with her Professor Dreamy, and wakes up the next morning to decorate the whole place with loving care. Even the dogs get all dressed up.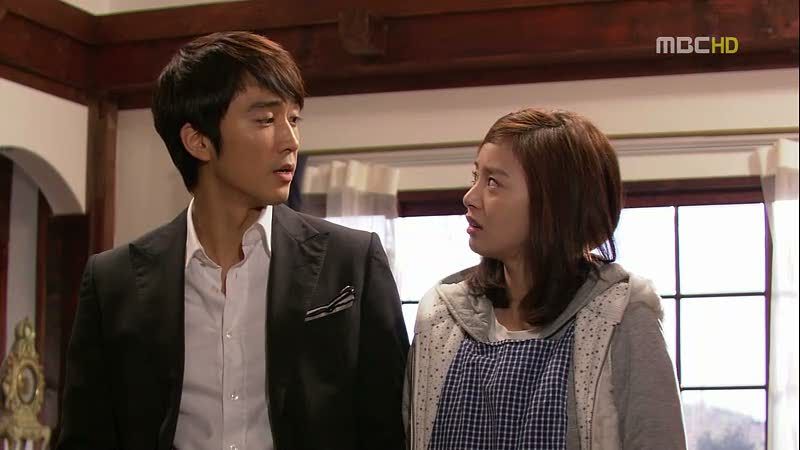 Seol asks Hae-young to switch rooms so that she can put Jung-woo in the room opposite hers (for the oh-so-casual late-night run-in, of course) but he refuses, getting more irritated by the minute as she spouts on and on about how wonderful this other guy is. Heh. I love that he's not outright romantically interested in her, but the very act of putting some other guy above him insults his vanity. Nothing like jealousy to stir up feelings.
They hear Jung-woo arrive, and Seol rushes up to her room to change, asking Hae-young to go stall him for a few minutes. He balks at first, but then realizes it's his chance to size up the guy, so he heads out. Jung-woo arrives and Hae-young literally looks him up and down, greeting him coldly (Song Seun-heon does one thing really well—and it's this, the I'm-so-awesome-so-who-are-you-thinking-that-you're-awesomer-than-me thing.)
Seol comes out, feigning surprise over the coincidence (but…you put up a welcome sign with his name on it…) and Hae-young scoffs at her sudden 180, dressed up for her professor and fawning over him.
Jung-woo asks who Hae-young is, and she starts to describe him…but Hae-young cuts in by putting his arm around her. "I'm the person she's going to be sharing a roof with, very soon." He kisses her on the cheek for good measure. HA. Love it.
Jung-woo is surprised, but happy for her, and she tries to protest but Hae-young railroads the situation, telling Jung-woo that he's to stay in the Royal Grand Executive Suite, which is just across the way from THEIR room, so he can knock if he needs anything. Keh. He drags her inside as she flails about, trying to say that this isn't what it looks like…
Inside, she lays into Hae-young for messing things up, but he's quick to remind her of her over-acting to "help" him with Yoon-ju. She fesses up to harboring some resentment towards Yoon-ju that's personal, which he thinks is just jealousy over Yoon-ju's popularity. (What are we, in high school?)
She wonders why he's so determined with a woman who's got another guy she's going to marry, and besides, she seems the type that feigns innocence in front of men. Hae-young defends Yoon-ju's honor, and even Seol is impressed with how much he seems to like her. She says fine, they're even now, and orders him to behave, or there's no dinner. He grumbles to himself that she's always threatening him with food.
He gets a call from Grandpa asking him about Seol. He answers that she's grown up well, but he hasn't had a chance to bring up the reason why he's here. He doesn't know how to get her to come along, when he doesn't really know why himself. Grandpa just says that he's waiting, and to bring her soon.
Outside, he stands back as Seol flirts with Jung-woo, noticing yet another artifact in his book that she thinks she's seen in her house…but is quickly corrected by Jung-woo's colleague that that would be ridiculous. Oh yeah? We'll see just how ridiculous it's gonna get.
He asks Jung-woo how he feels about Yoon-ju stealing his thunder. Hae-young's ears perk up. He adds that he ought to hurry up and marry her; dating too long is a bad thing. Hae-young glares, realizing the connection now, and Seol tries to diffuse the situation. She rushes into the house with Hae-young in tow.
He demands to know if the Yoon-ju they're talking about is his Yoon-ju. She pretends not to know what he's talking about, but he can tell she's known all along. She finally spills the beans that yes, they're the same person, and that Yoon-ju and Jung-woo are first loves at that. He fumes, as Seol asks if he has the confidence to beat Jung-woo.
That just raises his ire, as he insists that he's not someone who loses to anyone. She points out that he's already lost to Daehan's heir…and then apologizes for poking at a sore spot. She tells him that they can help each other—he gets Yoon-ju, and she gets her dear professor. He's like, what now?
She starts laying out the master plan, as he drags her inside. He tells her to pack her bags—they're going to Seoul. She doesn't see why, especially with guests here, but he just blurts out: "I think you're my aunt."
Uh…. She thinks it's as ridiculous as it sounds, making him repeat it over and over. She's younger than him, he has no proof, and she doesn't understand why her parents aren't the ones here, if it's really true. He tells her that his grandfather is sick, and that he's only known for two days, so he's as floored as she is by the whole situation.
She freezes up, wondering if he's here to ask her for an organ or something to save Grandpa, which he disabuses her of right away, and then she wonders if she's just going to end up tied down to a starving family. He's like, you've seen me, and you don't know the answer to that? She counters that she's only ever seen him swipe his credit card everywhere, so she doesn't know, does she? Heh.
He takes her down and tells Jung-woo that something's come up that's going to turn Seol's life upside-down, so he asks them to excuse her for leaving. He does it in the rudest way possible, of course, so she tells him that it's her life and her business, and tells Jung-woo calmly that something's come up. Hae-young rushes her away and she stops him, insisting on bowing a proper goodbye to Jung-woo, and Hae-young just spits out that from now on, he's going to be the one bowing to her. Ha, you don't even know the half of it, buddy.
On the drive back to Seoul, she asks what his grandpa does for a living. He answers vaguely, and then decides he ought to tell her since she's clearly not getting the full picture. He asks if she threw away his business card. She says she has it, and takes it out. Hae-young: "What's my name?" Seol: "Park Hae-young." Hae-young: "What's the name of the museum you were at yesterday?" Seol: "Hae-young Museum…." It finally dawns on her that HE's the Daehan Group heir.
They pull up to the giant mansion, where Grandpa and the entire staff are lined up outside to greet them. They get out and Grandpa is helped up out of his wheelchair, and proceeds to get down on his knees in front of Seol. He greets her, head bowed, as "Your Highness…"
They're like, what the…? As Grandpa takes her hands with a smile on his face, calling her Princess.
Inside, Hae-young argues with Grandpa's secretary to let him in the room, but he's not allowed. Secretary Oh tells him that he wished that Seol wasn't found either, but it's something they can't help now.
Inside the glorious library that I would give my left arm to own, Grandpa shows Seol a picture. She recognizes it as Emperor Sunjong. He begins to tell her the story of how Emperor Sunjong entrusted his son to a loyal man, to take him into hiding and bring him back when the country was re-stabilized.
She clears it up thusly: she is Emperor Sunjong's great-granddaughter. She takes it all rather well, saying that her dream when she was little was to be a princess. Ha. He takes out a picture of another man, but she doesn't recognize him. He asks her to remember, but she tells him that she has no memory before the age of five.
He begs her to remember something, and she can only recall bits and pieces, like crying in an alley, a strawberry hair-tie, a helicopter…
He takes something else out of the box and hands it to her. She opens the pouch, and inside is a little girl's strawberry hair-tie. She looks at it in wonder, as it finally starts to sink in that she's really the one Grandpa is talking about. She looks at the man in the photo as she realizes what this means—is that her father? Where is he now? Can she meet him?
Grandpa hangs his head, asking forgiveness…her father is no longer living. She gets up and storms out, angry at being handed a family and then having it yanked away once she let herself believe.
She runs out, past Hae-young, saying that his Grandpa must be ill (in the head), right? He said that her father is dead and that she's some princess—that's just crazy. She tells him not to stop her, and walks off.
He decides to follow her, and chases in his car, stopping in the road to at least take her where she's going. But he sees that she's crying. She can't stop as the tears keep coming, and she yells angrily that it can't be true—her dad can't be dead. "My daddy, he promised. He said he'd be right back!"
She cries and cries, "I waited so long! He can't die like this!" Hae-young pulls her close and holds her as she cries.
He takes her home, but she realizes once she's there that her sister changed the lock code on her. He wonders that she doesn't even have a key to her own house, and she tells him that it's her sister's house, and that sisters often fight. He asks if they're related by blood, which they aren't—she isn't even actually older, as they're the same age and got adopted together, and Mom decided that even twins have an unni and a younger sister, so they should play rock-paper-scissors….and Seol lost. Ha. That's the cruelest way to decide a family hierarchy if I ever heard of one. If I had been that kid, I'd resent rock-paper-scissors my whole life.
She tells him to leave since she's got plenty of places to go, but he can't very well do that and still be prince charming, can he? He takes her to his place, and shows her to the guest room, quoting the same rate that she did at her pension, and joking that hot water is extra.
She washes up in the bathroom, and says to herself in the mirror that it's not her; it can't be her, and her father isn't dead.
Elsewhere, Seol's mom takes her sister Dan out shopping for a new outfit, the only point of which is to set her up as the Cinderella-unni type, bad-mouthing Seol when she has the opportunity. It looks like she'll be the thorn in our heroine's side for the duration.
Seol comes out to find that Hae-young has defied the space-time continuum to make her a steak dinner. She's surprised that he can cook, and he just replies that he can do everything…he's perfect that way, and it's quite a burden. HA. This guy cracks me up.
She refuses to toast to his pompous vanity, but does praise his cooking as she eats her steak on her fork like a lollipop. Hae-young gets a call in the middle of dinner from Yoon-ju, who's just outside his door. She rings the doorbell and he panics, rushing Seol into the guest room with her plate, telling her to stay put.
He sits down with Yoon-ju while Seol eats up the rest of her dinner crouched down on the bed, but then she starts to get an uncomfortable look on her face…
Her stomach starts to make noises as she does the bathroom dance, trying to hold it in, and finally she calls Hae-young to tell her that it's an emergency. He hilariously tells her that she's an adult now, so she can take care of it herself, and hangs up.
They end up texting back and forth, with Seol threatening to just go in one of his designer bags (Ha) until he finally ushers Yoon-ju out awkwardly. She senses that something's up, and then on her way out, she looks down and sees a woman's shoes. He starts to try and explain, letting the door close again behind him…
…which is right when Seol runs out thinking that she's gone, and makes a mad dash to the bathroom.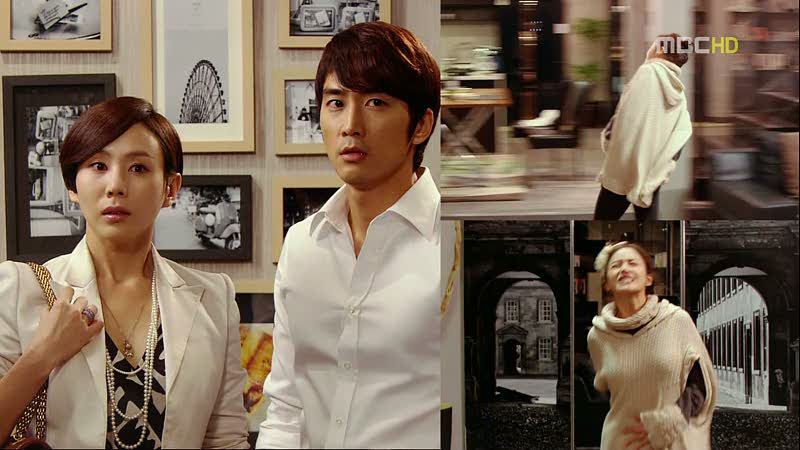 COMMENTS
So far I like it much better than I had expected, because it's breezy and funny, and less lost-daughter-princess-drama, which is, minus the fluffy princess part, a very makjang-esque setup. But the show is sticking to a delightfully comic tone, which makes the birth secret stuff go by fairly well. I just hope that the plot continues to move along this briskly, and that we don't get too entrenched in the birth secret back-and-forth that's bound to happen.
Regardless, I do really like Kim Tae-hee and Song Seung-heon in these roles. They really should have done comedy sooner, because they are SO much more believable as these types of characters. She's fantastic as a sunny character, and he's hilarious as the vain Mr. Awesome…who totally doesn't get how someone couldn't see just how awesome he is. It cracks me up. When he puts the intense face on and starts to over-emote, we're back in Hand Towel territory, but there's enough hilarity and princely charm that carries him past that.
Cute. Cute. Cute.
RELATED POSTS
Tags: featured, Kim Tae-hee, My Princess, Park Ye-jin, Ryu Soo-young, Song Seung-heon