More stills from 49 Days
Several more stills are out for fantasy drama 49 Days, featuring Nam Gyuri (Life Is Beautiful) as the Girl Who Has Everything who gets knocked into a coma and gets a second chance at life using Lee Yo-won's (Queen Seon-deok) body.
Above, Nam's character is pictured with her best friends, Bae Geu-rin (You're Beautiful) and Seo Ji-hye (Kim Suro). While the latter is a cold city girl and has a bit of a rivalry going with Nam, Bae's character finds herself caught between the two.
The drama also features Jo Hyun-jae (Three Dads, One Mom) as an architect from the States, and Bae Soo-bin (Dong Yi) as Nam's U.S.-educated MBA fiancé, who pose together below while on the drama's set.
Then there's Jung Il-woo, who rocks a new perm and some fancy headphones (apparently it's part of his character's shtick, and I foresee potential trend material there) as Nam's good-looking spiritual guide in the afterlife. Or, should I say, almost-afterlife, since she's got 49 days to win herself back a chance at earthly living.
Thanks to the drama's premise, Nam Gyuri has been stuck wearing one dress for the past month, and to make things worse, it's a bridesmaid dress. Nam's character tries on the (satin-trimmed, bowed, and caped — why choose when you can have all three?) dress meant to be worn by her bridesmaids (with the requisite matchy-matchy pink pumps), which is when she gets stuck in her coma. *Shudder* Bad luck, or karmic retribution?
(Say what you will, brides, but the bridesmaid dress will never be comfortable and, despite your best intentions, will totally not be worn again, like for regular parties and stuff. What, do I sound bitter? I'm not. I'm sure that floor-length pink silk gown with ruched sides totally made some girl a nice prom dress.)
49 Days premieres on March 13, following Sign.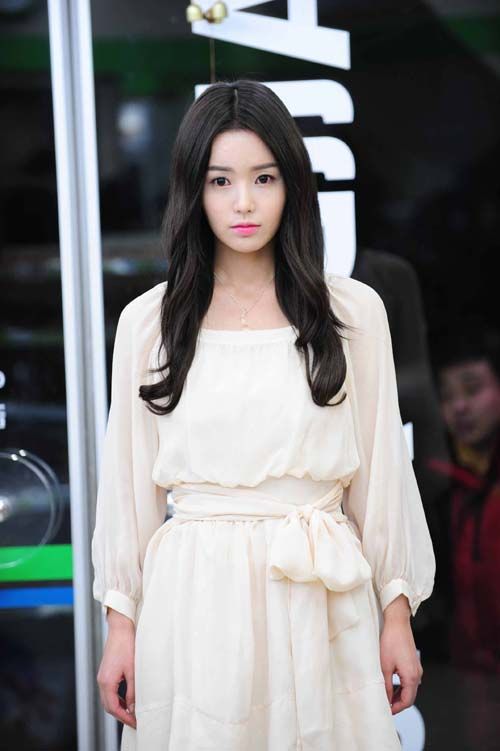 Via Star News
RELATED POSTS
Tags: 49 Days, Bae Soo-bin, Jo Hyun-jae, Jung Il-woo, Lee Yo-won, Nam Gyuri