Introducing Running Man: Episode 50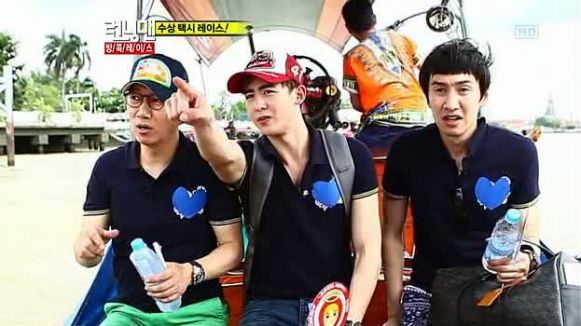 [New feature! You asked for Running Man recaps, so we delivered. Well, mostly we found someone else to do the heavy lifting, but hey, she's awesome, so we take full credit for that. We hope you'll join us in welcoming gummimochi and that you'll enjoy her recaps as much as we do. Let the race begin! -GF]
This new feature is for all you avid Running Man fans out there and those who enjoy some action with your weekly dose of Sunday variety. This episode marks the one-year anniversary for Running Man so it's a perfect opportunity for both old and new fans to join in on the fun!
A Running Man Recipe: Mix in one group of celebrities with various geographical landmarks and sprinkle some sleep deprivation and blend it together with some games/missions. Bake carefully and you have well-rounded Running Man cake.

There's usually enough action-packed fun for one or two episodes so the cast shoots weekly or twice a month. The cast includes:
Yoo Jae-suk: 39, comedian and main MC of the other half of variety Kang Ho-dong isn't hosting (Known as Yoo-ruce Willis for easily evading his captors in Hide-and-Seek, Yoo Hyuk for his desire to be the Big Man on campus, and is commonly a team leader);
Ji Suk-jin: 43, comedian and MC (Known as Big Nose Hyung for his characteristically large schnoz);
Kim Jong-kook: 34, singer who debuted with 90's K-pop group Turbo, currently has a solo career (His nicknames include Spartakooks, often accompanied by the 300 chant "SPARTA!" for his brawn, and the Capable One for being quick on the uptake when it comes to missions. He's often the opposing team leader);
Song Ji-hyo: 29, actress (Crime Squad) (Known as Mung Ji-hyo for her tendency to be a space cadet, Ace Ji-hyo for her agility at other missions);
Kang Gary: 33, singer with rap duet Leessang (Known as Gary-sshi, a play on words on 'Mr. Gary' or Gary-shi, for his occasional mumbling);
Haha: 32, singer & comedian (Known as Haroro for his resemblance to 'Pororo,' a popular Korean children's cartoon character);
Lee Kwang-soo: 25, actor (City Hunter) (Known as Incriminating Kwang-soo for his rumors that are usually unfounded)
EPISODE 50. Broadcast on July 3, 2011
Happy 1 year Anniversary Running Man! Have you run out of places to run in Korea and gone global now? The cast meets at Incheon International Airport sporting their airport fashion. The entire cast is excited to travel overseas to Bangkok, Thailand not knowing what lies ahead. When they land, it's time to select teams.
Before another word is said, Ji-hyo darts down the corridor, ever the Ace. There's a black line that stops the cast in their tracks since, after all, crossing first doesn't always mean good news in Running Man Land. They push and shove each other across and the order in which they crossed matches up to the card number the guests have drawn.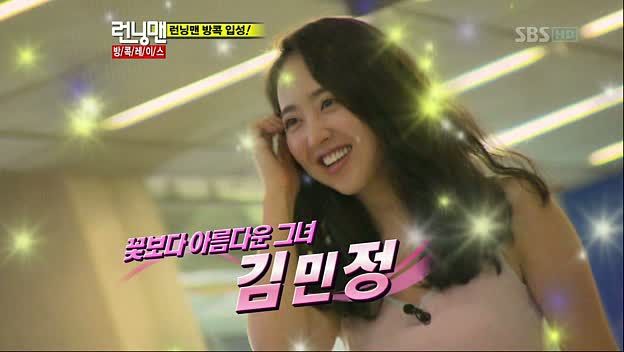 Cue our first guest, actress Kim Min-jung (Thorn Birds, New Heart) and the boys stutter and fawn over her presence. Leave it to Haha to make a 'friendly' move to hug her and Ji-hyo warns him to stay back. Min-jung's picks are Kim Jong-kook and Yoo Jae-suk, both of whom are beyond ecstatic.
Oh boy, this ought to be interesting. Both competitive team leaders on one team? Jae-suk and Jong-kook usually butt heads in order to win missions in the past, so perhaps they'll put their differences aside – oh, who am I kidding? They're going to one-upsmanship each other the entire time!
Ji-hyo picks Gary (yay Monday Couple! These two were paired together as a 'couple' and known to be one only on Mondays, the day Running Man shoots) and Haha, who gripes about being the third wheel. Which leaves Suk-jin and Kwang-soo teamed with 2PM's Nichkhun, an occasional RM guest.
Ji-hyo immediately changes her mind, shouting, "I want to be on Nichkhun's team!" You and me both, honey. The PD restricts Nichkhun to speak in Korean only, eliminating any possibility for an unfair advantage. Kwang-soo: "Then we don't need him…"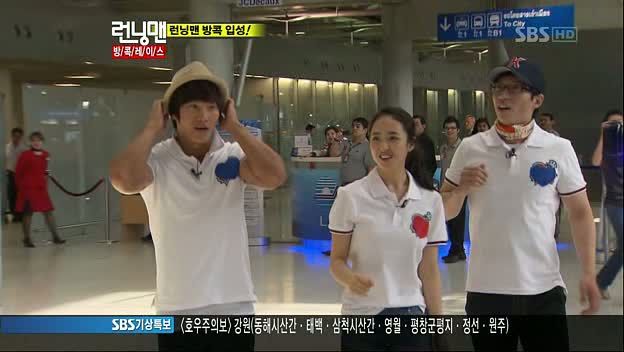 Thus begins the Bangkok Race with a huge cash prize on the line for the winning team. Earlier, the staff checked three ranked luggage bags from Korea that determine when they can leave the airport. Min-jung's team heads out first, with Ji-hyo and Nichkhun's team trailing behind them.
Ha! It's as if the boys have never seen a female actress before as they primp and ready themselves for Min-jung in the bathroom. But don't take her for a dainty princess – she's on a mission dammit!
The teams head out in 5 minute increments and when the doors open…they're completely drowned in the sounds of screaming RM fans holding various decorated placards of love for Running Man. Power of the Hallyu wave, for sure. It seems all the members have fans in Thailand, even Kwang-soo. One fan even wore his signature mustache! Hahaha. Next stop: Khaosan Road.
In the taxi, Jong-kook informs Min-jung that Gary chose her as his ideal woman and she meekly reminds him that Gary is part of the Monday Couple. Jae-suk and Jong-kook promptly reply, "Don't worry about it. It's pretty much over." Say it ain't so!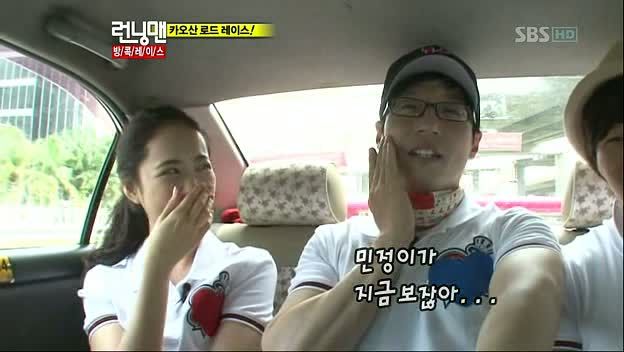 They previously heard Min-jung prefers good-looking guys and she turns to Jae-suk, "Oppa, you know I like you, right?" and Jong-kook guesses that it isn't true then. They're not pleased to hear that Ji-hyo's team has pulled ahead of them, no thanks to the driver who stays within the speed limit.
Jihyo's team munches over a gift from a fan as the boys continue to fawn over Min-jung. Ji-hyo isn't worried about Gary's crush since he can love her like a fan. Gary: "But I love her more than that." A garden snake drops onto the rear window and the boys jump out of their skins but Ji-hyo flips out her camera to snap a picture. No ordinary girl she is!
Khaosan Road is a tourist attraction and primarily famous for its street food and shops. God, I'm booking the next flight to Bangkok, this food is making my mouth water. The mission is a Speed Movie Quiz and the teams must employ foreign tourist volunteers: those who know K-pop, a foreign couple, and a blond-haired woman.
It takes a few tries for everyone, as they find it difficult to break through the language barrier. One of the answers for Min-jung's team is the "Terminator" and Min-jung imitates the famous raised thumb gesture with the classic line, "I'll be back," and the woman excitedly yelps, "2PM!" Keh. Hottests will agree, methinks.
The cast is off to Thachang, a market next to the river. Min-jung's team is in first place, followed by Ji-hyo, and Nichkhun's team. Are the fans taking some sort of bullet train? The same placards and signs are following them everywhere!
The second round is where the moolah appears. Min-jung's team receives 15,000 Baht for arriving first. Each team must correctly order three Thai dishes and eat them. That's one way to eat lunch! It's a piece of cake for Nichkhun, who can easily identify the food for his team.
I can't even pronounce half these dishes so it's no wonder some of the members have such a difficult time. Nichkhun bends the rules and parrots the correct pronunciation to Ji-suk. That riles up Min-jung who claims he's cheating and Nichkhun innocently says he's only using Korean.
The teams are trying to get their dishes to-go and Nichkhun drops the hint, "Go home!" which Suk-jin and Kwang-soo immediately use. An exasperated Nichkhun, unable to speak Thai or English to the locals, finally says: "This is so frustrating!" and Kwang-soo exclaims, "I want to go home!" HAHA. Nichkhun's team has no trouble buying the other items and heads back.
The teams dig in, and they're told only after they finish eating whether or not they ordered the correct dish. Nichkhun and Ji-hyo's teams eat dish after dish, with Min-jung's team running behind with their food. Jae-suk takes any opportunity to boast about Min-jung and proudly rubs it in that Min-jung fed him first.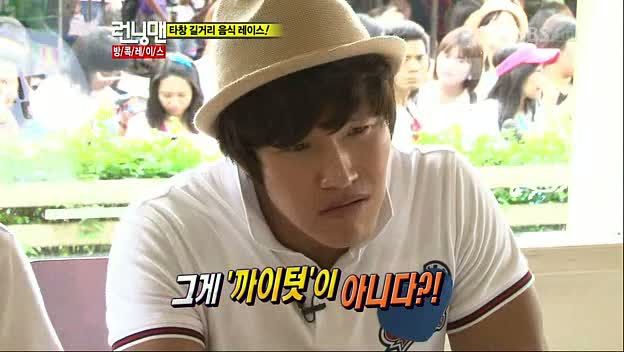 Minjung's team is only on their first dish while the others begin their third, and then are told that it's incorrect. The look on Jong-kook is absolutely priceless, as if Spartakooks is going to pounce and eat the PD whole.
Nichkhun chuckles and mentions they've gotten a similar dish but that ain't it. He adds that the store is "somewhere out there" before his team head off to the next leg of the race.
Ji-hyo's team heads out in second place and leaves Min-jung's team to wait for Jong-kook to backtrack to the vendor. When he returns, Min-jung hurriedly orders Jong-kook to start eating. A slightly startled Jong-kook, "You're..a little like..Ji-hyo…"
To top it off, he says Min-jung runs along the same lines as Lee Hyo-ri and Ji-hyo; as in, all pretty but feisty. They finally succeed and before they head out, the boys tease Min-jung about acting as her bellboys and she proclaims while holding her hat, "But I'm carrying my own stuff!"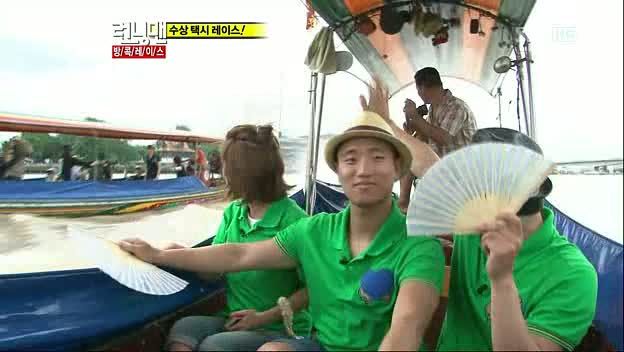 At the riverfront, Nichkhun informs his team that he knows of a faster water taxi and they dash to another post. But Ji-hyo's team can smell something fishy and follows their tracks, and misses them by a few seconds. When they catch the next water taxi, Haha revels, "Yes! Kim Jong-kook's last!" It's not long after Ji-hyo's boat catches up with Nichkun's boat…then zooms off. Oh yea it's a race!
It's Nichkhun's team who pulls in first and they're asked to choose a car key between a sedan and a van. Their key opens up the van and they happily climb in, that is, until they're told that the van needs 6 people a.k.a. 2 teams to leave.
Aw, then the PD shuts the door, locking them inside. Has the RM PD been taking private lessons from Na PD? They're left to wait for another team to share in their fate.
Jihyo's team lucks out and picks the sedan, not knowing Nichkhun's team is stuck inside the van. Min-jung's team takes the last key and lingers around until an infuriated Kwang-soo shouts, "Let's go! We're late!" with choruses of, "We were in first place and now we're last – with you!"
Nichkhun's facial expression changes and he mentions, "This road looks familiar…" Sure enough, the cast is headed to Nichkhun's house with his entire family in attendance. Haha is immediately drawn to one of Nichkhun's sisters and openly declares his affection towards her, much to her father's chagrin.
He then lists his credentials as a future son-in-law: a Korean celebrity, with a building, and 2 helicopters to his name. What are they paying you, Haroro? The game is to choose four family members who each say one syllable simultaneously and it's up to the Running Men to identify the word. Not once, but three times. Yea, it's no easy feat.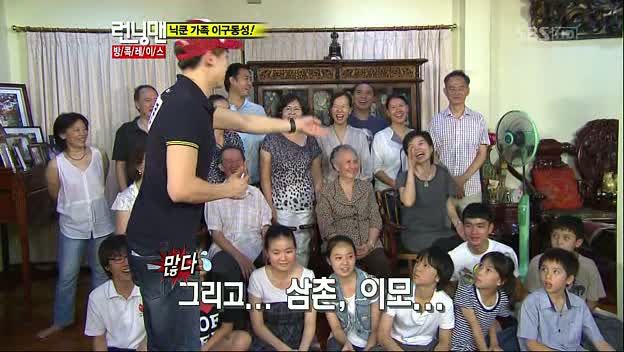 The other teams arrive and Nichkhun warmly greets his family. K-pop idols rarely get to visit home, especially for those who live abroad, so it's nice to see some heartwarming family reunions. Nichkhun introduces his family to the cast, starting with his grandmother and bunches the rest together, "Aunts, uncles, cousins, the like…" Heh, nice going Nichkhun. You do have a lot of family.
There are a few cute cousins that provide the teams with some advantage: one who lets slip a clue to Min-jung's team by jumping the gun, and another who nods whenever Kwang-soo correctly guesses a syllable. Too cute! So innocent for variety…And of course Haha tries to bribe her by slipping a snack into her hands.
The teams go for a few more rounds and the lengthy time gets everyone, especially Suk-jin, agitated. In half-annoyance and distraction, he tosses out some answers for Min-jung's team that happen to be correct, which allows Min-jung's team to successfully finish the mission in jubilee, picking up a first place cash bag. Eventually, all the teams head towards their final destination: the hotel swimming pool.
Jae-suk berates his VJ in the taxi about constantly filming Min-jung instead of the rest of them, asking, "Are you shooting a home video?" Heh, and aww. In Ji-hyo's taxi, Gary pokes a little fun by asking Ji-hyo to repeat the words 'Kae-na-ri' (forsythia – a type of yellow flower) and 'song-ah-ji' (calf) several times and plays on her Mung Ji-hyo status as a space cadet until she sings. They do say that love makes you childish…
The teams arrive at the hotel through different locations. Who will grab the flag first? It's Min-jung's team, and they spot the flag floating on a platform. They grab it, making them the winners of the Bangkok Race! They seem in a hurry to split up that cash, but I would hold onto that if I were you, 'cause things are not always what they seem on Running Man…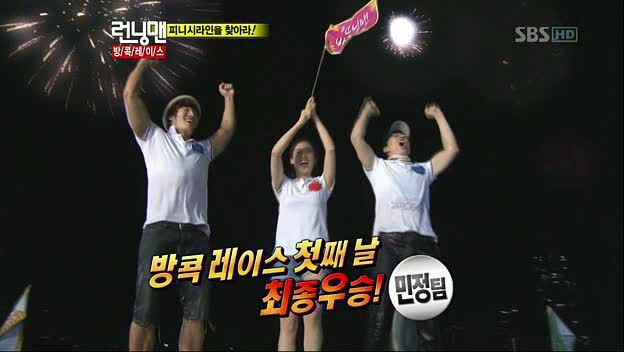 Tags: featured, Haha, Ji Suk-jin, Kang Gary, Kim Jong-kook, Lee Kwang-soo, Running Man, Song Ji-hyo, Yoo Jae-suk