KBS speaks about Myung-wol the Spy's future at press conference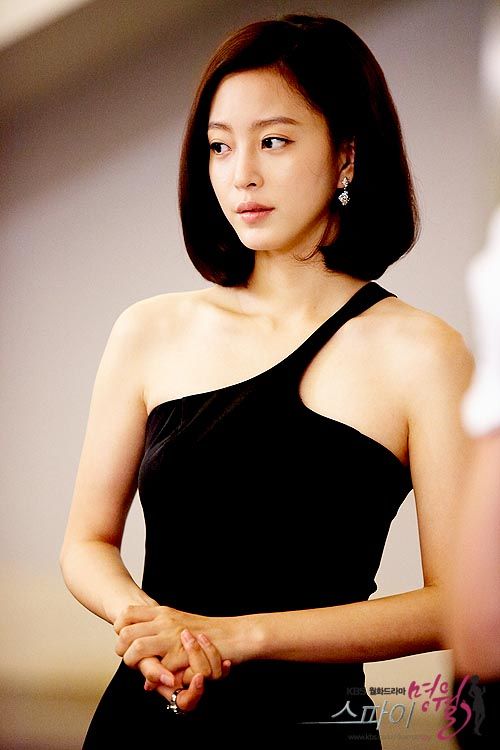 KBS held an emergency press conference on the 16th at their broadcast station, to address the issue of Han Ye-seul's departure from Monday-Tuesday drama Myung-wol the Spy.
Presiding was KBS's drama department chief, Go Young-tak, as well as other executives EP Lee Kang-hyun and CP Jung Sung-hyo.
Their official stance was that Han acted "irresponsibly" and independently, in such a way that they can't tolerate the reason for her actions. Go stated that the station "cannot accept that she refused to shoot based on discord with producers."
Go called Han's reasons for leaving the drama — the killer schedule and the late, piecemeal script deliveries — "an excuse" because "Myung-wol the Spy's schedule is not more arduous than other dramas."
He denied that the drama was behind schedule or putting out script pages late. The scripts were released in bound form, not loose pages (loose pages is what happens when they're so behind that the writer churns out pages rather than full scripts at a time). (Note: There were previous rumors that the drama was already in loose-script mode.)
CP Jung confirmed that Han made the request early on for a five-day workweek and stated that they made concessions to reduce her schedule and let her out of shoots to film CFs, but also stated that the reality of live-shooting dramas requires the lead actress to shoot long hours.

CP Jung added that Han didn't want to act with certain actors, and scripts were revised when she didn't want to do physical gags. "We did everything she asked."
CP Lee said that he spoke with Han on the phone on the 13th, who said that the producers were ostracizing her on set. Lee told her that it didn't make sense for producers to alienate their leading actress, and that they were probably just upset that she was late.
Lee added that Han had a positive reaction prior to the broadcast. "However, after seeing Episodes 1 and 2, she seemed dissatisfied with the result, which didn't live up to her expectations. She also had complaints about her character, such as the physical gags and the personality that was limited to cheerfulness."
KBS stated their intention to see the drama through the end.
A new actress will be brought in to replace Han if necessary.
Go added, "Actually, KBS was waiting for Han Ye-seul to return through it all. If she returned by Sunday night, the Monday broadcast would have been possible, and if she returned Monday the Tuesday broadcast would have been possible. Even now, although we don't expect that she'll return to Korea, if she were able to film Episode 13 and the situation could continue as planned, we would consult with the production company. If that's the best [Han could offer], we would choose it."

Han Ye-seul upon arrival in LA
Other points:
As of the 15th, less than 50% of this week's intended episodes had been filmed.
Monday's episode was pre-empted for a (pointless) special, which was basically the drama's first 10 episodes condensed into the hour in an extended highlight reel.
The drama resumed shoots on the 16th with the other cast members. Apparently they intend to air an episode as scheduled for Tuesday evening. (How they will manage that, I have no idea.)
Han's early-morning arrival in LA on the 16th was confirmed, and she spoke with an SBS program, Entertainment Tonight upon her arrival to say, "I left everything behind. I hope that as a result [of my departure], the other actors will be able to film in a better environment."
Production company Lee Kim Productions has stated its intent to go after Han for civil and possibly also penal suits.
Han's own agency, Sidus HQ, also plans to sue for damages, in conjunction with the producers.
Advertisers are also likely litigants; some of the companies she has been contracted to endorse have also expressed the possibility of filing lawsuits.
The fate of Han's next movie, Penny-Pinching Romance with Song Joong-ki, is unclear. The film completed shooting a few months ago and is currently scheduled for a fall release.
Rumors are therefore rampant that Han intends to retire. Chances are, that choice is out of her hands now.
Yeah, it looks pretty bad for Han. Keep in mind that we haven't heard her side of the story, and perhaps we won't. And I wish I didn't have to say it again, but it never hurts to repeat: Keep comments civil and keep the mudslinging to a minimum, please. No, scratch that — a minimum isn't good enough. Let's go for zero, shall we?
Via Yonhap News, Star News, TV Report, Star News
RELATED POSTS
Tags: Han Ye-seul, Myung-wol the Spy