My Name Is Kim Sam Soon: Episode 3
Love contracts are, practically by definition, illogical. How do you force someone to love someone else? I guess you can't, which is why Rule No. 1 of most love contracts is that "Neither party shall fall in love the other party. Ever." So maybe these contracts should be called "Don't Fall In Love Contracts." But that doesn't solve the problem either, right, because you are still asking people to constrain their hearts. Oh, how silly are the young, who are so presumptuous as to believe they can control so fickle a thing called called love.
SONG OF THE DAY
Taru – "Slow Star" [ Download ]
Audio clip: Adobe Flash Player (version 9 or above) is required to play this audio clip. Download the latest version here. You also need to have JavaScript enabled in your browser.
Episode 3 Recap – "How Does One Write A Love Contract?"
Sam Soon's mom (like Jin Heon's mom) had more or less real-time information on the blind date that her child had gone on. K-drama mothers, whether they are rich or not so rich, apparently don't have any time to watch dramas on television because they are too busy spending all their time plotting or devolving their child's romantic relationships. And why not? It's better to be part of the action than to merely watch, right?
In any case, Sam Soon's mom appears to care not too much whether her daughter is playing the field or whether her daughter has has been made preggers or not, so long as she gets married off and out of the home. This seems rather crude, but Korean moms are judged by their children's success, and like it or not, more often than not, superficial success for a woman begins with a successful marriage. Not that it appears likely that Sam Soon is headed in that direction.
Sam Soon's toxic spew of 5 parts soju, 1 part chicken legs, 1 part eel, 1 part kimbap, 1 part noodles, 1 part omelet and 1 part alleged-but-unproven pee, has leveled the playing field. Jin Heon no longer walks 12 paces behind Sam Soon, but abreast. This is how it works. I mess up your potential love of your life, and you get to vomit and pee on me. We're even, or as Koreans say, "same-same."
Jin Heon wants to take a cab to work but Sam Soon would rather take the cheaper bus. Jin Heon says he'll pay, but Sam Soon refuses outright. This is incomprehensible to Jin Heon (and at first, to me as well) because it wouldn't have cost Sam Soon anything, but Sam Soon's reply to that is very interesting:
Sam Soon: No, I'd rather not be part of that kind of dirty exchange.
Originally, I didn't get it. What's so wrong about getting a free ride? But from Sam Soon's perspective, the ride wouldn't be free even if Jin Heon would have done it anyway without her. This is a small point but one that I think bears repeating. What Sam Soon has learned from an early age but what Jin Heon has never had to learn, is that money is never free. It costs something to the person who gives, and it costs something to the person who takes.
Right before they arrive at the restaurant for work, Sam Soon asks a good question: there are so many women who would gladly pillage of a village to have the chance at a relationship with Jin Heon, fake or real. Why continually pester Sam Soon about it? Jin Heon answers that since they can't stand each other, there's no chance for a real relationship. Sam Soon is a little offended, and begins to reply that that while it is true that Jerky McJerks like him aren't her type… and Jin Heon interrupts and says his type doesn't include violent drunks who wet themselves. *chortle* For those keeping score at home, that's Samsoonites 1, Jinheonnies 2.
Sam Soon turns to leave but Jin Heon grabs her again. How much money will it take to do the pretend-dating thing? Gaaah, Jin Heon, didn't you read what I wrote like 2 paragraphs ago? You cannot buy a person without consequences. There is a steep price to be paid by the person who is bought.
Sam Soon enters the restaurant late and realizes it's the first wine class day and she late.  She is chided by the former school teacher Manager Oh and by Chef Lee for being tardy.
But then Jin Heon strolls through and says, "Don't be too hard on her. She's late because we spent the whole night together." Hehe! I think there is an important life lesson here. You can make it perfectly clear that you are not going to pretend-date your boss, but sometimes that doesn't matter.
It's not going to be easy working for Jin Heon, is it. Sam Soon is still flummoxed as she arrives at the bus stop near her home.  Sam Soon's second older sister, Kim Yi Young, who was supposed to be happily married and living in America, is waiting for her. Hey, that's the aisle-seat woman from the airplane!
Oh but she's not here visiting. She is divorced. Wow. Yi Young's husband was having an affair, so she ended it. He got the mistress and Yi Young got the Seoul condo apartment. Win-win for Yi Young, but Sam Soon's first thought is that her pool of competitors for single men just grew by 1. Hee!
But as they are discussing how to break the news of Yi Young's divorce, the mom appears from behind and says, "DIVORCE??!"  LOL! Like she probably has done her whole life, Sam Soon rats out her unni Yi Young to their mom within 0.01 seconds.  Yi Young is no dummy of course, and grabs her younger sister as shield while the mom throws hay-makers.
The mom's reaction might seem a little odd – I mean, Yi Young wasn't the one having the affair; she was the victim.  But the mom doesn't seem to care about that.  On one hand, this seems like a very backward attitude to take – sure, blame the wife for the husband's infidelities.  But I don't think that the mom is blaming Yi Young for her husband's cheating; rather, I think the mom is asking Yi Young to take responsibility for her decisions which included marrying a complete nimrod.  So maybe this isn't a backward attitude at all, it is a liberating one.
And while we are adding additional characters to the story line, one new character joins the party and one old one returns to the fold.
Meet Jang Chae Ri, high school classmate of Sam Soon's, has come to make reservations for her engagement party to be held at Bon Appetit. Her family is loaded, and so they can afford to pull out all the stops for Chae Ri's wedding announcement.
Chae Ri and Sam Soon have a weird relationship that borders on friendship since they've known each other for so long – it's weird because Chae Ri's family is on a different socio-economic class than Sam Soon's family, but Sam Soon is older and so Chae Ri still has to show some level of respect. Chae Ri wonders why she hasn't seen Sam Soon around Bon Appetit, since she and Jin Heon oppa have been close forever. Chae Ri notes that since she is having her engagement party at Bon Appetit, it will be Sam Soon who will be making the engagement cake. Sam Soon wonders who the groom is, and she turns around to see…
Min Hyun Woo is back. And he has his new flame and fiancée Chae Ri.
Despite her shock, Sam Soon doesn't reveal anything. And of course, Hyun Woo doesn't say anything and rather cowardly pretends not to know Sam Soon.
Chae Ri skips to the back office room to meet up with Jin Heon, who plays it cool despite Chae Ri professing her first love being Jin Heon. Chae Ri even does a half-hearted OPW to Jin Heon, but Jin Heon doesn't flinch (which proves NOTHING. A properly done OPW would have worked. I contend that Chae Ri didn't do it right.)  Jin Heon notes that Min Hyun Woo looks familiar but can't quite place him yet…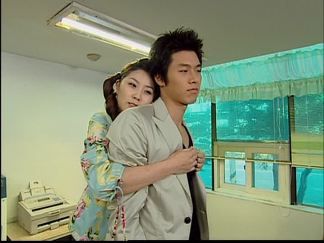 That evening, Sam Soon is called out by Hyun Woo and they meet up for the first time since the night he dumped her. But this time, Sam Soon isn't backing down. After a bit, Hyun Woo asks if she is seeing anyone, and Sam Soon hesitates for a micro-second before answering.
Sam Soon: Yes.
Hyun Woo is floored. He starts flapping his mouth again and tells Sam Soon that when a person gets an arm or a leg amputated, there is a phantom pain even if the appendage is gone. And if you love someone and then it stops, how much greater would the pain be if the heart is the part that is amputated? (samsooki note:  isn't it weird how can truth be spoken by a person who only lies?)
But Hyun Woo is right in that Sam Soon still feels pain.  That night, Sam Soon weeps the whole bus ride home, weeping for her lost years, her youth and vitality that was destroyed by her believing in Hyun Woo. Sam Soon weeps in sadness but also in anger at her lost confidence in herself and the fact that she is crying at all over a piece of crap like him.
Sam Soon arrives home but finds that all is not well.  Her father's younger brother had gotten Sam Soon's dad to co-sign a business loan and use the family home as collateral.  Then when the business went bad, Sam Soon's uncle skipped town, leaving the debt to be paid by Sam Soon's family.  The debt is big enough that even if Sam Soon, Yi Young and their mom combine their savings, they would fall around $50,000 short.  Yi Young's apartment can be sold but not in time to stop the bank from taking Sam Soon's family home.  This is a disaster.
Sam Soon takes off for work the next morning, but stops at the gate and looks back at her yard.  A montage of memories comes back to Sam Soon, and we get a glimpse of Sam Soon's dad before he passed away.  The garden and the swing are all that is left of her dad now, and losing the home would mean losing her dad all over again.
Sam Soon is left with no choice but to awkwardly accept Jin Heon's offer for cash in return for pretend-dating.  Jin Heon gloats only a little bit, but even a little bit of gloating is noticed by Sam Soon. Still, this is a time to swallow pride. A few clicks of the mouse, and Sam Soon is now hooked like a fish.
Jin Heon gleefully grabs Sam Soon's wrist and drags her out to the entire restaurant staff where they are eating during their break. Jin Heon announces that they have been dating and its been two months. Jang Captain drops her spoon in shock and In Hye suddenly has a need to inspect her food with her forehead. Sam Soon is now officially the most hated woman in the restaurant.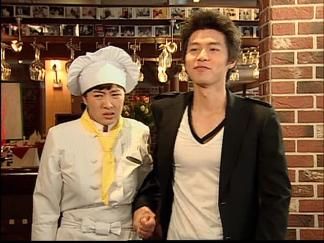 Now it is off to Chairwoman Na's estate, where Jin Heon and Sam Soon must convince his mom that their relationship is sincere AND convince his mom that Sam Soon isn't a loser-moocher. It's your typical mo-in-law quiz time – not for the faint of heart. The usual questions come up. How old are you. Where did you graduate college. Where do you live. What does your dad do for a living. What does your mom do for a living. Judgy-judgy!
Rather than being evasive, Sam Soon answers forthrightly and this confuses Chairwoman Na, who cannot believe that someone with so little would be so dignified about her comparatively poor background.  Switching tactics, Chairwoman Na asks a tricky question. How much do you love my son?  Get this one wrong, and you're history, thinks Chairwoman Na.  Jin Heon, having been silenced by his mom, can only squirm. Sam Soon freezes for a moment.
Chairwoman Na (smugly): It appears that Sam Soon has no answer!
Sam Soon (composed): Dear Mother, there was this writer. She would write all night and then at dawn, she would leave the manuscript on her husband's desk before sleeping. Day by day, the husband would be the first person that would read his wife's words. Day by day, I want Jin Heon to be the very first person who would eat my cake. I want Jin Heon to be the person to eat the very first and the very best cake that I can make. I love your son that much.
Beautiful! Impressive! Eloquent! Sam Soon's coup de grâce is a little heart she makes with her hands and I am dying with laughter. I LOVE IT! Chairwoman Na and her son are both initially speechless. LOL!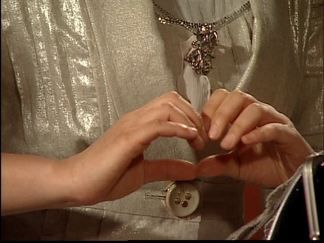 While Sam Soon is in the bathroom decompressing and dry-heaving, Chairwoman Na rather crudely tears into Jin Heon's choice for a girlfriend. But surprisingly (and sincerely), Jin Heon defends Sam Soon, her work ethic and her personality, noting she is far better than the idiots that his mom has set him up with. His mom asks another killer question, tho: Does this mean you are over Hee Jin? Wasn't that the reason Jin Heon has been sabotaging the blind dates?
Jin Heon's face turns dark. After a pause, he answers that he is over Hee Jin and Sam Soon is the reason why. Chairwoman Na is impressed then, acknowledging that at the very least, Sam Soon has been able to do what all the other fancy blind date women could not – get Jin Heon over the black hole that was Hee Jin.
Sam Soon explores Jin Heon's house and finds Jin Heon's niece, Mi Joo, playing by herself. Mi Joo apparently doesn't talk but Sam Soon gets along just fine with her. When Jin Heon re-appears and also plays with Mi Joo, Sam Soon finally catches a glimpse of a totally different side to Jin Heon. He's not just a Jerky McJerk!
In an organic moment, Jin Heon plays with Mi Joo on the piano and follows that by playing on his own. Then with Sam Soon watching from a distance, Jin Heon plays an Elvis ballad, Can't Help Falling In Love. Maybe it's the arpeggios, or maybe it's this new side of Jin Heon, but Sam Soon is touched. Maybe it's because Jin Heon plays with passion, and passion knows passion? Jin Heon offers to play a tune by request. Sam Soon asks for "Over The Rainbow," but Jin Heon's mood suddenly shifts to angry at the mention of the song. When Sam Soon starts pressing for the song, Jerky McJerk leaves the piano.
Jin Heon drags Sam Soon to a bar to hash things out, but Jin Heon is too cranky to be civil. What he wants and what Sam Soon is willing to put up with are just too far apart. Sam Soon quits but Jin Heon pulls her back when a spy for his mother appears. It looks like both Jin Heon and Sam Soon will have to work to keep their respective sides of the bargain.
To prevent future flare-ups and to keep this organized, Jin Heon and Sam Soon lay out the terms of the pretend-love contract on the backside of beer coasters. Jin Heon's and Sam Soon's clauses are all rude against one another and reading the coasters later, Yi Young thinks it all crazy. Yeah, but this craziness saved their home and that's all there is to it.
What is interesting is that as rude as Jin Heon is to Sam Soon personally, Jin Heon is far more respectful to Sam Soon the pâtissier. Unaware that Hyun Woo agreed to Sam Soon's request that she not be forced to make the engagement cake, Jin Heon takes the initiative and puts Sam Soon on the challenge of creating the best engagement cake. At the very least, Jin Heon has believed in and respected Sam Soon's ability and talent. Maybe that's enough to build upon? Sam Soom agrees to do the cake.
It seems all is finally settled. Jin Heon and Sam Soon have their agreement. Jin Heon is freed from future blind dates, and the debt that threatened Sam Soon's family home has been paid. All is well? Not exactly? While Sam Soon is hard at work sketching a design for the cake and Jin Heon away on hotel business, a visitor comes to Bon Appetit…
Comments:
What strikes me early on is how weak of a person Jin Heon appears to be, especially relative to Sam Soon. Sam Soon might have been the one who was hurt and humiliated, but she is proving to be an extraordinarily strong person to bounce back. In contrast, Jin Heon can't seem to do anything that requires significant will power. He cannot stand up to his mother on issues of his heart, resorting to passive-aggressive pranks get out of blind dates. And despite the passage of time he still hasn't gotten over this mysterious woman named Hee Jin.
To paraphrase Hyun Woo, when people who are in love find themselves falling out of love, there will be phantom pain in the cavity where the heart used to be. What bears scrutiny in the future is to see if Jin Heon is able to fill that hole in his chest over the course of drama, because if he doesn't, then I'm not sure if he would be worth the effort to hold onto him.
RELATED POSTS
Tags: featured, Hyun Bin, Jung Ryeo-won, Kim Sun-ah, My Name Is Kim Sam-soon