My Name Is Kim Sam Soon: Episode 7
Sometimes, episodes need no introduction. All you need do is watch.
Episode 7 – Madeleine, In Search Of Lost Time
The episode starts with the grand opening celebration of Jeju Island's newest luxury hotel. Among all the people there, out of place is Sam Soon, who is already being looked-down upon by Jin Heon's peers. Was it a mistake to bring Sam Soon here, just to have her be laughed at by other people?
Hyun Woo, whose family construction company was involved in building the hotel, comes over to say hello to Sam Soon. Sam Soon is eating by herself (how come Binnie's not there?!), and Hyun Woo warns Sam Soon to back out of her relationship before it ends on Jin Heon's terms, because she'll be the only one getting hurt. Damnit. Don't you hate it when good advice comes from a snake?
Hyun Woo also has a gift for her. He puts a jewel box on the table… but Jin Heon is the one to pick it up.
Why, it looks like a crystal necklace on a platinum chain. From Spain, no less. Jin Heon examines it before tossing it into a koi pond. Hyun Woo grabs at Jin Heon's jacket lapels and Jin Heon takes a swing at him. Okay, is it Go Time yet? Yep, it's Go Time!
How strange must this all seem to Sam Soon. Let's see who is fighting here. Guy #1 is her ex-boyfriend who cheated on her and dumped her, but who still might be there at the end to catch her if she falls. Guy #2 is her jerk boss with whom she has a fake-relationship contract. And what's the fight about? The formal right to treat Sam Soon like dirt?
So Chae Ri strolls by, sees Sam Soon chewing on Hyun Woo's arm, and jumps into the fracas to save her husband-to-be. Sam Soon calls Chae Ri's fiance a dog and Chae Ri retaliates by yanking on Sam Soon's ahjumma fro. Sam Soon gives two warnings to let go, but Chae Ri apparently doesn't know who she is messing with.
Jin Heon and Hyun Woo stop their fighting and watch Sam Soon pummeling Chae Ri before they separate the two women. Sam Soon leads Jin Heon away but Hyun Woo can't keep his mouth shut and calls out to Jin Heon:
Hyun Woo: Hey boy! You may not know it, but I was Sam Soon's first man. Do you even know what that means, punk?
Interesting! Hyun Woo doesn't know that the relationship is fake, and so in his mind, he's just protecting her. On the other hand, Jin Heon's anger is also justified, because he believes that Sam Soon deserves much more than to be pestered by a cheater. Boiling pot and boiling kettle, each trying to prevent the hand from getting burned?
After pushing Hyun Woo into the koi pond, Jin Heon leads Sam Soon away. In the hotel, Jin Heon lays down the law with Sam Soon, who can't understand why Jin Heon even cares. Jin Heon's face flashes anger.
Jin Heon: If I tell you not to do something, THEN DON'T DO IT! Whether it's that punk or anyone else, don't make eye-contact. Don't talk with them or listen to what they say. Listen only to me, pay attention only to me!
Is that a touched face that I see on Sam Soon? I think so! And who wouldn't be touched if Binnie told you to only pay attention to him? In the hotel room with Sam Soon, Jin Heon goes to the bathroom to check his face, and Sam Soon giggles like a school girl. Maybe Jin Heon is falling for her, yeah? Well, hard to say, really. Who knows, especially with guys who think they are so smart. Smart guys often end up confusing themselves because they think they see all the angles.
Outside, it appears that Hyun Woo is in deep trouble since he basically admitted he liked Sam Soon. Chae Ri immediately wants to call off the wedding, and Hyun Woo of course knows how to respond. Yes, let's call off the wedding because you always call that Jin Heon punk "oppa" but you call me "mister." If you won't call me "oppa" too, then let's call off the wedding! Hehe! A classic deflection, and big hair Chae Ri is quieted down.
Back in the hotel room, Sam Soon is tending to Jin Heon's cut lip and bruises. With a little bit of craftiness, Sam Soon takes a reverse-tack and tells Jin Heon that she won't misunderstand Jin Heon's actions as him falling for her. Still, she asks, did Jin Heon made a mistake when he told her to only listen to him, only pay attention to him?
Jin Heon pauses, but doesn't take the easy-out. He replies honestly that him saying those words wasn't a mistake. He really doesn't want Sam Soon to pay attention to any other guy, doesn't want her to look any other guy. Why, he doesn't quite know; he just doesn't like it. Sam Soon is quietly stunned.
Sam Soon starts wondering outloud what this means, but Jin Heon's smirkiness returns as quickly as it left. Who said anything about liking Sam Soon? Who said anything about them dating for reals? Oooh, that's not nice. Booo! Sam Soon looks like a toddler whose ice cream just fell out of her cone. Jin Heon's is all smiles as he twists his needle a little further and asks Sam Soon if that's what Sam Soon would want, to have Jin Heon to start liking her.
Sam Soon stutters and Jin Heon senses his upper-handed-ness. He pushes Sam Soon over on the bed and starts using her stomach as a pillow.
A happy Jin Heon nestles in and Sam Soon can only suck in her gut. Jin Heon asks that the pillow stop sucking in her gut but Sam Soon says that's her stomach and she can do what she wants. Hehe!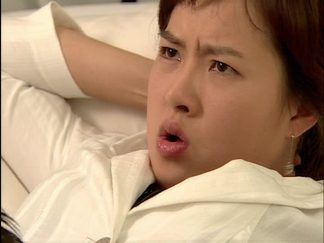 Then all of a sudden, Jin Heon turns stops smirking and notes that he shouldn't be laughing. He doesn't have the right to laugh ever again because that accident that he was in, the one where he had broken his leg – that accident had cost the lives of three people.
Jin Heon closes his eyes and tells of how he lost control of the car he was driving, and it spun out of control and flipped. He escaped with a crushed leg but his brother and his brother's wife, along with a trailing motorcyclist, all died that day. He was the one who orphaned Mi Joo.
Sam Soon sits up and stares at Jin Heon, surprised at the trust that Jin Heon apparently has in her, to tell her his darkest secret. Jin Heon had never told anybody the whole story, and Sam Soon can only cradle his head as tears run down his face.
Just a few miles away, Dr. Henry Kim and Hee Jin are at a crossroads. He's there in search of his mom and his mom's hometown, but Jeju has changed so much that nothing is recognizable from the old pictures he has. Henry and Hee Jin climb one of the hills overlooking the bay and talk.
Henry tells Hee Jin to just tell Jin Heon the whole truth, but Hee Jin refuses, saying she'll never tell. (What's the secret?!) Hee Jin's reasoning is that if she tells Jin Heon what really happened and then he comes back to her, then she'll never know whether he has come back out of love or sympathy. Aha! So it's a tragic secret….
Hee Jin (half) jokingly asks Henry that if, in the end, Jin Heon doesn't go back to Hee Jin, would Henry take Hee Jin? Henry says he'll think about it (though his face says "yes please"). Hee Jin tells Jin Heon to man up and teaches Henry what to say in Korean if such a similar situation were to arise in the future:
"치! 내가 봉이냐?!" (Chi! Nae-ga bong-ee-nya?!? – Trans-literally, it means "Chi! Am I a sucker?" but in usage it means "Pffft! Do I look like a sucker to you?" Either way, at the top of the mountain, both Hee Jin and Henry start laughing and shouting the phrase out to the wind, perhaps not quite realizing the updraft of mountain winds pushing the subtle irony back into their faces.
Miles below, Jin Heon finishes his story to a sober Sam Soon. Just a few days after the accident, Hee Jin took off for America, only promising that she'd be back after 5 years.
Sam Soon notes softly: You've waited all this time for Hee Jin.
Jin Heon replies: No, not really. Time has just passed, that's all.
Sam Soon tries again: But you didn't go out with any other women.
Jin Heon responds: I didn't want to bother.
Sam Soon concludes: You've been waiting for her.
Jin Heon gets up off of Sam Soon pillow. He tells Sam Soon of Mt. Halla and what it meant to him to climb it, both before the accident, with his brother, and after the rehab, alone. Jin Heon swore, then, at the top of Mt. Halla that he would live his life without guilt or blame, and if he ever saw Hee Jin again, he would never let her see him as weak. Jin Heon concludes by saying that he and Sam Soon should climb the mountain together later if there's time. Sam Soon ponders what this all means.
On the way out of the hotel, they see Henry and Hee Jin. Jin Heon grabs Sam Soon's wrist and pushes past them. Hee Jin stops them and asks to speak with Jin Heon alone, grabbing Jin Heon's free wrist. With surprising boldness, Sam Soon is the one to interject, forbidding any alone time. It's a wrist-grab stand-off until Henry grabs Hee Jin's wrist and yanks her away. Aww, nobody grabbed Henry's wrist.
Jin Heon and Sam Soon take a taxi to the airport, but Jin Heon's mind is not in the car. Jin Heon was "this" close to learning what happened to Hee Jin and now he might never find out. Unless he goes back. Should he go back? Arggh. Toughie. But half-way to the airport Jin Heon finally makes up his mind.
Jin Heon bails from the taxi and gets out to run back to the hotel. Sam Soon realizes that Jin Heon is heading back and panick-bails too, catching up to Jin Heon before he can get into a taxi heading back to the hotel. If Jin Heon reaches Hee Jin, maybe Sam Soon will never have the opportunity to say what's on her mind to Jin Heon. It's now or never.
Sam Soon: Wait, don't go. I've got something to tell you.
Jin Heon: Later.
Sam Soon: Please, I've fallen for you.
Jin Heon: …
Sam Soon (pleading): I've fallen for you, you jerk! Don't go. If you go… if you go…
Jin Heon stares at Sam Soon for a second, but then just leaves without a word. Not even a good-bye. And Sam Soon is left, literally at the side of the road.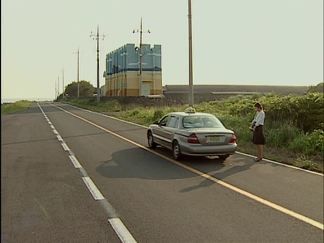 Jin Heon heads directly to Hee Jin's room and finally, we have our face to face to… uh, face, since Henry hangs around. Jin Heon orders Hee Jin to tell him the real reason she left. Hee Jin refuses, declaring that she will never tell, leaving Jin Heon in the dark until he dies, that's his punishment for not trusting her. Jin Heon starts asking jerk-y questions and Hee Jin gets more and more upset.
This is too much for Dr. Henry Kim, and he blurts out, "Hee Jin is very sick! I am her doctor… SHE'S GOT AGC! Advanced! Gastric! Cancer!" Then Dr. Henry Kim leaves, because that's what love-struck surgical oncologists who perform gastrectomies do after such revelations. But seriously, what is Henry to do? Third wheel…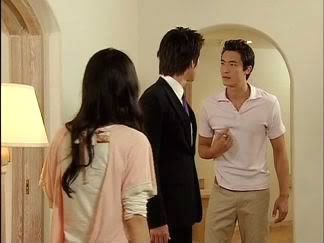 Jin Heon, whose English is good enough to understand Advanced! Gastric! Cancer!, asks if this is true and Hee Jin nods, so Jin Heon slaps her. Uhm… wut? Whither the slap?! But then they hug and now I'm totally at a loss. What just happened? And what about Mt. Halla with Sam Soon?
Meanwhile, Sam Soon has hitched a ride with a pig truck back to the hotel (LOL!). She meets Henry in the lobby and through Konglish, finds out that Jin Heon and Hee Jin are in the same room together. Oh Mah God! O-mo oh no no no!
Sam Soon tries in Korean, French and then English to force Henry to tell her where Hee Jin and Jin Heon are. But Henry, whose Korean is only marginally better than his French (and he don't speak French), can only smile. This totally frustrates Sam Soon, who really really really wants to break up any possible "let's get back together" scenarios.
It's such an odd thing. Sam Soon likes Jin Heon and therefore wants to intervene – must separate potential love-birds. Henry likes Hee Jin and therefore wants her to be happy – so no intervention. Which is the way to go? I say intervention! (Mrs. Samsooki merely swoons and says, Daniel Henney 얼짱!)
And upstairs, Hee Jin has slid right in and started smooching Jin Heon, who doesn't pull back or nothing. Dude, you left Sam Soon on the side of the road, and now Hee Jin is basically licking your face. Have you no conscience? Still, okay I get it. Hee Jin had a 35% chance of survival and she beat cancer without Jin Heon's support. And now Hee Jin is back, just like she promised. All is forgiven? But what are you going to do about Sam Soon?
You know what? Never you mind, okay? Sam Soon can take care of herself, thank you. Sam Soon, perhaps a bit charmed by the ultra-handsome-face that is Dr. Henry Kim, has calmed herself. Perhaps she realizes that she can only control how she feels and not how others feel, or maybe sitting in front of Dr. Handsome has pushed Jerk-Heon out of her mind.
Sam Soon teaches Henry a bit about the Madeleine cookie and about Marcel Proust's novel, In Search Of Lost Time, where the main character finds his mind flooding with forgotten memories when when he tastes a tea-dipped Madeleine cookie. Sam Soon wonders whether Jin Heon and Hee Jin are also searching for their lost time together.
Late that night, at the airport, waiting for the last flight of the night, Sam Soon gives Jin Heon a call. And in the first-ever documented use of cell-phone voice-mail in a k-drama, she leaves Jin Heon a message. Sam Soon thanks Jin Heon for sharing with her the story of his older brother, and then she tells him the story of the last time she was able to see her dad before he died.
Sam Soon leaves the message and finds herself looking toward Mt. Halla, even though at night she wouldn't be able to see through the glass. For Sam Soon, unable to see anything but her own reflection, this will likely be as close as she will ever get to Mt. Halla.
Comments:
Why does Sam Soon, after everything that happened that day, share the story of her dad with Jin Heon? Was it just because he shared the story of his tragic loss and cried in her lap? I guess it is possible that Sam Soon wanted to show Jin Heon that she understood how he feels about loss to some degree. But to what end? Sam Soon had to know that Jin Heon was with Hee Jin, because otherwise he would have been at the airport for the last flight.
It seems like such a waste, but I think Sam Soon is sharing her life with Jin Heon because she has started loving him, and she can't help it. Once she loves someone, she can't help but share herself with that person. And at this point, it doesn't really matter whether Jin Heon loves her back. Oddly enough, this is the position that Henry also finds himself with Hee Jin. And isn't that what love is, when you give of yourself even knowing that you may not get anything back in return?
RELATED POSTS
Tags: Daniel Henney, featured, Hyun Bin, Jung Ryeo-won, Kim Sun-ah, My Name Is Kim Sam-soon