Can't Lose: Episode 9
And now the tide begins to turn: Not from one spouse to the other, but from divorce-minded antagonism to…well, if not outright reconciliation, then at least serious reconsideration. The previous episodes did a pretty good job of establishing the problems in the marriage as real and not-insignificant, but now we start again why they are, in other ways, good for each other despite (or because of) their differences.
Can't Lose broke into the double digits for the first time with this episode, which is great news, although it was probably helped by its airtime being pushed back a little. It's still in third place, but the distance between 2nd and 3rd just got a lot closer; it brought in a 10.2%, against The Princess's Man's 22.1% and Protect the Boss's 14.5%.
SONG OF THE DAY
Dear Cloud – "아직도 그대가 익숙해" (You're still familiar to me) [ Download ]
Audio clip: Adobe Flash Player (version 9 or above) is required to play this audio clip. Download the latest version here. You also need to have JavaScript enabled in your browser.

EPISODE 9 RECAP
To everyone's shock, Woo-shik stands up to testify for Hyung-woo. It was always understood that if he were to testify, it would be for Eun-jae. She argues with the Professor Jo (Judge Jo now) and says that Woo-shik is capable of perjury if it means blocking the divorce. Her face tells it all: She is not happy about this.
The testimony begins. Woo-shik nervously answers Hyung-woo's questions, saying that he may have earned less money but he contributed to the firm, was important in establishing its favorable image with his pro bono work, and also helped on her cases. Most damning is his claim that Eun-jae knows Hyung-woo didn't cheat, and told him as much.
When it's Eun-jae's turn, she challenges Woo-shik with her side of the story. It's really more like Eun-jae's giving her own testimony than a witness cross-examination, which you'd think would be disallowed in court, but I suppose when even the judge is against the case, he's going to make a few allowances.
And while Eun-jae's monologue really oughtn't hold any legal weight, it's convincing to everyone present, since they're all people connected to the couple. Eun-jae says emotionally that she's been incredibly lonely, and that Hyung-woo often dismissed what she said or waved her aside, and that she was left to earn the money and uphold Hope on her own, financially and emotionally. She asks in a hurt tone why Woo-shik's going against her, and he replies that it's because she still loves Hyung-woo, and that she told him that herself — a fact that startles Hyung-woo. Eun-jae says bitterly that she isn't sure whether that's true anymore.
Since Hyung-woo asserted that he was just as capable as she is of running the company, she declares that she will henceforth step back and remove herself from the firm. The results of this experiment — how well Hope fares without her — will be her evidence in the next hearing.
Aw, I feel bad for Eun-jae, who's feeling more lonely than ever after this. The thing about the divorce trial is that she's fighting to split up and he's fighting to stay together, and it's easy to forget that when most of the time it seems like they're in a contest to prove who was the better spouse. So when someone like Woo-shik seemingly defects to Hyung-woo's side, he does it thinking of her future happiness, but she feels it as a betrayal and abandonment.
At the office, Eun-jae tells Hyung-woo it was cruel of him to go after her father figure — which is true, but also a little hypocritical since she was the one urging Woo-shik to lie in the name of fighting dirty. I think your hands are both dirty in this one, kiddos.
Eun-jae packs up her work and tells Hyung-woo she'll finish up her current cases, then step back. Hyung-woo tries to convince himself that he'll be fine managing on his own, but his staff harbors no such delusions. They're clearly doubtful, and hand over Eun-jae's schedule and her ledgers that support their skepticism: Except for a few paid accounts (probably all her clients), there's a long red list of outstanding payments. Gogi nervously mentions that his salary hasn't come in yet…
Eun-jae goes home and worries that he's in over his head, showing that this isn't about spite for her, but about proving that Hope really does need her.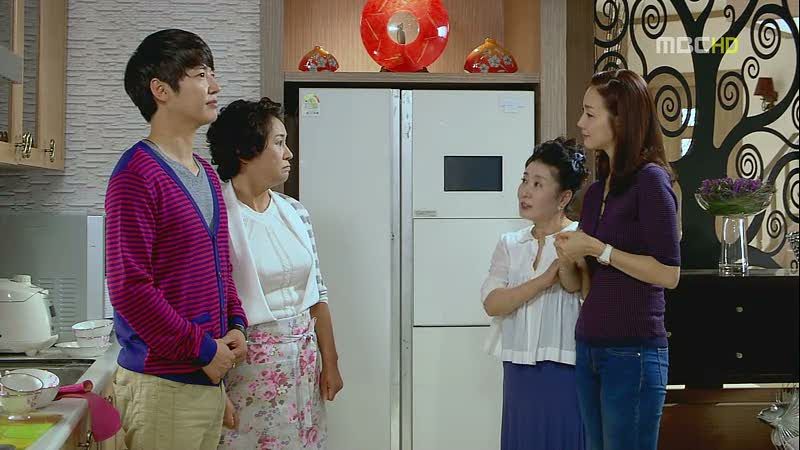 At Hyung-woo's mother's house, the two moms get into a bickering match about the dishes: Eun-jae's mom insists on doing them right away, while Hyung-woo's mom would rather just do them when she feels like it. (Which might be never.) It's a clear mirroring-reversal of their kids' dynamic, and each mother pictures her child-in-law taking her side, ending with the moms declaring they'd rather switch kids. It's so cute. Birth of an Odd Couple!
Meanwhile, Eun-jae worries about her mother's whereabouts with Tae-young, who is at his bar now and therefore shall revert to his prior name, Hot Barkeep. They reminisce about the past, managing to smile about painful things like how after his mother slapped Teenage Eun-jae for her hussy of a mother, Eun-jae had stood up to her and retorted that she was the one who stole the man from her mother, so shove it lady.
I'd wondered how these two half-siblings could be so close when their messy family lives would have suggested the opposite, but Eun-jae notes that his father — his, not their — made both families miserable. Hot Barkeep admits that it took him a long while to come to terms with the fact that his father and her mother truly loved each other. Eun-jae: "If that's what love is, then I don't know love yet." Aw. Or it could be that you had foolishly selfish parents, whose version of love was likewise foolish and selfish.
Moved with sympathy for Eun-iae, Young-joo becomes snippy with Hyung-woo and declares that she may testify at the next hearing after all. The men sigh to each other about how men so often don't know what they've done wrong, and that when the apologize for something they've done, they dread the question, "What are you sorry about?" The dissatisfactory answer that must never be offered? "For everything." Hehe. Ain't that the truth. You're sorry she's mad at you, but not sorry for what you've done — it's like telling someone, "I'm sorry you feel that way," aka the worst kind of non-apology.
On his walk home, Hyung-woo reminisces about happier times in his marriage, feeling particularly lonely. The next day, the mood at the office is grim. Deuk-hee submits her resignation, saying that it'll be one less mouth for the office to feed anyway, given its financial state. Eun-jae later tells her to stay with the firm, because she'll be back soon and promises a raise.
Deciding he has to make money, Hyung-woo calls some of his lawyer friends to network, telling them he's expanding his horizons with other types of cases. Like the kind that pays. They all scoff, telling him he doesn't need to do that — he's lucky to have married well, to have a wife who takes care of all that pesky money stuff.
He leaves the lunch feeling down and heads to Mom's house, which sends Eun-jae's mother scrambling to hide. He asks for a loan, and Mom immediately declares, "Get out." Ha! He thinks she's being mean, but she's mindful of Eun-jae's mother overhearing and ushers him out quickly. When he tries to grab a glass of water, Mom tells him, "I have no water to give you." Hee. He leaves thinking his mother is that cruel.
Over the next few days, Eun-jae and Hyung-woo continue with their work, with the latter trying unsuccessfully to ask for help from acquaintances.
Eun-jae goes out drinking with a few lawyers who start badmouthing Hyung-woo, which raises her hackles. Above is her "Oh no you di'n't just slam MY husband" face, and she declares that if anyone's going to complain, it's her.
She goes home feeling huffy at the nerve of those guys, who think they're better than Hyung-woo when he's a better lawyer by far. Tonight she looks around the empty apartment and finally drops the "Everything's just peachy" act, sighing, "This is hard."
Woo-shik tries to mend fences and shows up outside Eun-jae's apartment before and after work, which she studiously ignores. Finally she agrees to speak with him, and he tells her he didn't do it to hurt her, and that Hyung-woo misses her like crazy. She asks how work is going, dismayed to hear that things are rough, and that most of the calls are for her.
Hyung-woo is having no luck scoring new cases, so he even tries getting side gigs, like a newspaper that once offered him a column, but with no luck. When a prospective client comes to him about a case involving a car crash, he turns her down and refers her to another lawyer. We've had hints that he has an aversion to cars and car accidents, and this is another clue.
Flashback: He'd been driving with his brother, newly arrived from the States, sitting shotgun. His brother had wanted to sleep but Hyung-woo had pestered him for some brotherly bonding and conversation, when a truck turned onto oncoming traffic. His car had swerved, collided, and flipped. His brother died, leaving Hyung-woo wracked with survivor's guilt, crying, "It should have been me."
Hm, the Green Tea mystery thickens…
Woo-shik finds Hyung-woo asleep and feverish that night. He calls Eun-jae, who gives him a cavalier answer but ends up coming over anyway. Despite her concern, she tells him that his being ill is more proof that he can't handle Hope, and snaps a photo as evidence, ha.
She urges him to the hospital, using her case again as an excuse to pretend she's not actually worried ("So I can get a photo of you there too"). When he nods off in his chair, she rests his head on her shoulder, and asks the nurse to skip him to afford a few more minutes of rest.
Hilariously, he's a huuuuuge wimp when it comes to needles and screams at his nurse, "Not yet! Not yet!" Eun-jae has to distract him into getting his IV inserted, and even then he can't take that gracefully.
She has to leave upon receiving bad news: Hope's biggest client, President Hwang, suddenly declares he no longer wants their services. Eun-jae waits outside his office and attempts to speak with him, but he ignores her, leaving her with no explanation.
Woo-shik seeks out Professor Jo to get him onboard with his renewed attempt to stop the divorce, citing additional evidence. Apparently there's more on that voice recorder than they realize, which he'd intended to mention in his testimony but didn't get to. His whispered revelation causes Professor to break out into gleeful giggles, although he notes that they can't force them to submit that as evidence. Well, then, Woo-shik declares they'll have to find a way to do that. (Omo…are we talkin' 'bout some sexy evidence here?)
Woo-shik explains that he's speaking from the perspective of a lonely divorced man, and Professor Jo confides that he's lonely too, and that when they're both feeling lonely, they could maybe call each other to compare notes. Aww. Another Odd Couple comes together!
Mom sends Hyung-woo that loan after all, so he triumphantly tells his staff to check their bank accounts. Eun-jae drops by after being called by Professor Jo, and Hyung-woo makes a big show of looking successful to her. He fakes a phone call with good news, only to be foiled in his own lie when the phone rings in his hand.
Professor Jo arrives to remind them of the upcoming 80th birthday of one of their other former teachers, Professor Go. He puts the couple in charge of planning the party, and warns them to keep their mouths shut about the divorce: If they let news of their lawsuit slip to Professor Go, they're dead.
Eun-jae notes that Hyung-woo looks recovered, and he replies, "Why, worried that I'll manage Hope fine on my own?" She retorts that he ought to treat her half as nicely as he treats Green Tea, and he reminds her that that's his mother. Today he shares more, though, saying that he, like her, also knows what it's like to have "a scar so painful you can't bear to look at it. My mother is also a scar to me." That cryptic statement gets Eun-jae wondering, for the first time, whether he might be telling the truth.
And now we see the truth: That Hyung-joo has been writing emails over the past two years, posing as his brother to the mother who believes he's still alive. Eeeep! Well, that's macabre.
Eun-jae calls her mother-in-law to check in, while her own mother sits listening. Then, Hyung-woo calls to thank her for the loan, and Mom tells him that she kicked out Eun-jae's mother from her store. She hangs up on him, so that makes him call Eun-jae's mother in concern. It's phone-a-go-round! But Hyung-woo's mother tells her not to pick up: "These kids have to come to their senses."
Eun-jae gets word that President Hwang wants to see her and hurries over in high spirits, thinking he's going to hire her back. But he tells her he called her to nip this in the bud, with another lawyer in tow — a colleague, no less. Apparently the stain of her divorce case caused him to change firms, which I half-understand (if he's worried she's going to be mentally distracted) and half-think is outrageous (if I'm reading the tone right and he's casting moral judgments).
Eun-jae can't exactly beg him in this situation, so she slaps on a smile and bows out gracefully, asking President Hwang to come to her in the future if he needs anything.
She walks out battling defeated tears and tells herself, "It's okay" when it's clearly not.
Then, she comes home to find the doorknob unscrewed from her front door and the apartment ransacked, with drawers emptied and belongings strewn everywhere.
Scared, she goes from room to room assessing the damage and finally huddles on the floor, shaking.
Hyung-woo waits for Hot Barkeep at the bar to ask about Eun-jae's mother's whereabouts. After a bit of brotherly scolding about how Hyung-woo could've done better in his marriage, Hot Barkeep gets a call from Eun-jae, scared out of her wits. Crying, she asks him to come to her place, and he hurries off.
Hyung-woo hears Eun-jae's name and senses trouble, suddenly alarmed. He demands to know what's going on, and all Hot Barkeep can tell him is all he knows: that Eun-jae's crying and shaking.
Hyung-woo says he'll go instead — what, you can't both go? — and races off for home while Hot Barkeep stays behind. When he gets home, he sees Eun-jae sitting in the middle of the mess, his reaction a collision of fear and relief.
His worry gets the better of him, though, and expresses itself in the worst possible way, by yelling at her, "What's wrong with you? Get a grip!" He means it in the frustrated sense of, "Why must we find ourselves in this situation?" but it comes out accusatory. It makes Eun-jae cry harder: "Is being robbed my fault?"
She fumbles for her phone, wondering why Hot Barkeep isn't coming, and he grabs her close. She sobs, "Why is everyone doing this to me? What did I do wrong?" He apologizes for misspeaking, and assures her it's not her fault.
She keeps crying, "I had nowhere to go, and nobody to call." He tells her, "You should've called me."

COMMENTS
Now that the initial adrenaline rush of battle has started to fade, the ugly reality starts to sink in more and more. Both sides are starting to see more of the stuff they'd forgotten in their race to one-up each other in the "Who had it worst in this marriage" contest. It's a game with no winners, and the more it drags on, the more lonely they become.
I liked that we got to see both sides needing the other; after a number of examples framing their differences as incompatibility, now we get a few examples of the complementary aspect of their partnership. Who else is going to force Hyung-woo to go to the hospital and take a shot? And when Eun-jae's lost an important client, who better to understand than Hyung-woo?
Communication remains their key sticking point, though, and while they're both lacking on that front, I've got to pin more of the blame on Hyung-woo. I can understand his instinct for avoidance when we're talking about routing nagging things, but there's the fact that he hasn't told her about his car accident or his dead brother. (He's balked at driving before, and she hadn't known why, assuming he was just being selfish at wanting to be driven.) It looks like he hasn't dealt with that trauma yet so maybe he's not ready to share with anyone, but we've seen him in multiple instances shutting down a conversation rather than offering an explanation. Eun-jae refuses to talk about her mother, but at least she explains her rift in a way that he can understand. Whereas he tends to refuse to talk, full stop. As we see in this episode, they're missing that confidence in each other, and that realization is, at least, a sign of hope.
I like what this drama is doing with its side characters, and in particular the odd couple pairings springing up between the two moms, and Woo-shik and Professor Jo. If there's a clear theme in this episode, it's loneliness, and that extends to these side characters as well. It's nice to see the motif applied across generations, stages in life, gender, and marital statuses.
RELATED POSTS
Tags: Can't Lose, Choi Ji-woo, featured, Ha Suk-jin, Kim Jung-tae, Yoon Sang-hyun