Me Too Flower: Episode 6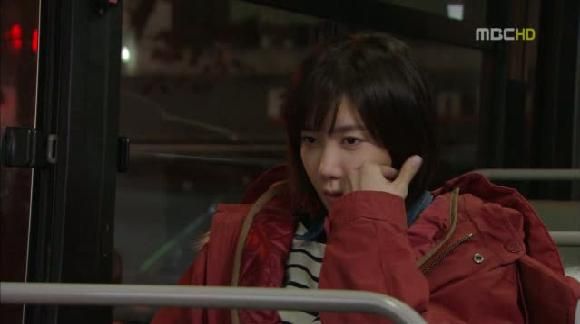 I liked this episode much better than the last one. The little interactions between the characters hook me more than plotlines about stolen bags. A lot happened in the span of 70 minutes, which is why the recap seems longer today. Also, the love web becomes more and more tangled as the attraction between Jae Hee and Bong Sun grows stronger. More, please.
Episode 6
Jae Hee meets some friends at a bar and they take turns asking him to invest in their newest business ventures. He rejects them by saying he doesn't throw around money like it's nothing. They murmur that it's because his status is different from theirs. The comments cut Jae Hee's pride and he blinks away angry tears.
Hwa Young and Dr. Park talk about Jae Hee and he asks if she's ever hated Jae Hee for the accident. She replies that she did. She'd sit and think about how ways to hurt him as much as she was hurting. How to rip up his soul with guilt?
But she found that Jae Hee was already in self-destructive mode without her help. After a couple months of self-pity, the company was falling apart. "For the sake of the company, I had to revive Jae Hee. I had to live and in order to survive I needed him. I had to forgive him. A dead person is of no use to me. He can't do anything for me in this life. I needed Jae Hee."
Dr. Park tells her that she did the right thing. Cryptically, he says that her acceptance of Jae Hee is understandable. Heck, even he's living now, which implies that he experienced some traumatizing event as well. Geez. Even the therapist needs a therapist.
A girl joins Jae Hee's friends, who ask who she thinks is the richest. She scans the room, shrugs off the others and slinks towards Jae Hee, which infuriates his friends. One of them remarks that Jae Hee must be slacking off lately, choosing to date rather than work.
Jae Hee replies that the three of them don't work either. He pulls on his coat and tells the girl that he's not just the sexiest one here; he's also the richest. Oh snap.
As he moves towards the exit, his friend (who looks a little like a weasel) tells him to know his place. "We let you play around with us because you made some money, but you have a pitiful background." Another guy chimes in: "Self-made men are all the same; they're still inferior to people like us."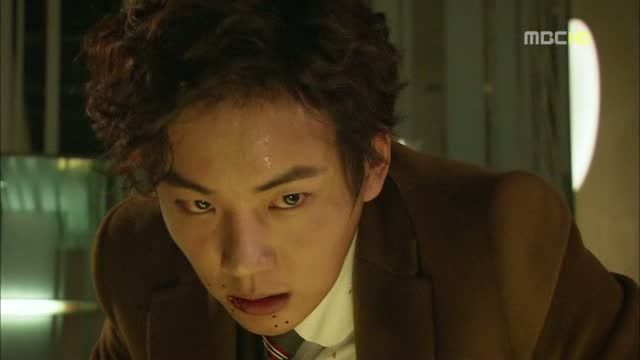 This pushes Jae Hee over the edge: So they roll around in luxury brands while he works his butt off for years to purchase a car. Good for them. They can continue living like useless boys who ride on the coattails of their fathers. When they die, the "ants" that they looked down and stepped all over will devour their corpse and become greater than all of them put together. 10 points for the self-made man.
Weasel man throws a glass at Jae Hee but misses. Jae Hee continues that even when they have 100 billion in their pockets, they're low-life nothings to men with 200 billion. They start fighting and Jae Hee begins to beat Weasel man to a bloody pulp.
The next morning, Dr. Park informs Bong Sun that her personality results have revealed that she's an ISFP. The conclusion is that she's like sheep's wool: cozy, comfortable, and warm. She laughs, but reads the next line: "However, these qualities cannot be seen easily by strangers. You are modest about your talents and keep a tight control over yourself."
She expresses her doubts and asks Dr. Park if he thinks she's really a warm person. He pauses…and then gets up to go out. Time's up and he needs lunch. Pft. You're just being shy keke.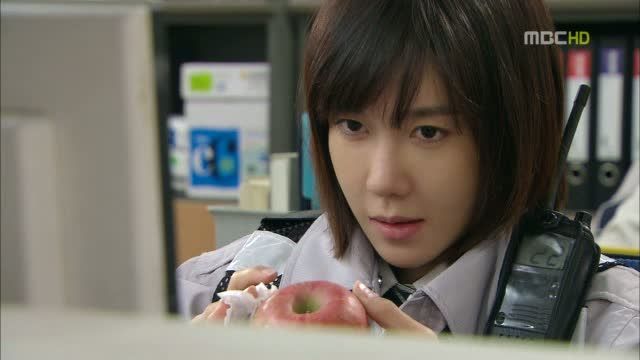 Bong Sun finds a box of apples on her desk, a thank-you gift from a grandma she helped find her way home once. She came from Incheon to drop them off, which worries Bong Sun. What if she gets lost again? Aw. Bong Sun, you have a heart of gold. It's just encased in barbed wire.
The apple reminds her of the one Jae Hee threw at her as a symbol of his apology. She grabs a marker and writes "same same." (Meaning, now we're even.)
She goes outside to leave the apple on Jae Hee's bike but can't find a place to put it. She ends up leaving it in his bag but sees a black sack lodged inside. She opens the sack (and we ignore invasion of privacy) to find the stolen diamond bag.
Jae Hee comes out to see Bong Sun holding the bag and she proceeds to smack him with it. It ends up cutting his face and he stands there, soaking in her frustrated cries of betrayal. He finally grabs her arms and pulls her into a hug. Then, he looks her straight in the eye and says that it wasn't him.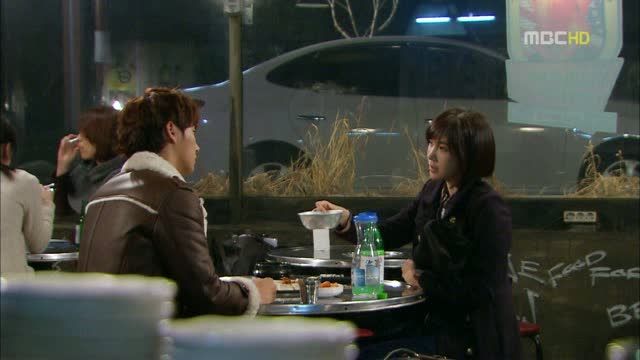 They relocate to a street restaurant and she urges him to turn himself in, but he refuses because he didn't steal it. She brings up his old record and asks if he stole something big before.
He informs her that he started working when he was 13 at a handbag factory. As a side job, he fixed bikes with some older guys, but they were apparently stolen. The older guys ditched him when the cops came and Jae Hee ended up taking the blame for everything.
Bong Sun's eyes soften but she remains firm. He has to turn himself in or she'll arrest him. She holds up her makkulli bowl and tells him to drink with her. Afterwards, they'll go to the station together. Jae Hee asks, is she worried about him ruining his life? She nods.
He requests that she run away with him. If they sell the bag, they can live in the countryside, or go abroad where there are no Korean people. He's sick of parking cars and if she comes with him, he'll be good to her.
Her face is full of longing but her self-control keeps her from responding.
…And then he lets out a scoff. Damn you. All these fake-outs and dream sequences are slowly killing my love for this drama.
He makes fun of her; she's too innocent for her own good. She angrily grabs her handcuffs and begins to read him his rights, but he grabs her. If she continues, she's going to regret it.
She ignores him and tries to wrench herself out of his grasp. He jumps to his feet and pulls her in for a kiss. Brain…no longer functioning…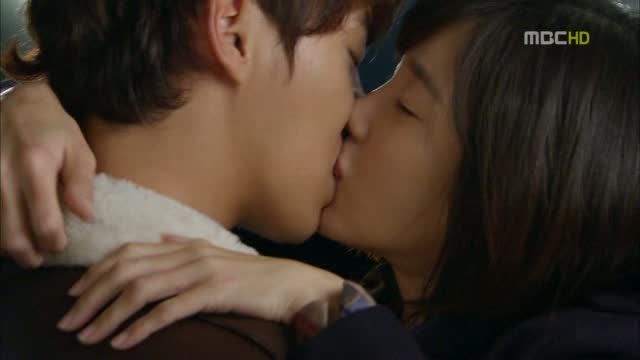 They break apart and he declares that he didn't steal the bag, staring into her eyes, and begs her to trust him. She stares at him and then brings him into another kiss…which turns into a make-out fest.
As they walk home, Bong Sun asks what they should do about the bag, and Jae Hee replies that he'll take care of it. He waves good-bye and turns to leave, which annoys Bong Sun. He supposed to walk her home! How can he be so ill-mannered? He replies that she's a strong woman with a big police baton, remember?
She asks why he kissed her, and he teases her by saying he just wanted to. It's not the answer she wants so she stomps home cursing him under her breath. When she leaves, Jae Hee leans against the wall and reveals his true feelings. "You were beautiful. So beautiful I wanted to run away with you." D'aw. You could just elope with her…
Meanwhile, beautiful Bong Sun trudges home as she murmurs about Jae Hee the bastard. She bangs her head against the wall, calling herself an idiot for losing her mind over one little kiss.
Dal walks up behind her and asks if she has a boyfriend who kissed her. When Bong Sun looks away, Dal breaks out into a Chesire Cat smile and begins to grill her. Is he good-looking? Is he rich?
They get inside the house to see Mom making kimchi. Dal tries to tell Mom that Bong Sun has a boyfriend but Bong Sun clamps her hand over Dal's mouth and drags her away, demanding that Dal keep her big mouth shut.
Hwa Young waits in the basement of Mr. Bae's for Jae Hee. When he arrives, Jae Hee pulls out the bag, saying that it was inside his motorbike, and tries to figure out why. Hwa Young tells him the answer: she had someone put it in there. What in the what?
She assumed he would suggest the noise marketing card if the bag was stolen, so she just set it up beforehand. He yells that they could've worked out something else. How could she do this without his consent? She tells him to calm down, but he blurts out that Bong Sun knows Jae Hee has the bag.
This irks Hwa Young and she demands to know why Bong Sun knows this information. Jae Hee replies that there are more important things to discuss and walks away from Hwa Young. Lady, you are scary.
Bong Sun watches Mom feed Dal, and Mom explains that she stopped by to clean Dal's room. Wow.  Mom's like those parents who visit their college kid's dorm every weekend to take him/her grocery shopping. This is why Dal is so incompetent at life.
Bong Sun tells Mom to leave. Mom sure comes often to make sure Dal is alright when she only visits Bong Sun once a year on her birthday. Mom replies that she's sick of hearing poisonous words aimed at her all the time.
Bong Sun shouts that Mom deserves every word. She has no right to be a mother, leaving her alone while visiting a motel. A flashback reveals a young Bong sun waiting in the rain for Mom outside the motel.
Mom launches into a tirade about the horrible life she led with Bong Sun's father. At one point, she felt like a helper ahjumma who just prepared meals. Now, Dal's father treats her like she's the most precious woman in the world. Why is Bong Sun so angry that she's happy?
Bong Sun yells that it's because she's happy without any concern for her daughter. Mom immediately disagrees; she'll always care about Bong Sun. In fact, that day when Bong Sun waited in the rain, Mom had gone to the motel to die. She was going to take a bunch of pills but she couldn't bring herself to do it because of Bong Sun. So it's either adultery or suicide? To borrow Hyun Bin's words…is that really the best you can do?
Bong Sun screams that she should've just died, and Mom returns that if she did die, she wouldn't be able to prepare a meal for Bong Sun now. Mom rushes out and Bong Sun breaks down. A couple hours later, Bong Sun comes into the kitchen and begins to scarf down Mom's food. She imagines Jae Hee sitting across the table and lets her tears fall.
At the police station, Bong Sun's supervisor tells everyone that the diamond handbag has been found and the case is closed. Bong Sun inquires if there was a culprit, but the supervisor shrugs. If she's so curious, she can find out herself.
She calls her sunbae to figure out what happened but the only information she gets is that the higher police officials handled everything. She marches over to Jae Hee in the parking lot and demands to know what happened. His eyes shift nervously as he says that he gave it to the security team and Bong Sun moves to find out if he's telling the truth.
Jae Hee freaks out and tries to get her to calm down when Hwa Young approaches and says she'll explain. Upstairs, Hwa Young informs Bong Sun that it was a self-marketing ploy, which shakes up Bong Sun's sense of justice. Hwa Young doesn't understand why Bong Sun is so upset; was anyone hurt or damaged because of this?
Bong Sun explains that the police had to investigate the matter, which costs money . That money comes from taxes, which have been wasted. Hwa Young tilts her head and calls Bong Sun young and naïve. She asks what Bong Sun will gain from pursuing this matter. Bong Sun replies that she works without thinking about rewards, which Hwa Young smirks at. She advises that Bong Sun think before acting from now on. She might get stabbed in the back if she blindly pursues justice.
Before Bong Sun leaves, she asks why Hwa Young dislikes her. What's with the hostile behavior? Hwa Young replies that she's not hostile; that kind of behavior is reserved for people stronger than her. She concludes that Bong Sun should go now. Isn't she busy saving the world?
When Bong Sun leaves, Hwa Young murmurs that she's quite the arrogant little thing. The bitch factor is increasing exponentially, isn't it…
Bong Sun walks with Dr. Park and asks if there's a drug that can reveal a person's personality. Dr. Park shakes his head and says such a drug would be used poorly. After all, she's assuming that when there's a problem it lies with the other person, which skirts her own responsibility.
She instantly agrees; she must be the problem then.
Bong Sun asks Dr. Park to tell her more about her personality results. He lays out the additional details: ISFP stands for Introversion Sensing Feeling Perception. She's immature, delicate, and extremely sensitive. She uses all her senses to understand something, and confusion makes her 100 times more irritable. She scoffs that she can add neuroticism to her list of problems now.
He goes on to compare the difference between I and E, or introverted and extroverted, as well as S and N. S means sensing to understand the world, while N people solely observe to make sense of everything. S and N cause friction because they're so different. He deduces that Bong Sun doesn't let anything go unless she gets to the bottom of a problem.
She reflects on his "diagnosis" and then tries to tell him about something that happened to "a friend" recently, but gets shut down. He charges extra for hearing about other people's problems. Haha. He slips in that drinks could change his mind. Crap…they're cute together too.
As they drink, Bong Sun talks about a dumb guy who keeps pestering her "friend," who teases her mercilessly and says harsh things to her. He initiates skinship, but then acts like nothing happened afterward. Dr. Park tells her he's one of two things: a player, or a coward who doesn't have the confidence to take responsibility for her "friend."
Dal looks at a window display of bags and imagines herself as a rich wife, complete with a white fur hat. Jae Hee taps her out of the trance and asks what she's doing. Dal replies that the bags are gorgeous and she likes pretty things. Jae Hee tells her that he could buy them for her because she can appreciate beauty.
Her eyes bulge out, but Dal deflates when he asks what she'd do in exchange for the bag, and snaps that she's not cheap enough to sleep with him for one bag. He replies that he was just asking for dinner.
Back at the restaurant, Dr. Park exclaims that the man who screwed around with Bong Sun's heart is a scumbag. She slams down her glass and loudly agrees. Dr. Park slowly smiles and looks at Bong Sun with a "I totally got you" face. Belatedly, she tells him "no no 'tis a friend I was talking about."
He smirks and says he'll give her more advice…if she orders another egg roll. Puhaha. He's officially my favorite character. She orders the egg roll reluctantly.
Soon afterwards, he tells her that men are all the same. If they don't find a woman compelling, they won't even engage in a conversation, so this guy is definitely interested. She lights up at the last bit and he mentions that she looks the prettiest when she's drunk. At his compliment, her smile slips off her face and she looks down at her plate.
Dal and Jae Hee walk down the street and she asks why he hides. He tells her to call him "oppa," not "you." She replies that in her dictionary "you" and "me" are the only words she knows. He'll need at least $10 million to fix her habit. Lol. She rattles off all the things he hides: How he made millions, how much he's worth, etc. What's with the poor man disguise?
He replies that it's fun to see people treat him differently. When he's rich, salesmen drop to their knees and when he's poor, they turn him away. He tells her that at least she's honest about her intentions; some people act like they don't calculate everything even when it's blatantly obvious.
Bong Sun walks home and catches Dal getting out of a car. She tells her to be careful; nowadays rich men seduce girls like her for one night stands. Dal laughs and says she'd be thankful if that happened. Also, she might be moving out soon, so stop the nagging. Bong Sun warns that Dal shouldn't trust so easily. Are you actually worried about her? I think the barbed wire around your heart is slowly rusting.
The following day, Jae Hee and Ah In participate in the field day at Ah In's school. His name tag reads "Ah In's Dad." Haha. More like…older brother…
After Jae Hee puts Ah In to bed, he tells Hwa Young that she shouldn't have pulled the stunt with the diamond bag. She fires back that he can prevent it by working at the company openly. He reminds her that he thinks it would be a mistake to show himself to the public. She asks if that's his real reason. "Are you sure it's not because of that girl, Cha Bong Sun? I heard you two kissed. Are you dating now?"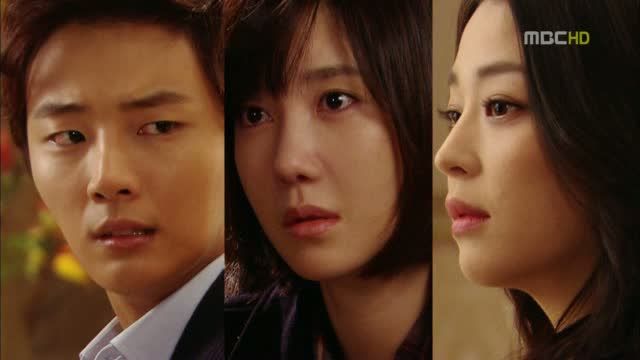 Comments:
Yoon Shi Yoon is ridiculously good in this role. Yes, his baby face still seems a little out of place (especially with Hwa Young and Ah In), but his emotional range is astonishing. His eyes have become so expressive; they alternate between heartbreaking looks of longing to fiery blazes of anger. In fact, the scene where he beats the chaebol is uncomfortable to watch because his fury just radiates from my computer screen.
Pitting the man-made millionaire against the chaebols was a nice window to Jae Hee's character. The idea that inherited money is better than fresh bills seems a little outdated; it's very Gatsby-ish and the writer definitely agrees. A hero who worked long hours to make his money is so refreshing from the standard chaebol and I crave more insight into how Jae Hee started designing.
Jae Hee knows how important money is because he's lived without it, unlike his "friends" who throw millions around just because they can. He ends up being the bigger, superior guy but his extreme response to their dismissal of him points to the fact that he's still unsure of himself. In his head, he knows he's better than them, but he doesn't really feel it. He puts on a huge front of confidence to make up for his lack of faith in himself.
He doesn't trust anything he does because he thinks he's a horrible person. He can't bring himself to take responsibility for his company and for Bong Sun because of the car accident and because he survived his childhood by caring only for himself. His "me, myself, and I" mentality got him this far, and it's similar to what Hwa Young said to Dr. Park. You do what you can to survive.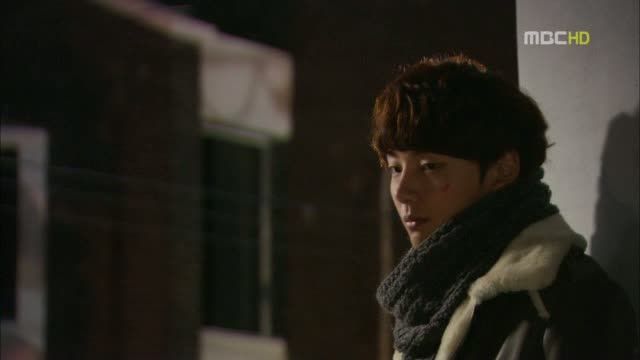 Ultimately though, Dr. Park's assessment of Jae Hee is spot-on. He's a coward. He likes and wants Bong Sun, but having a deep relationship scares crap out of him. His talk of taking her away, living in the countryside, and being good to her comes from the heart, but he quickly pulls out of his offer when it seems like Bong Sun is about to accept. It's frustrating as a viewer because I'm sick of all the "hey I was just joking" fake-outs. Why not have the dream sequences be reality? Then we'd actually have people dealing with their feelings instead of choking them down.
The self-denial fits with Jae Hee's character, but he better pull himself together soon. It seems that Dr. Park is emerging as a legitimate contender for Bong Sun's affections, which I love. He helps her understand herself and can see the wonderful qualities about her that she dismisses. He is her therapist and that probably violates some rules about professional conduct, but I'm willing to overlook that because…I adore him. Hee.
He gets her to open up in ways that nobody else can. It's true that his job requires him to be understanding, but he also reminds her that she's a good person like a good friend. He stands as a person that she can lean on, which is more helpful to Bong Sun's recovery from her depression than wishy-washy Jae Hee.
RELATED POSTS
Tags: featured, Han Go-eun, Lee Jia, Me Too Flower, Seo Hyo-rim, Yoon Shi-yoon