Noir thriller A New World courts megastar trio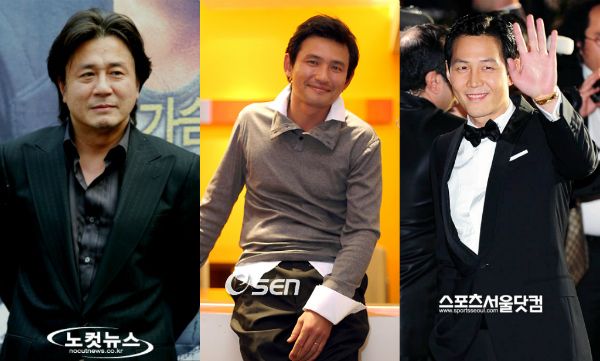 Choi Min-shik (Oldboy) Hwang Jung-min (The Unjust) AND Lee Jung-jae (The Housemaid) in one movie? I always thought that if you put that many stars together, a movie would spontaneously combust. But apparently, this is the reigning trend in Chungmuro — put 'em all together, whether lawyers, thieves, or spies. The trio of A-listers are currently being courted to star in a noir thriller called A New World, about cops who go undercover in the world of gangsters.
They're apparently in negotiations with all three actors to seal the deal, though the casting itself is considered final. I don't know why, but I'm picturing a scenario in which they're all thrown into separate interrogation rooms, and then told that the others have already signed, so they should too. It's a wonder how they even got this combo of stars to the table in the first place, but once you put together their filmographies, you see why. New World is being directed by PD Park Hoon-jung, who wrote both Choi Min-shik's I Saw the Devil and Hwang Jung-min's The Unjust (he took home a Blue Dragon Award in 2011 for the latter's screenplay).
They're calling this film "a Korean Infernal Affairs," which kind of makes me groan. The thing is, I love that original movie, and it kind of drives me crazy that everyone and their mother tries to make some other version of it. Just say it's an undercover cop movie. They existed before Infernal Affairs. Not every movie needs to be Infernal Affairs Redux MXVVIII.
If all goes smoothly at the negotiating table, Choi Min-shik will play the world-weary cop, Hwang Jung-min the hardcore gangster, his mob's Number Two, and Lee Jung-jae the Rat, the gangster working for the cops. Or cop-as-gangster-turned-informant; it's unclear at this point. Basically, if these guys are in it, I'll be watching.
A New World begins filming this spring.
Via Osen
RELATED POSTS
Tags: Choi Min-shik, Hwang Jung-min, Lee Jung-jae