Relationship charts and stills galore for Shut Up: Flower Boy Band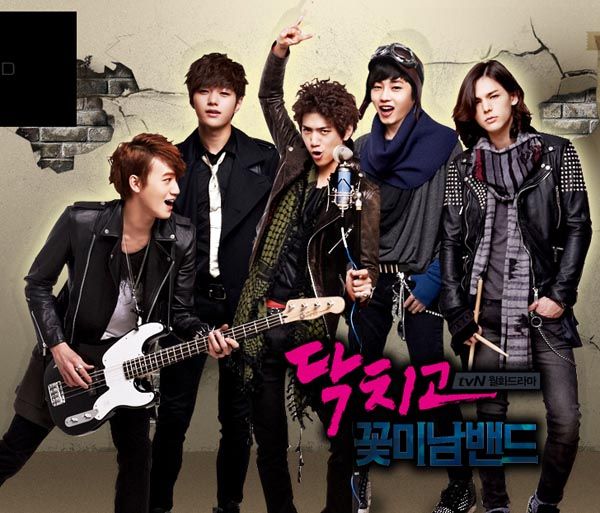 Tons of new stills for Shut Up: Flower Boy Band! But what interests me more than the pretty, pretty pictures are the character and premise descriptions that come therewith.
Now we finally get some idea of what the actual story's gonna be, and whether this underdog story will tickle our drama fancies. A scrappy ragtag band of rocker boys, up against their polished, perfect, "princely" rivals? I think my fancy's been tickled. It's like Jem and the Holograms, only now we're rooting for the Misfits. Or, speaking of misfits, it'll be the rock cousin to the show premiering on the same day, Dream High 2, which'll give us the idol version. (Ack! Drama overload ahead.)
At the drama's center is our main quintet, the band named Eye Candy.* At the outset it's a six-member band, but I suspect its lead vocalist, Byung-hee (Lee Min-ki, making his cameo appearance), will have to leave early on. Our band attends Dongnae High School, while the rivals attend the nicer Jungsang High. (The names mean neighborhood and normal, respectively.) Complicating matters, there's also a girl band. Woot woot.
*I'm taking a little poetic license with Eye Candy, as the Korean name is a term used to describe someone who's so pleasant to the eyes that it "cleanses" your vision. I'm pretty sure Eye Cleansers doesn't evoke the same meaning, so Eye Candy it is.
Above is the relationship chart, and can I say that my absolute favorite part is that the line between Byung-hee and Ji-hyuk (Sung Joon) is labeled "soulmates." Hee. That's adorable. Already I hate that they've got a love triangle shaping up with the same girl; she's faceless at this point, but noooo! Not the precious bromance!
The band is described as hot stuff in their neighborhood, but there's a qualifier: They're cool at a distance, but up close? "Scary, pathetic, no future." Each member comes from poor, shabby circumstances and they've only got two things they can count on: each other, and rock music.
They're trailed by giddy fangirls, but they've got bad tempers and rule with their fists: "Class A punks." They've learned to survive by fighting, and now their music is the one road they've got to throwing off this frustrating reality and finding a new one.
As for characters, let's start with Byung-hee. Normally easy with the smiles and cheerfully innocent, if you mess with his temper he'll transform into a crazy fighter. The only person who can get Byung-hee to calm down in this state is Ji-hyuk, his super-close best friend.
Byung-hee lives every day like it's his last, doing whatever he wants, pouring his passion into his music, writing and composing songs. He prepares for a band competition in secret, looks for his muse, and finds it in a girl, Su-ah.
Then there's Ji-hyuk (Sung Joon):
Ji-hyuk's two years younger than Byung-hee, but knows him better than anyone. After three years of being in the band, his ears have sharpened and he's able to pick out the other members' mistakes…and the weaknesses in Byung-hee's songs. It makes him want to step in and fix things. And then he and his buddies transfer to Jungsang High School, and that's when things start to change.
He meets Byung-hee's muse Su-ah through a chance encounter, and suddenly the stable world Ji-hyuk has known with his buddies starts to shake.
The new school is home to a band that becomes their rival, named Strawberry Fields, and is comprised of three perfect princes from shining backgrounds with strong technical music skills. The leader has a thing for Su-ah too (gah, if she's some perfect priss I'm going to scream), which, naturally, complicates matters.
Next up, Hyun-soo (L):
Guitarist of Eye Candy, known in their neighborhood as the Ice Prince. He used to be best friends with Ji-hyuk until Byung-hee came along, so now Hyun-soo feels like his best friend got stolen away from him. Everybody's close within the band, but he can't help but feel sad about losing that formerly tight relationship.
Hyun-soo has strong guitar skills, but onstage he's overshadowed by Byung-hee and Ji-hyuk. He vows to himself to become number 1, someday, so he picks up his guitar and practices long into the night on his own.
Then there's Do-il (Lee Hyun-jae):
Drummer Do-il is so taciturn that he won't speak unless somebody speaks to him first. In fact, the others don't know much about him, even though his mother operates a billiards hall that the boys use as their rehearsal space. He's got an aura of mystery as a result.
Do-il doesn't get caught up in fights, but there are rumors that once he raises his fists, he transforms into a beast. He hates violence, which ties back to his father. Nobody knows that but Ji-hyuk, who keeps his mouth shut for his friend's sake, and Do-il is grateful… but on the other hand, there's this girl he likes, who likes Ji-hyuk…
Next up is Ha-jin (Yoo Min-kyu):
Ha-jin is the bassist, the Casanova. "If you ask why he's into music, he'd answer, 'To get girls!'" He may get mistaken for the young master in a rich family, but as it turns out he's got six noonas with barely a bean to split amongst them. He can thank the bevy of sisters for his knowledge of girls, picking up tips and tricks… except that in front of the girl he really likes, he can't make any use of them. Ha.
Last but not least, we have Kyung-jong (Kim Min-seok):
Kyung-jong is the keyboardist, the cutie of the group. But his personality differs from that baby face, and his number 1 goal in life is money. He's from Busan, and in order to get away from the reputation of being Fish Boy (his parents have a fish store), he transfers to school in Seoul. His parents think Dongnae is the best school in the neighborhood, not realizing its reputation for being the Crap Tank, so Kyung-jong keeps that a secret from them, and ends up transferring to Jungsang.
Shut Up: Flower Boy Band premieres on January 30 on tvN. Who's excited?
Via Herald M
RELATED POSTS
Tags: cable programs, L (Kim Myung-soo), Lee Min-ki, Shut Up: Flower Boy Band, Sung Joon