The Moon That Embraces the Sun: Episode 5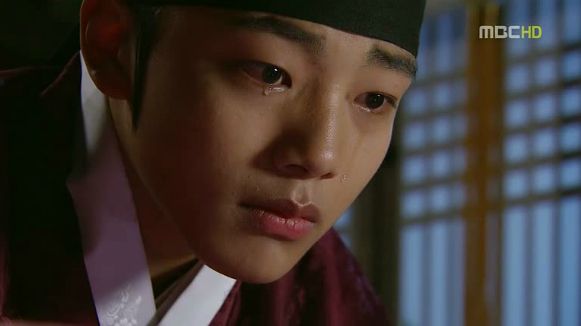 Guh, it's getting so gooood. We get the dark turn that sets the stage for the rest of the series, in a swift episode full of some heartbreaking moments and some stellar acting. It's going to be just as hard to say goodbye to these young actors as the children they play, because this episode marks the end of their youthful innocence.

EPISODE 5 RECAP
Yeon-woo begins her grueling princess training, which involves learning to bow without making a candle flicker and walking with plates on her arms. She cringes adorably as plates come crashing down, one after the other.
Prince Hwon sends her a snack and a letter, saying that he wishes he could see her every day, but he'll have to wait and cherish the anticipation of seeing her as his bride.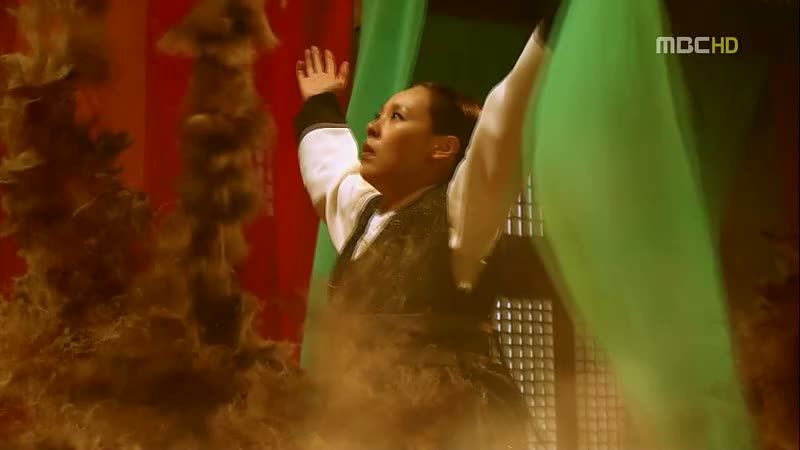 That night, Shaman Nok-young waits, and the queen dowager comes to Seongsucheong shrouded in black to give the kill order. Nok-young begins a spell, and raises a dark cloud of smoke. Wait, are you raising the Lost Monster to kill Yeon-woo? Because I don't have five seasons to wait for her ineffectual demise.
The black cloud rises up and finds Yeon-woo asleep in her chamber. It wraps around her neck and chokes her, as she crawls to the door and struggles for breath. But she collapses before she can call out for help, and the cloud dissipates, leaving her lying on the ground unconscious.
The queen dowager asks if it is done, and Nok-young explains that it's beyond her power to mess with the balance of the universe – she can't kill someone whose death is already determined by the fates. The cloud was to give Yeon-woo an illness, grave enough to get her ousted from the palace.
The queen dowager wants to see her dead, but decides that maybe this is better all around, since killing her now would just raise suspicion. She agrees that this is a satisfactory method, that is, if Nok-young sees it through to the end, otherwise it's both their necks.
And then she goes to the neighboring chamber to greet a trembling Princess Min-hwa, who has witnessed everything. It's clear the queen dowager wanted her to, though for what purpose we have yet to find out.
The queen dowager says in that creepy fake-nice way that now Princess Min-hwa can have everything that she wants.
Days pass and Yeon-woo's condition worsens, and the king meets with his assembly to discuss the matter. They argue that she be sent out of the palace at once, afraid of what contagious disease she may have brought inside the palace walls.
The king wants to wait, but Minister Yoon interjects, arguing that the future queen who is to bear the next line of kings can't be of ill health. He takes it further to imply that it's an illness she and her family knew about and that they must be punished for keeping it secret.
He names her father Minister Heo, and ever her brother Yeom as culprits. Oh damn, so this is what the queen dowager meant. If they can use this to oust Yeon-woo's entire family from the palace, then Princess Min-hwa no longer has obstacles to keep her from marrying Yeom.
There's nothing the king can do to stop the fear of a contagious disease that threatens the royal family, and Yeon-woo is escorted out of the palace, along with the order to burn everything she touched.
Prince Hwon hears the news and comes rushing to see her, eyes bloodshot from crying. Guards stand in his way to keep him from going near her, and he demands to be let in, screaming that she is to be his wife.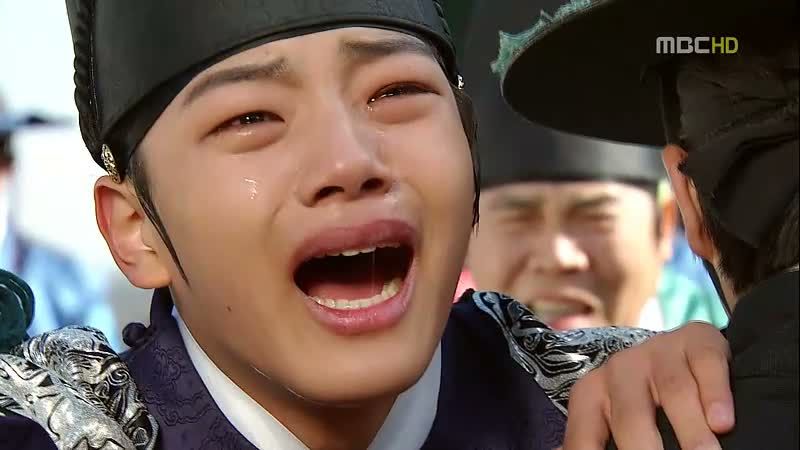 Yeon-woo gets led out and sees Prince Hwon trying to get past the guards. He calls out her name as tears fall, and she looks up at him, broken-hearted. He screams and screams, crying for her, as she turns back one last time to look at him before she's led away. *sob*
The queen dowager watches it all unfold, as she thinks back to Minister Yoon's warning that Prince Hwon is not just a silly child, as she assumes. He reminds her that he mobilized Sungkyunkwan, and that he understands how politics works.
So she gives him a talk, to urge him to forget Yeon-woo. He can't, of course, but she reminds him that this is all his fault. He looks up, startled. If he hadn't moved Sungkyunkwan, if he hadn't been selfish, then Yeon-woo would just be a normal girl, living peacefully at home, and if she got sick, she'd just be tended to by her mother, without it having cataclysmic political implications.
She says that if Yeon-woo and her family, her father and her brother, all lose everything, it's Prince Hwon's fault. Grar, I hate that this guilt-tripping is totally working on him. She tells him to be quiet and do nothing – that the rules are there to protect him. She says pointedly that it's the only way no one gets hurt.
Yeon-woo's family gathers around her at home, and the doctor can't figure out what's wrong with her, calling it a ghost illness because her vitals are normal. Mom has a nervous breakdown as she pleads to trade her life for Yeon-woo's, and collapses.
But then Nok-young arrives, claiming to Minister Heo that she was guided by the hand of god. He lets her inside to see Yeon-woo, and she tells him that it is indeed a mystical illness.
Minister Yoon celebrates with his cohorts, who worry what might happen if Yeon-woo suddenly gets better. Yoon confidently tells them that she'll never return to the palace alive. Outside, Bo-kyung overhears them with a look of terror.
She finds him later to ask if he's going to kill Yeon-woo. He asks if she's afraid of him, or if she feels sorry for Yeon-woo, and says that it's her fate to die either way. Well yeah, we'll all die, mister, but that's hardly some foolproof logic for murder.
He tells her that if she wants to live in the palace and be by the prince's side, then she needs to lose all guilt and sympathy. He teaches her to feed nothing but her ambition, and though this isn't new for Bo-kyung, it's clear that it's the first time she's seen that he'll kill to get what he wants.
Nok-young tells Minister Heo that the only way to treat Yeon-woo is exorcism, to possess her with the spirit of a shaman in order to fight off the illness that's possessing her. He asks if there isn't a way to get rid of the disease, and she tells him that there is, but it will require a life in payment. He offers up his own, but she says that the life must be Yeon-woo's.
The ministers gather before the king to urge that he replace the princess. Prince Hwon stews in his chamber, maddened by his powerlessness. Hyung-sun has to plead with him not to go creating a stir, which will only make things worse for him.
Prince Hwon sighs that without Yeon-woo and Yeom, and with Yang-myung gone, he's totally alone; there's no one on his side. And then he suddenly remembers Woon. He finds the swordsmen practicing, and pretends to be royally disgruntled over the soccer match the other day.
He asks who the high scorer was that day, acting like he's going to take his bad mood out on the poor guy. They all point to Woon and one other guy, and Prince Hwon smiles to himself, and escorts them away. Haha. I love how smart he is.
The guards all sigh, saying that they didn't take the prince for such a petty guy, griping that the soccer match was eons ago. They worry that their friends will end up "having to take their clothes off," the common euphemism for taking the blame and getting fired.
Cut to: a naked guard, who literally had to take his clothes off. HA. This drama is so cute sometimes. The reason why he's naked becomes clear when Yeon-woo opens her eyes to the sound of Prince Hwon calling her name.
She thinks it's just a vision, but there he is, dressed in a royal guard's uniform. Hee. He asks if she doesn't recognize him, shedding a tear as he says it's okay, as long as he can recognize her.
She asks if he's real, and he smiles, wondering if she's not dumb, and she finally smiles to realize that it's not a hallucination. He gives her a hairpin, and she asks what it is. Prince Hwon: "It's the moon that embraces the sun." He explains that the prince is the red sun and his bride the white moon, hence the name he's given it.
He tells her that she is the keeper of his heart, and to hurry her recovery and return to his side. She apologizes for mistaking him for a thief the day they met, and for misunderstanding his feelings after that.
She tells him that she was really happy to have met him. But it sounds like a goodbye, and his smile fades. He tells her with tears in his eyes that there will be many more happy days to come, so she needn't say that.
Yeom and Woon stand guard outside, and Yeom frets over the danger in bringing the crown prince out like this. But Woon says it would be more dangerous to let him stew in worry and make himself sick. Heh.
They catch Seol eavesdropping on them and Yeom guesses that she must like Woon, since she's so interested in martial arts and always spying on them. Woon says he thinks otherwise (and I think Woon's right – it's Yeom she likes).
On their way back, Prince Hwon calls Woon by his full name – Kim Jae-woon – and asks if he can call him Woon like Yeom and Yang-myung do. It's so cute that he wants to be close to him like they are. He calls him Woon-ah, (aw) and thanks him.
He sighs that Yeon-woo is suffering and there's nothing he can do, "Even as the prince of a nation… because I am the prince of a nation…"
Meanwhile Yang-myung travels and lives as a hunter, calling himself Soonjung Macho (present-day slang for an tough manly-looking guy who's actually innocent on the inside). Kids ask what 'ma-cho' means and he makes up fake roots, 'cause it's actually just macho. Pfft. [Here's a song about it, from Infinity Challenge.]
He finds a fight club and decides to brawl, and gives the alias Soonjung Macho. The announcer hears it as Soonjung Chima, which means Innocent Skirt, and I'm dying right now.
He starts to fight but then is struck with the memory of Yeon-woo and the king's declaration that there are some things he cannot aspire to have. He puts his fists down, letting the other guy beat him to a pulp, as if wanting to be numbed of his other pain.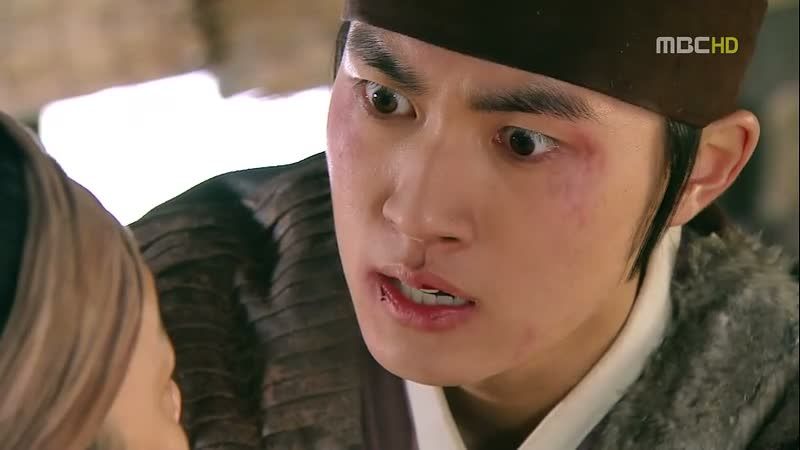 Later he overhears that a new princess will be chosen and that Yeon-woo will probably die, and races back home, pleading for her to be alive.
Meanwhile, Minister Heo sends Yeom away, to keep him safe from contagion. Yeom argues that he can't leave his sister and his family at a time like this, but Dad reminds him of his responsibility to the prince, which means Dad's first responsibility is to keep him safe.
It's probably an indication that he's considering Nok-young's offer to end Yeon-woo's suffering. Yeom is forced to go, without a chance to say goodbye.
He asks Seol to send word if Yeon-woo looks for him. He starts to say that she should write him, but realizes she can't, and Seol meekly tells him that she does know how to read and write – Yeon-woo taught her "because knowing words means you can read the world."
He smiles, assured that Yeon-woo is in good hands, and asks her to keep Yeon-woo safe in his place. He pats her on the head as she cries, and he sets off.
But as soon as Seol turns around, Minister Heo introduces her to her new master. She asks if she did something wrong, and falls to her knees, crying for him not to sell her. He tells her that she didn't do anything wrong, and she begs him, saying that she promised Yeom she'd protect Yeon-woo.
He promises her that it's just for a little while until Yeon-woo gets better, and that he'll come back for her. Aw, poor Seol.
Yeon-woo gets worse, seizing and coughing up blood. Minister Heo goes to Nok-young and she gives him medicine as she promised, swearing that it will let her die painlessly. She says to herself that she's committing a grave sin against him, and that she'll live the rest of her life repaying him.
He prepares the drug with a heavy heart, and tells his wife that he wants to do something for Yeon-woo as a father, even if it's this. She thinks he means heating up her medicine, while he prepares to do the unthinkable.
Yeon-woo stirs awake and uses every ounce of her remaining strength to write Prince Hwon a letter. At the same time, he wakes up to a vision of her, sitting in his room. She asks if he knows why she gave him that potted cabbage.
He reminds her that she already told him, but she says there's a hidden meaning as well: that she hoped he'd be curious about what plant might grow in it, and that it was her way of making him write her a reply. He laughs that she should've just said so.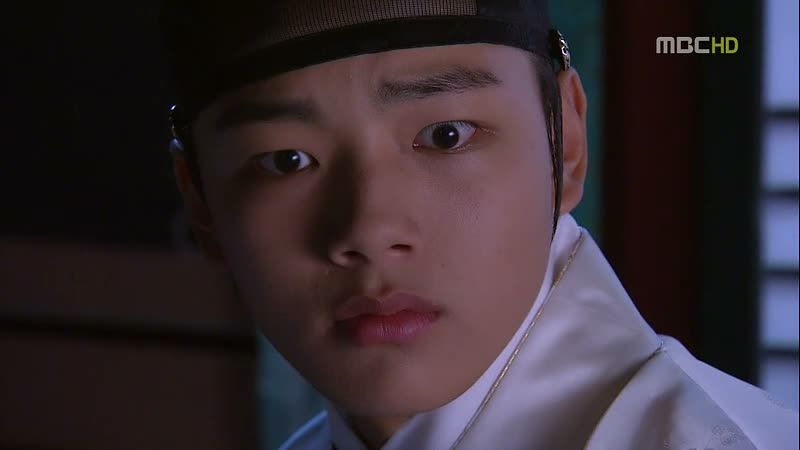 She bows to him, and then he wakes up to an empty room.
Dad comes in with medicine for Yeon-woo, cooling it with his hands as he tears up. He tells her that he's sorry, that he should've let her read all the books and do everything she ever wanted. He just thought there would be endless time.
She can either sense what that medicine is really for, or can read it on his face, and asks for it. "I want to take it and stop hurting." He looks up at her, startled. Oof, this hurts my heart. Why does daddy-daughter stuff always turn me into a puddle of goo?
Hand trembling, he takes her up in his arms and brings the medicine to her lips. She drinks it and they both cry. He asks if it isn't bitter. She says it is.
"Daddy will hold you, until you fall asleep." I can't see through my tears.
He finds the prince's gift, the moon embracing the sun, in her hands, and she says she wants to fall asleep holding it. He calls out her name, and she tells him that she's very tired, so she'll sleep now.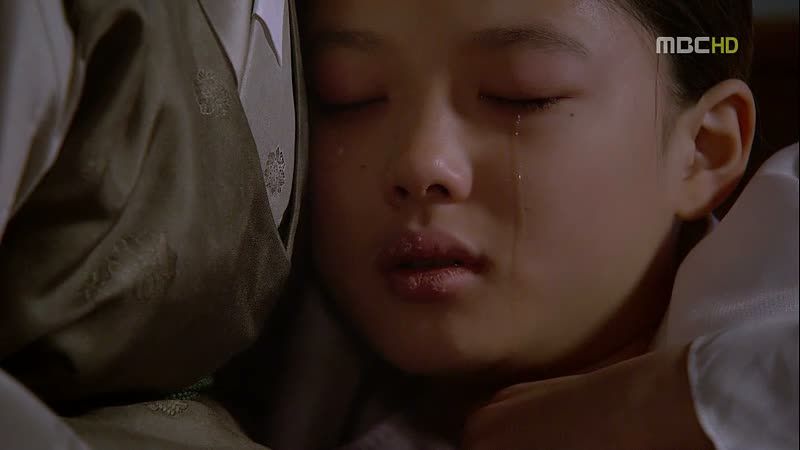 He holds her close, and to himself, he cries that he's sorry, and that he'll follow her soon to the afterlife. She dies in his arms.
Mom clutches her and wails, and in the palace, Prince Hwon gets word that she went peacefully in her sleep.
He stumbles out, numb from shock. The guards stop him just outside, with orders to keep him here at all costs. He tries to fight his way through them, anger and tears finally rising to the surface.
He screams at them to let go of him, that he has something left to say to the princess. "I have something left to say to her! Yeon-woo-ya! Yeon-woo-ya! Let me go! I have something left to say to her! Yeon-woo-ya! Yeon-woo-ya!"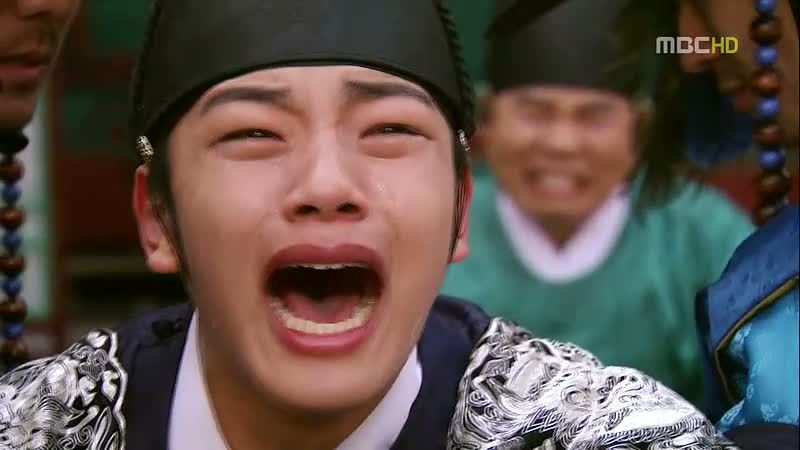 COMMENTS
Why is it still so crushing when I know she won't really die? I expected her death to be sad, but this was buckets-of-tears sad. When Yeon-woo asks to die, to stop the pain, and her father holds her? That pretense between them that she's just going to sleep is what does me in.
And not to mention Prince Hwon's anguish in a different way, of having his love torn from him, realizing that being a prince means he's powerless to protect the one he loves. I love that there's such a range, from cute romantic moments, to such pain and loss.
I appreciate that we got to experience her death along with the characters as if it were real, rather than a quick magic trick to turn her. I suspect that Nok-young will somehow take her alone, which means everyone else will continue on believing her to be dead, which will define their lives from this moment on.
There are a lot of elements of this story that are blatantly obvious, from day one. But what they've managed to do is engage us with characters we care about, and focus on the emotional beats rather than the totally inevitable plot machinations. I find that I actually don't care that I know what will happen, because I'm swept up in the moment. That said, I do find myself increasingly anxious for the future adult world, because that's when the story will finally get beyond what we know will come to pass. It's when the story stops being obvious that things get really interesting for me. Holding my breath…

RELATED POSTS
Tags: featured, Kim Yoo-jung, Lee Tae-ri, The Moon That Embraces the Sun, Yeo Jin-gu