Uhm Jung-hwa hits it big with Dancing Queen
Here's a look at the first big movie hit of the new year, the feel-good comedy Dancing Queen, starring Hwang Jung-min as a Seoul mayoral candidate and Uhm Jung-hwa as his wife who still hasn't given up her dream to become a singer, well into her ajumma years. How cute. I love that they turned pop diva Uhm Jung-hwa into a homely-looking ajumma who dreams of being… well, Uhm Jung-hwa, the real-life version.
Hwang Jung-min plays a poor humanitarian lawyer who one day does a good deed and saves someone on the subway tracks. He gains some media attention and catches the eye of political backers, who decide that he's the perfect guy to be their candidate for mayor. Suddenly there's a media spin on everything in his life, like turning his bike-riding habit into a noble sacrifice for the environment. But the big kink in the campaign happens when they realize who his wife is…
Enter Uhm Jung-hwa, regular ajumma by day, popstar wannabe by night. She refuses to give up on her dream of becoming a singer, insisting on trying out for reality shows (featuring cameos by Lee Hyori and Leessang's Gil as bewildered judges), despite everyone telling her that her time has passed. But she sticks with it, and actually starts to make something of her dream diva career (or adult-idol, as the movie calls it), just as her husband starts to be scrutinized as he runs for public office. Hijinks, they ensue.
It's the perfect storm as far as casting goes, and I love the ajumma-gets-her-groove-back premise. Looks like a good time to be had by all. Dancing Queen hit number one at the box office opening weekend, and is playing in theaters now.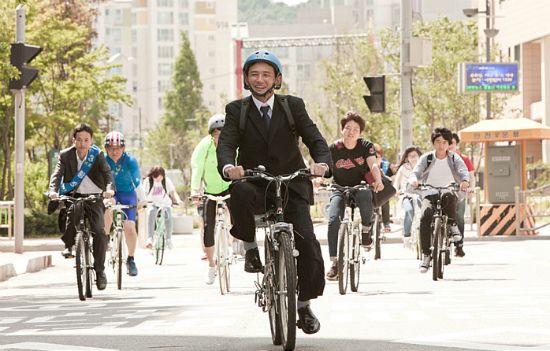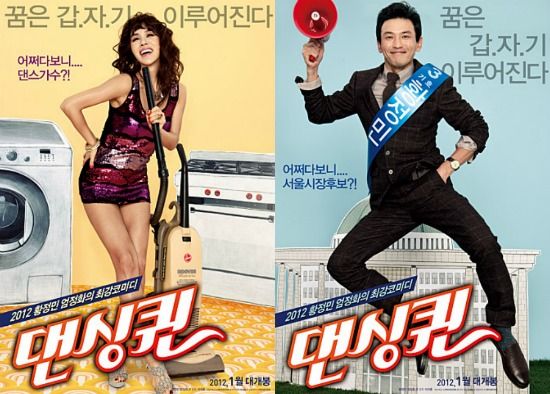 Via Hankook Ilbo
RELATED POSTS
Tags: Hwang Jung-min, Uhm Jung-hwa