Ratings report: New cable channels underperform expectations
Time to take another look at cable programming, now that some of the new channels have completed a drama series or two since opening for business. While there have been some notable successes outside of KBS, MBC, and SBS — Vampire Prosecutor, Flower Boy Ramyun Shop, TEN — it looks like there are more that are having trouble gaining ground.
Vamp, Ramyun, and TEN have surpassed the 1% mark, even topping 2% (with Vamp hitting 4% at its highest point), but they are on fairly established cable channels like tvN and OCN. For the newly launched channels, which are referred to as general-programming stations, 1% is still the magic number. Which is why it's disappointing that many are falling into what the media is calling the 0% zone.
AGB Nielsen monitored dramas that aired on the four general-programming cable channels (MBN, Channel A, JTBC, TV Chosun) starting on December 1 of last year, which is when MBN and Channel A opened for business. They found that of the 15 programs airing between December 1 and February 7, numbers ranged from 0.24% to 1.67%.

Vampire Idol
Cable dramas are probably not as ratings-driven than the big broadcast stations, but a cable station is still going to react to a ratings dud. JTBC, for example, hasn't been happy with the 0.2% average rating of its terribly named morning drama When A Woman Does Her Makeup Twice (I've also seen the translation When A Woman Powders Twice). The show, starring Im Jung-eun (Joseon X-Files) and Danny Ahn (Runaway Plan B), was planned for 120 episodes is looking at a likely cut-down to 60 instead.
This doesn't only apply to scripted programming; over on MBN, reality program The Duet had been planned for a 12-episode run, wherein singers and producers would team up and perform. It was cancelled after just four episodes. The show had a substantial production budget of 200 million won per episode, which its 0.4% ratings could not justify.
MBN has tried to mitigate low ratings for other shows by moving timeslots to avoid tough competition. It did that with sitcom Vampire Idol, leaving the crowded waters of 9:30 pm for the less competitive 7:30 pm. At first the move caused confusion among viewers, who are having enough trouble getting all the timeslots straight with the sudden influx of new programming. But the ratings have been steadily climbing, coming close to the 1% mark on certain days.
Furthermore, Vampire Idol has enough buzz to carry it through, aided by the trendy youth component. The stars are enjoying boosts in visibility, and the show overall has been enjoying solid popularity.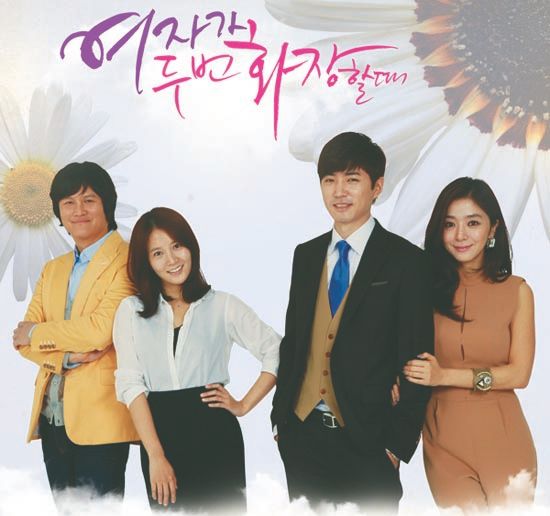 When A Woman Does Her Makeup Twice
Another timeslot shifter was Channel A, who recently wrapped its romantic-comedy drama Color of Woman. I thought the drama started out super-cute and breezy, but about halfway through it lost its zip and apparently viewer interest as well. The drama couldn't compete with JTBC's Padam Padam, one of the few cable successes. When Padam ended on a 1.898%, Color settled for a 0.380%, down from its 0.757% premiere.
Channel A then changed Color of Woman's timeslot in the middle of its run from 9:20 pm to 8:50 pm, and managed to end on a 0.528% rating. It was an improvement, but Color of Woman was initially planned as a 24-episode series; instead, producers chose to end on 20.
Padam Padam, meanwhile, can look forward to export cash; rights were recently sold to Japan's TV Asahi for 2.2 million dollars, making it the first of the general-programming shows to be licensed abroad.

Operation Proposal
TV Chosun is another new station that recently unveiled its drama series Operation Proposal. I thought last week's first two episodes were cute and engaging and I don't think the show's in any danger of being cut, but it opened with lower-than-expected ratings of 0.449%. The production was undoubtedly hoping that fans would tune in for its star, Yoo Seung-ho (who is great, as is Park Eun-bin), as well as out of interest for the original Japanese drama Proposal Daisakusen upon which this drama is based.
Of the general-programming outlets, though, the Proposal premiere came in third place out of four. JTBC's Fermentation Family has been staying quietly solid and brought in a 1.005% rating on the same day, while Channel A's Bachelor's Vegetable Store had a 0.504%. MBN's daily sitcom You're Here, You're Here, You're Really Here (light, silly, cute) came in fourth with a 0.287%.
Last week also saw the premiere of another TV Chosun show, the anticipated spy-action drama Hanbando (Korean Peninsula). That show got off to a great start with a 1.649% premiere, but Episode 2 saw a sizable drop to 1.205%. I haven't seen this one yet but it seems viewers lost interest, and based on kaedejun's review I can understand why.
Hanbando has a 2 billion won production budget, putting it into blockbuster territory on par with the likes of Athena. I'll be curious to see if that's a show that can justify the hefty price tag. Athena was likewise a ratings disappointment, but on network that means low teens, and it also has exports to make up for some of that budget.

Hanbando / Korean Peninsula
More money doesn't necessarily equate bigger ratings, though, as we know by now. Over the New Year's holiday, Thousand Day Promise writer Kim Soo-hyun's 3-episode special Father Is Sorry performed strongly with ratings of 1.364%, 1.662%, and 1.440%.
JTBC's weekend sageuk Queen Dowager In-soo and TV Chosun's Saving Go Bong-shil Ajumma are both in the 1% range as well.
In conclusion? Prime-time cable dramas are still in that nascent stage, and it's probably going to take a while before they seriously challenge the big broadcasters. OCN and tvN have produced some noteworthy exceptions, but they've been around a lot longer than the newbies; it's probably premature to expect huge numbers from channels that are barely three months old at this point. But I look forward to seeing the greater diversity of programming emerging from cable in the coming year.
Via Kuki News, Hankook Ilbo, My Daily
RELATED POSTS
Tags: Bachelor's Vegetable Store, cable programs, Color of Woman, drama production, drama ratings, Operation Proposal, Padam Padam, Vampire Idol, You're Here You're Here You're Really Here