Equator Man: Episode 10
I feel like the victim of a sudden accident with this episode – I never saw it coming, and I'm still in shock. I need a blanket and someone to tell me that everything is going to be just as awesome as this was for the rest of the series. Who says you need action to get your heart racing, your pulse pounding, your jaw on the floor, or all of the above? Sometimes all you need is a well-placed reveal. And maybe some more physical fitness montages courtesy of Sun-woo, because you can just never have enough of those.

EPISODE 10 RECAP
Sun-woo's blindness is cured, and we go into a flashback to presumably see how. In a hospital room with Maybe-Dad Tae-joo, Sun-woo gets his bandages removed post-surgery. Unfortunately it's a no-go and he still can't see, so Tae-joo orders the surgery to be done again.
In the same flashback, Tae-joo takes Sun-woo to a bar while they talk over his past. He explains what he knows about Yong-bae being involved with his dad's murder, as well as Jang-il trying to kill him. It's interesting that Tae-joo offers a sympathetic-yet-not perspective in wondering how hard it must have been for Jang-il to do that to his closest friend.
Sun-woo replies that he's well aware, and that he even feels sorry for Jang-il. Although Tae-joo is there to remind him, "You're not even in in a position to forgive anyone. Real forgiveness comes from power. You can only forgive him when you can smite him."
Sun-woo: "I have no intention of forgiving him."
We even go back to see Jang-il pass the bar exam, until we're back to Sun-woo, who's not keen on surgery again. Tae-joo entices him by reminding him of the picture Ji-won left him along with a memo – Sun-woo will only get to read it if he regains his sight.
So it's the surgery unwrapping again, and Sun-woo opens his eyes to a blur of blue that begins to slowly come into focus… and it's Ji-won's picture, right in front of his eyes. Tae-joo's the one holding it up, since he figured that Sun-woo wouldn't want his first sight since his accident to be him. I don't know why that's funny, but it is.
Sun-woo looks at the picture in wonder, continuously looking from Ji-won's face to the memo she wrote in the back confessing her attraction as well as her will to stay by his side. Aww. Our boy is back!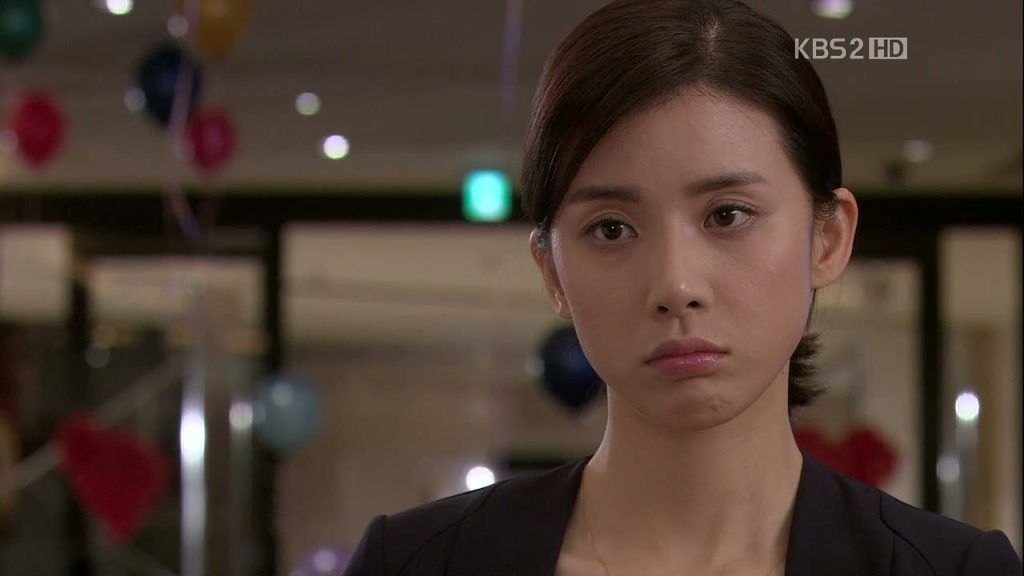 Just having graduated from university, Ji-won finds a congratulatory bouquet left for her, with the sender remaining anonymous. The focus keeps jumping from her to Sun-woo, who's attending university. (His classmate looks like Yoon-joo, Chairman Jin's stepdaughter.) Ji-won finds another bouquet of flowers (roses this time) on Christmas, with a postcard from London, where Sun-woo was presumably staying. Then another bouquet on Valentine's Day.
Still in the flashback but further into the future (stay with me here), Ji-won goes to the audiobook library to ask about Sun-woo. It seems he's not in the country, but his teacher has no idea how he could have gone overseas without family.
Speaking of, we catch up to Sun-woo and have a much-needed talk with Tae-joo about who his real father is. Seems like Tae-joo isn't it, but an extremely good samaritan who took Sun-woo under his wing strictly because he's the son of the woman he loved. That pretty much narrows down the list to either his dead dad or Chairman Jin, which really just narrows it to Chairman Jin, since a future revelation that Dead Dad was his real dad all along just won't be as dramatic.
He reiterates what we knew before – that he and Sun-woo's father were framed and put in jail. I'm really liking that Tae-joo is taking the role of the wise sage in telling Sun-woo that no evidence exists of Chairman Jin's hand in his father's murder, so he shouldn't get ahead of himself with his hate.
In return, Sun-woo wants to help his Not Dad out, since his business has suffered due to caring for his Not Son. To do that, he'll need to go to the Equator.
Sun-woo works hard at one of Tae-joo's coal mines in an attempt to resuscitate his failing business. Chairman Jin receives regular updates from Secretary Cha, seemingly pleased that his rival is having trouble. The only curious thing is the Equator project – it was something Tae-joo had given up on due to murderous locals, but now a Korean-American has taken over. Chairman Jin wants to know more about him.
The mining work proves exhausting, and Sun-woo collapses on the site after his vision goes blurry. Meanwhile, Chairman Jin only manages to get Sun-woo's fabricated identity – that of David Kim – and is impressed by his work ethic. So he decides to go head to head against such a fierce young man by swiping development rights for Sun-woo's mines.
Regardless, Sun-woo's hard work pays off as he signs a successful international business deal with Tae-joo. Now that he's helped Tae-joo's business he plans to head back to Korea, where his Not Dad asks him if the real fight will begin now.
Sun-woo: "I'm not going to fight. I'm going to destroy them."
Again, Tae-joo offers some sage advice. A tree infested with bugs falls when the wind blows – you don't need to axe it down, you just need to become the wind. The tree represents Chairman Jin and his empire, too corrupt already for Sun-woo to waste energy chipping away at it. One fell swoop as a force of nature will do.
Then he asks something curious, in whether Sun-woo knows that there's something more important than his revenge. We don't know what it is, but Sun-woo affirms it, before Not Dad and Not Son have a farewell hug.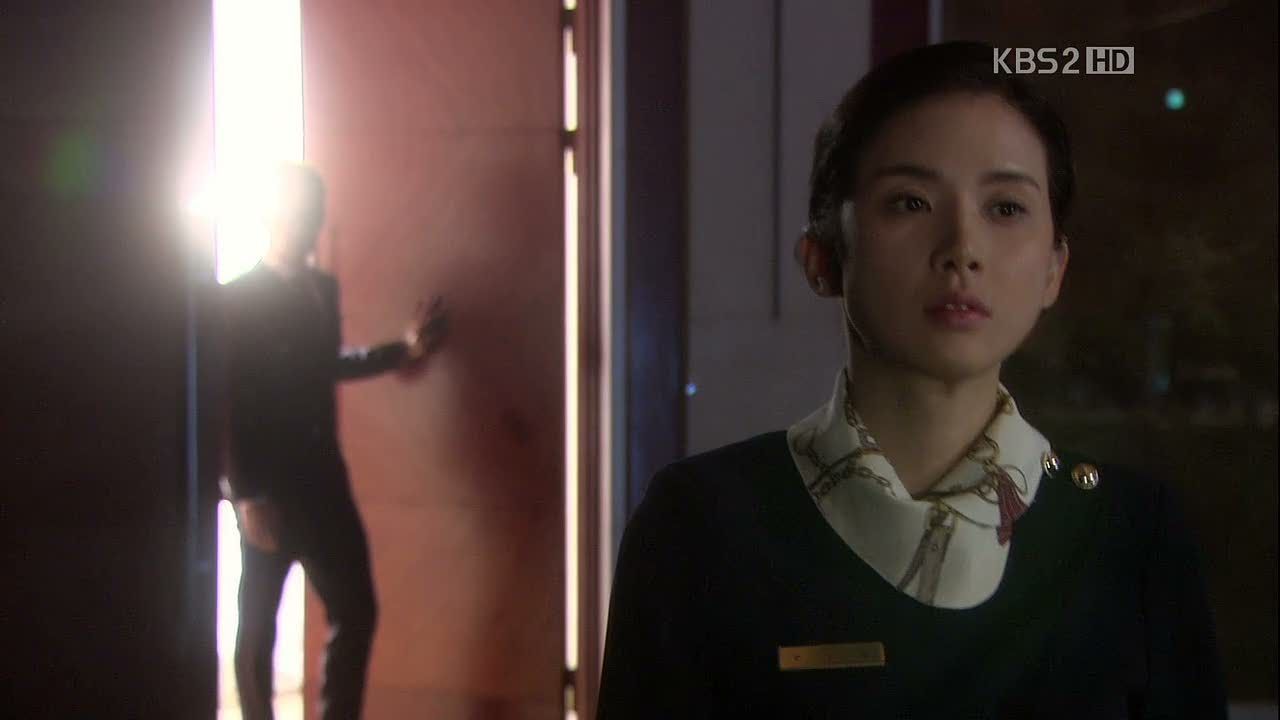 End flashback. We're back with Ji-won in the present, who runs into some troubles at her management job for trying to do the right thing. She ends up working alone in one of the banquet halls and doesn't even notice Sun-woo, who watches her from the doorway in sunglasses.
He stays and watches her for a long while, seeing her in person for the first time in thirteen years… then leaves without ever revealing himself. Only when he's alone do we see him betray the emotion he's feeling.
Geum-jool has taken up work as a mechanic, and comments that the car he's working on is brand new with nothing wrong. The owner walks up in a fine suit, and Geum-jool's jaw drops. "Sun-woo?"
With a smile, Sun-woo extends his hand, and out of it drops a gold chain. He told Geum-jool he'd get him one, remember? Aww. I'm so happy they're reunited – Geum-jool is such a sweetie pie.
"You've gotten old," Sun-woo quips – and that only sends Geum-jool further into shock. He can see? Sun-woo affirms it by noting that Geum-jool still has his signature gold chain, and that he's still fat. Ha.
Adorably, when we see them catching up, Geum-jool is wearing both gold necklaces now. Haha. He rattles off a hundred questions, wanting to know everything and anything about Sun-woo's life. He fills his old friend in on how he was overseas and now running an investment company, and asks after Jang-il and Soo-mi.
They're both famous in their respective fields, as Geum-jool tells him. Sun-woo takes that in and then offers his old friend ten times what he's making now if he'll aid him. Geum-jool agrees without a second thought – and his first mission is to find the taxi driver that took his father to Chairman Jin's villa, as well as the detectives who worked on the case.
Sun-woo goes to the police station to do some investigating of his own, and looks over the files pertaining to his father's supposed suicide.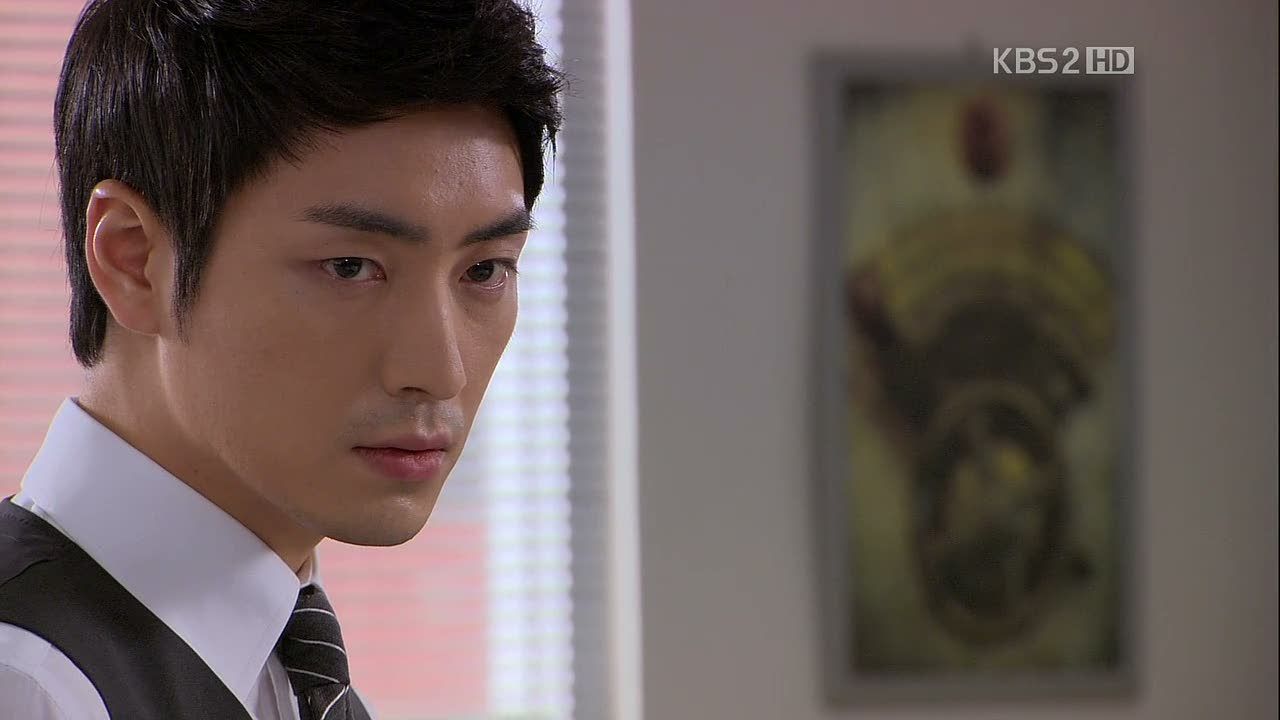 Jang-il is busy at work trying to nab another corrupt businessman, though this time they'll need some outside help. Whichever Chairman they're trying to get works in resource development, so they need someone trained in that field. Someone mentions a David Kim. Jang-il agrees to see him. I can't wait.
He can't help but think back to his meeting with Sun-woo, and remembers a key piece of evidence… Sun-woo didn't have his cane. Oooh, nice.
He calls his father to get the number Sun-woo called him from, which ends up being a rehab center for the visually impaired. The man on the other end doesn't know who Sun-woo is, even though Sun-woo is sitting right there and knows very well that Jang-il is the one calling.
Jang-il wants to know if it's possible for a blind man to get around without a cane, and the man says yes. Ha, I love that Sun-woo smiles to himself – he knows he's got Jang-il on the ropes.
Our favorite(?) prosecutor ends up attending a colleague's wedding at the same hotel Ji-won works at. Now we see that she was preparing specifically for this event, and the moment he spies her from across the room he's hooked.
She doesn't seem to have seen him, so Jang-il follows her outside the hall and watches her with a smile. He finds out from a nearby employee that she works at the hotel managing VIPs, and couldn't look happier at the news.
Ji-won, meanwhile, ends up being framed for accepting bribes solely because she'd recognized that her director was accepting them previously. In order to save her own hide and keep Ji-won silent, her director set her up. She won't be fired, but she'll be getting a pay cut. She's mad, but there's nothing she can do.
The sick mother trope is one that will never die. Ji-won gets a call about her mother being in the hospital, which doesn't seem like a new thing. She's going to need surgery, and Ji-won has to come up with the money. She claims she has it, but the look on her face says otherwise.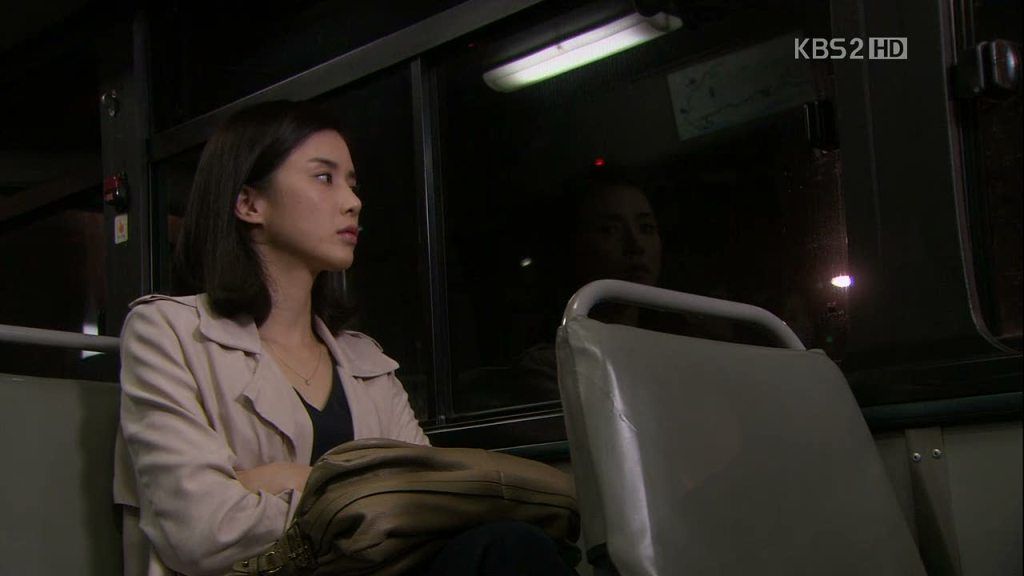 On the bus ride home, she takes out a business card (from a business called Head Hunters, which totally isn't weird or anything) from a job offer she received only last week. They claimed that her salary would be a blank check that she could fill out, which is pretty shady, though she calls them anyway now that she needs the money.
Her fellow employees are giddy over a flower bouquet waiting for her at work, and joke that her admirer must have gotten married and divorced, since it's been so long since she received the last one. But these aren't from Sun-woo – they're from Jang-il, who tells her in the attached card that he thought about her often.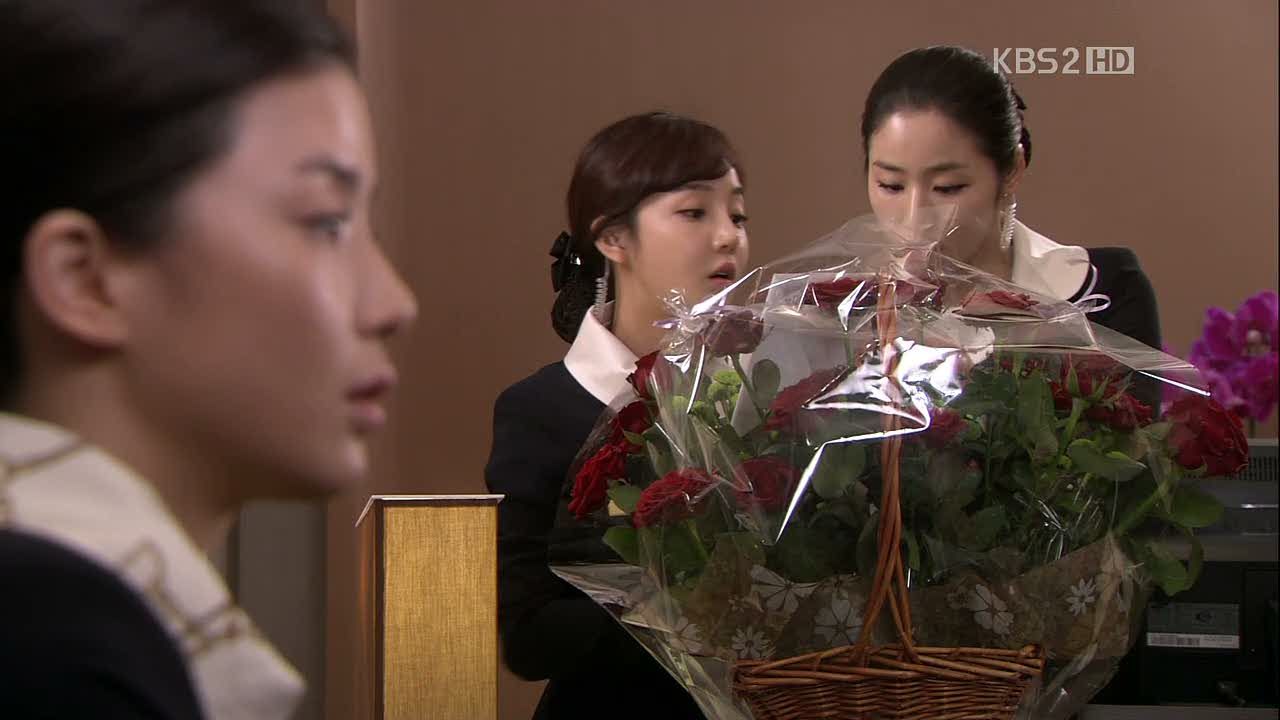 Ji-won looks deflated. Perhaps she thought that Sun-woo had been sending the flowers – which he was – but now it seems like Jang-il has been sending them all along.
She learns that David Kim, one of the VIPs that will be under her care, is coming later in the afternoon. She has a meeting to attend first, however.
The day isn't going well for her. Her mom is being hospitalized, and she's running late for her interview (which is going to be with the president of the company… hmm) because of the rain. She tries to cut her time down by taking the subway, but a passing car ends up drenching her from head to toe.
She finally makes it to her interview a bit late, and apologizes to the president of the company, whose back is turned…
It's Sun-woo. Gah! I knew it when the check was blank and the company was called Head Hunters. You don't name your company that unless you're out for revenge.
With his back still turned, Sun-woo chides her for being late and tells her to leave. She tries apologizing again, but stops short the moment he turns around. Shock and recognition register on his face, though Sun-woo's expression looks as if it's been set in stone.
He treats her coldly, acting as though he doesn't recognize her. When she remains rooted to the ground in shock, he tells her that she can make an appointment next week – but there'll be no excuse if she's late again. He's giving her another chance, basically, though I'm sure that's the furthest thing from her mind.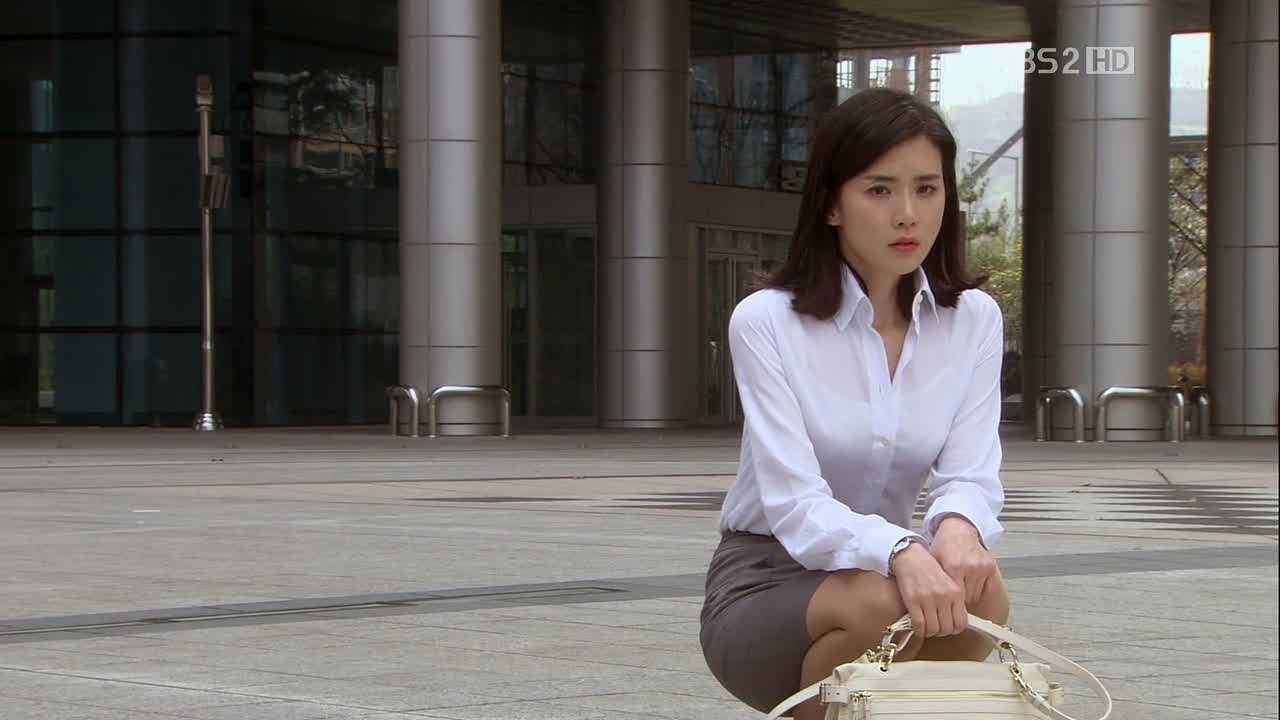 She nods and leaves, walking away on shaky feet. Only when she's outside the building does she sink down, taking everything in. Memories of Sun-woo flash in her mind, as she thinks to herself that it's okay… he was blind before, so he didn't recognize her because he didn't know what she looked like. Right?
Ji-won runs back into the office to find that the president has just left. She asks after his name, surprised to find that it isn't Kim Sun-woo, but David Kim. She wonders about the picture of herself that she once gave him – did he end up losing it?
Sun-woo is in his own quandary, as one of his fellow employees (Jo Hee-bong) wonders why he acted like he didn't recognize her. Sun-woo claims that he left for too long without making any promises – so how could he ask her to take him back now? That's valid, Sun-woo, but how about talking to her first?
However, we do find out that Sun-woo is on a ticking clock to beat the statute of limitations on his father's case. He can't waste any more time.
At home, Ji-won looks inside the keepsake box filled with Sun-woo's things, as well as the unopened letter from Kwang-choon. Aah! Just open it already!
Judging from all his colleagues' commentary, Jang-il is a workaholic. They urge him to go home even just to shower and shave, but he's more interested to see if Ji-won might have called him. Alas, the only calls he's received are business calls. It's been thirteen years, man. Let it go.
However, he does receive a sudden call that his secretary takes. It's from Chairman Jin, and Jang-il relays the message that he'll call back later and avoids a conversation with him.
Chairman Jin, on the other end of the line, seems almost amused that Jang-il would dare to avoid him. His wife is unhappy, as usual, and claims that she can't stand Jang-il gloating. She doesn't believe her husband when he claims that Jang-il is easy to manipulate despite never listening – people who never change are harder to deal with.
When we saw Jang-il at the wedding, his colleague seemed excited about a case he was forming. He didn't divulge any details at the time, though now we see what the case is as Secretary Cha informs Chairman Jin's wife that they need Jang-il, because a colleague of his is investigating their company.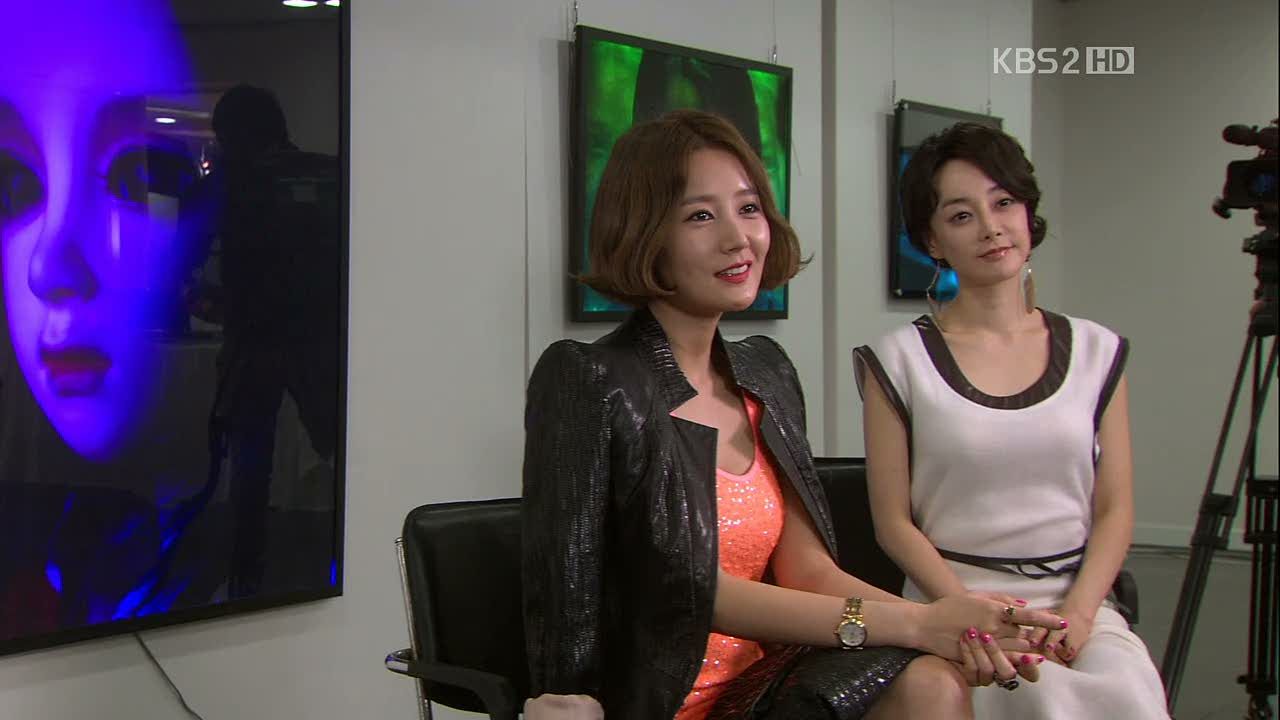 Soo-mi gives an interview about her upcoming gallery showing, and talks about why she uses a photorealistic style. It's a perfect parallel for the way she thinks about all things, and not just art – she claims that the style is so close to reality, only it's the reality in her mind which she can interpret at will.
I love that when Yoon-joo claims that Soo-mi is one of the top fifty artists that Hollywood draws inspiration from, Soo-mi is quick to correct her by saying it's the top thirty-one. Which I'm taking as going to mean that Soo-mi is exactly thirty-first on that list.
She wants one invitation sent out specifically to Jang-il, a name which Yoon-joo recognizes as the recipient of her company's scholarship. Soo-mi is immediately friendlier now that the two girls share an acquaintance.
Ji-won finds Sun-woo working out in the hotel gym, and is all business as she acts as his VIP manager. They speak on strictly professional terms until Sun-woo mentions her boss, citing that he doesn't blame Ji-won for wanting to quit just based on the woman's mean face.
He's ready to just go on with his day, but stops short when Ji-won asks him if he doesn't remember her voice. He takes a moment to collect himself, and then acts as if the question was never raised. She doesn't press the matter either. Argh, Sun-woo. I hope you know how silly you're being.
Yong-bae helps Jang-il into a suit, and entreats his son to join him at the gallery opening tonight, seeing as it's Chairman Jin's wife. Jang-il isn't interested since he knows Chairman Jin will only ask for favors, though his father finally wins him over by asking him to come just so that he can show him off to all those fancy people. Can't he do that just once, as a proud father of a successful son?
At work, Jang-il receives the invitation for Soo-mi's art exhibition and asks about their resources development expert. He doesn't know it's Sun-woo, but we do, and he's arriving tomorrow.
Sun-woo receives a call from the prosecution office confirming his aid, and asks specifically who the prosecutor overseeing the case is. He's offering to help only because it's Jang-il, I'm sure.
Later that night we find Sun-woo in a gambling den, since Geum-jool has tracked down the taxi driver who took his father to the villa. He has a gambling addiction and is practically homeless, so Sun-woo plays to his weaknesses by offering him as much money as the man wants – all he needs to do is remember his father.
Meanwhile, Ji-won gets a call from a man wanting to set up an appointment for a consultation. She's unaware that Jang-il is on the other end of the line.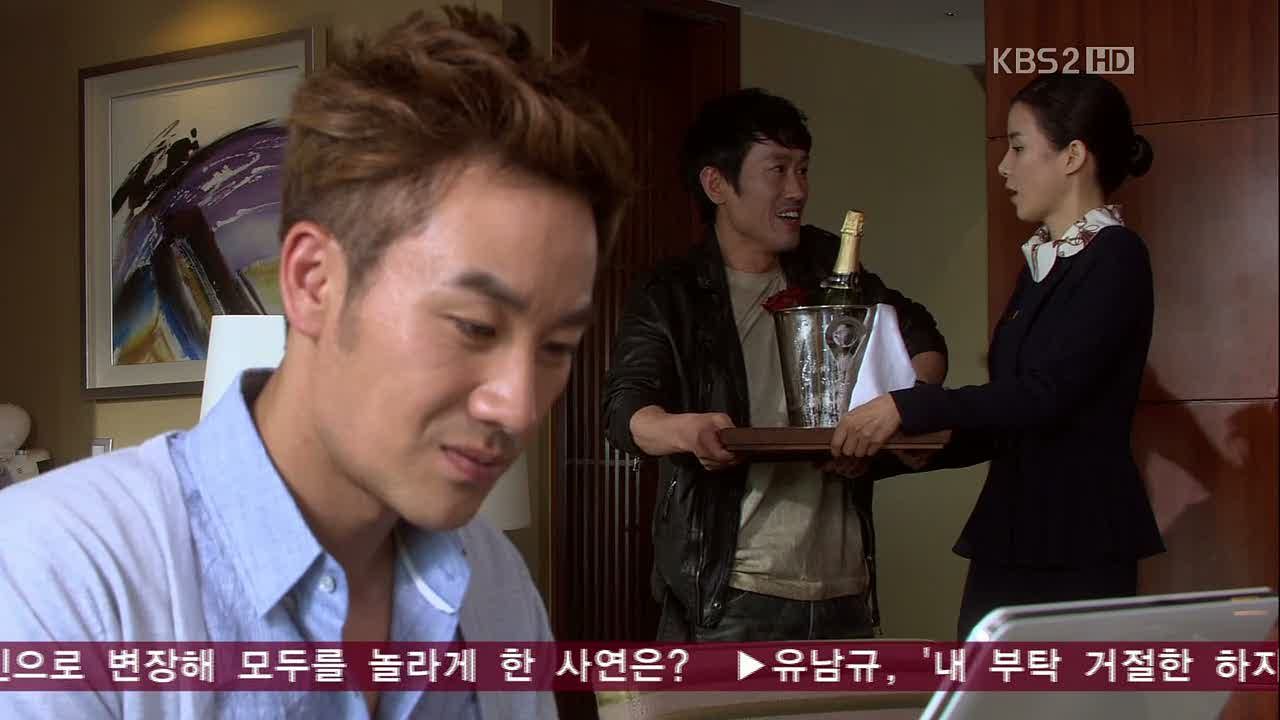 Having talked to the taxi driver, Sun-woo begins typing up his report the next day. The man remembered driving his father because Chairman Jin's house was so far out of the city on the day his father died.
Ji-won comes into the room with some complimentary champagne, and looks befuddled when Sun-woo doesn't even spare her a glance.
Jang-il makes it to Ji-won's desk before she gets there, and takes special note of a civil case studies book on her desk. She certainly wasn't expecting to see Jang-il, though her shock isn't all that great once she does.
He tells her that he's there to plan a family dinner for his father's birthday, and stares at her unnervingly the entire time she tries to talk business. Eventually he asks her about the book on the desk… she couldn't be studying for the bar, so is it something he can help her with?
She looks uncomfortable, and simply replies that it's nothing important.
It's time for Soo-mi's gallery opening, headlined by Chairman Jin's wife and daughter. They all sing her praises, and Yong-bae is the first to arrive dressed in a suit. He's shocked to know that Soo-mi is a high school friend of Jang-il's.
And Jang-il, to his credit, didn't seem to know Soo-mi was the artist of the evening. He literally walks toward the door, sees her, and turns around to walk away just that fast. Nothing on his face changes, it's like a knee-jerk reaction.
Unfortunately for him, his father saw him. He beckons Jang-il into the gallery, and his eyes stray to Soo-mi. The two share a long, silent look.
He coldly congratulates her, and stays for all of five minutes before he declares he's too busy and needs to leave. As he's walking out he passes a picture of a bridge we've seen befo-… OH MY GOD. Nooooooooooooooo way. No way! No way.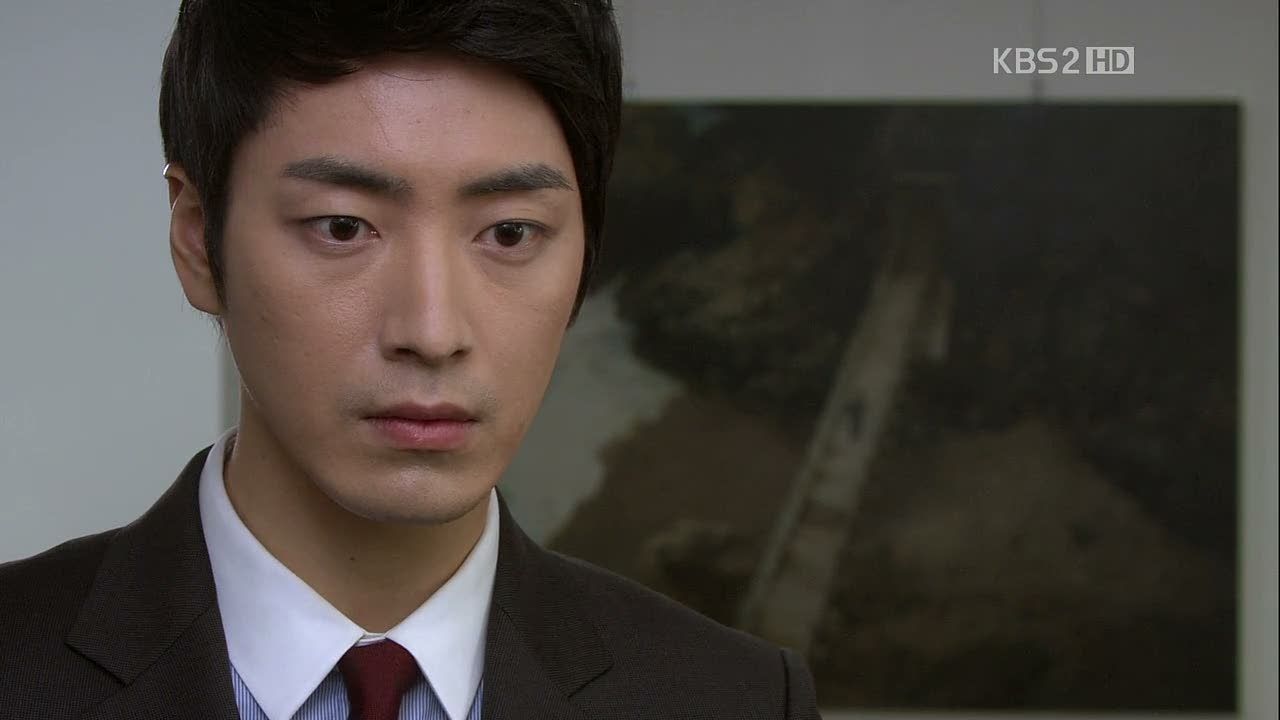 …It's a photorealistic painting of a lone figure on a bridge, the same one Jang-il walked right after he threw Sun-woo into the ocean. It's him. Which means Soo-mi saw it all. Oh my Lord.
The shock is evident on his face as his eyes become as wide as saucers. He stares straight at Soo-mi, who doesn't even look his way… but she knows full well what she did, as evident by her self-satisfied smirk.
Jang-il approaches the painting, and it's 100% him. The scene becomes alive before his eyes as he flashes back to the memory of what he did.
He's actually trembling from head to toe with shock. His world looks like it's been properly rocked.
Chairman Jin finally arrives, and Jang-il is forced to collect himself. They have a private conversation where Chairman Jin divulges the name of Jang-il's colleague and asks him to look into it. Basically, he wants Jang-il to put a stop to his colleague, which is something that he claims he can't do.
"If I get investigated," Chairman Jin warns, "nothing good will happen to you either." Uh oh.
At work the next day, Jang-il prepares to meet with the resource development expert that's supposed to help him on the case. We knew it was coming, but on the heels of Jang-il's last shock I actually feel bad that he's getting another big one so soon, since it's Sun-woo who walks through the door.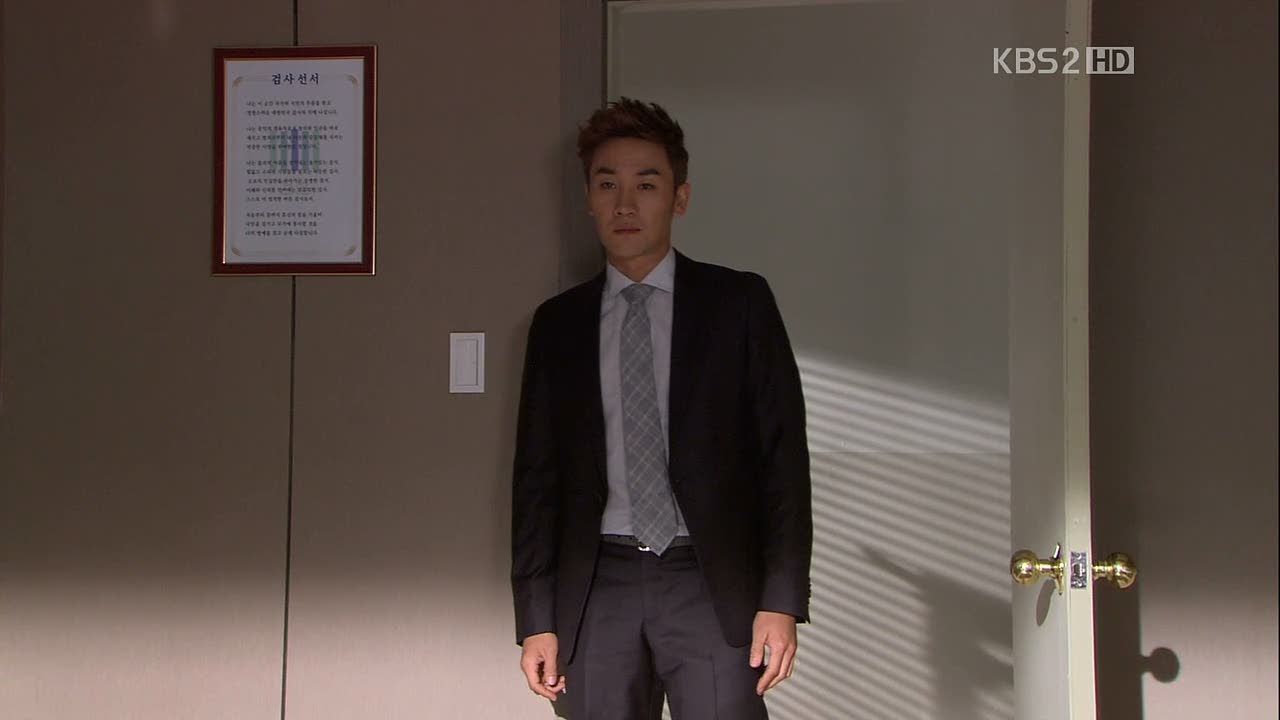 Jang-il's eyes widen and his face freezes as Sun-woo, with all his complete faculties, strides forward. "Are you Prosecutor Lee Jang-il?" Sun-woo asks, as he extends his hand for a greeting. "Nice to meet you. I'm David Kim."
The two stare at each other. Jang-il doesn't return the greeting.

COMMENTS
Oh. My. God.
What a way to turn things around. For most of the episode I found myself feeling rather disengaged and wondering why the fun factor in watching the episode wasn't quite there this time around. This show has been unique in that it's had so much setup, on par with the way sageuks set up their epic stories. The thing is, most of the time we end up dealing with one time skip (if we deal with any) from children into adults. Then we spend time re-establishing those adults in their new world, and move the story along.
In this show, we had our initial setup (the boys meeting and becoming friends), then the first time skip (Sun-woo's blindness), and then this most recent time skip. So the writers have had to re-establish the world twice now on top of the initial establishment, which has a bad side effect of delaying the main story in order for us to get our bearings. I felt that a lot in this episode, the same way I felt it when we had our first actor switch/time skip.
I'm not upset that we've taken so long to get to where we are, but I was feeling a little tired with the camera jumping from character to character in the blink of an eye, which I wasn't a huge fan of the first time it happened. I get why it needs to happen, but at the point where I'm just wishing that they could stick two characters I cared about in one room (rather than one main character plus a random secondary character I don't care about) just for some interaction, it's time to get past the backstory and start forming some teams and/or alliances. We're getting the tip of that iceberg now, but we need some more face to face character interaction up in this hizzouse. That's where the good stuff is, as opposed to watching Ji-won get in a cab, then going down the stairs into the subway, then going up the stairs out of the subway, then walking into the bathroom, then walking out of the bathroom, etc. I appreciate the attention to detail in watching each character move about, but I'm pretty sure we don't need to see everyone's separate days in minute detail to get what's going on.
Thanks to everyone for being so spoiler free in the comments, because I wouldn't have enjoyed the revelation of Soo-mi's painting as much if I had known about it in advance. I was expecting something surprising to come from her this episode, but I wasn't expecting that. That one moment, all the way to the end of the episode, swept any of my concerns right under the rug. Because that reveal? Awesomeness. Pure awesomeness. More, please.
RELATED POSTS
Tags: Equator Man, featured, Im Jung-eun, Lee Bo-young, Lee Jun-hyuk, Uhm Tae-woong