Equator Man: Episode 11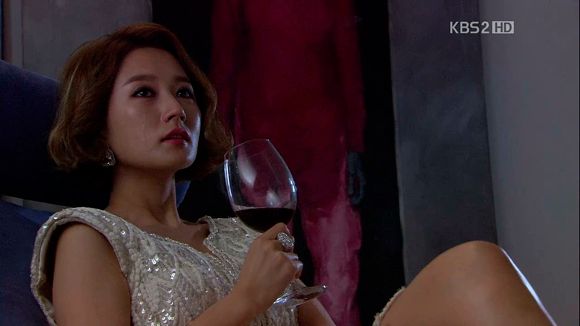 Heaven has no rage like love to hatred turned, nor hell a fury like a woman who has evidence that you tried to kill your best friend while covering up the evidence of your father murdering said best friend's dad… or so they say. This episode builds on the revelations of the past, as Sun-woo finds out that Chairman Jin is no easy prey and Jang-il fails to learn his lesson on how to treat other human beings. If you're looking for the end of the noble idiocy phase between Sun-woo and Ji-won you won't find it here, but with so much story going on, you might not notice it as much as you did before.
In ratings news, Equator Man reached a personal best in ratings at 15.6%, and maintained its position in first place.

EPISODE 11 RECAP
The truth sinks in for Jang-il as he remembers their last meeting, where Sun-woo cryptically said things like, "Long time no see" and "It was nice to see you." Now he realizes it was all an act.
Looking at Sun-woo's back as they walk to another office reminds Jang-il of the moment he committed that horrible deed and tried to kill his best friend. The intent on his mind must be murderous, since the camera keeps flashing to the incredibly sharp pencil in Jang-il's hand.
I love that Jang-il's assistant can literally feel how tense the air is between the two men, since he's visibly uncomfortable as he looks from Jang-il to Sun-woo and back again. He's become the third wheel on a date from hell.
With a chaperone in the room, Jang-il and Sun-woo are forced to act the part of newly introduced strangers. Sun-woo is relaxed and conversational, while Jang-il is so nervous that he can't help but tap his pencil on the table repeatedly.
Sun-woo offers up his expertise on mining, but wonders aloud whether this sort of case is even in Jang-il's jurisdiction. Tap tap. When Jang-il quips that Sun-woo should just answer their questions (as in, you're not in a place to ask any of your own), Sun-woo fires back by asking if he's being questioned as a defendant.
Oh, the look on Jang-il's face. Sun-woo is totally screwing with him, both of them know it, but there's nothing Jang-il can do. Sun-woo knows it too, since he smiles at Jang-il's visible unease. It doesn't help that Jang-il is prompted into an apology for being out of line.
Against his better instincts, Jang-il follows Sun-woo out when he leaves and purposefully calls him by his real name once they're outside. To all his pointed questions, Sun-woo's answers are delightfully flippant, as if to say, What's the big deal?
When the subject comes to his sight, Sun-woo replies that he had a successful surgery. He was going to surprise Jang-il when they first met, but cites that Jang-il said he was too busy and left before he could say anything. The two trade barbs, though Sun-woo seems like the clear winner by playing on Jang-il's emotions when they were once friends with remarks like, "I was looking forward to how happy you would have been for me. That hurts."
Jang-il: "This hurts too." But you know what really hurts, Jang-il? A tree branch to the head.
He wants to know all there is to know about Sun-woo right there and now, but receives a business card instead. Sun-woo wants them to catch up over drinks later.
Jang-il returns to his office in a daze, but overhears his colleague giving a presentation which names Chairman Jin as a suspect in accepting bribes. Remembering Chairman Jin's words that bad things will happen if Jang-il doesn't stop the investigation, he attempts to lead his colleague off the case by saying Chairman Jin is too small a fish to fry.
His colleague, perhaps sensing something shady going on, simply tells Jang-il that he'll be the one to decide whether to pursue Chairman Jin or not. This sounds like future branch-to-the-head talk.
He returns to his desk to find loads of gifts from adoring fans, those who see him as a great prosecutor always fighting for justice. His ego balloon is swiftly popped when he's notified of a call from Sun-woo, under his David Kim alias.
During the earlier interview, Sun-woo had claimed that there was no telling whether the firm Jang-il was targeting lied about the amount of resources they had. But now he calls Jang-il with a different story, telling him that his suspicions were true – the firm he's investigating are swindlers known throughout the field.
Jang-il wonders why Sun-woo didn't mention this earlier, to which his friend replies that if he gave the answer too easily, Jang-il wouldn't look like a great prosecutor. This way, he's making it so that Jang-il will look like he cracked the case on his own.
The woman Jang-il shares an office with gives our resident prosecutor a leery side-eye when he switches to banmal on the phone with Sun-woo. It's only when she's gone that he demands Sun-woo meet him tonight, but Sun-woo simply says that he's already got a meeting lined up and he'll call later. Click.
At the hotel, Ji-won finds Sun-woo after a multi-language business meeting to ask if he needs anything. Without looking at her, he asks her what she'll do if he actually needs something, before asking her to come to a performance later with him and his team.
She professionally deflects the question by amending that he can only need something within the boundaries of the hotel. He's of the mind that she shouldn't say "anything" if she can't actually provide "anything," and the two mince words over it until she gets a call from Jang-il, which Sun-woo overhears.
Ji-won finally tells Sun-woo that he doesn't need her to go to the performance, it's just something he wants. She's there to provide what he needs. In response, he tells her that she won't make the interview with that kind of attitude.
Back on the line with Jang-il, the talk stays about his party planning until he asks her out for a beer. She has a legitimate excuse for not being able to go, but maybe next time.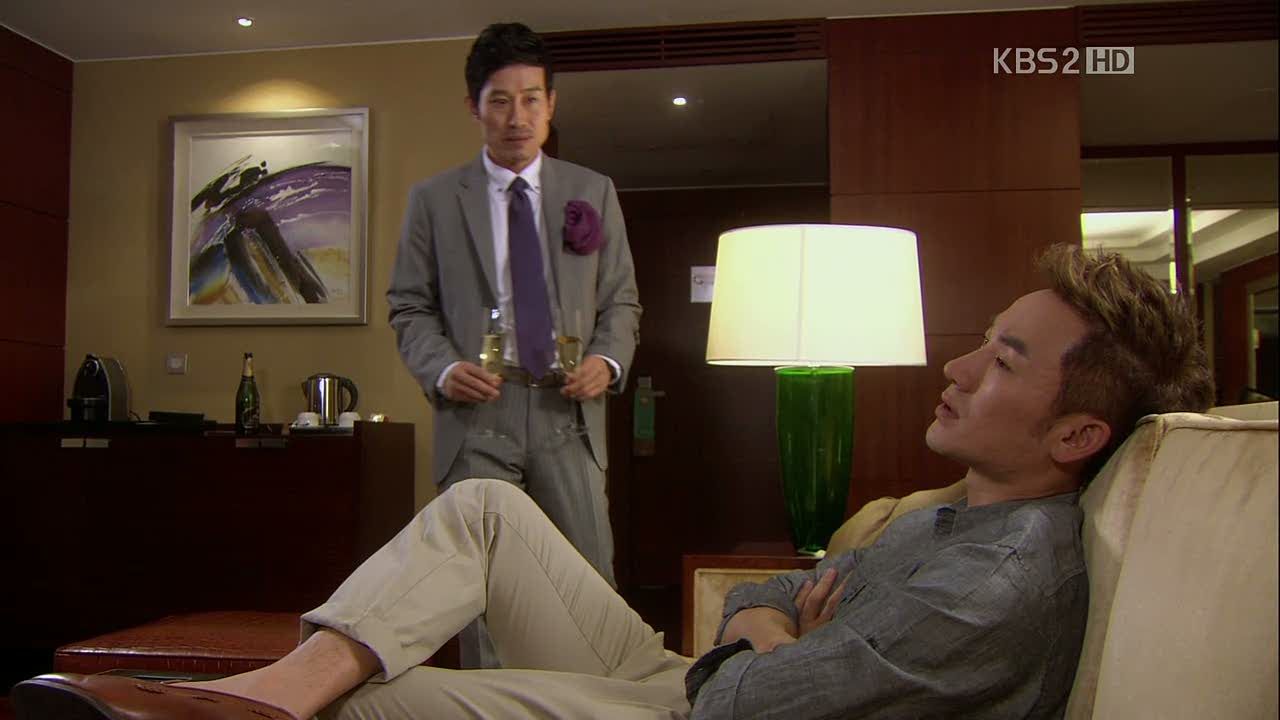 Sun-woo and his assistant go over the details of the case. Assistant wants to submit Jang-il, Yong-bae, and Chairman Jin's names over as suspects, but Sun-woo tears up the petition. For now, he only wants Chairman Jin's name submitted so that he can take them down one by one.
They don't have a whole lot of evidence, but Sun-woo plans to use the letter his father wrote to Tae-joo as part of the submittal. It's going to be an uphill climb regardless, and his assistant offers him a drink along with a mention of Ji-won. He basically tells Sun-woo that there are plenty of fish in the sea, but Sun-woo only has eyes for one fish, and her name is Ji-won.
Yong-bae has clearly taken a liking to Soo-mi since the art exhibition, and gives her a call to invite her to his birthday celebration. She's happy to oblige, but notes that Jang-il might not be happy about her company. Yong-bae thinks his son is merely being silly (completely unaware of their past together) and says that it's his birthday, so he can invite who he wants.
He's there to greet Jang-il when he arrives home, but the smile disappears from his face when his son tells him that Sun-woo can now see. It's with shock that he hears their first meeting was all a show, and wonders if Sun-woo has lost his mind.
In a dead tone, Jang-il recites the facts he knows about Sun-woo to his father. His name is David Kim now. He studied in America. He's a successful businessman, and came to the office as an expert. Soon, they'll meet and he'll find out the full story.
Yong-bae's first reaction is to tell Chairman Jin, but his son swiftly stops him. He asserts that there's no reason to tell him anything pertaining to Sun-woo, and makes it known that he just wants to live life like nothing happened.
Jang-il gives a presentation on the mining firm he's been investigating, and announces that he's requested a warrant for the president of the company for giving false statements and manipulating the stock market. In voiceover, we hear someone praising Jang-il for not listening to David Kim's advice, which was Sun-woo's plan all along. His tactic worked perfectly to net Jang-il more acclaim.
It's only when he's outside that Jang-il finally loses his cool, once his attempt to reach Sun-woo by phone goes unanswered.
The reason why his call is going unanswered is because Sun-woo is meeting with one of the former detectives who was assigned to his father's case. The detective confirms what Sun-woo already knows – that everything about the hanging was suspicious, too much so to be a simple suicide.
This is good news for Sun-woo, who tells the detective that he plans to appeal again and wants to use him as a witness.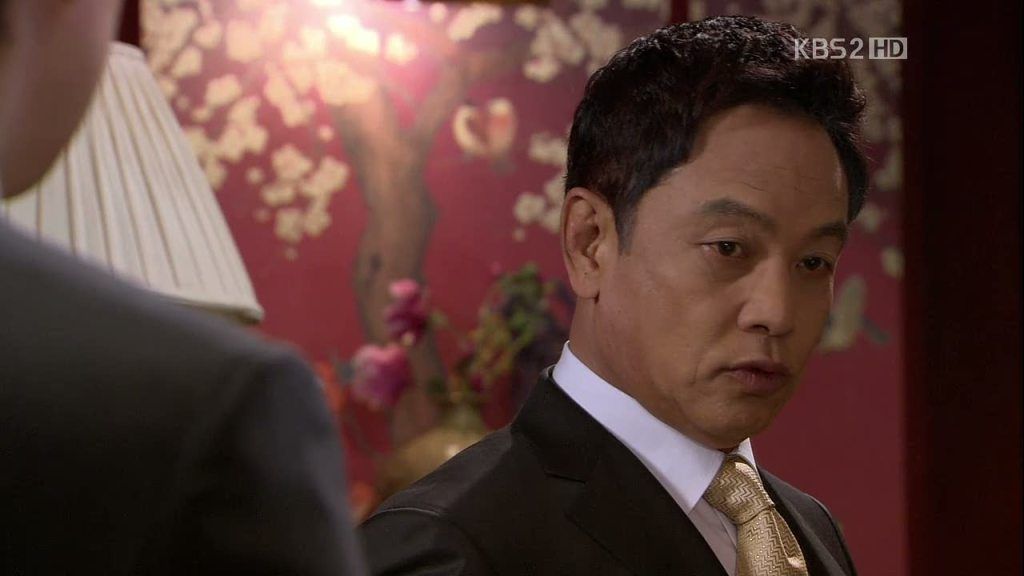 Meanwhile, Chairman Jin is using every resource available to dig up information about Jang-il's colleague, the prosecutor investigating him. He knows that he can't depend on Jang-il, so he instructs Secretary Cha to set up his stepdaughter on a blind date with him instead with a fabricated background. Wait, so you're going to use your stepdaughter as a spy?
Speaking of, we cut to a scene of her and her mom receiving massages. Like most scenes involving Chairman Jin's wife, it's harder to get through. The point of the scene is to see Yoon-joo get a call from Sun-woo, aka David Kim.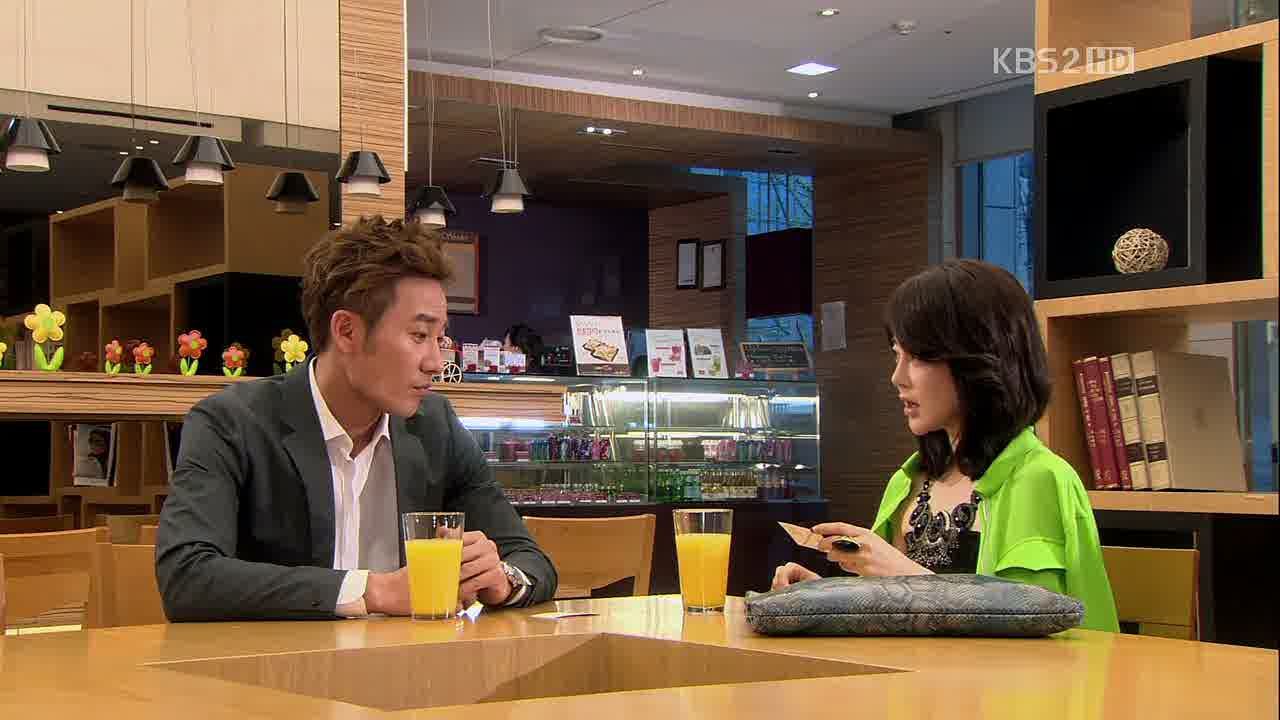 Ah, so the girl we saw studying with Sun-woo at university was Yoon-joo, after all. They give each other a European-style greeting and gab like old friends, with Sun-woo well aware of who her stepfather is. It seems like he's fishing for information on Chairman Jin, though she doesn't seem to realize it and, in fact, wants to introduce the two of them since they have similar business interests.
Norebang. Jang-il's colleague tells him that he's off the Chairman Jin case for now – he knows he's involved, but has to wait until he's got clear proof. Jang-il is all too happy to hear it.
He calls Ji-won from the karaoke room, and though she can see him on the caller ID all she hears is the song in the background. He hangs up, then nearly jumps out of his seat when his phone rings, thinking it's her. Alas, it's only Sun-woo returning his call.
He invites Jang-il over for a drink in his very impressive office, which Jang-il grudgingly compliments. Whiskey is the drink of choice, and it's an awkward one considering what happened the last time. (Remember that oddly violent pillow fight?)
When all else fails, hang a lantern – when the subject of looks is brought up, Sun-woo acknowledges that Jang-il looks the same, but, "I aged because I went through so many hardships." Ha, nice of them to address the age difference.
Sun-woo briefly explains how he got to where he's at, before asking Jang-il if he'd like to go back to their hometown. How about it?
Jang-il goes quiet for a while, then replies that all of those memories seem like they were so long ago. Then, suddenly:
Sun-woo: "Jang-il. Why did you do that?"
His eyes go wide. "Do what?" Sun-woo replies with the same question, "Why did you do that to me?"
A moment of silence passes between them, as we see the wheels turning in Jang-il's head. We know what he's thinking, but is that what Sun-woo is really asking?
But no, it turns out Sun-woo is asking why Jang-il didn't correct him when he thought his father died during his childhood so many years ago. Sun-woo is playing mind games for sure, because he definitely got Jang-il to sweat for a couple of seconds there.
Jang-il passes it off like he lied out of care for Sun-woo, which the latter claims to accept. Only then he brings up Jang-il's promise that he would help him with his father's case the day he became a prosecutor. "My father didn't commit suicide," he reaffirms. "I remember that I discovered him. I was with you back then. You came with me to the police station. I could depend on you because you were right next to me."
That's pretty sad, when you think about it. Regardless, Jang-il apologizes that he can't keep that promise – he's not in the criminal division, and lacks the jurisdiction to help him. He claims he'll talk to one of his colleagues in that division for him, though.
The air between them remains tense with so much left unsaid. Jang-il is left to walk home on his own with a terrible chill.
Through chattering teeth he tells his father to let Chairman Jin know that everything will be all right. I wonder if he's actually sick, or if he's having a physical reaction to the anxiety of meeting Sun-woo again when the scales have now tipped against him.
We all know that every Sick Mother gets her hospital bills paid by our lead heroine's admirer, and this case is no different: Ji-won finds out that Jang-il went to her mother's hospital and footed the bill for her treatment. Uh oh.
She's not as mad as I thought she'd be when she gives Jang-il a call asking him to meet her at the hospital so she can pay him back. But he's still fully dressed under the covers, and is shivering when he tells her that he's too cold to do much of anything right now.
Sun-woo, meanwhile, wakes from a nightmare where he's gone blind again. Luckily his unnamed assistant is there to flip the switches and light the room, dressed in flamboyant silk pajamas. Apparently they live together, though we still haven't gotten a clue as to who he is in relation to Sun-woo and why he knows every single detail about the case.
He wants Sun-woo to submit Jang-il's name in the petition, worried that Sun-woo is going easy on him because he's his friend. Sun-woo is quick to deny that fact.
Soo-mi receives a gift of flowers from Sun-woo, only he's nowhere to be seen. She asks Yoon-joo if the man who left them was blind – but Yoon-joo replies that he was chubby, and wore a gold necklace. Geum-jool.
She goes to her father with the news, who doesn't seem to be doing too well in his new life as a thespian. She mentions Sun-woo and his expensive flower bouquet with an air of caution, but Kwang-choon is delighted – he just knew Sun-woo was alive. Unlike his daughter who has her reasons for not wanting Sun-woo around, he can't wait to see his old neighbor.
Ji-won arrives for her scheduled interview with Sun-woo, and gives a very diplomatic answer when he asks her why she wants a new job. He calls her out on it too, saying that her rhetoric sounds over-rehearsed.
He pretty much grills her, and when he mentions that she's a girl she's quick to reply that she's here as an applicant, not a woman. Sun-woo's even quicker when he fires back, "But you're not a man." Can't argue with the truth.
More personal questions get asked, like whether she's married or not. He remarks that she's already of age to be married, though she's of the belief that one should meet their soulmate first, not just tie the knot because they're already old.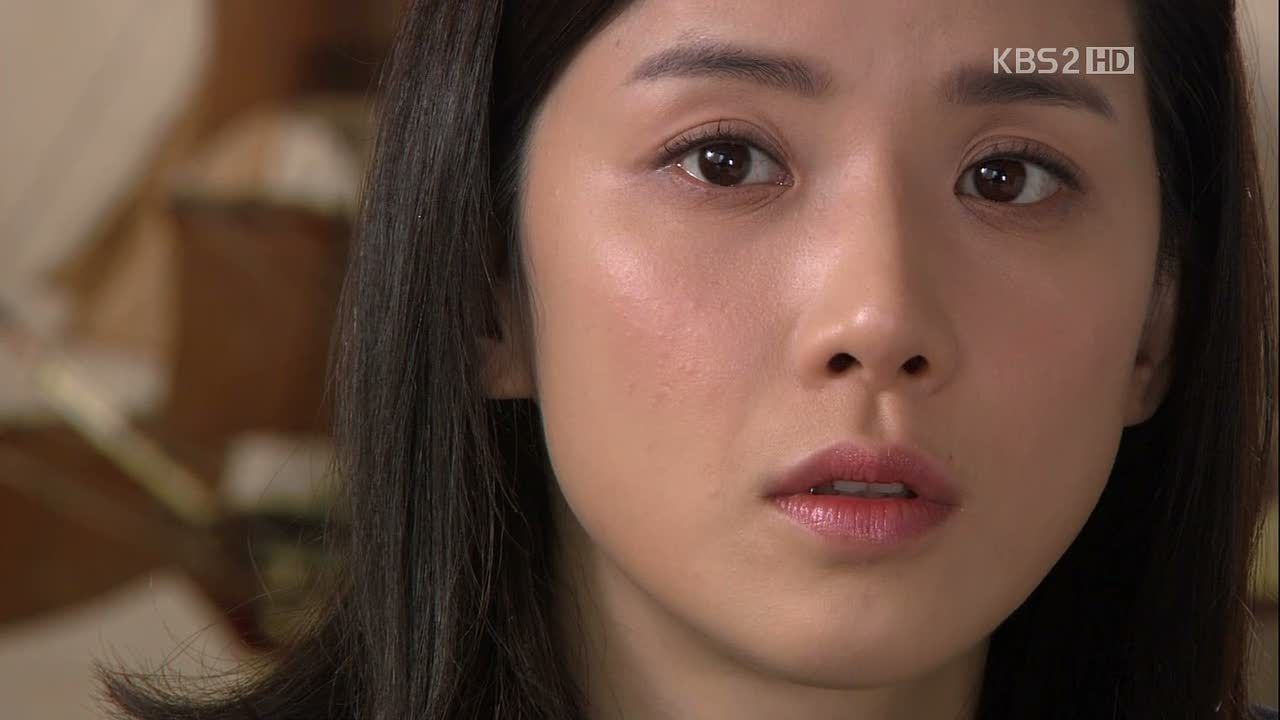 This goes on, until he catches her staring at him. Ji-won explains herself honestly, "You look too much like someone I know." As in, you've changed so much.
And with that, she leaves without further ado.
Tae-joo has arrived in Korea, and reads over the letter Kyung-pil sent him shortly before his murder asking whose son Sun-woo truly is. He nearly runs into Chairman Jin at the cemetery, both of them there for the anniversary of his fiancée's death.
We hear Kyung-pil's letter in voiceover asking Tae-joo if it's true that he was the one Fiancée Eun-hae loved. By the time Chairman Jin reaches her grave a bouquet of flowers is already resting there, and he surmises truthfully that Tae-joo has already come and gone.
To Eun-hae in the afterlife he asks, "You still haven't gotten over him?" And then a long moment of silence passes before he says, with tears in his eyes, "I hate you the most in this world." The look on his face is actually heartbreaking as he struggles to hold back tears.
Because the letter mentions Chairman Jin as Sun-woo's possibly true father, Tae-joo lies to his Not Son and tells him that he lost the letter, but he'll testify if needed. Sun-woo's quick to guess that there was something in the letter he shouldn't know, which his Not Dad is quick to deny.
Kwang-choon seems to know that her daughter is still after Jang-il, and tries to dissuade her from meeting him at his father's party by asking her out instead. She flatly refuses, and while Sun-woo goes to the police to submit the petition naming Chairman Jin as a suspect, Kwang-choon pays a visit to Jang-il in front of the Prosecutor's Office.
Jang-il is short and terse with him, though Kwang-choon tries to milk out as much time as he can just to tell Jang-il not to date his daughter. When Jang-il cuts him off and leaves, Kwang-choon just stares after him and mutters, "That murderer."
Yong-bae made it seem like he was inviting a number of people for his birthday party, though it's only Soo-mi who goes. He's clearly trying to set her up with Jang-il, and it's awkward nation from the moment he arrives and sums up the situation.
In the same hotel, Yoon-joo and Chairman Jin wait for a meeting with her friend, David Kim. Chairman Jin's smile falters when he recognizes Sun-woo, though the cordiality comes swiftly back into place as they make their introductions as strangers.
It's only when Yoon-joo leaves the table that Sun-woo asks Chairman Jin if he remembers him. You can see the old man falter, wondering what lies to spin and what truths to reveal. Sun-woo is brazen as he asks if Chairman Jin remembers his father, and his friend Jang-il.
Finally Chairman Jin acts like he remembers, and blames the confusion on Sun-woo's new name. Speaking of, how did he get to America after his father died? Sun-woo uses the same reply as he did with Jang-il, that a kind soul helped him.
Yong-bae makes it no secret that he wants Jang-il and Soo-mi together, and leaves his own birthday dinner early in order to afford them time alone. They couldn't be sitting any further from each other at the table.
Jang-il won't even look her in the eye, and Soo-mi's cheerful and coy demeanor seems to have left with Yong-bae as she asks him if she's still the same shaman's daughter he once looked down on in his eyes.
Without missing a beat, he tells her that her father came and asked him not to see her. She apologizes, and he drives the point home by asking her why he should have to see someone like him in his office's lobby. "Like him?" she asks, as though incredulous that Jang-il still has his nose so high in the air.
Jang-il: "You thought I would love you if you came back a famous artist?" Ouch.
Soo-mi addresses him directly. Does he remember what she told him once, about regretting that he treated her so terribly? All bets are off now, as she tells him that now, he actually will regret it. Jang-il, after seeing that painting, do you really think she's bluffing?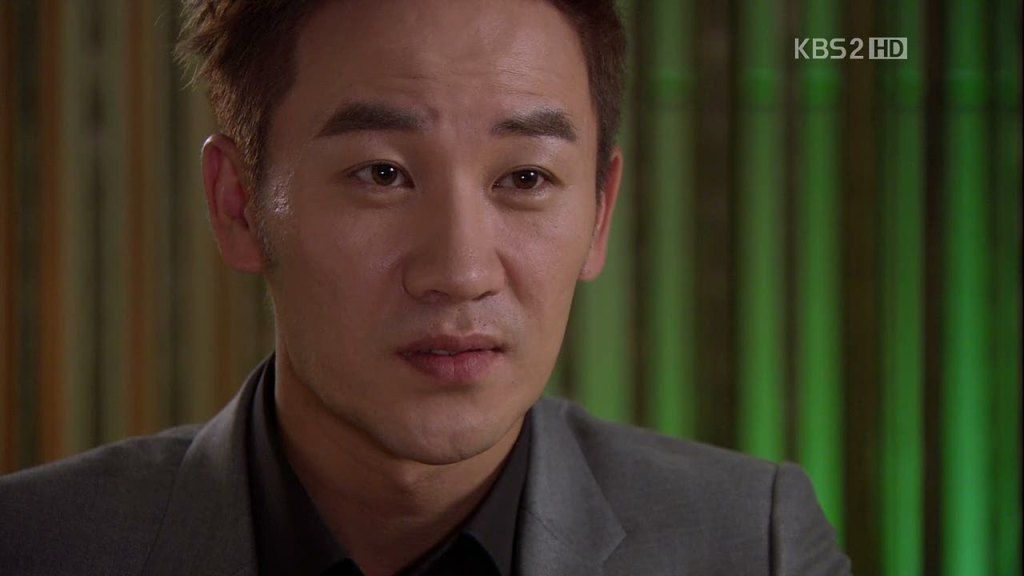 Back with Sun-woo's awkward dinner, the talk goes from mining to Tae-joo. Oooh. I love that Chairman Jin might have been surprised at first, but he recovered lightning quick. Now he's turned the tables on Sun-woo on how much subtext he can fit into a conversation.
The name he chose – David – is because of David and Goliath. Chairman Jin wonders who "Goliath" is to him, to which Sun-woo replies, "Everything that stands in my way." Chairman Jin gives a Cheshire Cat grin.
In his hotel room with Not Dad and Unnamed Assistant/Friend, Sun-woo tells them that the war has only begun. Tae-joo asks what winning is to him – is it Chairman Jin and Yong-bae getting convicted? "More than that," is Sun-woo's reply.
Jang-il gets an unwanted call from Chairman Jin asking him if he knows David Kim. We then cut away to Soo-mi opening a dusty old box.
With a glass of wine in hand, she sits back and views a wall… covered in pictures of Jang-il and Sun-woo. It's complete, photographic evidence of the crime that happened that day. "Lee Jang-il," she says to the pictures, "I was there that day."
Chairman Jin and Jang-il finally meet and talk over Sun-woo's new identity. He's right to surmise that Sun-woo went blind because of Jang-il, so does he think that him being alright now clears him of any guilt?
He can read Jang-il like a book, despite the prosecutor's attempts to one-up him. He blatantly tells the Chairman to stop ordering him around, because his father only followed his orders that day. He knows his father isn't innocent, but compared to Chairman Jin, Jang-il says he is.
It's almost as though he's got Chairman Jin, but he doesn't get the last word. Instead it's Chairman Jin who asks, with an arrogant smile on his face, "What if, when Yong-bae took him to the mountain… What if he was still alive back then?"

COMMENTS
Boom. That's how you do it.
I'm really glad to see Chairman Jin back in the game, and that he's played by such a fine actor capable of portraying all the subtext constantly going on in this drama. If there was ever a show where people constantly never say what they mean or mean what they say, this is it. It's the kind of undercurrent that keeps every conversation alive and interesting, because there's just so much left unsaid.
It was about time too, since Chairman Jin had really been spinning his wheels for quite a while. I knew the show was saving him for something good, and I wasn't disappointed. Unfortunately, now that we've got everyone involved in the main revenge story, Ji-won does seem to be the odd man out. I like her a lot, but as of now she's the only inactive participant to the revenge tale and lost a bit of relevancy this episode, when so much – including Sun-woo – moved forward fine without her. In fact, if we took her out of the episode, none of the main story would really suffer – so I hope to see her find a method of involvement soon. Preferably as an employee of 'Head Hunters' seeking revenge with Sun-woo, like a vigilante crime-fighting team taking on the world. A girl can dream.
On that note, I wonder how long she and Sun-woo will keep up this facade – I'm worried it's going to be a while when she has the box containing Kwang-choon's letter. If she gave it to him now or in the near future, things would be too easy, right? I hope I'm wrong, and that I get to eat my words next episode. Soo-mi is currently killing it in the capabilities department, though I feel like it's going to take something much worse for her to really turn on Jang-il. But with all the abuse she willingly withstands, I can't really fathom what that breaking point would be, if one exists at all.
Tags: Equator Man, featured, Im Jung-eun, Lee Bo-young, Lee Jun-hyuk, Uhm Tae-woong