First promos for tvN's I Need Romance 2012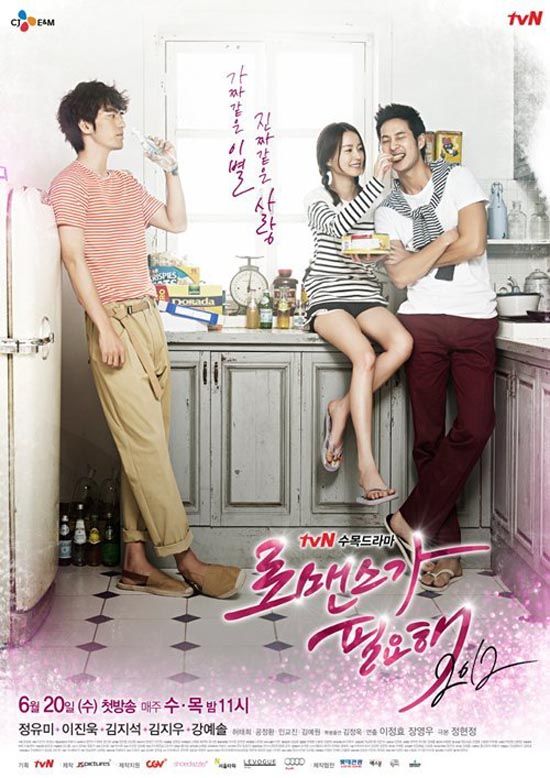 Posters are out for I Need Romance 2012, which is the updated title for the second season of tvN's successful trendy rom-com, which is either because they want to be very exact about the timeline of the seasons, or because they're hopeful of more.
I think it would've been just as effective, and more elegant, to go with the standard numbering (seasons 1, 2, and so on), given that tvN has a handful of multiple-season shows on its roster, and I can see titles getting real unwieldy, real quick. (Chosun Police and God's Quiz have three seasons apiece; Rude Miss Young-ae has ten.) But maybe I'm getting ahead of myself, assuming there'll be additional seasons at all.
In the drama, Jung Yumi (from The Crucible, not Rooftop Prince) gets caught between two love interests: longtime boyfriend Lee Jin-wook (Myung-wol the Spy) and new honey Kim Ji-suk (Personal Taste). (Side note: Will the real-life besties have to take a bromance break to get into character as rivals?) With this setup, I'm not gonna feel to bad for Lee Jin-wook for being the third wheel in the poster above, because I'm assuming his behavior led to the breakup (going off Season 1's precedent), and he won't realize he misses her till he sees that there's a new jagi in town. The copy reads, "A false farewell, a real love." The burning question: Do those two things refer to each love interest in turn, or is one person both things?
Jung's sidekicks will be played by Kim Ji-woo and Kang Ye-sol; together the three 33-year-olds will navigate careers, loves, and friendships. Which is just about the boringest way to describe the premise, though a number of dramas have proven how well you can take that simple concept and tease out heart and laughs. (See: I Need Romance 1, The Woman Who Still Wants To Marry, Dal Ja's Spring, My Sweet Seoul.)
I fully intend to watch the first season at some point, but I figure I may as well just dive in with the second season, since it's got a new cast and new storyline (although it sounds like it's really the same storyline, sorta). And I'm pretty excited about the new cast, more so than the original, mostly because of my love for Jung Yumi (Que Sera Sera, The Great Gye Choon-bin), which is strong and long-abiding. She's a chameleon of an actress who can look vastly different depending on styling, who can take on a gamut of character types, and who always feels real. She's also built a career playing slightly offbeat personalities, so I wonder if this drama will be her first mainstream type of role. It'll be interesting to see her being the standard rom-com lead for once, but I'm sure she'll find a way to make it her own.
I Need Romance 2012 is slated for 16 episodes and premieres on June 20.
Via W Star News
RELATED POSTS
Tags: cable programs, I Need Romance, I Need Romance 2012, Jung Yumi, Kim Ji-suk, Lee Jin-wook, sequels