Song Seung-heon on acting, ratings, and Dr. Jin
There's a strange dichotomy about Song Seung-heon that occasionally crops up, and this interview is another example of it.
Essentially, he'll act in a project and be mediocre in it despite incredible hype, and occasionally even be terrible. I'll wonder how on earth he got to be as famous as he is, then remember The Pretty, which in his case possesses so much force of its own that it practically has its own entity. There are also the occasional stories hinting at a sizable ego and star demands, and you'll wonder if he's some kind of diva.
But then I'll see or read an interview with him like this one, or the one following My Princess, and he'll be so self-aware that I find myself confused and reevaluating. You mean Dr. Jin… makes sense? (The person, I mean, sadly not the drama.)
I guess it boils down to: He seems like a nice guy. Still can't act, although he does win points for (1) knowing it and (2) admitting it. Too bad personality doesn't always translate into onscreen skills — because you can SEE him straining to act in Dr. Jin, and you want to go there with him, but you just can't. Especially when the script and the directing are falling to pieces all around him.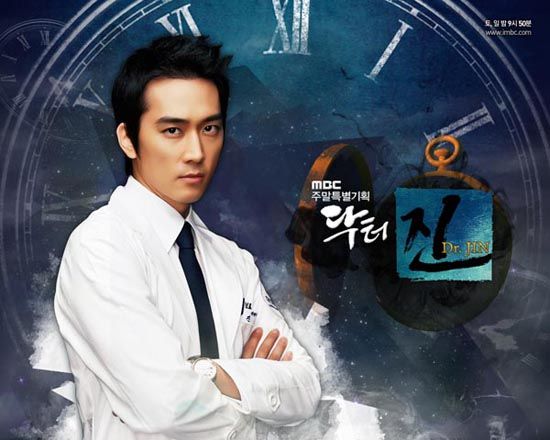 Song explained his prior reluctance to dip into the period drama genre: "For whatever reason, I'd had the preconception that doing a sageuk would be boring. I also thought I was still lacking [as an actor] to attempt one. I had thought to try it later, after I'd built up more experience, but I found the premise extremely interesting. Dr. Jin helped get me past a lot of my sageuk fears. I'd like to give a sageuk a proper try next time."
Calling Dr. Jin his most difficult-to-shoot drama in terms of physical comfort, he said, "This summer was really hot. Filming was extremely taxing. The costumes are hot because they're Joseon-era clothes, I had to wear a wig… but thanks to Dr. Jin, I was able to feel the fun of the sageuk genre."
Song Seung-heon had already read the original manga Time Slip Dr. Jin when he'd been approached to do the role. "I was extremely happy," he explained. "He's not just a simple doctor, but he gets to meet real-life people in history and see historical events unfold." AND ALSO CHANGE THEM, YOU DOLT.
Sorry, sorry. Must remember: Song Seung-heon is not Hyuk. Song Seung-heon is not Hyuk.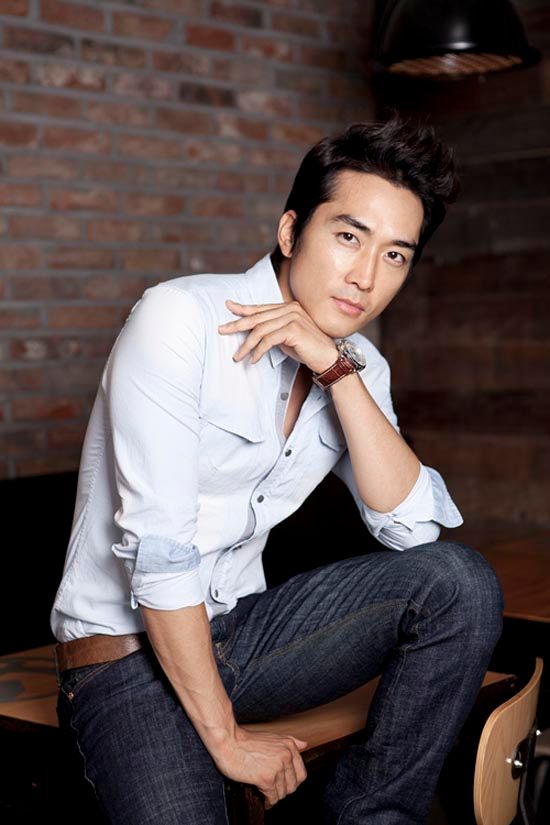 If there's anything that gives him disappointment, it's the drama's "melo" line, aka the love story between him and co-star Park Min-young.
"In the Japanese drama that storyline is restrained. But our director said, 'In a Korean drama, we can't leave out the melo loveline,' and put it back in. However, the director, writer, and I differed in our opinions of what happens when Jin Hyuk meets Young-rae in the Joseon era."
Huh. Good for you, Song Seung-heon! I had a feeling the director was the main problem in this drama — if by "feeling" I mean it's glaringly obvious from every single frame in the show — but who would've guessed it was Song wanting more restraint? More purism to the original story?
In Song's opinion, the central point of Jin Hyuk's character is: "He traveled to Joseon to save the woman he left in the present, Mina." Thus in his mind Hyuk wasn't out to romance anyone else and Song wasn't thrilled with the director's insistence that Hyuk falls for Young-rae, but there wasn't much he could do about it.
He said, "They look the same, but they're not the same person." THANK YOU, sanity. "I asked the director, 'How can they fall in love just because they look the same?'" You would think that would be the first thing a writer or director would consider in a doppelganger drama, but I guess we shouldn't give the PD too much credit here.
It's too bad Song had to go with a storyline he didn't believe in; perhaps if he'd been invested in it, he would have been more suited to emoting their angsty scenes. He said, "Later, I saw that Young-rae had to be saved in order for Mina to also live. That's an example of the type of melo thing I was a little disappointed in."
That aside, Song enjoyed everything else about the drama shoot — his fellow cast members, the staff, the filming atmosphere. Asked about his co-stars, he said, "I shot a movie with [Lee] Beom-soo hyung ten years ago called Once Run. We were friendly, too. With this project, though, I sensed a more seasoned Beom-soo sunbaenim than from back then."
"This was my first time meeting [Kim] Jaejoong-sshi, but I think he's got talent. We became friendly after talking a lot and sharing our concerns. It's also my first time meeting Min-young-ie, and after first just seeing her usual bright image, I could see in this drama that she was really good at playing both characters."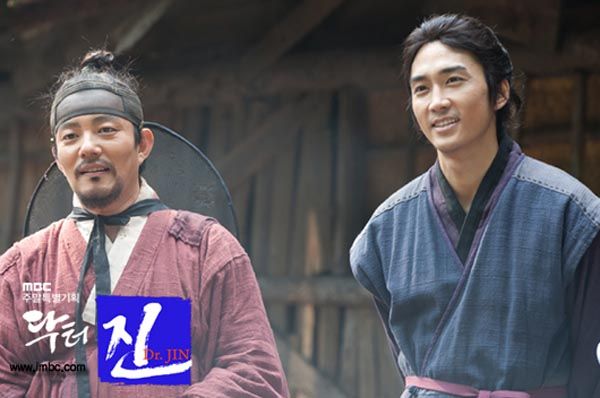 Ratings: "Up against A Gentleman's Dignity, naturally we lost. But someone said that the people who win medals aren't the only ones to be praised — those who didn't win medals also worked hard and sweat blood. You shouldn't judge merely based on someone not winning a medal. We did lose in the ratings, but the director, writer, and actors all worked hard. We weren't a so-called makjang drama. We faced difficulties like editing despite the MBC union strike. I have no regrets."
With two big stars heading those two dramas, there was a lot of pre-show talk about whether Song Seung-heon's starpower would beat Jang Dong-gun's, or vice versa. "Just being compared with Dong-gun hyung is excessive. I'm thankful just for the comparison. I didn't feel any pressure," Song said.
What about all the criticism about Song's lack of acting ability?
"I can't always feel satisfied with my acting. However, in this drama Jin Hyuk encountered a lot of extreme situations, and as a result I was able to show a much more dynamic side to my acting than in previous roles. I feel like I've broadened my range a bit. Of course, the disappointment is greater, but on a personal level I'm satisfied that I was able to portray those sides."
The interviewer asked whether he thought the criticism of his acting came because he was so good-looking (too pretty! too pretty!) even when he "ruined" his image (by dirtying himself and mussing up his polished image). Song replied, "That's not it. There are a lot of good-looking actors who ruin their images and don't get criticized about their acting. I have to perform well in order to keep those comments from arising."
If he were to be given a time-slip opportunity, would he choose to be an actor again? After some silence, Song replied, "Again? Um… I suppose I should answer that I would do it no matter what, right? Hahaha. If I could go back in time, I'd like to try being an athlete, at golf or soccer. Of course, this is assuming I'd be good at those. [Laughs] When I watch [Cristiano] Ronaldo dribbling the ball, I sometimes wonder what it would be like to drive onward like that, feeling that kind of joy. I hadn't dreamed of being an actor since childhood; it's something that started from a chance opportunity, so I hadn't prepared much for it. If I could go back, I think I'd study acting in a more methodical way."
He added, "I'd also want to go back to my middle and high school years. I was really happy then. High school seems like just the other day, but 15 years have passed by in a blur. My maternal grandmother raised me, and passed away when I was in middle school. If I could go back to that time, I'd want to treat her better — she died of cancer — and later on that was something I regretted a lot."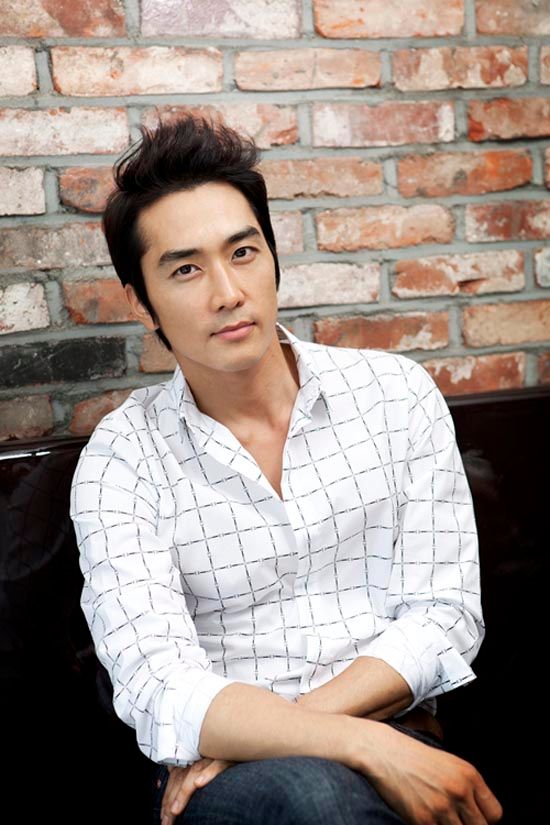 Song only recently began using Twitter (on May 31), and now communicates with fans via Facebook and me2day as well. He said, "I first heard of me2day while shooting My Princess and started using it then. I had thought those things didn't really suit me, but Jaejoong and the others around me use SNS a lot. I hadn't even intended to change my phone, but I thought if I didn't get a smartphone I'd get left behind the times. [Laughs] After using SNS, I find that my fans really like it. I don't use it frequently, but I can see the fun of it."
He has plans to return to film now that Dr. Jin has wrapped: "I haven't been cast for sure yet, but I think I'll be going back to the past."
Question: As a top star and Hallyu star, what is your final dream?
"Marriage. Hahaha. Deep in my heart, my biggest dream is to raise a happy family with a wife and children I love. It might not be so for an actor, but I think personal happiness is about raising a family. Looking at my friends, they've all had babies and are living happily, and I'm envious of that. My ideal type is… as my sunbaes say, the person who makes you feel giddy at first doesn't last long, and you should marry the person who's your friend, whom you can talk with comfortably. Then again, there are people who tell me to take my time getting married. [Laughs] If I had to choose between love and work? Without hesitation, I'd pick love."
RELATED POSTS
Tags: Dr. Jin, interviews, Song Seung-heon