Thing vs. Thing: Cradle-robbing Teachers
javabeans: With Big recently over, A Gentleman's Dignity coming to a close, and a slew of noona romances both on the horizon and on the shelf in dramaland, we've been wondering: What, specifically, is the deal with cradle-robbing teachers?
girlfriday: You mean besides being every high-schooler's fantasy at some point?
javabeans: You clearly did not go to my high school. Shudders. The median age must've been past retirement and the median hair color white.
girlfriday: Well that's depressing. But most people have ONE young hot teacher in their lives, right?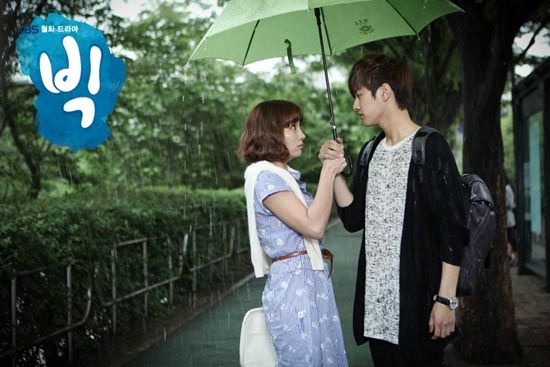 javabeans: I'll have to take your word for it. The interesting thing that came up a lot in Big discussions was the disgruntlement with the teacher-student trope—it's clearly a breach of ethics in the real world, but romanticized in lots of dramas without that layer of sketchiness to cloud the matter.
girlfriday: It's totally understandable why people might be up in arms about it. I guess it's maybe a matter of being familiar and comfortable with the sub-genre, which presupposes a lot of things.
javabeans: I didn't feel that the romances in either Big or Flower Boy Ramyun Shop were scandalous or immoral, but I say that while recognizing that in real life, I'd quite probably feel differently. There are a lot of things that dramaland does to neutralize the squick factor, like making Eun-bi a trainee who's new on the job, or Kyung-joon a new student at a school where Da-ran isn't his direct teacher and their time at the school overlaps literally by one day. But that line of reasoning can get slippery, where it becomes an attempt to justify.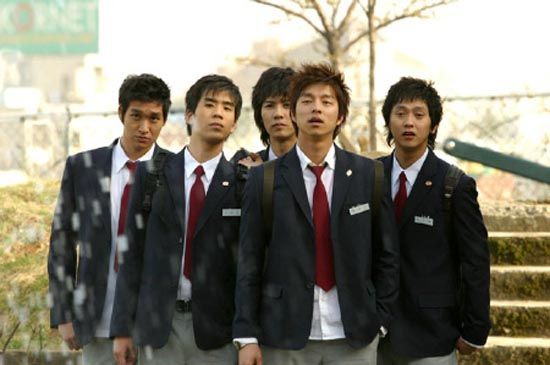 girlfriday: Yeah, this is certainly a trope that works for me in dramaland and doesn't make me go ick, but only if that conflict is addressed and dealt with. Like in Biscuit Teacher they don't skirt around the issue, and she's his actual homeroom teacher, so I'm okay with it when it's dealt with in the context of the drama. She draws certain lines because of it, and that's the big issue on the table.
javabeans: I wonder whether the discontent with the Big relationship is as much an indication of the romance's failure as it is of the inherent teacher-student conflict. Because Ramyun Shop handled it much better, I thought, and resolved the romance in a more satisfying way.
girlfriday: Yes, I think Ramyun and Biscuit are both good examples of dealing with the conflict in a direct way: ie, I am your teacher so this cannot be, but why am I feeling this way? Whereas Big was about… something more confusing. I never got the sense from her that she FELT like his teacher.
javabeans: It was more like she felt like some random drive-by adult who had to take care of the poor widdle minor; that drama had a tendency to ignore things it didn't want to deal with to an aggravating degree.
girlfriday: You mean like all the good stuff? The stuff we watch dramas for?
javabeans: Yes. It forgot to include that stuff.
girlfriday: I think if in Big her identity was more about being a teacher and less about being Yoon-jae's fiancee, we'd have been in a better place actually, because anytime there's something the audience might feel squicky about, if you have the character acknowledge that, it takes care of a lot of our worries.
javabeans: Yes, that's another missed opportunity. Also, I think if in Big she had an identity, it would have taken care of a lot of our worries.
girlfriday: So it's not so much the cradle-robbing part as the teacher part that got lost in that equation.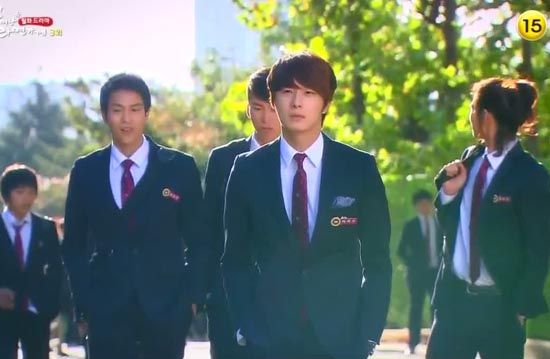 javabeans: I wonder if the time-skip device (at the end, inevitably justifying the reunion) has become too much of a crutch, though. Because you set up this great conflict, right? The age gap! The power imbalance! The seeming impossibility of the relationship! And then… zoom! Problem fixed by time.
girlfriday: But it's sort of the one guarantee you have to have in this kind of narrative, because I have to trust that the hero's going to be legal when all is said and done. I think the best versions of the story will deal with the conflict in real time, and they'll choose love anyway, screw age and all that. But then to really get to HAVE the happily ever after, they have to wait.
javabeans: But the jailbait hero's always 19 years old, right? Meaning he's just months from being a legal adult anyway, so why then shoehorn in that time gap? One safety crutch per story, people!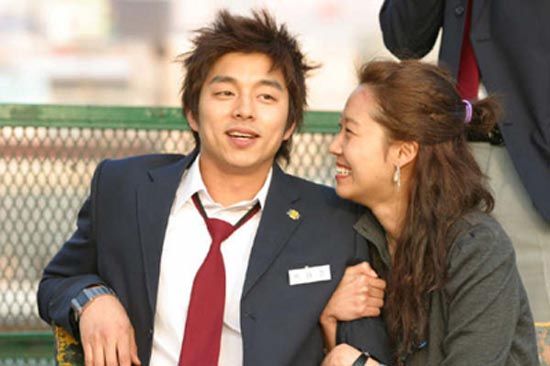 girlfriday: I suppose they could do a version where they're literally sitting around, waiting for his twentieth birthday to roll around. Ha.
javabeans: Okay, now that just made that waaaaay more creepy. Like those countdown clocks?
girlfriday: Right? That's why with the time skip.
javabeans: I dunno. It seems to weaken its own punch, in my opinion. That's why the student-teacher stories that speak more to me are the ones where the relationship actually cannot be—my favorite one is actually Unstoppable High Kick. So the longing and angst is the point of the story, coupled with the coming of age of the teenager, as opposed to the romance.
girlfriday: Yeah I love that kind of treatment of the student-teacher romance. And it's also why Biscuit Teacher is my favorite, because it deals with that coming-of-age stuff so well, but also provides the fantasy wish-fulfillment of the romance.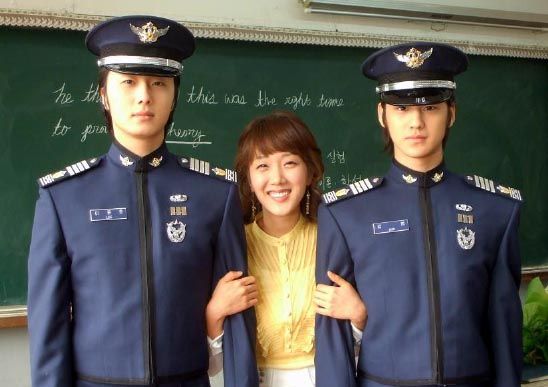 javabeans: Those stories have a way of getting to me more, because they're bittersweet and poignant in a way that reflects everyday life more. For instance, in High Kick, Jung Il-woo's relationship became the runaway hit storyline of that show, because he had such perfect angst and misunderstood loner traits. The teacher was oblivious to his crush, but she also was the only one to reach out to him beyond his broody-rebel facade, which made the connection so unexpectedly sweet. It got to the point where you were just dying for them to end up together… even as you knew that it just wouldn't work if they did… and that conflict just tore you up inside, in the best possible way.
girlfriday: Yes, that's why I love this trope. Because it's a totally logical angst, coupled with high school growing pains.
javabeans: Right? Because if they could end up together, you negate the power of that intense teenage heartbreak and therefore sap the conflict of its juice. It's powerful because you root so hard for what cannot be.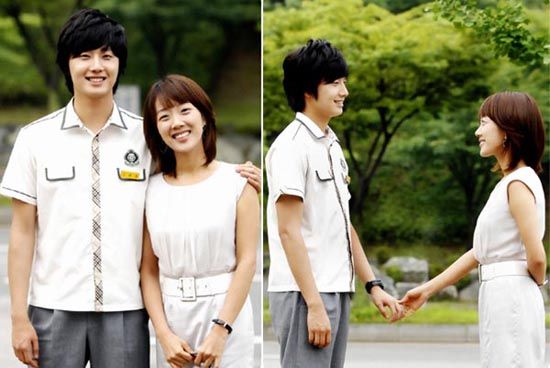 girlfriday: Wait, why does Jung Il-woo always play teacher bait?
javabeans: Also Gong Yoo?
girlfriday: Seriously. What is it? Cheekiness?
javabeans: Youthful insouciance?
girlfriday: I got it. It's the puppy eyes.
javabeans: And the puppy pout.
girlfriday: And that ineffable combination of adorable and hot.
javabeans: Yes, they're both awesome at turning on the charm, then just as quickly pouring on the simmering intensity.
girlfriday: Also, this explains why they both make me go weak in the knees.
javabeans: "Noonaaaaaa…." *pout* *wiggle*
girlfriday: *dies*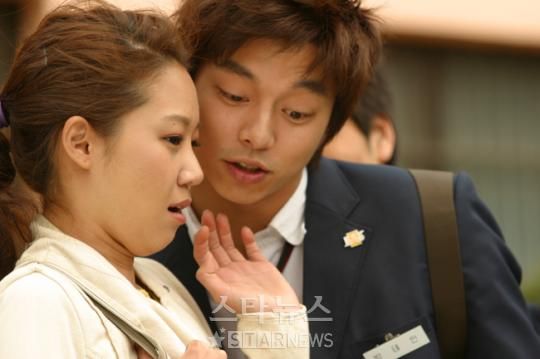 RELATED POSTS
Tags: 1 show to rule them all, Big, Biscuit Teacher Star Candy, conversation post, featured, Flower Boy Ramyun Shop, Gong Yoo, Jung Il-woo, Thing vs. Thing, Unstoppable High Kick