Arang and the Magistrate: Episode 11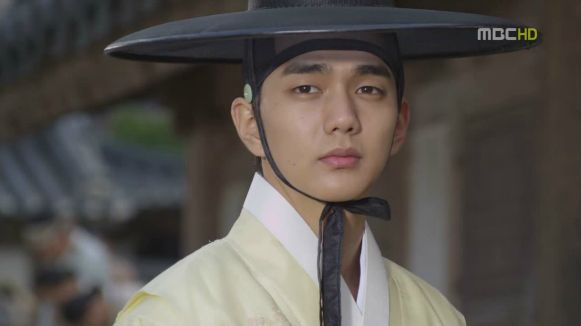 So much awesome. There's badassery, romance, revelations for so many characters, and a crucial reveal about our hero. I love that this show just keeps me guessing, even when I could be content to solve the riddles at hand. But a really great mystery knows how to answer a question with more questions, to keep us clamoring for more.
And today brings another twist in the ratings game: Both Arang and Nice Guy recorded 13.8% ratings, tied for first place.
SONG OF THE DAY
Arang and the Magistrate OST – "Mask Dance " by MC Sniper [ Download ]
Audio clip: Adobe Flash Player (version 9 or above) is required to play this audio clip. Download the latest version here. You also need to have JavaScript enabled in your browser.

EPISODE 11 RECAP
Eun-oh and Arang return home and she asks if he'll go with her to pick up her new clothes. He harrumphs that he won't spend his day following a ghost around and tells her to do it herself.
She smirks to herself that that's the magistrate she knows, thinking it odder that he was nice to her for a day. She looks up at the half-moon and grumbles up at the old fogey for conning her out of a month's time.
Up in the bridge between heaven and hell, the Jade Emperor practices his fishing form. I do enjoy the pretty god's vanity. Hades tells him that stuff doesn't matter; what matters is the bait you use. Hm, you be speaking in metaphors old man?
He says that if you use the proper bait, then all the fishes will put up a fight, with everything on the line. That makes Jade ask about Arang—what's he going to do with her? He's not going to go back on his promise to send her to heaven, right?
Hades grumbles over the technicalities of "promise," but Jade just aegyos him into keeping up his end of the deal. Hades gives him a hairy eyeball – does he have some sort of personal agenda for wanting Arang in heaven?
He admits that he has a personal agenda, but doesn't reveal it of course. Can't he just want her there 'cause she's pretty?
And just to drive the metaphor home in case we didn't get it, Jade gets a bite on his line, and then down below, Mom laughs at them for thinking she wouldn't know that Arang was their bait.
She figures out their plan pretty quickly—that going after Arang means they draw her out into the open. But she also knows that while she's in a human body, those gods can't touch her. "So they'll send Mu-young."
Well that sucks for Mu-young. She looks into her mystical mirror… where a young woman looks back at her, smiling just as devilishly. That must be her true image. If she can manifest that, there's no way Mu-young can kill her, right?
Also, at least we know now that Eun-oh's mother is just another vessel, and not the original form. So there's no relation between Mu-young and Eun-oh, thankfully, because that would just be one too many birth secrets even for a drama.
Eun-oh sleeps, and Mu-young stands in the corner of his room, watching him. Dude, do you know how creepy that is? STOP IT. *shakes off heebie jeebies*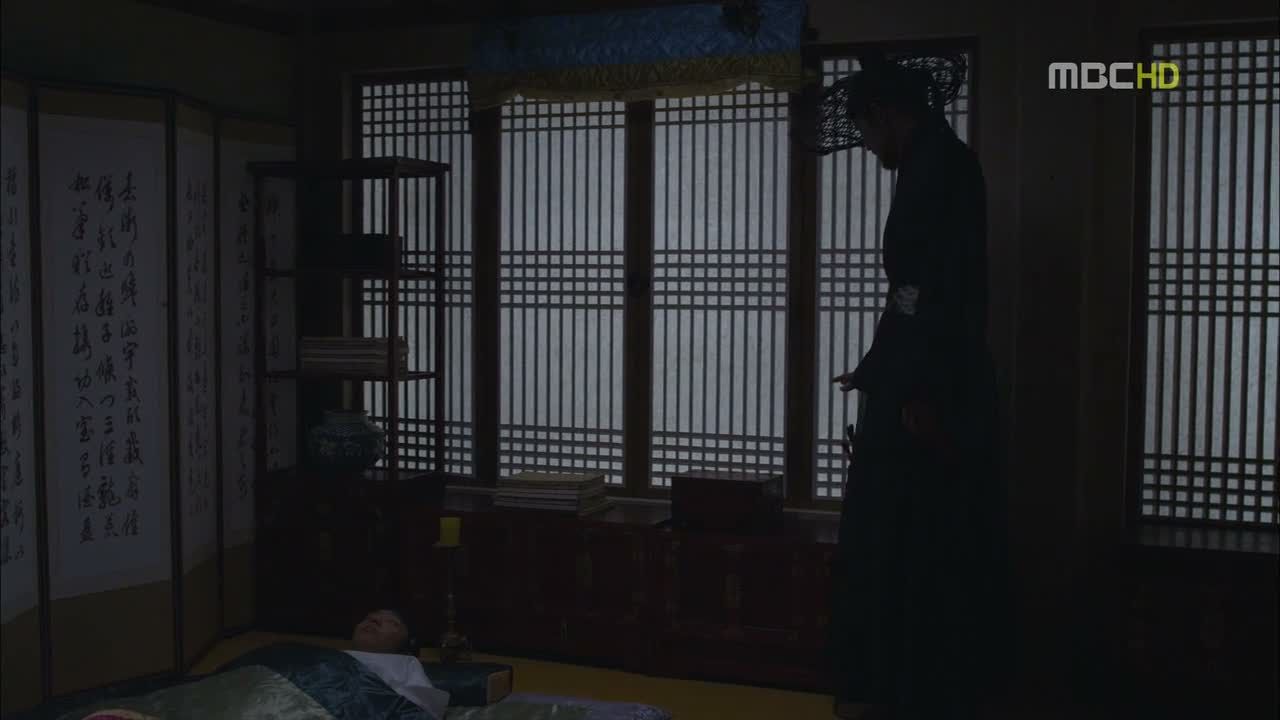 He puts his hand out and walks around the room, feeling the supernatural energy. When he feels a pulse, he opens a chest to find what he's looking for: that curious demon-slaying fan.
He opens it up to examine the symbols, looking back and forth from Eun-oh to the fan. He also finds Mom's hairpin in the same spot and picks it up.
That's when Eun-oh's hand grabs his wrist, "What are you doing, Grim Reaper?" Whoa, did he just scare the grim freaking reaper?
Suddenly they crash through his doors and land in a tussle outside, and it wakes Arang. Eun-oh flares up in anger to see Mu-young holding his mother's hairpin. I don't think Mu-young expects it, but Eun-oh matches him move for move, and soon the hairpin is back in his hand.
This is a badass fight. And how can Eun-oh go toe-to-toe with the grim reaper? Mu-young is so awesomely formidable, but Eun-oh holds his own, and the force from their blows knock each other back.
Mu-young asks again if the hairpin is his, and who gave him the fan. Eun-oh snarks that he would know, right – because the living and the dead are so chummy? "Why is a grim reaper so interested in the possessions of a living person? You can't take them anyway."
Mu-young just keeps asking questions: Did the same person give him the fan and the hairpin? Eun-oh: "If you're that curious, come when I die!" Ha. It's funny, but don't tempt the reaper!
But then it occurs to Eun-oh that he should be asking questions too, like whether Mu-young recognizes that hairpin. He says no, he just wants to know who gave it to him. Eun-oh reminds him that it was Arang's, and then Mu-young flashes back to chasing her, and seeing it in her hair.
He fills in the rest of the details too—that it wasn't Arang's to begin with, but she came to have it just before dying. If Mu-young was the one who picked up her soul when she died, he would've seen her immediate surroundings upon death. Ooh, I like this line of questioning.
Eun-oh asks if he saw anyone or anything in that moment. Mu-young says he doesn't know—a reaper cannot be faster than death. But Eun-oh's asking if anyone was near her corpse. He still says he saw nothing.
Eun-oh rushes him, screaming, "Lies!" But then Arang appears behind the wall to ask what they're doing, and when Eun-oh turns to look at her, Mu-young poofs away.
Arang sits with Eun-oh in his room, and wonders what's going on with Mu-young. He's not the type of reaper to care about human affairs. She asks about the fan, and Eun-oh says the same person gave him the fan and the hairpin: his teacher.
Arang: "My fake father?" Heh. He says his master gave him the fan, saying it would kill ghosts. Well now I'm thinking that hairpin's got mystical mojo too then. He goes to bed clutching it tightly.
Mu-young returns to heaven and starts puzzling it out. Both the fan and the hairpin were a monk's; that much he's got figured out. "But what is Kim Eun-oh?"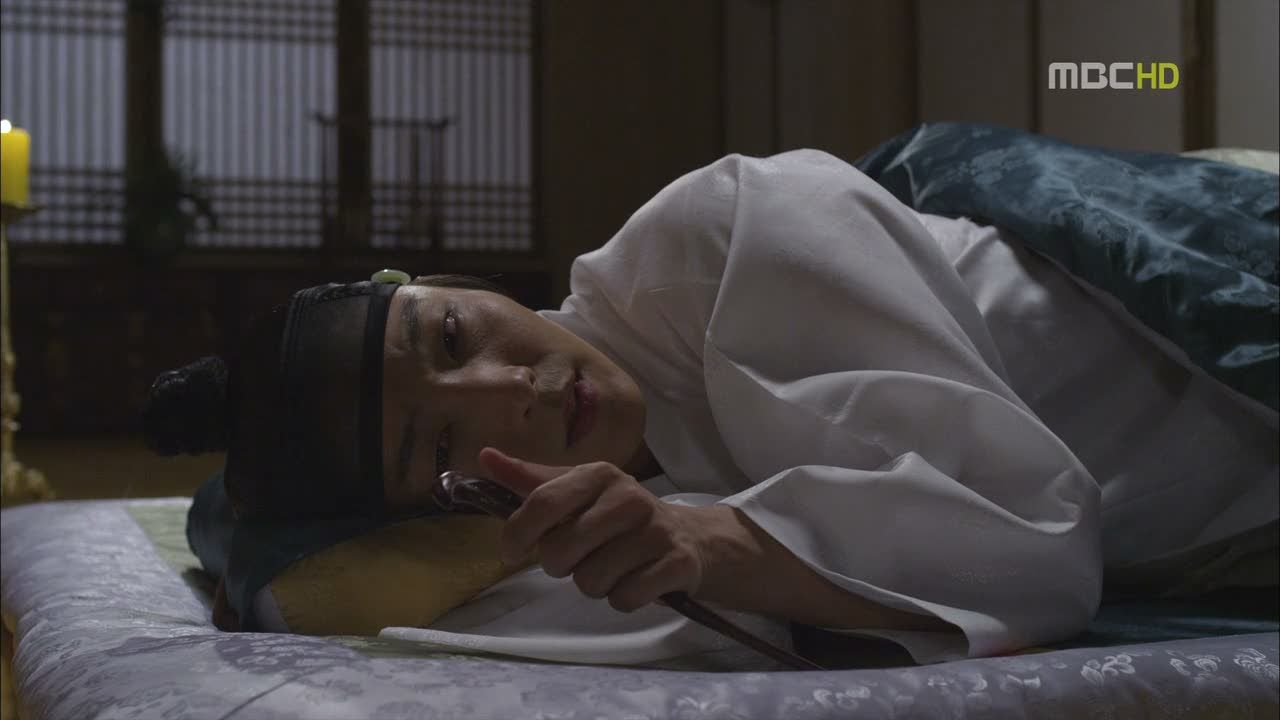 Joo-wal gets his money returned from the dressmaker, who couldn't refuse the magistrate. Eun-oh checks Arang's room and smiles to see that she's already run off to claim her new hanbok.
He walks through the yard, and then the sight of Seo-rim's old room triggers a thought. He remembers her servant saying that this one room was everything to her. He goes inside, wondering why he didn't think of this before.
At first I think he's going to have some kind of lightbulb revelation, but he talks aloud to himself at Amnesia that this is the key to recovering Seo-rim's memories, not getting close to Joo-wal. Ha.
Arang arrives at the dressmaker's in a happy mood, and runs into Joo-wal. He asks if she really didn't accept his gift, adding that he knows it's the magistrate's idea. She doesn't know what to say.
Joo-wal lets her off the hook and wonders what she was going to ask him the other day. So she finally asks about his engagement to Lee Seo-rim. He says openly and matter-of-factly that he never saw her, and he doesn't believe in things he doesn't see—so how could he have formed an attachment to a woman he never laid eyes on?
He figures that he would've seen her on their wedding night, had she remained alive. He says it was Seo-rim's family who proposed the engagement, and says that there were surely people who had things to gain from the union. Namely the two fathers, if Lord Choi and the former magistrate were to join forces, I'm guessing.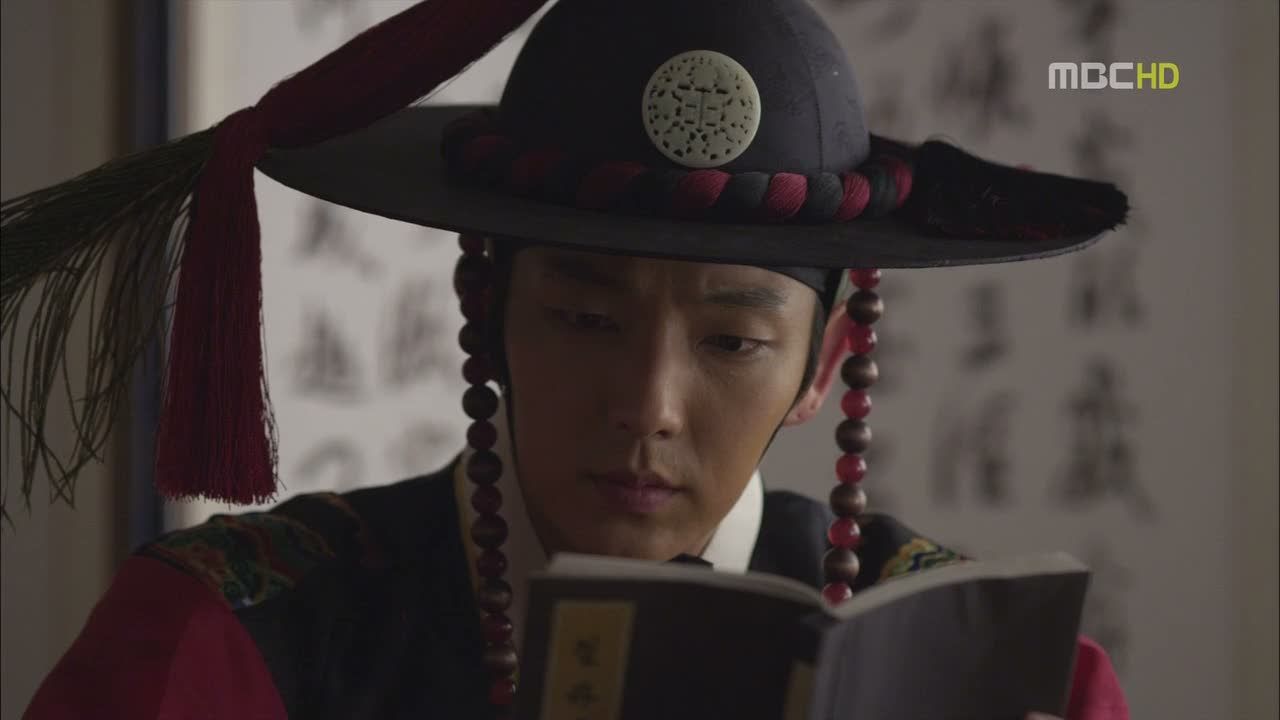 Arang wonders if maybe Seo-rim could've been the one to ask her father to marry Joo-wal, but he says that's just as unlikely—when would Seo-rim have seen him and had the chance to form an attachment? "Like me, she would have no reason to keep me in her heart."
Is he being honest, or is he hiding a murder? Arang's heart sinks, like he's squashing all her romantic notions, even if they're not strictly hers.
While this is going on, Eun-oh goes through Seo-rim's room and doesn't find anything out of the ordinary, but stops at a book. Please tell me it's a diary. Please tell me it's a diary. It's a diary!
It's called "Moonlight Journal." Interesting that Seo-rim liked the moon too. He reads it and discovers something he doesn't like. What is it?!
As Arang walks through the marketplace, Eun-oh reads another passage from the journal. Seo-rim waits in anticipation of her wedding, writing about how lonely it is in her room. Ooh, did she love Joo-wal from afar after all, or was she just happy to be married and leave her room?
Arang mopes that maybe Eun-oh was right after all. If it's not even a one-sided love, "Then what am I?" Interesting that she refers to herself as Seo-rim for the first time.
Bang-wool is sitting in her spot, going over that familiar voice she heard the other night, when Arang happens to walk past her. She follows, determined to figure it out. They round a corner, and we don't get to see where they go. Well that's ominous.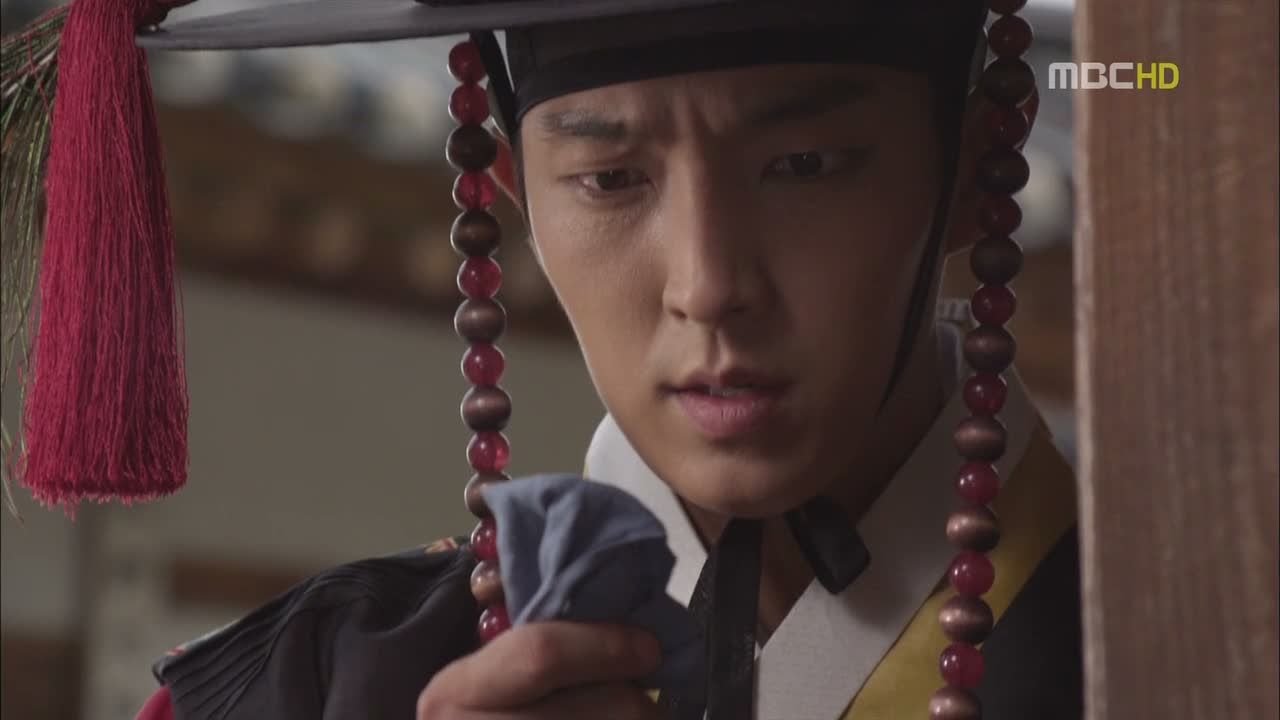 Eun-oh paces in the yard, griping that Arang is taking so long to return, when an arrow comes flying past his head, into a post. Tied to it is a familiar blue ribbon, and a ransom note. Aw man, you went and got yourself kidnapped? He takes off running.
It's Lord Choi's head minion, Evil Junior, who has both Arang and Bang-wool lying unconscious in a storage room. Well, he only intended on kidnapping Arang to get the magistrate here, but apparently Bang-wool got in the way so they brought her too. He figures they'll just bury all three when the magistrate comes.
Lord Choi cackles in glee at the genius plan, and then pauses for a second, thinking he recognizes that girl from somewhere… but then brushes it off and figures it doesn't matter. Hm, so you didn't kill Seo-rim either? Then who did?
Joo-wal paces in the yard thinking about Arang and Eun-oh, and then ducks behind a wall when he sees Evil Junior come out. He overhears the idiot mumbling that he'll take care of the magistrate and that girl once and for all. Um, you forgot to twirl your mustache, sir.
I don't know if it's worry for Arang or worry that he can't save Arang for Mom, but Joo-wal's eyes light up. Please, be a good guy, just for the afternoon!
Eun-oh arrives at the hideout and starts fighting his way through the thugs, but they drag Arang and Bang-wool out and put a knife to Arang's throat to keep him from making a move. Arang shouts that she's fine so he should just fight, but he stops and screams for them not to lay a hand on her.
And then he keeps his word not to fight back, while they pummel him to the ground. Arang screams and screams for him to fight back, that she's okay, but he refuses. Aw, you don't want to cause her pain.
She rants, "You dummy!" and wails at him to fight. They kick him to the ground and she kicks and bites and wriggles free. The man with the knife raises his arm to strike… and then gets a dagger in the back. Eek, is it Joo-wal?
It is! Joo-wal hides a ways behind them, and runs out of sight before his father's men can see him.
It's enough for Arang and Bang-wool to get free, so Eun-oh finally leaps up and starts to fight back. Phew. He runs over in front of Arang and urges her to run. She doesn't want to leave him, but he insists she gets in the way, so she takes Bang-wool and starts to run.
Eun-oh fights off the men, but Evil Junior and a few others chase after Arang. Bang-wool trips, so they get surrounded in no time, and the head minion orders Bang-wool offed first. The man raises his sword…
Bang-wool shuts her eyes in terror, and then both Eun-oh and Joo-wal hear it: a scream.
Eun-oh races toward the sound. And Bang-wool opens her eyes to find that Arang jumped in front of her, and got slashed in the throat in her place. Aw. She catches Arang in her arms, and the men all freak out that they killed the wrong girl. They make sure that she's dead. She is.
The sword goes up a second time aimed at Bang-wool, but Eun-oh gets there in time to fight them all off. He beats them down in a raging fury.
He scrambles over to Arang, shouting her name. And that's when Bang-wool finally finds out who this is. She stares in shock.
Eun-oh screams her name and caresses her cheek, and they watch as her neck wound heals over. Bang-wool jumps back. Joo-wal arrives and watches from the distance.
And then… Eun-oh just swoops in to kiss her. Eeeeeee! She opens her eyes mid-kiss.
From the distance, Joo-wal's eyes turn to saucers at the sight.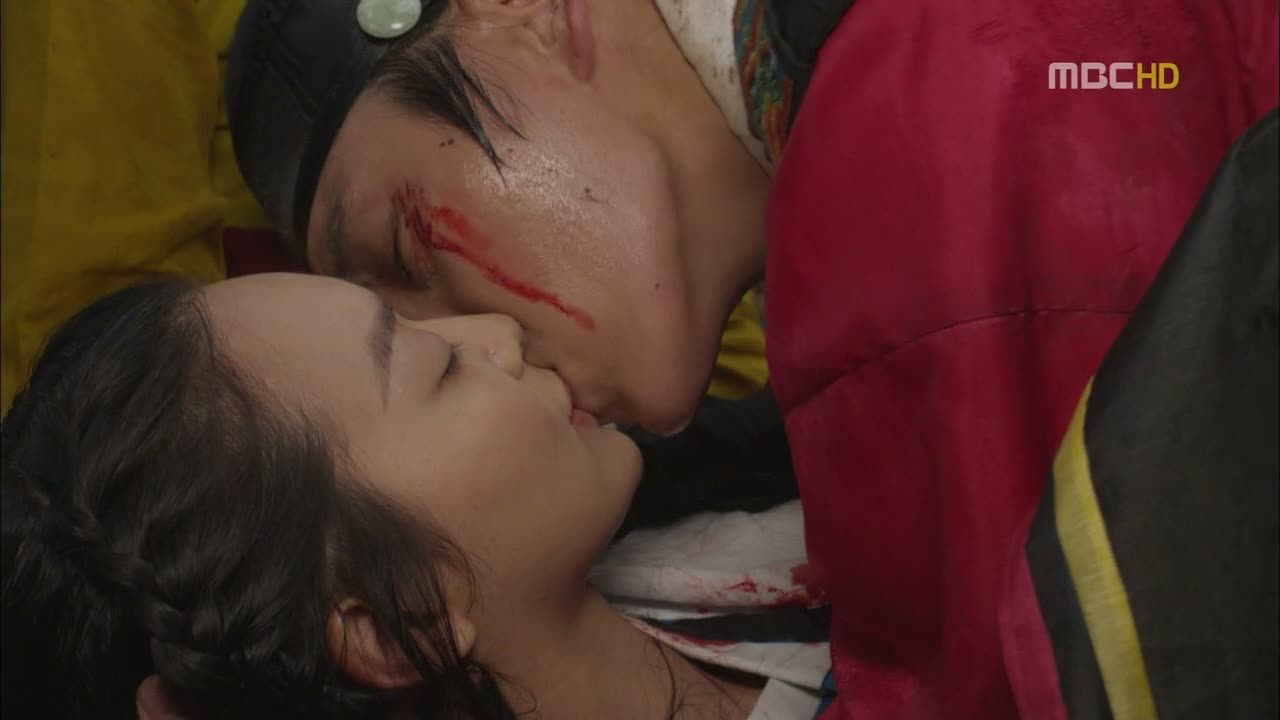 Arang says between labored breaths, "What the heck are you doing?" Eun-oh laughs to see her sass in place and says he was just sharing some breath so she'd wake up faster.
LIAR! There was no breathing there, kissypants!
Arang gasps that when she gets her strength back, she won't let this go, and then faints.
Evil Junior gets bricked for failing again, and Lord Choi fumes that they don't know what crazy thing the magistrate will do now that the girl is dead. The minion heads out and eyes Joo-wal suspiciously. Did he see notice him there in the woods?
Joo-wal storms into his room, stewing in rage. Jealousy at the kiss? Suddenly worried that other people know about Arang's regenerative powers? All of the above?
Eun-oh tucks Arang into bed, with Bang-wool sitting next to him. She asks all the questions a normal person would ask, but Eun-oh just tells her to think of it like a friend she thought was dead is back.
She trips up on "friend," and he reminds her that they were like friends once, and besides, Arang saved her life today. So if not friend, then savior. Bang-wool's eyes fill with tears at that remark, and she assures him that she'll keep this secret.
And then she brings up the kiss… he snaps that he told her not to say anything about that, and storms out in embarrassment. Hee. Bang-wool leans in close to Arang to hear her breathing (Are you gonna kiss her too?), and wonders aloud, "How does a ghost become a person?"
Mu-young hovers around the king of heaven, wanting to ask something but not being able to, and the king of hell watches from a distance. He finally screws up the courage to ask the Jade Emperor: "Is it Mu-yeon?"
He says yes. Mu-young asks why he wasn't told before, and Jade answers honestly that he couldn't trust him. Mu-young insists that he left his relationship with his sister behind, a thousand years ago.
Jade says it's the Mu-young before those thousand years he can't trust. "I trust humans, but I also can't trust in humans." Mu-young: "I'm not human!" But you sure do emote like one sometimes.
Mu-young asks what he's supposed to do about the fact that he was human once, and Jade simply says that Mu-young is the only one who can stop Mu-yeon, and she knows it. And that makes me think you have a contingency plan.
Arang stirs awake to find Eun-oh sleeping by her bedside, sitting up. Aw. She watches him sleep for a moment before he wakes up and asks if she's okay. She says almost dejectedly that she can't help but be okay, like she couldn't die if she wanted to, and asks if he's okay, after all the beatings.
He swears he didn't get that beaten up, and says he's fine. Arang: "Are you really okay? Okay then," and socks him in the gut. HA. For kissing her? He pulls the CPR card on her again and she just tells him not to do that anymore—she'll wake up just fine on her own.
And then she adds in this shaky voice that kills me, "And don't get hit… by bastards like that." They look at each other for a charged moment, and she adds, "Thanks." He gets up to let her rest, and she remembers Bang-wool and asks after her.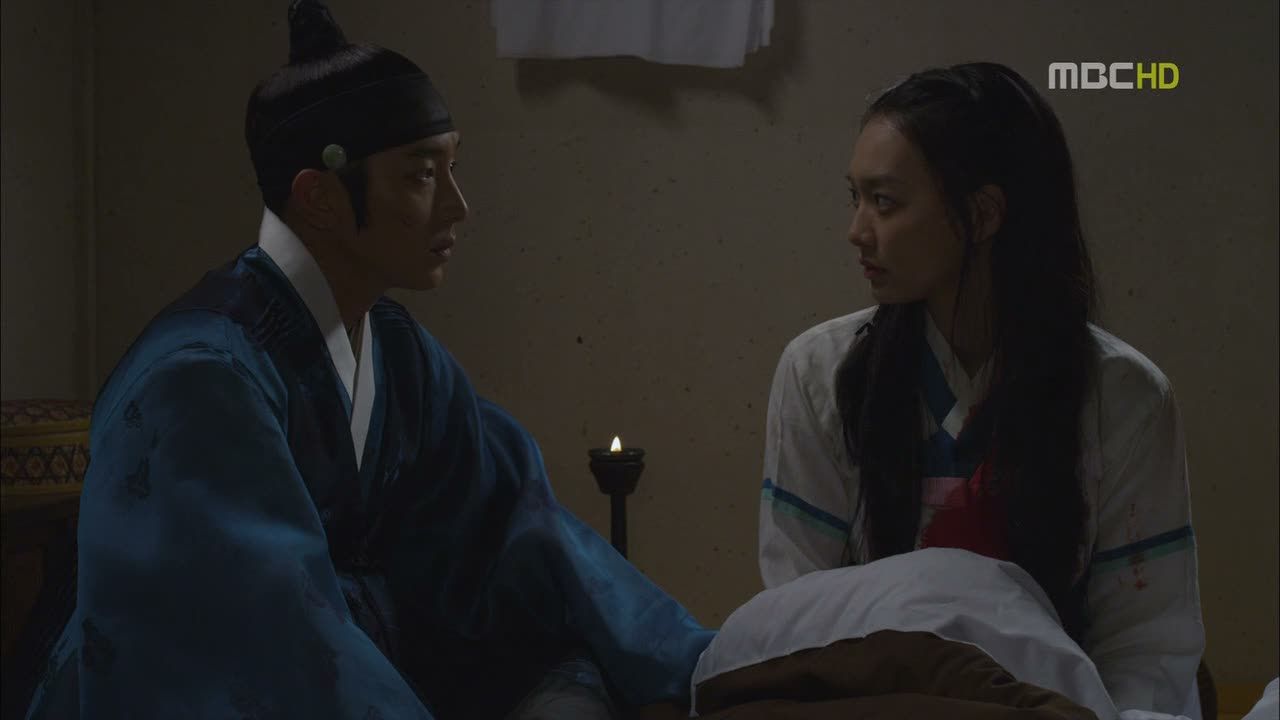 Bang-wool is currently eating dinner with Dol-swe, who saw her and assumed she came to see him. He asks directly what she thinks of him, and says that ever since he touched her lips… and Bang-wool jumps in embarrassment.
She quickly stuffs his mouth with food just to shut him up, but he asks if she's trying to seduce him. Haha, that would be your idea of seduction. They finally exchange names and eat happily.
Arang walks over to Eun-oh's room and sits outside on his stoop, looking up at the waning moon. Eun-oh surprises her when he arrives with a package, having gone out this late at night.
He gives her the new clothes he had made, and says he couldn't abide her walking around looking like a ghost with a bloody dress, and tells her to change. He steps outside and she runs her hand over the clothes softly.
I love how much these little human things mean to her—to just have clothes that are hers. She feels the fabric and looks at all the colors with such deep appreciation. She sighs aloud, "I told you not to be good to me." *tear*
Eun-oh looks up at the moon, thinking over her words that she'll have to go back, either way. Oof, the way they both stare up at the moon now, like it's robbing them of time, just breaks my heart.
She comes out wearing a new hanbok, and hearts practically shoot out of his eyes. She asks how she looks and when he doesn't answer, she says she knew it—he's fallen for her. Hee. She chalks it up to her pretty face.
He clears his throat nervously, and she says it's awkward to be all dressed up so late at night, and suggests they take a quick walk since they're dressed.
They go for a midnight stroll and Arang sighs that her memory has to hurry back to her so she can be of help to Eun-oh. She wonders, "Why can't I remember? I don't have much time left."
That stops him in his tracks. But he smiles and changes the subject to catching Evil Junior, and she asks why he didn't do it already if he knows who was behind it. He doesn't have any evidence, what with her dying and keeping him distracted.
He suddenly decides it's getting late and they should get back home, and whirls around, leaving Arang to run after him.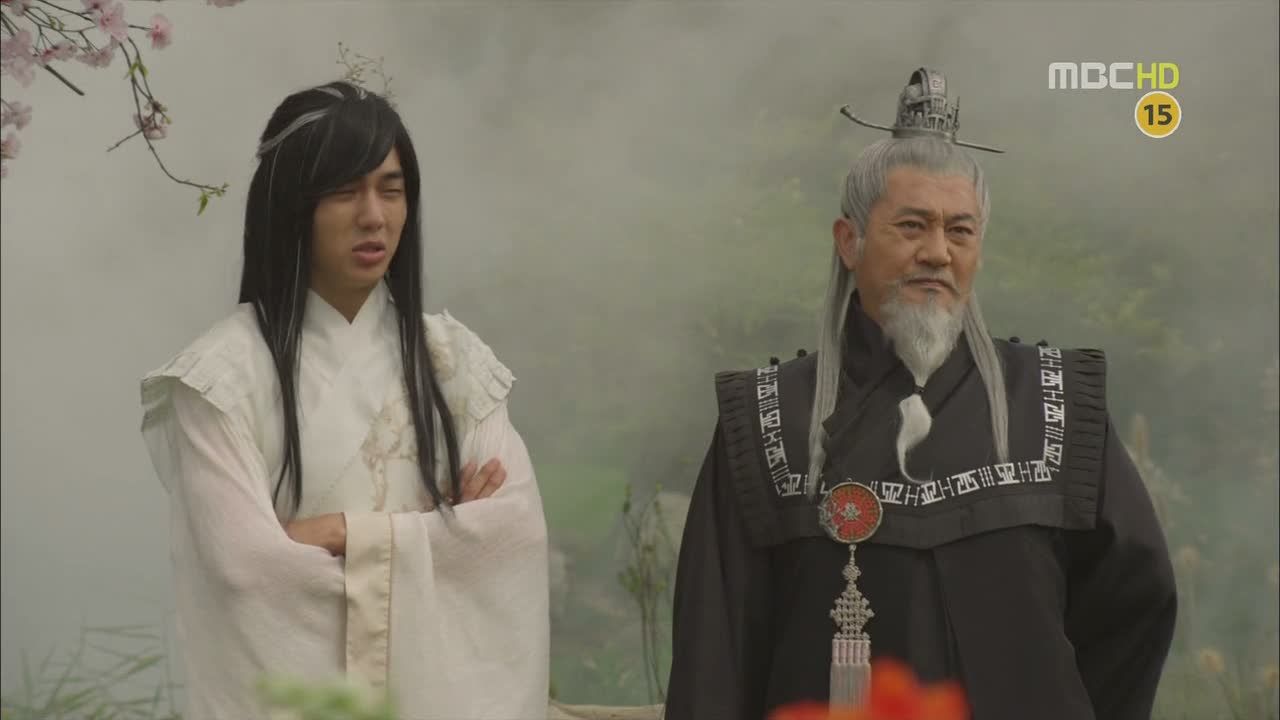 Jade accuses Hades of poking Mu-young until he asked about his sister, and he cops to it, saying that he couldn't stand watching Mu-young mope like a little puppy anymore. He reminds Jade that the reapers are under his purview, and Jade's just borrowing Mu-young for this mission.
Hades apologizes, but Jade just grumps with his arms crossed, "Whatever, I'm already pissed. It'll go on at least three to four days." Hee. He asks why Jade is making everything harder, and what he's doing all this for anyway.
He just answers in his usual cryptic way that it's because of destiny—the connections between people. He says that no matter what big event is happening, it's the small connections between people that matter…
Flashback to a sick child crawling over to ask for his mother. It's Eun-oh, and Mom doesn't hear him, instead drawn outside by the announcement that Lord Choi is riding past.
She watches with venom in her eyes, calling him a bastard. Interesting. So she's human here, and Lord Choi must've had something to do with her family being hauled off as traitors.
And then… OMO. What is the Jade Emperor doing there? Is he allowed to just walk among the people like that? And looking so pretty too?
He walks past Mom and into the yard, where Eun-oh lies unconscious. Or dead? Jade reaches out his hand and calls him a pitiful child, and a reaper appears. Oh, he IS dead.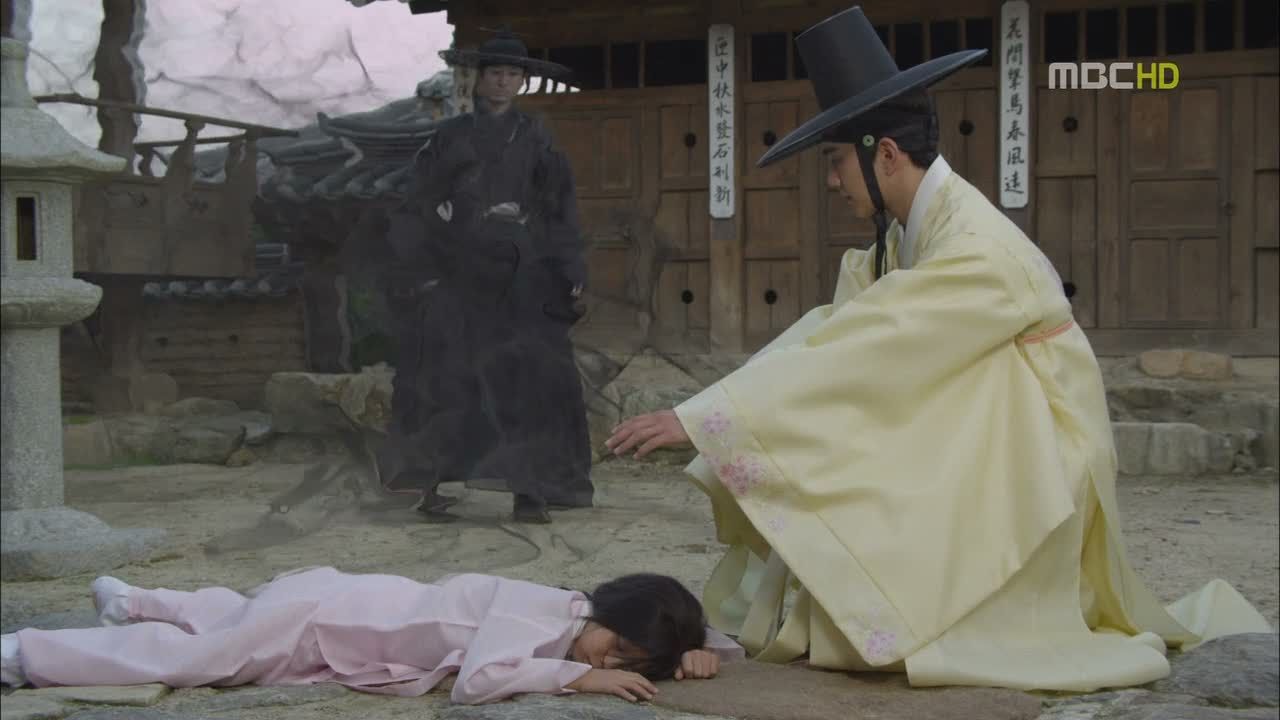 But one look from the Jade Emperor and the reaper bows and vanishes. Jade sends a mystical energy into Eun-oh, and says, "We'll leave it as a debt. From now on, the time you earn from this day forward does not belong to you. One day you will come to remember this connection on this day."
And then he carries the child back inside and lays him down, and walks away. Wow. So now we know why he's got powers. That's a twist I didn't expect.
Eun-oh sighs at his dirtied magistrate's uniform and searches for something else to wear, when he remembers the clothes he wore the day he fell off the cliff. Bundled with them is the final talisman he was reaching for when he fell.
Arang sees it and remembers that she's seen this before… at Lord Choi's house. They go to Bang-wool to ask if she recognizes the symbols, and tell her to look into what they could be used for.
Arang thinks it strange that Lord Choi is a connection to the mass grave too, and she wonders if he's not the man who killed her the night she returned as human. Eun-oh decides he'll check to see if the talisman is indeed the same at his house.
He heads out and Arang wants to follow, but he tells her to stay behind. She clutches his sleeve, "Be careful," and he smiles.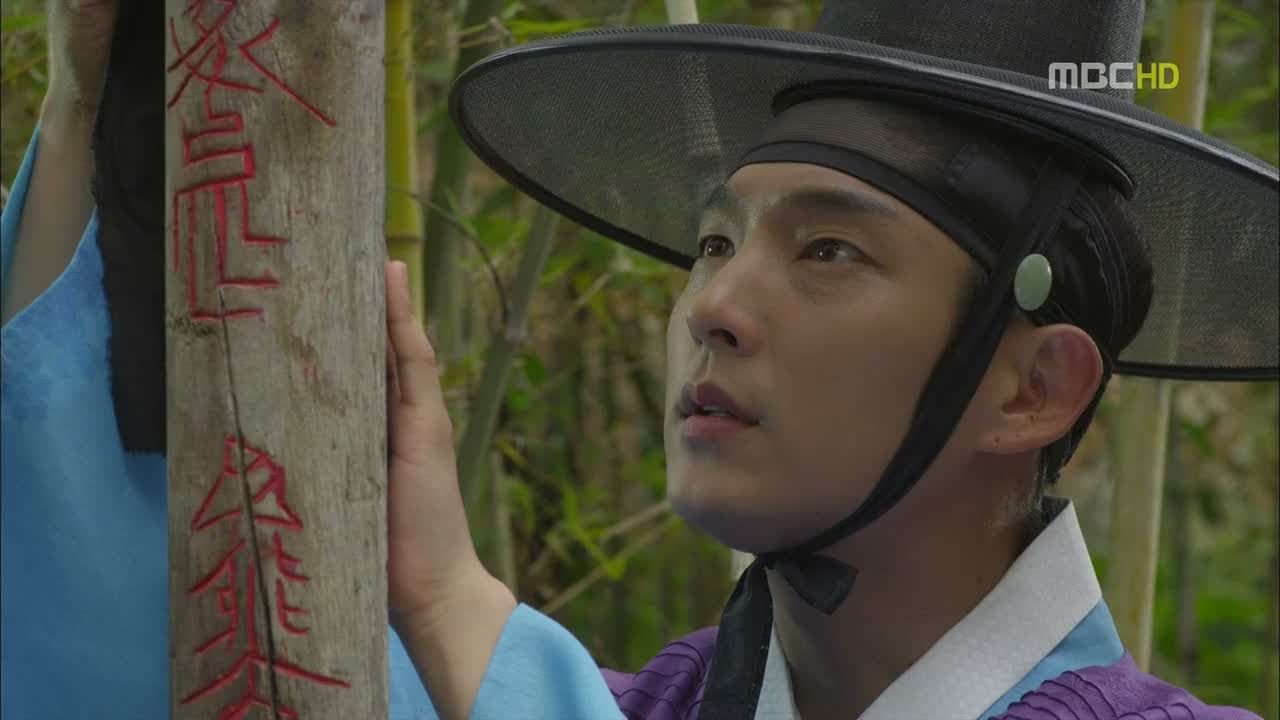 Bang-wool thanks her for saving her life, and Arang smiles, saying it was payment for all the times she helped before.
Eun-oh sneaks into Lord Choi's compound and follows Arang's directions for where she saw the symbols, carved into the trees at the creepy entrance to Mom's creepy house. He traces the steps and finds the markings, and compares. They're they same.
Mom senses someone approaching, and hurries out. Eun-oh gets closer and closer…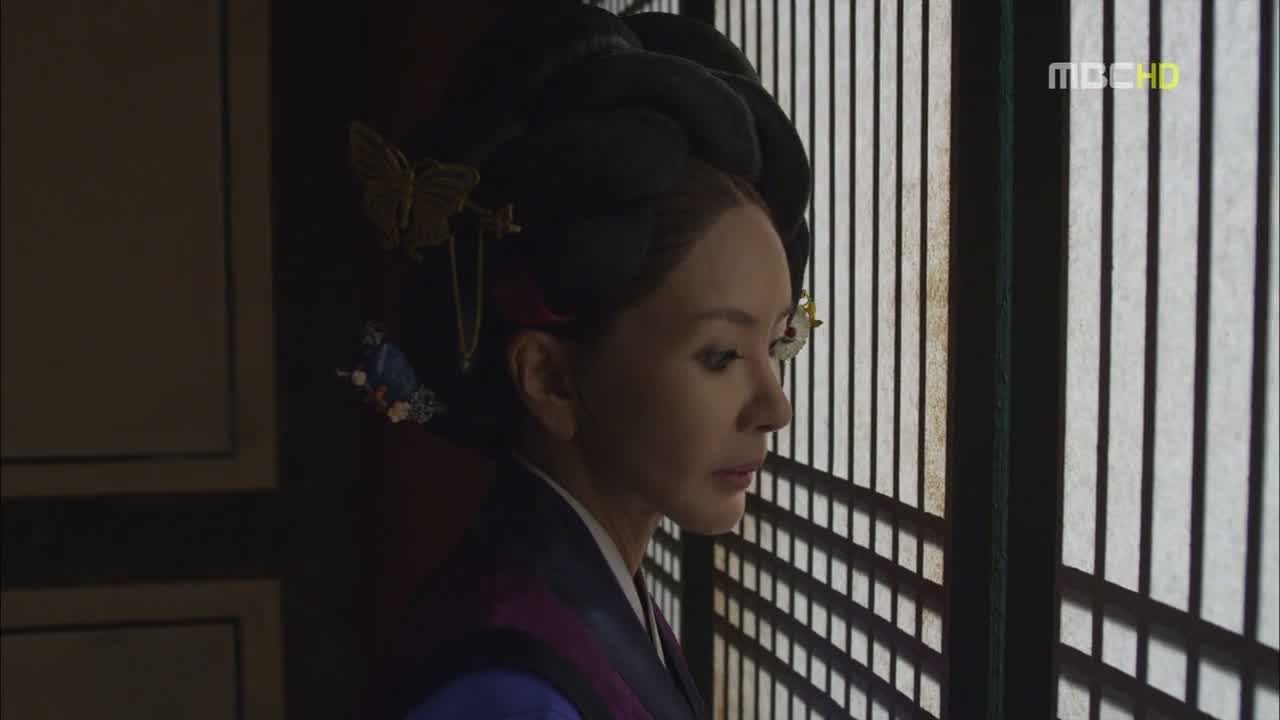 Mom goes down into her lair, but then something makes her turn back. Can she sense Eun-oh? He reaches the building where she is, and approaches the door. Eek, now there's nothing but a paper door standing between them!
He reaches out for the handle…
…when Joo-wal's voice calls out to ask what he's doing. ACK!

COMMENTS
I don't know if I'm ready yet for Eun-oh to get the crushing blow that Mom is possessed by the Big Bad, but I am dying for her to get a wrench thrown in her plan. Clearly Eun-oh really is the Jade Emperor's secret weapon, if he's the one who raised him from the dead and gave him his powers. Eun-oh only remembers being really sick as a child and suddenly being able to see ghosts when he woke up, but if what Jade says in the flashback is true, he'll come to remember the truth at some point, which I hope means he gets an audience with the gods at least once. And is this the incident of mercy that they keep referring to, or is that something else? Was saving Eun-oh the thing that upset the balance?
Interestingly, it actually makes Eun-oh and Arang the same kind of being. I don't think Eun-oh is unkillable, but he's certainly a once-dead-but-alive-again person, just without the time spent as a ghost like Arang. I'm curious what this means for his future as well—once he fulfills his debt for the years he earned, what happens to him? Does he have an expiration date too, or does he just get to live on, if he survives the war? And is making Eun-oh kill Mom any less cruel than having Mu-young kill his sister? Is there some sort of blood bond required between demon and demon-slayer? Or is fate just a sick fuck?
I feel like the Lord Choi connection means that Mom retains her human memories even in demon form. Though her demon agenda takes priority, her personal vendetta has to be in play, otherwise why choose Lord Choi to be her hunter, and then insert Joo-wal into his household to play the son? I just hope that when it comes time, Eun-oh can see past the mother he longs for, otherwise they're all doomed.
Please tell me that Arang gets to read Seo-rim's diary soon. There's more to this engagement that either Joo-wal doesn't know about, or is hiding for nefarious purposes. His mixed-up feelings are a fantastic turn, and I really hope that a growing attraction to Arang continues to change him. And pretty please, can we visit the martial-arts-teaching-demon-slaying-master up in the mountains? I want that flashback so badly.
It's great to have the feelings progress in such a huge way in this episode, when Eun-oh refuses to let Arang die and gets pummeled to keep her safe. I mean, this from the guy who joked that she should hurl herself off a cliff to save him. It's so sweet and nonsensical, and I love him for it. She could handle the pain, but he doesn't want her to. At the same time it tears her up to see him get hurt, and she's screaming and wailing at him to just let her die already so he doesn't get beaten anymore. Without defining anything or making any declarations, their concern for each other has taken a selfless turn.
And the kiss was such a great emotional outburst from Eun-oh, because it does nothing to save her or make her come back faster. He knows she'll be okay in his head, but his heart lurches anyway. See, this is what happens when you repress all your feelings. You suddenly kiss people at inappropriate times, in other people's laps no less! But thank goodness for the outburst, not that it changes their insistence on not forming an attachment. It's clear they're both thinking the same thing—they can't act on their feelings with only two months left together. Now it's crossed over past I swear I don't like you into We like each other but we know it ends in sadness. So they just don't go there. Too bad the heart just doesn't work that way. The more you tell it not to go somewhere, there is where it goes.

RELATED POSTS
Tags: Arang and the Magistrate, featured, Lee Jun-ki, Shin Mina, Yeon Woo-jin