Gender-bendy hijinks from Oohlala Spouses
Okay, this drama's already got a laugh from me, and it hasn't even begun. If this is the result of a husband and wife swapping bodies, I'm all for the shenanigans. A peek at the poster shoot for new romantic comedy Oohlala Spouses shows wife-in-husband's-body getting a smooch from another man. Either that, or the bromance on this show's gonna be off the charts.
The drama stars Shin Hyun-joon (Gaksital) as a straight-laced traditional hubby and hotelier, and Kim Jung-eun (Hanbando, I Am Legend) as his perfect wife. Through the miracle of rom-com fairy dust, they end up in each other's bodies, which you have to admit, should be a requirement for all couples. It might save tons in therapy bills.
The shoot features second lead Han Jae-seok (Merchant Kim Man-deok) laying a big kiss on Shin Hyun-joon. Shin tweeted the picture with the adorable message: "I thought doing Oohlala Spouses was going to be love love with Kim Jung-eun-sshi, but what is this. And Han Jae-seok-sshi, on days when we're shooting scenes like this, please shave." Han Jae-seok plays Shin Hyun-joon's right-hand man at the hotel… who also happens to be Kim Jung-eun's first love. Of course. If the poster is indication that he'll know about the body swap but want to romance her anyway? That would crack me up.
Given the premise, the more traditional the couple is at the outset, the more fun we'll have when things go belly-up, gender-wise. Both these actors are great at the comedy and the pathos, so I foresee a healthy dose of hilarity with heart. That is, if the writing capitalizes on the potential of the body swap premise. You'd think it'd be a gimme in Drama Writing 101, but as it turns out, body swaps (or perhaps all high-concept setups) can be a writer's kryptonite. This drama will be penned by Choi Soon-shik, of Bad Couple and Please Come Back, Miss Soon-ae. Directing is PD Lee Jung-sub, of Baker King fame. It also stars Han Chae-ah (Gaksital reunion!), veteran actor Byun Hee-bong, Brown Eyed Girls' Narsha, and Juni (I Am Legend reunion!).
Oohlala Spouses follows Haeundae Lovers and premieres in October on KBS.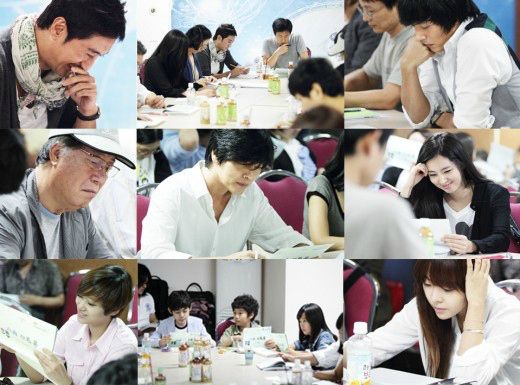 Via Star News
RELATED POSTS
Tags: Han Jae-seok, Kim Jung-eun, Oohlala Spouses, Shin Hyun-joon