Seo Ji-seok and Jung Da-hye's new rom-com
Seo Ji-seok (High Kick 3, Manny) and Jung Da-hye (Rude Miss Young-ae) are starring in a new romantic comedy movie that's been flying under the radar, called That Woman and That Man's Inside Story — it looks like a cute little indie film with some possible sizzle, and it just secured a release date before the year is out.
The directorial debut from Lee Yoon-hyung stars Jung Da-hye as a woman who's still a virgin and determined not to be, and spends a year dating three guys before she decides to sleep with one of them. There's Bachelor Number 1 (Yeon Jae-wook), who can only think about sex and spends every ounce of energy on trying to figure out some new way to spend the night at her place. Bachelor Number 2 is mysterious and thoughtful, but a total riddle who disappears and then reappears just when she thinks she's forgotten him. And Seo Ji-seok plays Bachelor Number 3, who on the outside seems to be endlessly sweet and kind and innocent. Mmm-hmm. That "on the outside" basically means it's opposite day, but that's the fun, yeah?
It's nice to see Seo Ji-seok back in a new project, especially since he was so endearing in High Kick as a lovelorn sweetie pie — he got the best love story in that drama and totally scored swoony points with his adorable one-sided crush. And messing up his image for comedy was certainly the thing that got me to take notice of him, so roles like this sound right up his alley and will hopefully be one of many to come.
The movie is described as a frank and realistic portrayal of modern romance, told in a refreshing way. I hope you're not lying, because that sounds great. The woman in the poster: "Is that all you think about?" The guy: "I'm not going home tonight!" Guess we'll have to watch to see which guy she chooses, but I swear, if she goes all Kelly Taylor and chooses herself, imma get my money back.
That Woman and That Man's Inside Story will premiere this December in theaters.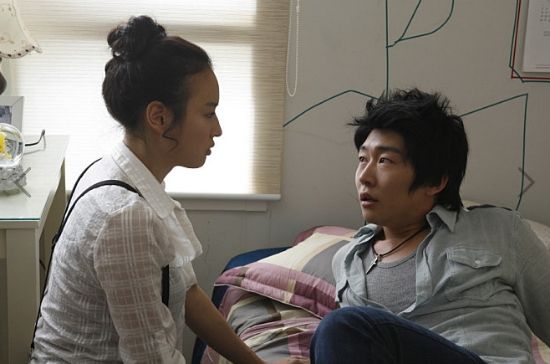 Via Star N News
RELATED POSTS
Tags: Jung Da-hye, Seo Ji-seok