That Winter, The Wind Blows: Episode 4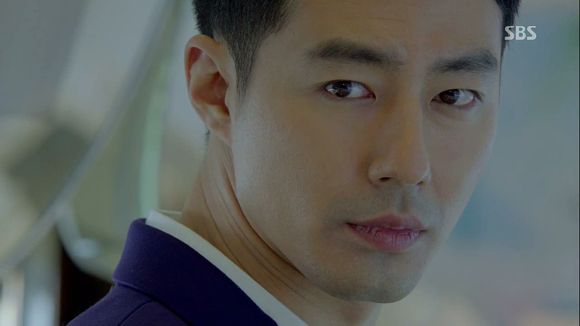 It's not easy pretending to be a long-lost chaebol heir, and our hero has to work to keep up the lie when everyone else is hell-bent on exposing the truth. Even though he's got enemies piling up on all sides and friends with dubious motives, he still manages to help our heroine on her journey of self-discovery. If only that self-discovery didn't come with a side of lies, things would be so much easier. Except for the fact that we probably wouldn't have a drama. Details, details.
That Winter took the lead in ratings this episode with 13.4%, with Civil Servant taking up the middle and IRIS 2 holding up the rear. That last one must be a bitter pill to swallow as far as producers are concerned since it's certainly the most expensive show out of the three, but I guess it goes to show that while money can buy a lot of things, it can't buy an audience.
SONG OF THE DAY
That Winter OST – "Winter Love" by The One [ Download ]
Audio clip: Adobe Flash Player (version 9 or above) is required to play this audio clip. Download the latest version here. You also need to have JavaScript enabled in your browser.

EPISODE 4 RECAP
Young returns to the basement to retrieve the bell that she technically won for herself at the carnival game (with Soo's help, of course), but once she hears Soo hiding she demands whoever it is to come out.
Soo moves as if to step out, but stays silent instead. Perhaps thinking it was nothing, Young heads back up the stairs until Soo makes another noise. She turns sharply, but a stray kitten wandering in the room causes her to lower her guard enough to leave.
Soo thinks he's off the hook – but Young should be smart enough to know that stray cats don't pick locks.
The results of the DNA test prove that Soo and Young are indeed siblings, much to Myung-ho's chagrin. But the doctor notes that there was something strange. (So, did Hee-sun manage the switch after all?)
Jin-sung's busy trying to get his dad out of the police station for a crime he didn't commit, but we've seen his sister before – she was the one stealing money from Hee-sun last episode.
Soo finds himself locked in the greenhouse once Young leaves, an can't get ahold of either Jin-sung or Hee-sun to get him out. The tapes from Young's childhood continue to play in the meantime, all of them addressed to the mother who abandoned her.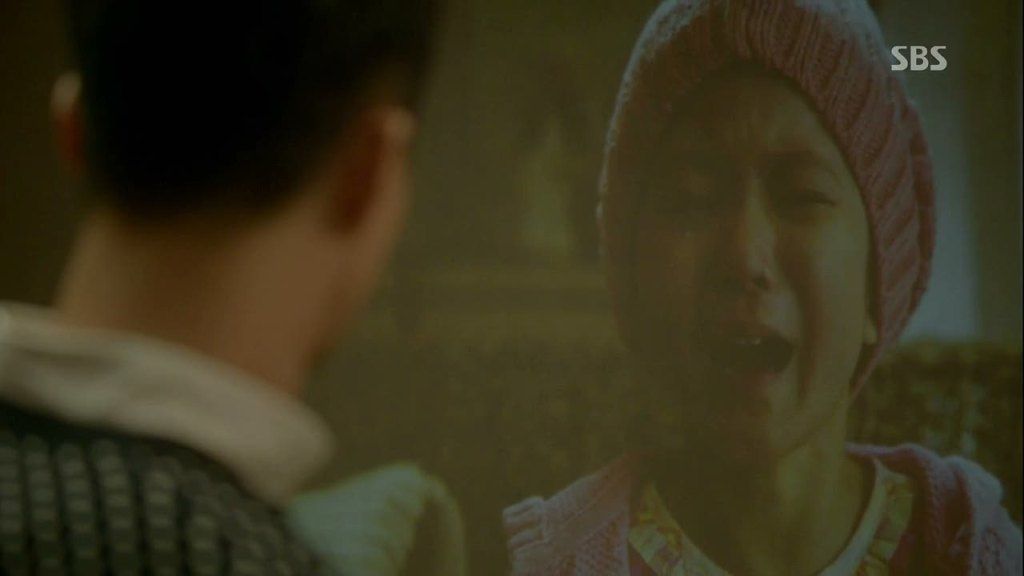 In one, she's wearing the garb of a cancer patient (including hat) as she tells her mother that Secretary Wang is taking her to a hospital in Japan to heal her. The next video's tone is much more dour as she cries, repeating over and over again that Secretary Wang lied.
"She said not to tell Dad," Young Lite cries. "Because I can't see, I don't know anything. But I can see a little. If I tell Secretary Wang Ajumma or Dad that I can't see at all, they might make my eyes better sooner. So I lied. I didn't go to the hospital, but she lied and said I did."
Oh. My. God. My blood is boiling – Secretary Wang intentionally refused to give Young medical care?! And Young could see a little back then, which means her condition could have maybe been prevented and/or cured. So Secretary Wang wanted her to get worse? I can't even.
While Soo waits for Hee-sun to get him out, he notices a polaroid of Friend Soo as a kid – and sees that the burn was on his left arm. Ohhhh crap. Soo burned the wrong arm.
Hee-sun makes it inside easily and rips up the polaroid to destroy the evidence, not knowing that Young already felt the burn wound on Soo's right arm. She explains that the DNA test was a success, since she and Jin-sung managed to switch the samples in Myung-ho's car without him noticing.
She grows suspicious of Soo once she realizes that he spent his entire waiting period watching Young's childhood video diary, narrowing her eyes as she asks him if he sees Young as a woman. This kind of sounds like a jealous ex giving a warning, doesn't it?
Soo hangs the carnival bell at Young's window like a wind chime, unaware that she's currently doubled over in pain in her bathroom. She tries to act like she's fine once she emerges, but there's no way Soo can't notice how pale she looks, or the sweat on her forehead.
We see why she's putting up a front, because she answers Soo's concern about her well-being by asking if he hopes something bad would happen to her. Yikes. Girl's got some trust issues.
When Soo tells her she looks ill, she fires back, "Is that a concern or a desire for you?" She claims that he abandoned her when she really wasn't fine and needed him, but now that she claims she's fine, he won't leave her alone.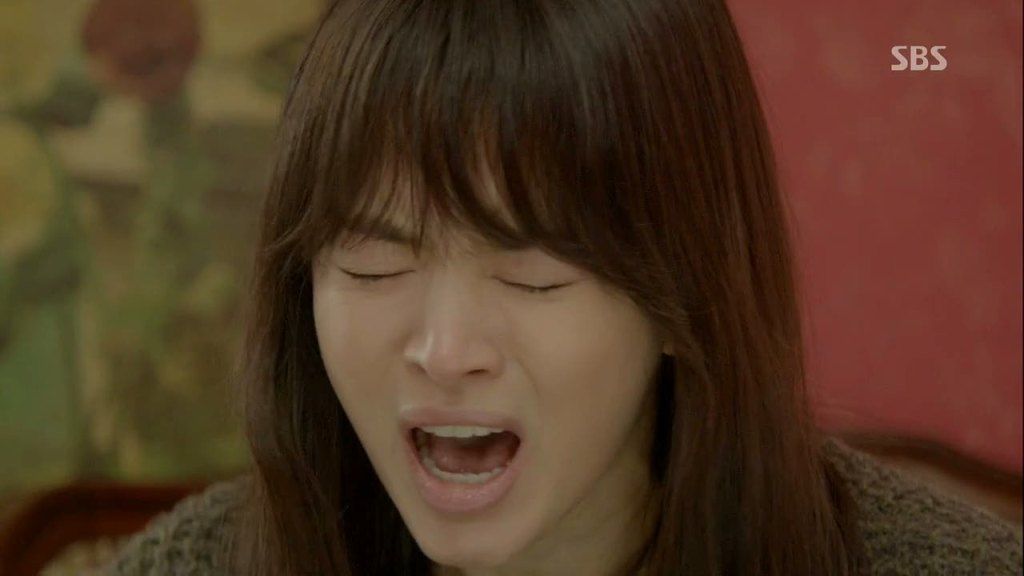 Of course, in her mind, she thinks he's pestering her because he wants her to get sick and die. Soo knows there's no winning in this battle, so he just points out the wind chime he made from the bell.
"You and I have two months left now," he tells her. "After I leave, when the wind blows, the bell might sound like this. I thought…" he trails off before leaving. Was he hoping that she'd remember him later on, if she heard the chime? (We knew they'd bring the title in somehow.)
Secretary Wang freaks out when Hee-sun shows up at the house bearing loads of flowers. It's clear that Soo had no idea she was coming, but she explains that it's because she wants to be friends with Young, and calls her down from her window to plant flowers with them.
Young arrives at the greenhouse while Jin-sung and Hee-sun bicker outside. Soo thinks she's there to stop him, but to the contrary, it seems like she wants to help.
Soo catches her when she stumbles over a gardening tool: "'Help me.' Say that. 'Help me.' Try it."
"H…help me," she ventures, and Soo sweeps her up into a bridal carry before setting her down on the edge of a flower bed. (In the midst of this, he corrects Young to address him as "oppa" instead of "you." It should be cute but we know how weird this is going to get.)
Hee-sun watches, prompting Jin-sung to ask her if she's jealous. He uses the opportunity to remind her: "You and I suit each other." Aw.
Young recognizes one of the plants by touch, remembering that her mother liked it. When she asks Soo how he remembered, Hee-sun holds up one of the pictures she pilfered from Mom's basement of the plant. Nice move, Hee-sun.
Jin-sung silently prompts him to ask her about the thing he's supposed to buy her, though Young responds that it's not so easy to buy nowadays. Soo is quick to backpedal out of that conversation since he still doesn't know the answer to her riddle.
Soo carries her from flower bed to flower bed while they plant together, his hands frequently covering hers. Her prickly facade melts away as she starts smiling again, especially when Jin-sung and Hee-sun initiate a water hose fight.
Aww, everyone's so…. happy. So cute. Secretary Wang shows up in the midst of the fun, but blessedly leaves without ruining everyone's good time.
Later, Hee-sun takes out her jealousy over Soo and Young by pointing out the wall in the greenhouse that looks oh-so-suspiciously like a door. That certainly gets Soo's attention, but she's just messing with him. Isn't she?
She starts pelting Young with questions in banmal, but when Soo reminds her that Young isn't her friend but her unni, Hee-sun responds that she only had one unni – the one Soo dated.
Soo tries to get Young and himself out of the situation, but not before Hee-sun can tell Young that her sister is dead. "When my sister died, your brother, Oh Soo, sobbed like a baby."
After that gem, Hee-sun saunters up to Soo and whispers, "Am I an enemy, or am I a friend?" I'm beginning to wonder that myself. Is she jealous on behalf of her sister, or for herself?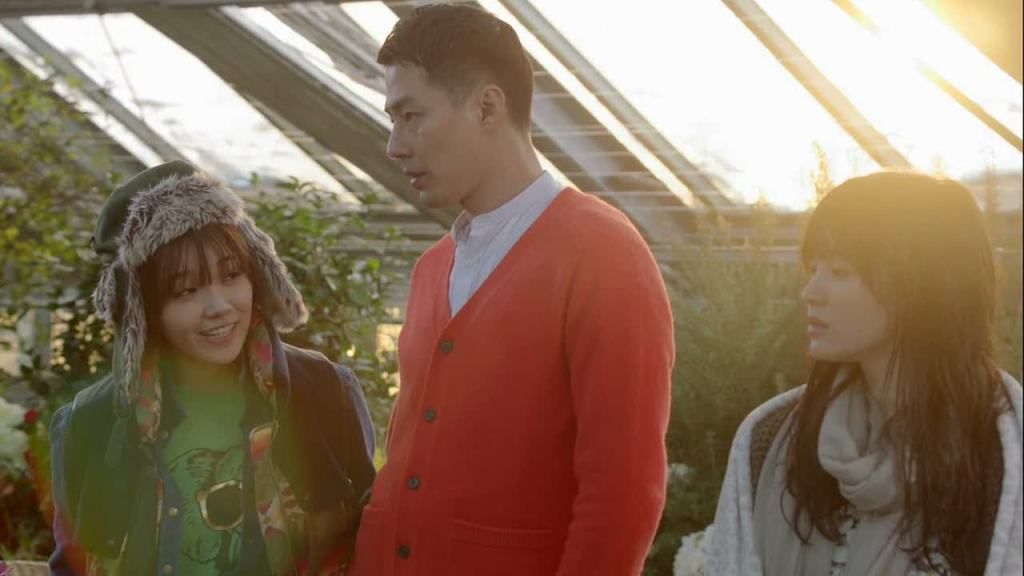 Myung-ho shares the DNA test results with Secretary Wang, though he mentions what the doctor found strange – the DNA on the toothbrush was at least ten months old. He wants a blood test to be sure, but Secretary Wang knows that Soo would never agree to it.
However, he decides to look into the Oh Soo that Friend Soo mentioned in his letters, since it bothers him that two friends had the same name. Uh oh. These people are sharp.
Weirdly enough, Secretary Wang and Myung-ho have a business meeting with none other than Jin So-ra, the psychopath who got Soo into this mess. A text from Moo-chul interrupts their meeting – he's attached a picture of So-ra's beloved Soo, and offers to arrange a meeting now that she's back in Korea.
Young shares a friendly dinner with Lawyer Jang in order to reiterate the stipulations in her will. Basically, if she dies, half of what she has will go to Soo and the other half to charity, with something separate for Secretary Wang.
He grows suspicious over how fast she's moving things along, but she eases any worries he has about her health by claiming that it'll serve as a test for Soo's authenticity, before changing the subject by urging him to confess his feelings for Secretary Wang.
Mi-ra looks to Soo for help in convincing Young to go to a party tomorrow, hosted by the man who introduced himself as Soo's mentor, Joong-tae. She takes Soo's startled silence as proof that he doesn't want to go either, and wonders if it's because he's on bad terms with Joong-tae.
This leaves Soo with another mystery to solve, since Joong-tae claimed they were close. He needs to solve Young's riddle and hopes that going to the party will help.
Soo finds Secretary Wang in the greenhouse that night and starts asking her questions about Young's eyes, like whether they really couldn't be treated. Secretary Wang claims that she tried to tell Young's mother, but only got hung up on.
She asserts to Soo that her affair with Young's father was only a one-time deal, and that he always loved Young's mother. In fact, the reason why he kept Young when he sent her mother and brother away was because he was sure she would return for her daugther. "But your mother, because of her hate for the chairman and I, let go of Young."
It's only once she declares that she lived as Young's mother that Soo intervenes, and uses a cold tone to remind her, "You're not her mom. Don't delude yourself. You're not her mom, you're Young's nanny and legal representative. I'll let you be that much." Burn.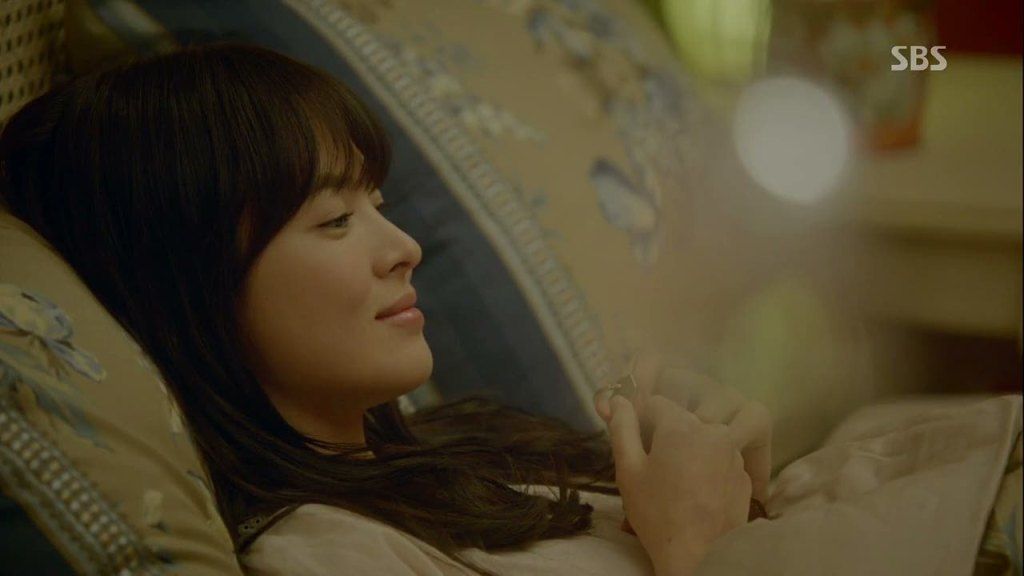 Soo sneaks a key to the new greenhouse lock (having replaced the old one) onto Young's doorknob, which Secretary Wang ends up giving her as she tucks her in for the night. Young then smiles as she holds the bear keychain, while the bell Soo also gave her rings softly at her window. D'aww.
Young accompanies Soo as he goes clothes shopping the next day at one of the department stores owned by PL Group. Of course she can't see his new duds, but he makes sure to tell her that he looks pretty snazzy in them. (Not going do disagree there.)
He tells her that he's going to have her eyes fixed so she can see him one day, just as we realize that he's not picking clothes out for himself, but for her. And arranging a makeover, too, because it's just not a drama without one.
She's not as open to the idea, even though he tells her that he's giving her a makeover because wants whatever woman he goes out with to be pretty. And he's telling this to Song Hye-Friggin'-Gyo? Blessed-with-immortality-and-ageless-beauty Song Hye-gyo? I can buy some stuff, Show, but let's get real here.
Soo's totally wowed by the final product of her makeover and weaves her arm through his, acting like a proud oppa ready to walk her down the aisle in dad's stead when she gets married.
Ah, so we find out that Soo was getting her all dressed up to go to her class reunion, and Young goes into a fit when she finally figures it out. He can't understand why she's so afraid of going – does she not want her first love to see her blind? Is she afraid her friends will take pity on her? "How long are you going to hide from people?" he asks her. "How long are you going to stay alone?"
Young has a flashback to her high school days of girls talking about her blindness when they thought she wasn't around, and how humiliated she was. She believes the same thing of those people now – all they'll do is belittle her behind her back.
"So go in front of them so they can't do that behind you!" he all but yells. He wants her to face her fears and stop running away, claiming she can go back to being a hermit once he leaves in two months. But until then, he wants her to face the world, because he's been alone like her before and knows how tiring it is.
Jin-sung is already at the party and finds out that Joong-tae and Friend Soo were on bad terms because Joong-tae was responsible for the burn on his arm. And, yikes, he even remembers that it was Soo's left arm. Not good.
Young is greeted warmly when she and Soo show up at the party, but things get a little awkward when her first love, Jung-woo, also introduces himself. In the meantime Soo gets a frantic call from Jin-sung telling him to get out because Joong-tae caused the injury and remembers where it was.
Instead, Soo rolls up his sleeve next to Joong-tae so he'll see the burn clearly, and decides to be upfront and confident about it so that Joong-tae will doubt his own memory. Good thinking.
Young gets to catch up with Jung Woo, who's now married to a hearing-impaired girl he met while volunteering at a welfare center, which he started doing because of Young's impairment. "It's like you introduced my wife to me," he tells her. Aww. At least there doesn't seem to be any hard feelings.
Young seems to be having a good time, and even gets an apology from a girl who'd tormented her in high school. But while the party goes on, Joong-tae hunts for an old picture that will prove Soo's injury was on his left arm.
Young asks Soo to describe what's going on at the party, so he gives her a play-by-play as Mi-ra's boyfriend proposes to her during karaoke. Everyone urges the soon-to-be couple to kiss, so Soo shows Young how Mi-ra's boyfriend is going about it by cupping her cheek and turning her face toward his.
"He kissed her," Soo describes, his face inches from Young's. Omo omo omo. If anyone were to turn around and look at these two right now, NO sane person would call them brother and sister.
Young's smile fades, and Soo slowly pulls away to ask her if she knows the difference between a kiss and a peck, which she claims she does. Soo's smile tells me he doesn't believe such nonsense, but he grows concerned when Young fumbles over her drink.
She makes it to the bathroom without Soo knowing she's sick, and only there does she start doubling over and gasping for air. She looks up at the ceiling and sees lights, but they flash like lightning in her mind, clearly causing her pain.
Myung-ho arrives in the meantime and asks Soo for permission to marry Young, though I get the sense that he doesn't really care either way, it's more of a way for him to remind Soo of his place. Per his request, Soo leaves the party alone.
He spots a snack shop from one of Mom's polaroids, and remembers how Friend Soo and Joong-tae were eating cotton candy in the foreground while Young followed behind them, crying. He imagines the scenario as it would have happened, though it's a bit strange that he's fabricating memories. Especially when he smiles fondly as though they were his own.
Still, he's sure that cotton candy must be the object of Young's riddle, but finds the shop closed. He tries to chase down two kids who walk by with cotton candy to hilarious effect, yelling after them, "Ajusshi is not a strange man!" Ha. Yeah, good luck convincing anyone of that.
Young points out that Myung-ho has been unusually forward lately, and knows that it's because he's afraid of getting usurped by her brother. His defense falters when she forces him to face facts – after their engagement party, he didn't stay for even a drink, and he's never taken her out on a date. So… Myung-ho is an even bigger douche than we thought.
Soo returns, but Young isn't too happy with him either, since she knows he left without telling her. She leaves first, and Soo stops Myung-ho from going after her (and basically competing with him) by telling him to cool his heels for two months. After that, he'll be gone, and Young will be his again.
Soo presents the cotton candy to her outside, and genuine surprise comes over her: "You remembered." So he solved the riddle?
She explains that she'd always go to that store after he and Mom left, but she never bought any because Mom never let them eat it. It's with a smile that she confesses that they used to lie about eating it.
Young: "So Mom would…"
Soo: "…Take our picture."
He's smart to deduce all that from a polaroid, and it's a risky move that pays off.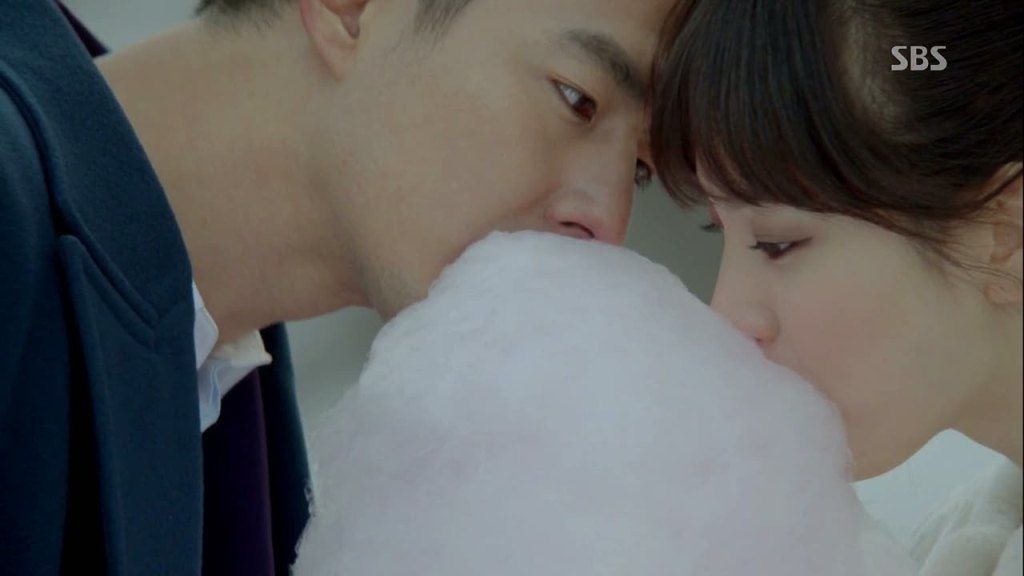 They both bite into the cotton candy at the same time, their faces almost close enough for their foreheads to touch. It seems to affect Soo more than it does her, almost putting him into a daze, but he comes to when she asks him to take her to the river they used to visit with Mom.
Luckily, he knows which river it is because of where Friend Soo had his ashes spread.
While So-ra tries to track Moo-chul down, Myung-ho finds him first at Oh Soo's old apartment. When he asks about the former owner, Moo-chul replies, "Which Oh Soo? PL Group's Oh Soo, or the conman Oh Soo?" Crap. Does he not want his money, or what?
Soo takes Young to the river, and the sounds bring back a flood of memories of all the times she spent there with her mother and brother.
While he's distracted skipping stones, Young starts heading into the water, totally immersed in her memories. Whoa, what? That water must be freezing. What is she doing?!
Soo jumps in after her once he sees her, and he must be thinking that she's trying to commit suicide because he remembers the train incident.
So after he hauls her to shore, he slaps her.
Only, that's exactly what her brother did to her when they were children to punish her for going into the water. Eek, so this was a test? And Soo unknowingly passed it?
Her hand goes to his face as he carries her to the car. "Let me touch my brother's face once," she says, her eyes brimming with tears.
Uh oh. She believes him. This is bad news.

COMMENTS
I was afraid this moment would come. So far, we had an easier time going along with the con because Young didn't believe it herself. She's suspicious by nature and trusts no one, so it seemed like she was just letting the situation with Soo play out, confident that it would resolve itself. And if the truth came out that he wasn't her brother, no harm, no foul, right?
Until now, anyway. Young kept all those walls up with good reason, so it kills me to see her get fooled into breaking them down. What's been nice about her character development is that we're able to see why she can be so cold, enough so that her 'letting go' doesn't feel unearned or out of character. The moments when she smiles are genuine, and it's like she lets herself have fun only when she's sure she's keeping her emotions at arm's-length to prevent herself from getting hurt.
But her argument with Soo before the party went a long way in showing her vulnerable side, going to prove that there's nothing that makes her different from other girls who are self-conscious. She pretends to be an impenetrable wall but clearly, what people say about her does get to her, and I was happy to see that because it's such a normal, human thing. I'll believe the girl who says she's thin-skinned but pretends like she isn't over the girl who says she's thick-skinned and immune to insults any day.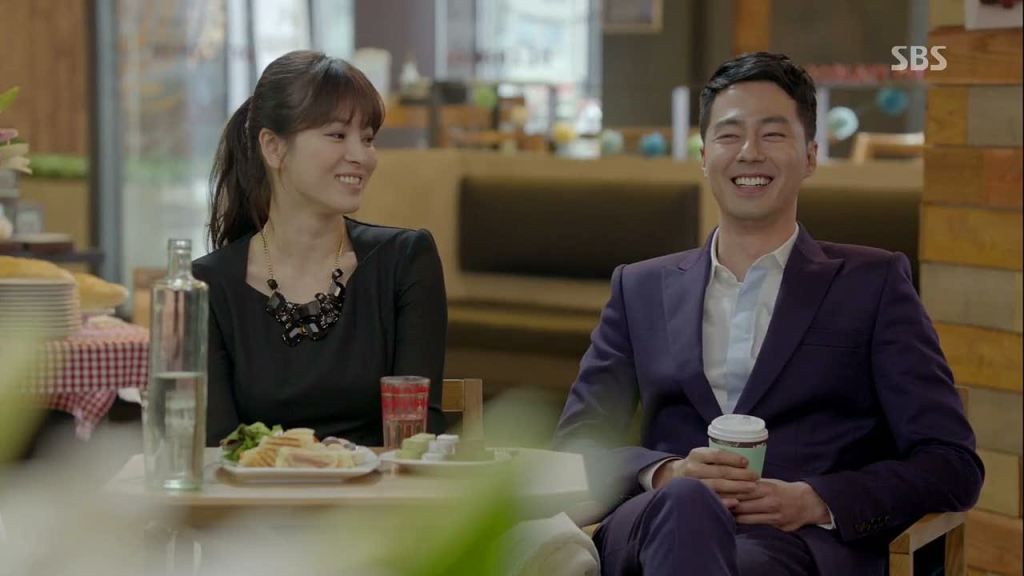 And once again, Soo genuinely helped her come out of her shell so that she could realize she's just as capable of having fun as everyone else is. It really is getting hard to tell whether what he does is solely out of concern for himself or whether it's partly fueled out of concern for her, though I'm in the camp that he does care for Young, despite his best intentions. But I'm sure that, like Young, he was content to play around with her because he was sure he could keep his emotions in check, or compartmentalize them all together. The look he gave during the cotton candy scene tells me that his walls are starting to break down too, whether he realizes it or not.
I'm really interested to find out more about Secretary Wang, which is an interesting place to be with a villain. Drama villains can get so cartoonish sometimes, but Secretary Wang has remained intriguing so far because I just can't figure her out. By all accounts she's a monster, yet when she talks to others, she talks like she's the victim. She's wonderfully understated, especially since mustache-twirling wouldn't really suit a woman, and I like how there's more to her than what meets the eye.
Same goes for a good deal of the characters, which is what makes watching so fun. Hee-sun put it best when she asked: "Am I an enemy, or am I a friend?"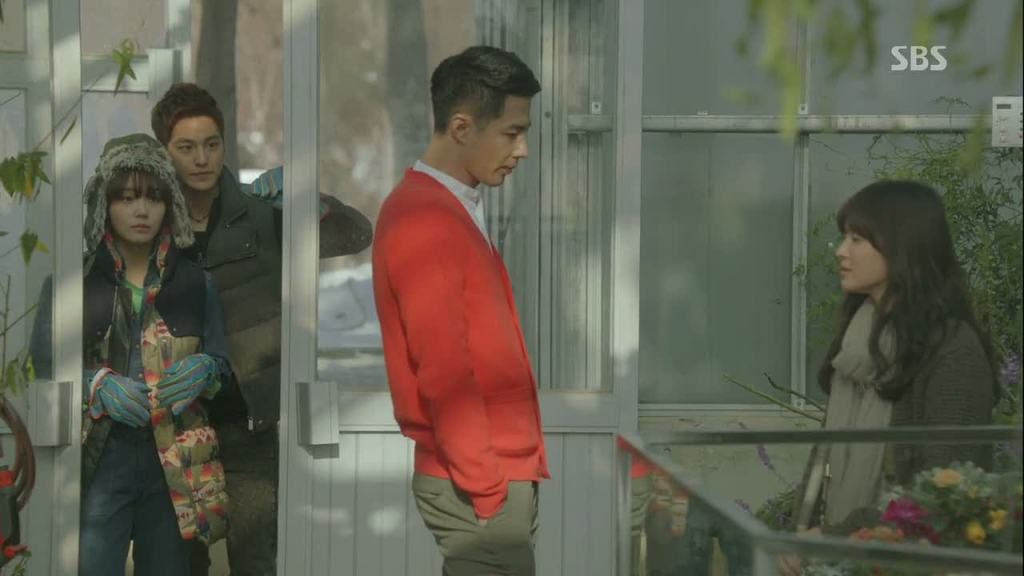 RELATED POSTS
Tags: featured, Jo In-sung, Kim Bum, Song Hye-gyo, That Winter the Wind Blows