Incarnation of Money: Episode 13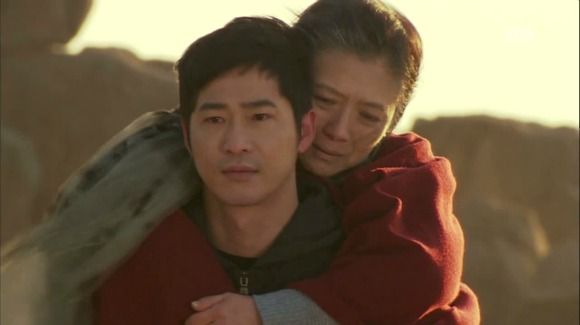 Our hero can finally get to his revenge against the Traitagon now that he's reunited with his mother and discovered his true identity. But in order to do so, he'll need to fully understand his own definition of justice to set the stage for his plan. Hasn't Cha-don gone through enough in his life already that he must face yet another wall of pain to overcome? Get those tissues ready, because this episode is a tearjerker.
SONG OF THE DAY
U-KISS – "아픔보다 아픈" (More Painful than Pain) [ Download ]
Audio clip: Adobe Flash Player (version 9 or above) is required to play this audio clip. Download the latest version here. You also need to have JavaScript enabled in your browser.
EPISODE 13 RECAP
We open with a light-hearted sequence at Angelina's launch party where both Jae-in and Se-kwang arrive simultaneously. Jae-in is still under the impression that the prosecutor is stalking her because of her beauty, so she whips around to tell him that she's flattered but not interested.
Se-kwang's puzzled WTF expression is priceless and Jae-in digs herself a pretty deep grave by the time Angelina arrives. Their interactions surrounded by misunderstandings crack me up and it's also pretty entertaining to see Se-kwang caught so off-guard once in a while.
Out on a morning jog, Cha-don is reminded of his mother's words about how Se-kwang is the culprit behind his father's murder and their family's ruin. He catches a glimpse of the prosecutor receiving a distinguished award on a television at a nearby restaurant.
Se-kwang is met with surprising news back at the prosecutor's office: There have been serious allegations made against him. Furthermore, a video clip featuring Mom has been circulating through the press.
He reviews the tape with Prosecutor Kwon as Mom describes the fifteen wretched years of her life in the psych ward as "a life worse than a beast's."
Her accusations are fierce: "Ji Se-kwang is a murderer, lower than a beast. That man pretends to be a just prosecutor and you mustn't let him deceive the world any longer. Take off that devil's mask and release me of my injustice."
Se-kwang calls the prosecutor in charge of the case, who in turn reports to Cha-don.
Mom doesn't understand why her video doesn't make headlines that evening and it's a bit sad to watch Cha-don break his mother's naive perspective on the justice system. Mom: "I gave them all the evidence they needed! Reporters, prosecutors – what are they there for?"
She apologizes for her outburst but Cha-don tells her it's okay and that she can lean on him. She cries in his arms.
News travels fast about the video which is promptly taken down. Ji-hoo confronts Se-kwang about the matter but gets coolly dismissed. It looks like Cha-don has made sure not to leave a paper trail as Se-kwang is told that no traces of the former prosecutor can be found.
Ji-hoo gets a call from Cha-don and the two meet over drinks. He isn't surprised to hear that Se-kwang outwardly considers the situation as nonsense, though Ji-hoo mentions that her sunbae must be taking it hard.
At the mention of Mom, Cha-don informs her that Lawyer Hwang used to serve the late chairman's family. He adds that there may be a connection to the recent discovery of money and the lawyer's death.
She receives a call from Se-kwang's phone and both of them rush over to find the man nearly passed out at the bar. Cha-don offers to take the prosecutor home and throws Se-kwang onto the couch.
In his drunken stupor, Se-kwang murmurs Mom's name and that he's untouchable. Cha-don grabs a pillow and contemplates whether to take his revenge now and suffocate the man in his sleep.
He inches the pillow closer toward Se-kwang's face. At the last moment, Cha-don stops himself and casts it aside. He whispers: "Consider yourself lucky that I didn't kill you right now."
So he takes advantage of the opportunity to search the lion's den for clues. He finds a picture of Se-kwang and Angelina and a contract. He takes pictures of both pieces of evidence.
Meanwhile, Se-kwang dreams of Mom silently approaching him with a large needle in her hand. She administers the poisonous contents directly into his mouth just as his eyes flip open.
He freaks out as Mom tells him to suffer just as the late chairman did and breaks into derisive laughter. Omg, she literally gave him a taste of his own medicine.
Se-kwang writhes on the couch – suffocating – until he rolls off of the couch and finally wakes.
It's morning and he rouses a passed-out Cha-don sleeping on the floor. When he tries to ask about Mom, Cha-don beats him to it and fervently rattles on about how he plans to be her legal representative to get a cut of the large sum of money.
He plays dumb at just the right moments and asks for Se-kwang's help in finding Mom. It's a shrewdly brilliant plan to go in with the ignorance angle, though it makes me wonder if Se-kwang truly buys the eagerly-corrupted-lawyer-looking-up-to-his-sunbae act.
He tells Cha-don that even if he could help, he can't because he doesn't know where Mom is. Se-kwang sends him away and receives word that Mom has been found.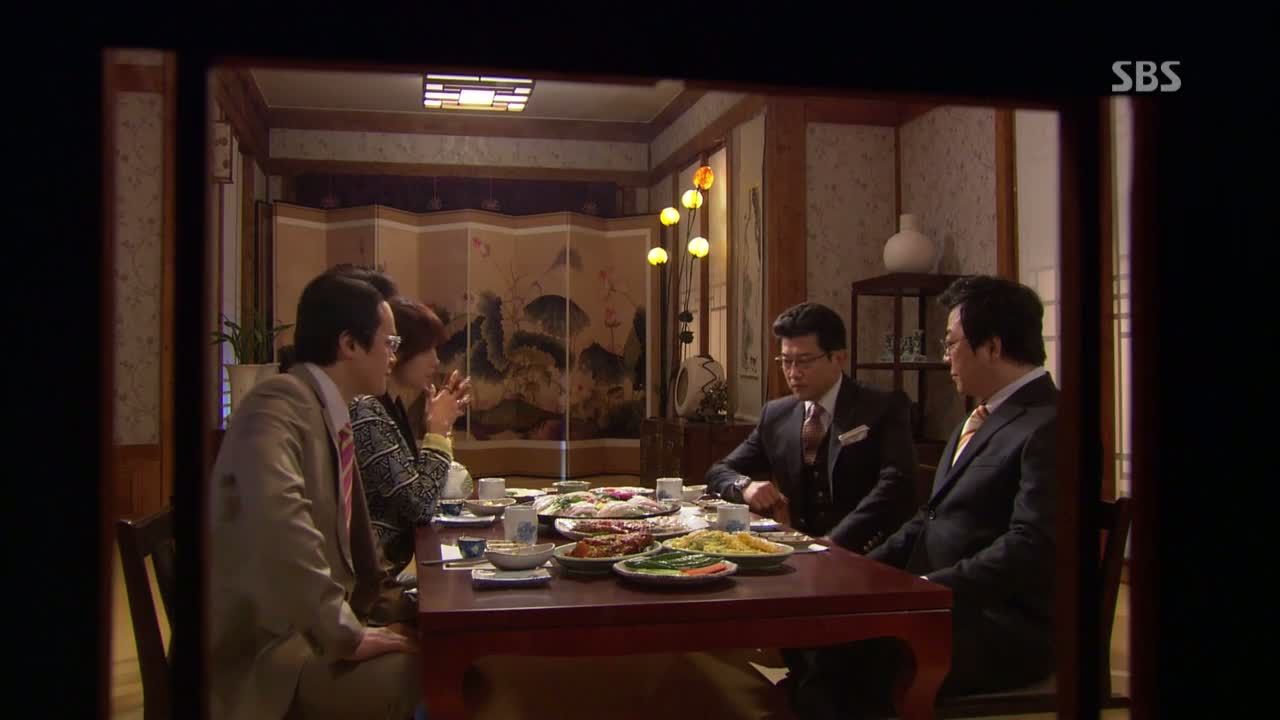 Se-kwang meets with the Traitagon at the only traditional restaurant in Seoul and informs them that everything will change should Mom get a hold of that money. He appoints Prosecutor Kwon as the point person for this mission and outlines the plan to the others.
Prosecutor Kwon pays Mom a visit at the hospital and she tenses when he jogs her memory of their previous acquaintance. He's straightforward about his wrongs against her and belatedly apologizes for them. 'Cause better late than never, right?
Mom's suspicion radar pings when Prosecutor Kwon lies that her son currently resides in Germany. He's brought evidence with him and shows her a video message from Fake Kang-seok who recounts particular memories of their past (fed by Angelina off-camera).
Even though we know the truth (and so does Mom), we see that the video shakes a bit of Mom's resolve in the face of indisputable memories as a tear streams down her face.
Prosecutor Kwon suggests a DNA test, to be sure that the man isn't a scammer trying to claim the recently discovered sum of money. In turn, Mom questions Prosecutor Kwon's intentions and when she gets the answer she wants to hear, she agrees to the test.
Given her knowing smirk when the prosecution leaves, it tells us that Mom knows the enemy just tried to pull one over her and failed. Yay Mom!
Cha-don watches the prosecution murmur outside Mom's room and he flashes back to when Prosecutor Kwon ordered him to get out of the car. Hm, do you remember more than we think you do?
He enters her room when they leave and removes the recording device hidden beneath her pillow that logged their entire exchange.
Cha-don tellingly stops the recording after he vows that they won't be had this time. He assures her that they can't lay a finger on Mom while the Traitagon are fixated on the money.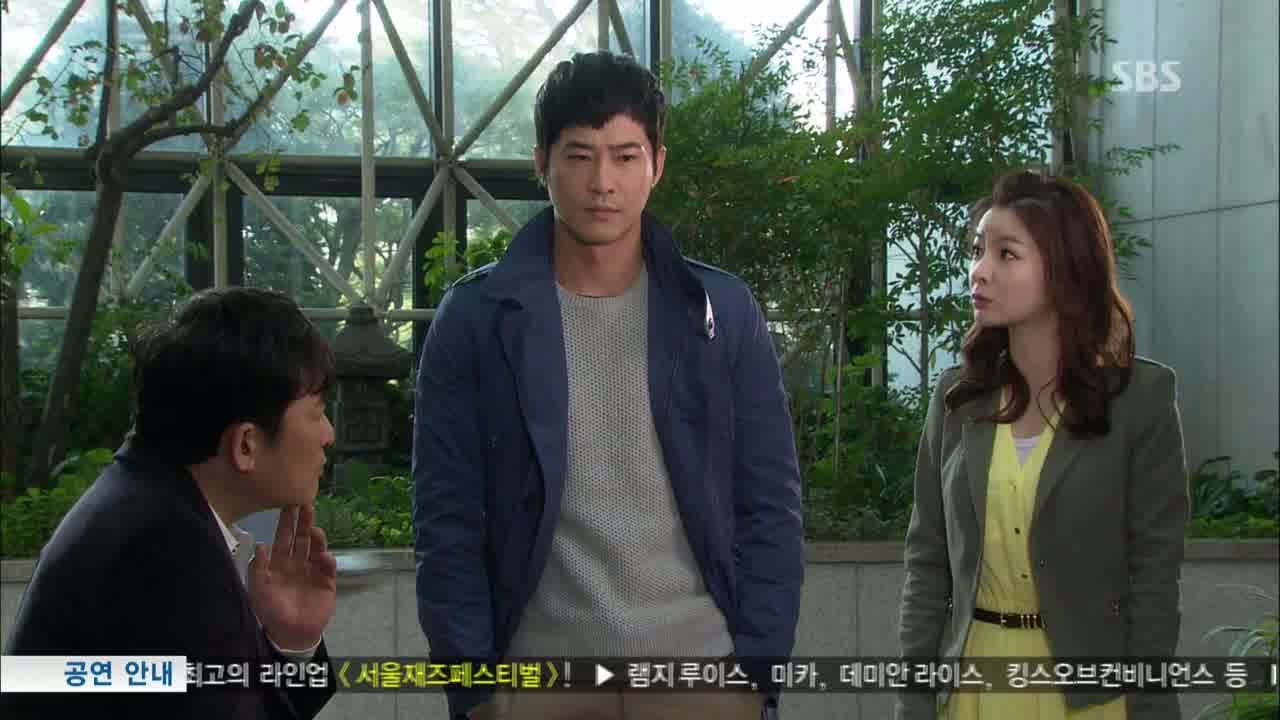 It turns out that the police have seized the money and assets and will only disclose its current location to its rightful owner. Cha-don doesn't intend to step forward as Lee Kang-seok just yet but plans to find Lawyer Hwang's killer first.
In order to do that, he'll need to become the murderer's defense lawyer.
Ji-hoo is informed of the owner of the license plate in question and who should appear before her a second later but Prosecutor Kwon himself. She stands in the corner, uneasy, as her superior asks for updates on the murder case.
We check in with Jae-in, who is in the middle of another round of emotional eating, stuffing her face with pizza. Her mother barks at her to bring Cha-don before her if she's so upset about the break up and threatens her with an arranged date.
That only irks Jae-in more and she storms out. Once she's gone, Boss Bok lets out a sigh – if only Jae-in knew how her mother prepared for her future.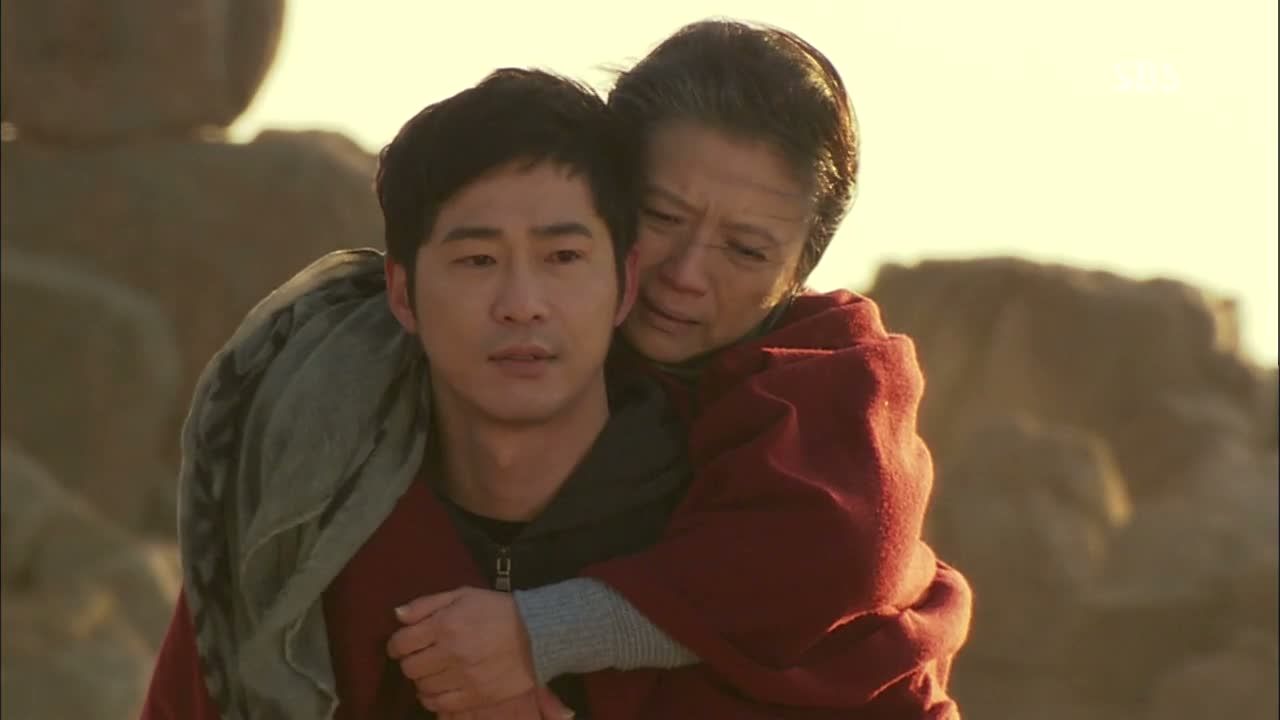 Cha-don and Mom spend a quiet moment at sunset by the seashore. As he piggybacks her, Mom tells him how proud she is of him. She's given it some thought and tells him that she doesn't want her son to seek revenge.
He stops in his tracks at the statement. She continues: "I just want my son to become a great lawyer who helps the poor and needy like me. So that you'll be praised and respected. If my son were a person like that, I think I'd always be smiling even after I die. Just thinking about it makes me happy. I love you, my son."
Cha-don apologizes and tells her that he's not all that great but he gives her his word that he will be. Her eyes remain closed and he wonders if she's still listening.
He gets his answer when her hands drop, lifeless. Anyone else reminded of Autumn Story? He screams for Mom to come back and sobs with uncontrollable grief. I'm not crying – my eyes were just a little sweaty today.
The doctors do all that they can at the hospital but it's no use and Mom flatlines. Cha-don eyes shake, unable to accept the reality that Mom has just died in front of him. Chief Yang rushes in warning Cha-don that they have to leave – Se-kwang is on his way.
That's the final straw and Cha-don snaps. He grabs for a scalpel and Chief Yang has to hold him back from blowing their plan wide open. Cha-don struggles for another minute until he finally gives up and breaks down in tears once more.
Team Shudal is gone by the time the Traitagon arrives to examine Mom's body. Se-kwang offers to host her funeral and the others are in agreement with the idea. Then the camera pans over to Cha-don angrily standing by the door, having overheard the conversation.
Cha-don walks into the church where Mom's wake is held. The prosecutor peanut gallery is surprised to see him there and tsks at the lost opportunity to earn some cash.
His eyes fixated on Mom's portrait, Cha-don tells them, "Who knows? Lee Kang-seok could appear before you tonight." His hand shaking, Cha-don holds back tears as he sets down a flower as his final goodbye.
The Traitagon has the nerve to shoot pictures in front of Mom's coffin (as evidence that there's no bad blood between Se-kwang and Mom). The sound of Reporter Go's voice jogs Cha-don's memory and he recognizes the man from his past.
Only Cha-don and Se-kwang remain at the church and Se-kwang comments that it looks like Kang-seok is a no-show. Cha-don apologizes to Se-kwang in response – now that he's not a prosecutor anymore, he finally understands what Se-kwang meant by his definition of justice. "If I'd known sooner, I wouldn't have lived so foolishly like that."
Se-kwang smirks, telling him that no matter how soon you admit regret, it always comes too late. Cha-don replies that he'll keep those words close to his heart as well.
Mom's body is cremated and Se-kwang sets up her memorial. Staring at her picture, he tells her that with her death, he now forgives both her and the late chairman. He tells her not to consider it too unfairly, since it was her bad luck to have met someone like him.
With a final look, Se-kwang tells her to pass along his greetings to Kang-seok.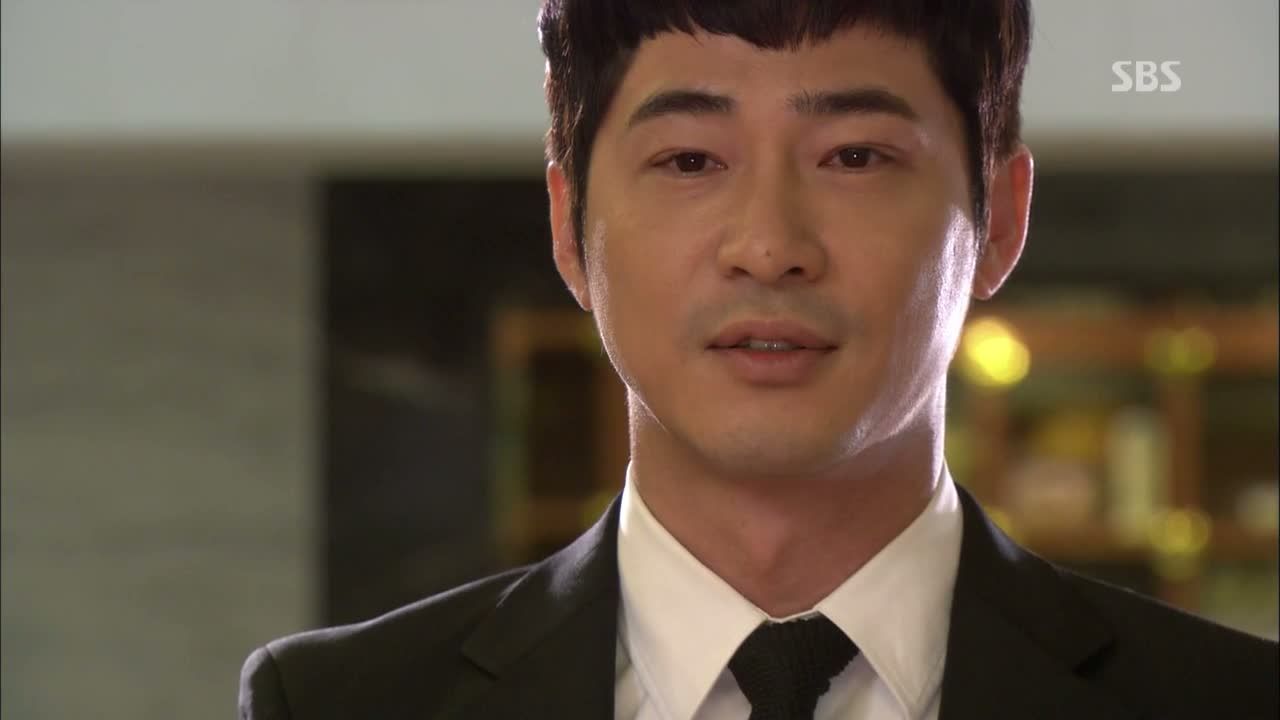 Cha-don watches Se-kwang leave and then turns to his mother, telling her that he won't cry anymore. He promises to become someone she can be proud of, but until then, he won't forgive the ones who did this to her.
He vows to avenge his parents and asks her not to stop him.
Boss Bok sits with Chief Prosecutor Jo and it's clear that she isn't in the mood to entertain the man. He's here to relay that he's heard rumblings that Angelina has planted a seed with the literary society members to call for a change in the presidency.
Then Assistant Kim bursts in with news that the meeting location has changed per Angelina's request.
That new location is Jae-in's restaurant (she and Angelina have since entertained an unni-dongsaeng relationship) and Angelina is in shock when Boss Bok appears.
The two relocate to a quiet corner of the restaurant and Boss Bok slaps Angelina for spreading lies. Angelina screams and drops to banmal, and when Boss Bok raises her hand again at such disrespect, Angelina grabs her wrist.
Jae-in runs in at the commotion and Angelina's eyes are as wide as saucers when she learns the two ladies are mother and daughter. She even yelps in English: "Oh shit!" Oh shit is right.
Se-kwang finds Ji-hoo at the coffeeshop and wonders whether Lawyer Hwang's murder case is weighing on her mind. She asks whether she can become a just prosecutor like Se-kwang one day. Honey, I don't think he's the prosecutor you should be looking up to.
He tells Ji-hoo that a cowardly prosecutor will never succeed and gives her a word of advice: "I remind myself that it isn't a battle between the defendant and myself. Rather it's a battle between my cowardly and righteous self. Then there's nothing you can't overcome."
She thanks him and now it's his turn to ask what's troubling her. She shares that the evidence points to Prosecutor Kwon as the murderer and Se-kwang's face hardens for a moment before telling her to stick to her gut.
Ji-hoo heads straight for Prosecutor Kwon's office and reports her findings to the prosecutor general. She gives him a final chance for the man to explain himself. When he answers, "And if I can't?" she warns that she'll arrest her superior.
There's a tense moment before Prosecutor Kwon answers that the car in question was stolen over a month ago. It's hard to tell whether he's telling the truth, but Ji-hoo won't let him off that easy and asks where it was stolen.
Prosecutor Kwon sticks to his alibi that the car was stolen while his wife was out on an errand and when she leaves, he orders his son, Hyuk, to look into the surveillance cameras in the area.
He joins Se-kwang in the conference room and thanks him for the heads up. Prosecutor Kwon notes that the murderer used his car, which means that the culprit must be among them.
Se-kwang turns to him, asking if he suspects someone within the Traitagon, an answer Prosecutor Kwon says he finds improbable. Well, there is no honor among thieves.
Today is the last day for the real Lee Kang-seok to step forward (has it been a year already?) and Se-kwang takes his leave to head to the police station.
Reporter Go arrives at the police station with Fake Kang-seok but they're cut off by "Lee Kang-seok" who comes to claim the money. Se-kwang rushes over at the reporter's frantic call and is surprised to see someone filling out paperwork.
Se-kwang greets "Kang-seok" warmly and immediately recognizes that he's an imposter when the man doesn't reciprocate. But soon, men start to swarm around the desk, all claiming that he's the real Lee Kang-seok.
News that today is the cut-off date explains the commotion, and we see Cha-don in a disguise, silently rolling into the crowd in a powerchair. He takes a blood test with the others and all the while, Se-kwang swears that there's no way there will be a DNA match since Kang-seok is already dead.
But three days later, the doctors reveal that there was a match and Reporter Go has to spell it out for Se-kwang to understand: "Kang-seok is alive!"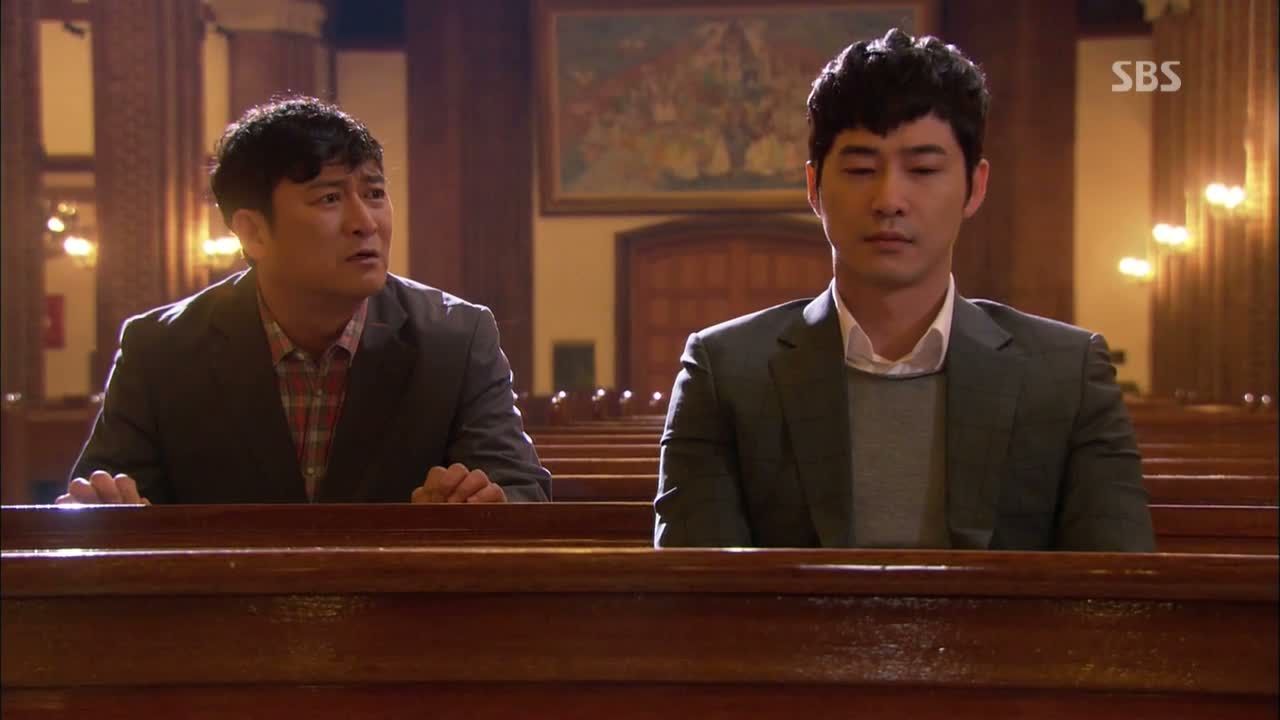 Chief Yang finds Cha-don sitting alone at the church and asks if he plans to go through with the revenge. But Cha-don answers with a saying from one of his law professors: "The laws of man bring evil whereas the laws of God bring peace."
He names all the members of the Traitagon (except Lawyer Hwang) and says that they manipulated the laws of man to become rich.
Cha-don: "I'll bring them to justice according to the laws of God. My mother, my father… and for the sake of peace for all."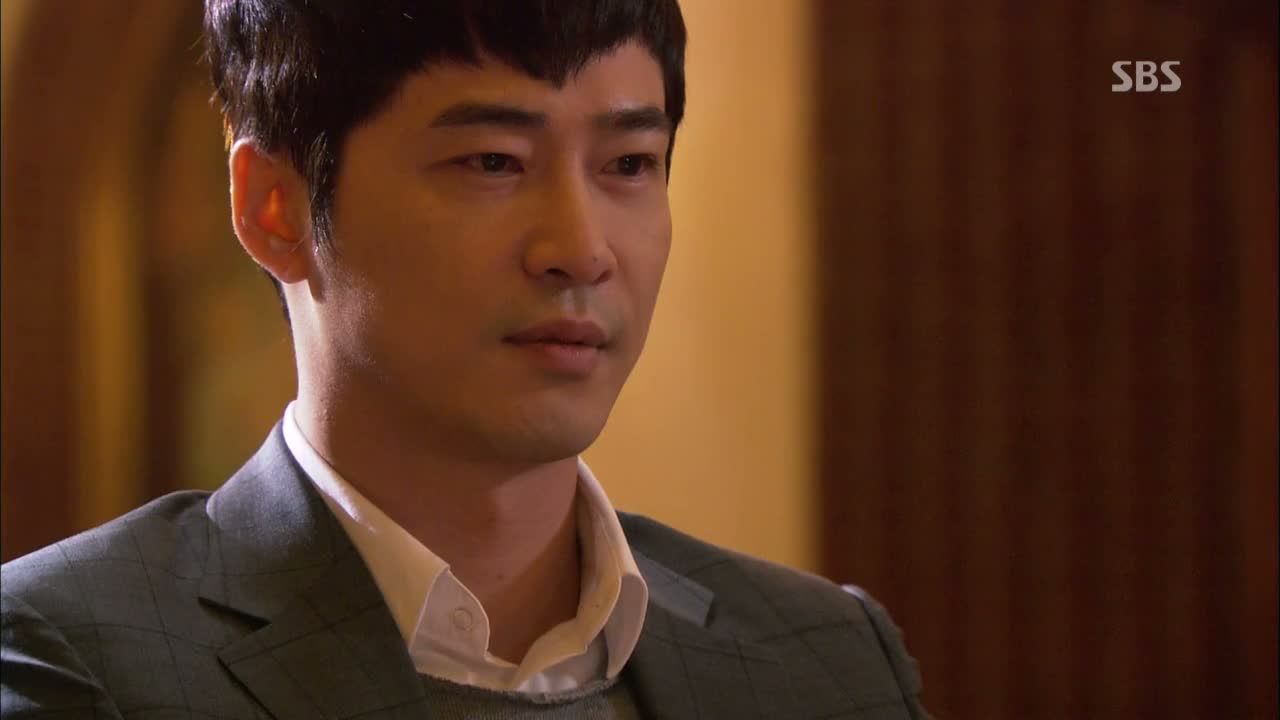 COMMENTS
Woot! What an episode. Now that Incarnation has taken an upswing in story since last week, the show has also seen a noticeable change in quality with each upcoming episode. Who lit a fire under the production team's arses to get this show going? There's been such marked improvement that I'm keeping my fingers crossed for the rest of the series.
With Cha-don's revenge scheme finally in the plotting stages, it finally feels like we're getting somewhere with our story. That's an exciting prospect since it felt like I was twiddling my thumbs for a long time, wondering if we were just spinning in circles. The story finally feels centered with Cha-don at the heart of it all. Sure I still don't know where he got the emergency cash to pay for the seaside vista or pay for Mom's hospital bills, but for the moment, those minor plot holes pale in comparison to Cha-don's journey to learn about the black-hearted devils behind his family's ruin.
I'm enjoying how the show has played around with the positions in the law industry in our characters to convey certain messages of good versus evil. The so-called "just prosecutor" started out as a defense lawyer and ultimately threw his defendant into the deepest pit of hell. Then you have the prosecutor who boasts of righteousness so easily swayed by the smell of money. And finally, you have the rookie, hot-headed prosecutor who once dipped into corruption, fell from his pedestal, and has to work his way back into his system as a lawyer. I love that this journey isn't fluid for any of our characters, and yet I wished that we saw more of that fluidity to fill the gaps in our brains.
Cha-don's declaration to bring justice to his enemies with "the laws of God" poses an interesting question about how he intends to carry out the rest of his revenge plan. It's ironic that his definition of justice is fueled by Se-kwang's belief where justice means to see the bad guy get punished. I love the above screencap that portrays their differing opinions in this world of law – both separated and connected by a single crime. Cha-don's definition of justice includes bringing peace into the world and at present, that means seeking his personal revenge. But perhaps that's just the beginning that speaks to something greater: To change the world through justice.
It makes me wonder with curiosity as to how Cha-don will start using his resources to set this revenge plan into motion. Since he won't step into the limelight as Lee Kang-seok just yet, what methods will he use to shake the Traitagon's foundation? If that determined stare is any indication (and if we're counting, I now have enough nickels to buy an ice cream), Cha-don will make sure to find a way.
How sad was it to see Cha-don's moment of bliss pass by so quickly? I love that Mom closed the chapter on her heart and told Cha-don that she doesn't want him to avenge her since this isn't a war for him to fight. She has greater dreams and passions for her son and her unwavering love for him breaks my heart. But now this is a battle and a war that is greater than his family and if he doesn't fight, then who will?
Mom, we'll miss you! *sniff*
RELATED POSTS
Tags: featured, Hwang Jung-eum, Incarnation of Money, Kang Ji-hwan