Variety Roulette: Hwashin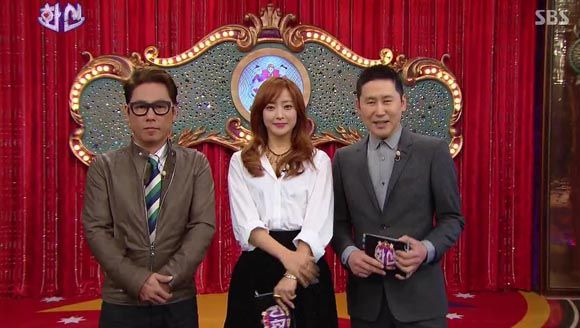 EPISODE 1. Broadcast on February 19, 2013.
javabeans: This installment of Variety Roulette is the embodiment of the concept we were thinking of when we started the series — a stab in the dark with a brand-new show, with zero idea of what its concept even is. Today we're looking at the premiere episode of Strong Heart's replacement program, Hwashin (Incarnation?), whose meaning I'm still trying to figure out.
girlfriday: Is it a pun on Tuesday and God? God of Tuesdays?
javabeans: Hm, quite possibly. Although I think they're going to be playing with the other meaning a bit: One of our three co-hosts, Yoon Jong-shin, introduces himself as "the incarnation of talk." That he is.
girlfriday: I fully expect Kim Hee-sun to say unironically that she is the incarnation of beauty then.
javabeans: Actually, she calls herself "the one who wants to become the goddess of Tuesdays," which is an in-between pun on our two puns. Ha.
girlfriday: Two half-puns do not make a pun!
javabeans: So we start with an intro montage of people talking about communication — basically, how it makes the world go round — and it sounds like they're steering us in the direction of Show That Explores the Little Communications of Daily Life. Which sounds boring, to be honest. Yet with these hosts (Yoon Jong-shin, Kim Hee-sun, Shin Dong-yup) I'm expecting a lot more funny.
girlfriday: Hm, yeah the concept isn't what I was expecting, but let's hope there's a comical twist. They do their introductions and then the stage spins around to reveal their guests… er? It's our 1N2D boys! Well, three of them (Lee Su-geun, Kim Jong-min, Eun Ji-won) and Jeon Hyun-moo.
javabeans: I still think of them as 1N2D boys since that's where I first saw Jeon Hyun-moo anyway. But why are they in a mock subway set? Then our hosts join them on fake subway benches to conduct their interview there, which is random.
girlfriday: This is so weird. Su-geun points out that he's never seen a talk show where the MCs squeeze in so tightly on one bench, which does look uncomfortable.
javabeans: Pan over to the three looking scrunched, like Shin Dong-yup had to sit forward so his butt would fit in the seat. He plays it off like they did it on purpose, "Because we have to get friendly!" Which sounds like an excuse, ha. (By the way, I love her stockings. They're awesome.)
girlfriday: Yeah they are. So Shin Dong-yup introduces the 1N2D boys as the Three Idiots per their cable live variety show, which I gotta say, I checked out and it bored me to tears. I'll say it now: variety is ALL editing.
javabeans: Yes, for sure. In fact, all comedy is editing. Jong-min offers up this really awkward and convoluted compliment on how Kim Hee-sun looks just as beautiful as ever (which goes awry when he admits she has changed a little), and then they force Ji-won to perform an old Sechs Kies song on the spot. I love how the four guests all burst into the song with gusto, and then suddenly leave Ji-won hanging so he's floundering alone confusedly.
girlfriday: Worst back-up dancers ever. So then after the brief introductory talk, Kim Hee-sun says that they'll introduce the topic/problem/issue for today a little differently, and ushers the guests off the set. Why is there so much moving about on this show? Cut to: the MCs using the subway set to do a skit, with two of the guests participating.
javabeans: When it starts off with Kim Hee-sun and Shin Dong-yup playing a couple in an argument (she says he doesn't love her), it makes you wonder where the heck this is going, but then he starts ad-libbing and it makes them all break character and it's hilarious. But totally not the point of this bit, I'm thinking.
girlfriday: Heh, yeah the staged thing itself is all awkward, but his jokes that they didn't go home last night and were having a great time crack everyone up. The point is more that Yoon Jong-shin is playing a drunk ajusshi on the subway and getting all up in her space, I guess.
javabeans: She's playing the worst kind of high-maintenance girlfriend, but the acting cracks me up because she's all into it.
girlfriday: Like she's in a drama, while the dudes are in Gag Concert.
javabeans: Ha, then Jong-shin finally gets up and takes over, and the point starts to come into focus: He addresses the men viewers, asking why it is that they always have to lose in their lovers' spats. What, are you going to give the magic solution like that creepy guy on that cable show who tells you how to insult a woman into loving you?
girlfriday: And uh, if you were going to try to offer advice on the subject, shouldn't you have invited some women to be your guests??
javabeans: I'm confused, though entertained because (1) I for once know every personality in the cast and the guests, and (2) like them. I think the guests are sorta confused too — Su-geun has this puzzled-trying-to-follow expression on his face.
girlfriday: Glad to know I'm not the only one then. I'll let Su-geun explain it for me. Ha, cut to: Su-geun explaining. You can always count on him.
javabeans: So Hyun-moo says that if it were him in the boyfriend's position, he'd argue each point with logic. Then they re-enact the subway argument with him, and it's freaking hilarious. She snipes the same way, but he refuses to play along and shuts down her princess complex. When she says that the other men are staring at her legs, he says, "No they're not. You're not that pretty. You're not like you once were." HAHA.
girlfriday: LOL. He gets a beating for it too, which is awesome. So he thinks he did a great job, and the other guys are like, "Uh, NO." So then Su-geun takes a turn, and he says he's going to approach it the way a tv monk taught him how, by acknowledging the other person's feelings while expressing his own.
javabeans: Omg, he's totally Yoda-ing her. Everything she says, he turns around on her in this affected calm voice. It's like an argument where you're just saying, "I recognize that you feel XYZ" and "I regret that this situation makes you feel XYZ" but solving nothing.
girlfriday: It's the repetition that's a crack-up. Then Jong-min takes a turn, and at first it's his usual jumble of confusion, but when she sighs that she doesn't like him, he says with conviction: "Well I like you!"
javabeans: Oh, Jong-min. She says that he actually had the best response because he's trying to understand her, but because this is Jong-min, he totally mucks up the rest by trying to figure out how to wrap things up, and he blurts, "Come home with me!"
girlfriday: Heehee, when Ji-won takes his turn, Hee-sun totally stops being the pissy girlfriend she's supposed to play, and gets all cuddly.
javabeans: Awww. They start the role playing with her complaining, but at first opportunity she drops the act and cuddles again. It's so cute. He barely even got a chance to do anything but she couldn't keep up the angry face.
girlfriday: I love the reaction from the peanut gallery of rejected boyfriends. So then the narrator explains that they surveyed actual citizens for their answers to this problem, so it looks like the point is for the guests to figure out what the most popular responses are, for each age group (teens, twentysomethings, up to fiftysomethings). The question: What one thing a guy can say or do to win that kind of argument with his girlfriend/spouse. So this show is like Family Feud? Survey says!
javabeans: We resume the show in roundtable format, and in introducing the topic by going around to note which of the men are married or dating, we get a rather long, meandering conversation. I think it's interesting because I'm familiar with all these people so the jokes make sense, like ribbing Jong-min about his "mother" (which we know from 1N2D is code for the girlfriend he won't admit to onscreen), but I wonder how interesting it is just as a variety moment. Then again, hearing witty people teasing other can be its own entertainment. Like when Hyun-moo says he's not dating anyone, Hee-sun offers up the contradiction (having asked around in advance) that she heard Hyun-moo often has these secret phone conversations in empty rooms at work — is that also his "mother"? Hee.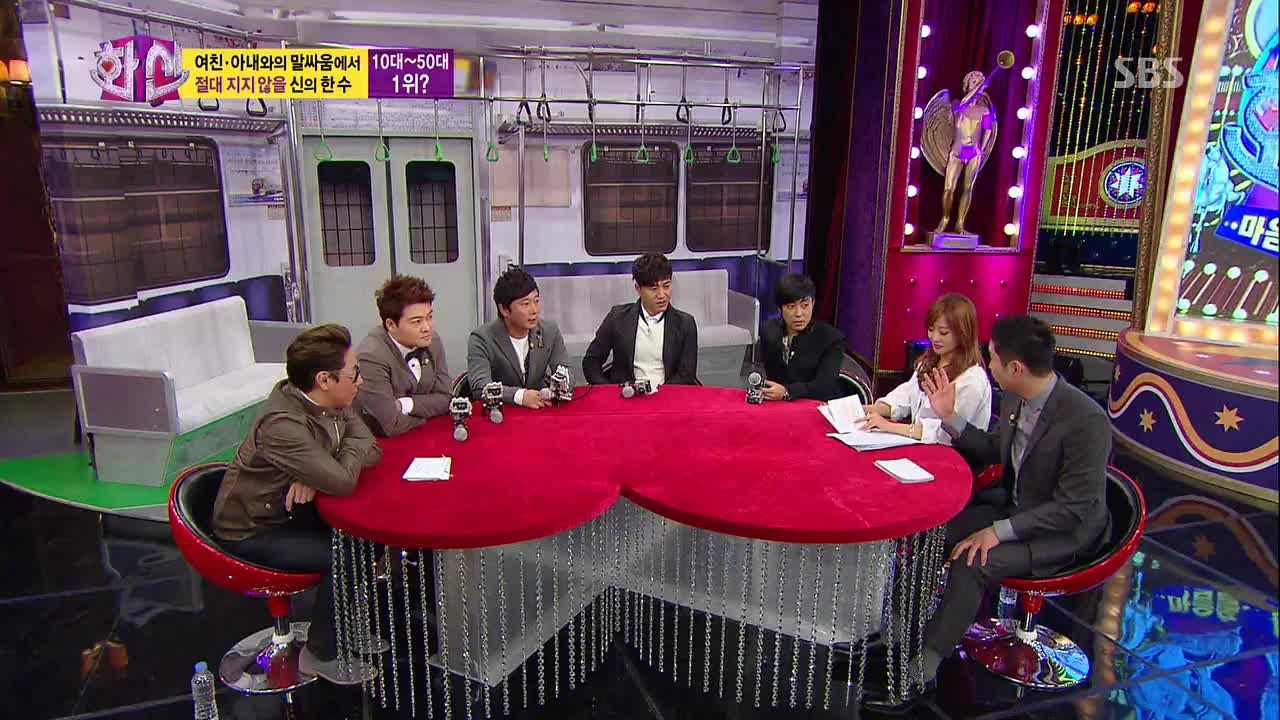 girlfriday: Hyun-moo mentions random rumors about his dating life like someone spotting him in a parking garage (he doesn't elaborate, but I'm guessing it was doing something other than just sitting in a car) and Hee-sun chirps, "Everyone's done it in a car before!" HA.
javabeans: Not IT-it, but dating, she means. They joke, "What floor?" and she replies, "The deeper the better." HAHA. I love how the boys are all speechless. Jong-shin asks, "You mean with your husband?" And she does this sly, "Hmm?"
girlfriday: This is why she's good at variety.
javabeans: I'm digging how well she comes up with one-liners and quick retorts.
girlfriday: And how she's not hung up on some pristine image she has to maintain.
javabeans: So they move on to discussion of what they think the Number 1 answer will be, of what men say to end arguments. They don't reveal the answer for a good long while, but the discussion is pretty funny, especially since it's mostly Hyun-moo explaining with examples from his "past," although it starts to seem (with a slip here and a slip there) that it might really be more like the present, and Ji-won finally exclaims, "You said you didn't have [a girlfriend]!"
girlfriday: It's like a table full of sharks circling Hyun-moo.
javabeans: I love the uneasiness that creeps into his demeanor as he tries to move on, and the rest of them are like, "But that example [re: a cell phone feature] only existed in recent times!"
girlfriday: He sweats bullets trying to turn the conversation in a different direction, but the hosts are like, "You're trying to turn it! You're trying to flip it!" Ha.
javabeans: His example is of girlfriends searching the guy's cell phone for girls' names, and he asks if Hee-sun has done it (she has this guilty look on her face during the discussion). She admits, "I d….id." And they pick up on that and guess that she means she still does, haha.
girlfriday: So then she and Hyun-moo start acting out the actual argument, as if he's just found her digging through his phone log, and there's this hilarious moment where the reenactment has ended, but Hee-sun is still in character and they have to tell her it's over. She laughs and admits, "Ever since I started working with Dong-yup-sshi, I'm so into the skits!"
javabeans: Su-geun tells this monstrously long story about getting into a huge fight with his wife (or rather, her getting fuming mad at him), and since he's such a good storyteller the whole thing is pretty fascinating (he went drinking with a sunbae, blacked out in the taxi, didn't answer her call for five hours, and when he got home she was livid).
girlfriday: I love how (a) he drags Lee Kyung-kyu into this as the culprit who fed him the liquor in the first place, and (b) he actually slept on some bench for five hours like a drunk homeless guy.
javabeans: Hee-sun is pretty enthralled with the story, and it ends with his guess (for the Family Feud board) being that a man's tears will end the argument. I love the moment when Hyun-moo asks incredulously if his wife reacted a certain way, like it's so strange to him, and Su-geun asks, "What kind of woman are YOU dating?!" Haha. This segues to a point about how Su-geun's wife will make him dinner even if she's furious, and Hee-sun nods along, though when asked for an example from her marriage she laughs that she doesn't cook well so she hardly makes him dinner.
girlfriday: It's pretty funny that every time Hyun-moo starts some story about a girlfriend who suspects him for this or that behavior, the guys are all like, "How do you live that everything you do seems suspicious?"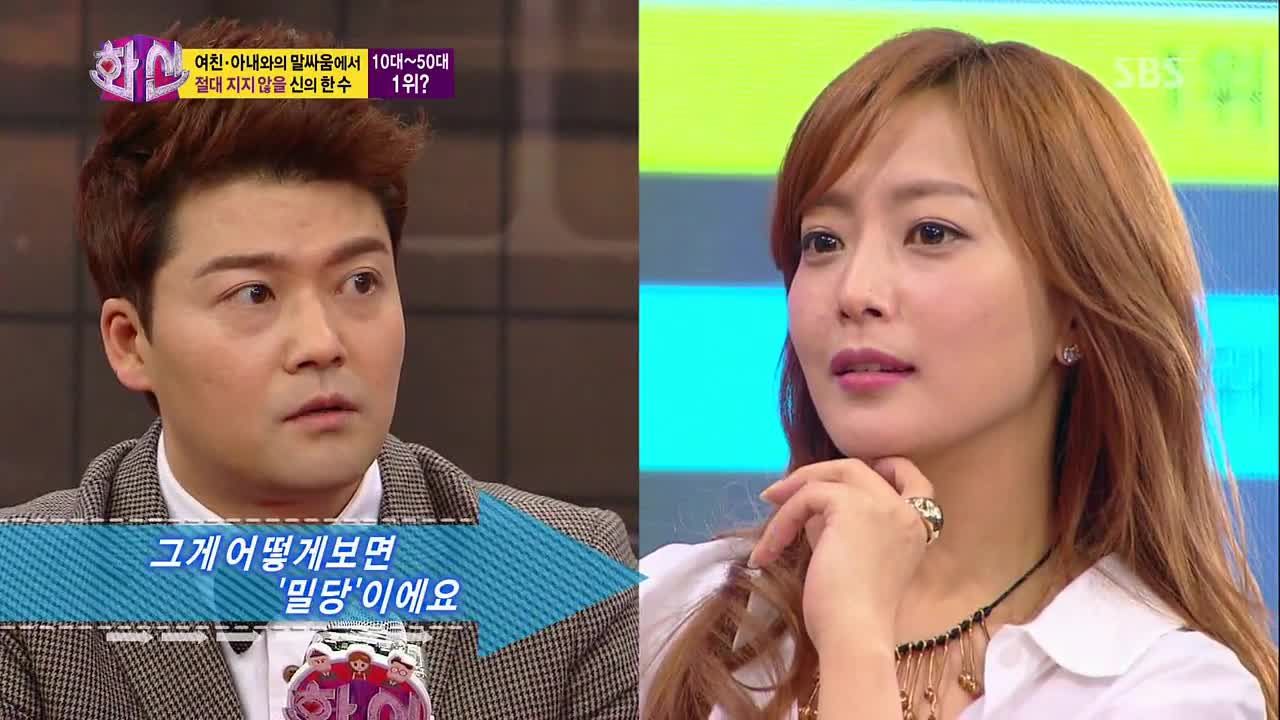 javabeans: And at every opportunity the others interject insults. ("I was in a serious accident once, I actually used to be good looking." Jong-shin: "Must have been a huge accident.") ("It was at a villa, so not a lot of people lived there." Su-geun: "Ah, she was rich." Dong-yup: "That's why he dated her.") What I'm getting from this is that I think I see why Hyun-moo's single, and every time he says something Hee-sun is like, "Uh, that's the worst possible thing you could do."
girlfriday: Seriously. They talk around stuff, but it's pretty enlightening in that respect. Omg, Jong-min. He gives an example where he got caught in a lie about going to a nightclub and talks in endless circles in an argument that basically amounts to: "I lied for your benefit," and "Women are a mystery." Pffft.
javabeans: The interesting thing about Jong-min is that he's a terrible speaker and his stories go around aimlessly but then he'll cut right to the heart of a matter in an impressive way. And then he'll totally undo that moment by tacking on a silly add-on, hehe.
girlfriday: Yes, he always mucks it up in the end. He jabbers endlessly and finally Ji-won just screams, "What the hell are you saying?!" Lo and behold, his answer (using logic to argue back) is actually the winner among 50-year-olds. They try to guess the opposite end of the spectrum, the teens, and Hee-sun gives a hint by pawing at Dong-yup. Hyun-moo guesses that a kiss mid-argument might be the answer.
javabeans: I'm loving how it's Hee-sun who has all the naughty thoughts. The other guys argue that women hate being touched while angry, and she explains that that's true, but then starts laughing as she gets that look in her eye about how the more you do it…. Cue porno music, literally.
girlfriday: Hee. Dong-yup cries that if you get the timing or mood wrong, you could get your tongue bitten off, and Ji-won actually breaks down in a giggle fit like a twelve-year-old.
javabeans: Su-geun and Jong-min role-play the moment where Su-geun is the girl about to half-heartedly slap the guy who's supposed to melt her anger by holding her, only they get the timing all wrong so he ends up just slapping Jong-min.
girlfriday: hey note that the popular answer among teens (they were right about skinship) and 50-year-olds is like night and day, which I do think is interesting.
javabeans: Su-geun says that men love when their wives call them to the dinner table with a sweet voice, because that makes the food taste better. They ask Hee-sun how she does it (very cutely), and she adds the complaint that men, however, take forever to actually come to the damn table. Hyun-moo's all, "Then call him to the table early while you cook," and then contradicts himself by saying that the man will then complain if his food isn't on the table all at once. Hee-sun slams down her cards and yells, "Are women your slaves?!"
girlfriday: Well I'm glad someone said it. That conversation was really annoying.
javabeans: Yeah, it was light and bantery, but I didn't love the assumption that the men had the right to complain about how wifey made him his meals.
girlfriday: They're told that the answer among 20-, 30-, and 40-year-olds is actually the same: answer every single question honestly.
javabeans: WOW. What rocket science is this?
girlfriday: Well, ya ask a bunch of people and cull the most popular responses. I'm surprised they even make THIS much sense.
javabeans: I find the topic interesting and it's one that probably everybody can relate to (so good for a first episode), but I'm starting to get tired of all this Men Are From Mars, Women Are From Venus type talk. It feels disingenuous, like a lecture on game theory.
girlfriday: Yeah it's SO basic and not at all informative one way or the other, for men or women.
javabeans: Wait, there's a second round? Oy. This is feeling long.
girlfriday: Oh, I see. They talk about one subject, and then introduce a second with a new skit? Yeah, this is too much.
javabeans: That's what I figured, but I thought it would be one skit-topic per episode. And considering we're at the hour mark now, that would've been plenty. Either that, or you do MORE rounds, for shorter lengths.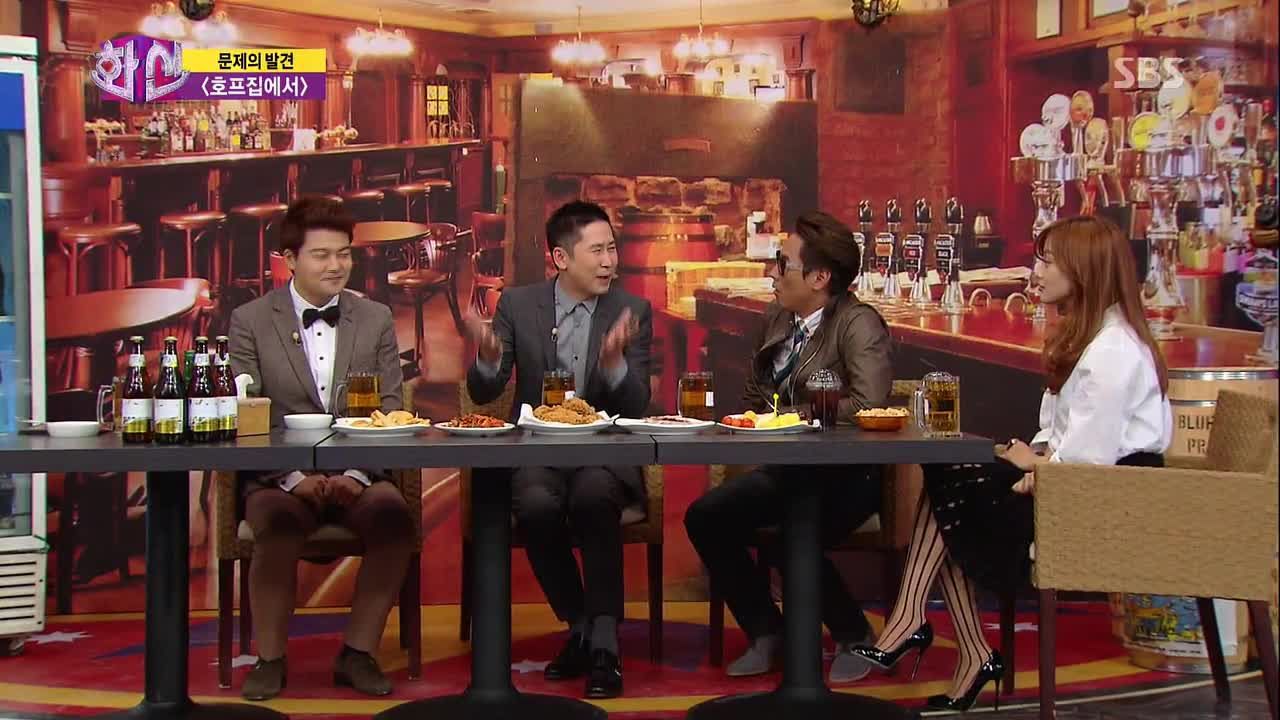 girlfriday: Yeah a speed version might've been better. The second skit is an after-work night out, where Hyun-moo plays a rookie employee and the hosts are his bosses.
javabeans: I like this better than the man-woman thing. It also feels really real, with the middle boss (Dong-yup) basically painting him in a negative light with the big boss (Jong-shin), but he's unable to protest or clear his name.
girlfriday: And then they're literally like, Dance, monkey, dance! Augh, it's cringe-worthy in its realness and embarrassment factor.
javabeans: The answers they have to guess are the things that you can't refuse your superior but that are burdensome and unpleasant for the hoobae in the relationship. Ji-won says he's lived the skit reenactment, and so has Jong-min — they say it's really common among singers.
girlfriday: Su-geun says that Ji-won is a really good hoobae to all his sunbaes: "He only swears at me!" Jong-min says he swears at him too, and when Ji-won makes this casual hand gesture while replying calmly, Jong-min actually flinches in fear. Ha.
javabeans: Ji-won says he finds it much harder talking to hoobaes because he doesn't know what to say or what to act, but feels a vague burden to be a role model. Hyun-moo adds that a lot of higher-level office execs want to talk to the younger staff, but they don't know how and look up internet humor. Oh, the cringing.
girlfriday: Haha, Hee-sun loves the nonsense puns.
javabeans: They make a guess about forced jokes, but it's not on the list (though I think it's a good one). Hyun-moo then tells a story about being told to buy this great stock, it'll really take off in three months, and it's bound to be successful, all he has to do is buy now and sell when the boss tells him. Of course, it didn't and Hyun-moo couldn't get rid of his stock. Jong-shin guesses that Hyun-moo bought his boss's stock to take it off his hands, and OH MAN the look on his face is priceless, the epiphany moment as he realizes he probably did just that.
girlfriday: Eeeeeeep.
javabeans: It's so uncomfortable and yet, kind of awesome. (Is that mean?)
girlfriday: Well, the moment of discovery in real time is awesome, not his being conned. It turns into this whole conversation about investments and Su-geun tells this other story about one where he sold at just the wrong moment, and suddenly Dong-yup launches into this rapid-fire math that amazes everyone, like he's suddenly a human calculator. Guess we know what he does at home.
javabeans: He says sheepishly, "I have some stock-related scars in my life." But that turns out to be the end of the episode, so I can only assume the second episode finishes off this session. I think the show has potential since the talk is all entertaining, but I sort of think the entertainment is the side effect; I don't think I'd follow the show with intent.
girlfriday: Yeah it's sort of incidentally funny, but the talk topics and the guests aren't things that would make me tune in. I do think the three co-hosts make a good team, particularly Shin Dong-yup and Kim Hee-sun. They have good timing and a good rapport, and she's worlds better than Go Hyun-jung, for instance, who had a rough beginning as a talk show host. Verdict: more entertaining than expected given the concept, but not must-see.
RELATED POSTS
Tags: Eun Ji-won, featured, first episodes, Kim Hee-sun, Kim Jong-min, Lee Su-geun, Shin Dong-yup, Variety Roulette