Couple stills of Sword and Flower's tragic lovers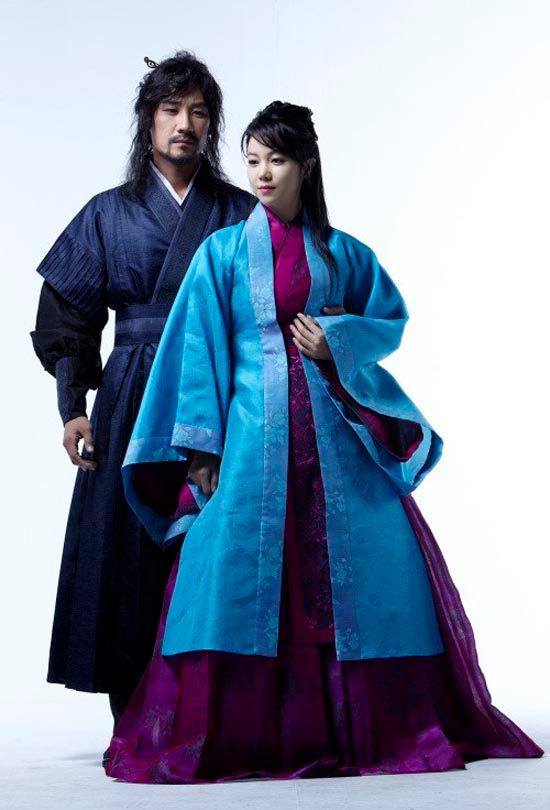 Here we go, folks, the first stills of our leads of upcoming epic romance-revenge sageuk Sword and Flower. Playing the fate-crossed lovers are Uhmforce, aka Uhm Tae-woong (Equator Man), and Kim Ok-bin, who's returning to television a much better actress than when she left it (her last drama series was 2006's Over the Rainbow; she's been doing films since then, like The Front Line and Thirst).
Uhm Tae-woong plays the illegitimate son of famed general Yeon Gaesomun (played by Choi Min-soo, pictured below right), while Kim Ok-bin plays the daughter of Goguryeo's King Young-ryu (Kim Young-chul, below left). The fathers are enemies, the king and his family are killed by Yeon's side, and the princess embarks on a revenge mission. Too bad there's that whole romance angle to complicate matters, leaving our hero torn, wanting to protect her despite knowing she hates him for his family's actions.
I would have preferred to wait for the pretty versions of these stills with colorful backgrounds edited in, because these studio shots always look so dry. They don't convey the same excitement as the drama's first poster, which is a lot more evocative of the drama's revenge and its sword-and-flower motif. The titular flower is supposedly representative of love, to stand as the contrast against the sword of hate.
Also cast is Ohn Joo-wan (Twelve Men in a Year), who plays Kim Ok-bin's cousin. He has particular fondness for her, but he receives "an offer he can't refuse" from General Yeon and ends up betraying his royal family. As reward, he is made the next king (and Goguryeo's last), Bojang—but then realizes that he's nothing but Yeon Gaesomun's puppet and faces off against him.
I think the jury's still out on whether that's a mane of glory or a mane of shame Uhmforce is sporting, because I can't decide. On one hand, he wears the grizzly look well. On the other, there IS a certain very faint mop-ish quality to that wig that I can't quite get over. I think we'll have to see it in action—and from the looks of it, we can expect plenty of action. Here's to hoping that the fierce fighting heroine gets a hefty slice of it. No reason the boys should have all the fun.
Sword and Flower airs on KBS on Wednesdays and Thursdays, premiering July 3.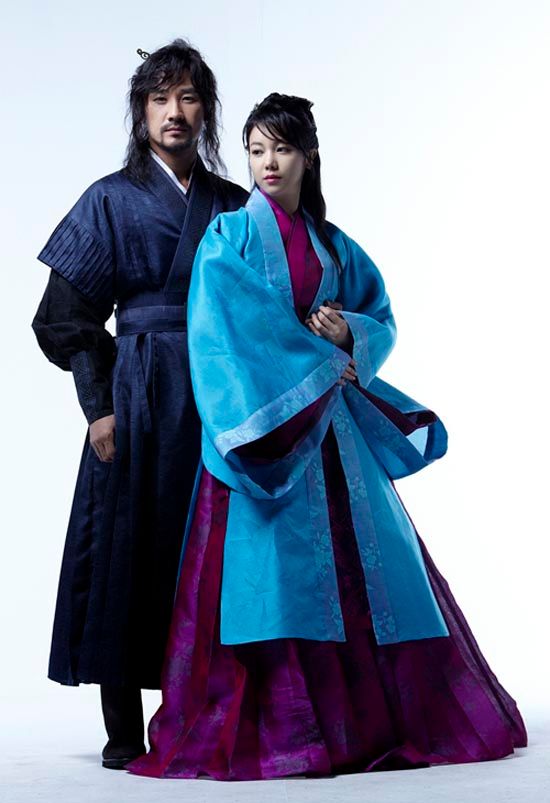 Via Review Star, Newsen
RELATED POSTS
Tags: Choi Min-soo, Kim Ok-bin, Ohn Joo-wan, Sword and Flower, Uhm Tae-woong